If you're interested in monetizing your blog or website by selling digital products you might think that setting up the e-commerce functionality would be difficult. Fortunately, there are several systems available that make it quick and easy to start selling products from your own site, and you won't need any coding or programming knowledge.
On this page I'll cover one of those simple e-commerce systems, E-Junkie. You may also want to see the information on a few similar options, DPD and SendOwl.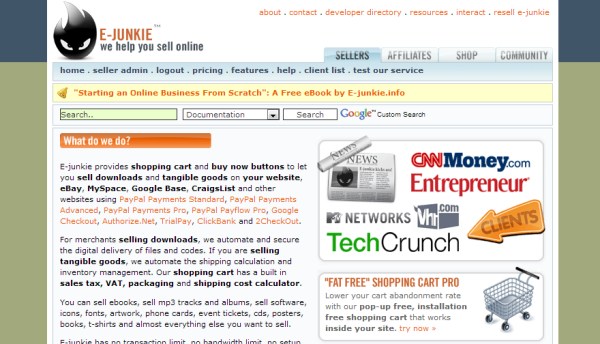 Disclosure: This information is not sponsored or endorsed by E-Junkie. I have used E-Junkie in the past, not on any of my current websites, and I found it to be a great system for small online shops. This page does include affiliate links and if you sign up for a paid plan with E-Junkie through one of my links I will make a small commission. The affiliate relationship has not influenced the information and opinions presented on this page.
What is E-Junkie?
E-Junkie makes it easy for you to sell digital or tangible products from your website or blog. If you're selling digital products, E-Junkie will automatically handle the delivery of your products to customers. You'll set up your products in E-Junkie and they will provide you with a "buy now" or "add to cart" button that you can add to your website.
It's quick and easy.
I used E-Junkie for 2-3 years on one of my old websites. I was finding other e-commerce systems to be time consuming and confusing to set up for digital products, then I tried E-Junkie and had my first product set up in less than 5 minutes. E-Junkie integrates with PayPal and other payment gateways to handle the collection of payments from your customers.
Who Should Use E-Junkie?
If you're looking for an easy, reliable way to sell and deliver digital products online, E-Junkie may be a good fit. I wouldn't recommend it for large stores (in general, sites that sell more than 100 products) as I think it is better suited for smaller shops (try Shopify for larger shops). E-Junkie has been around for years and is used by many high-traffic websites.
As I mentioned, I used E-Junkie for a few years and I found it to be extremely reliable. However, it wouldn't be my first choice if I were looking for an e-commerce solution today. Other services like DPD and SendOwl include most of the same features and functionality as E-Junkie, but their user interfaces make them easier to navigate, in my opinion. That's really my only complaint with E-Junkie is that the user interface in the dashboard is not the most intuitive. E-Junkie can definitely get the job done, and they have a strong track record as a stable company.
Things to Love About E-Junkie
Here we'll take a look at many of the features of E-Junkie.
Use it With Your Existing Website or Blog
You can use E-Junkie with your existing website or blog, so you won't need to have your site re-designed or coded for a specific e-commerce platform. All you need to be able to do is paste in the code for the buttons that E-Junkie creates for your products.
Getting Started is Easy
This is what led to me becoming an E-Junkie user. I had tried at least 3 or 4 other options for e-commerce, including some WordPress plugins, and the configuration and setup process just seemed complicated with each one of them. After several hours and being no closer to having my products for sale online, I gave E-Junkie a try. To my surprise I had my account created and the first product added to my site and ready for sales in just a matter of minutes.
1 Week Free Trial
While DPD and SendOwl offer 30-day free trials, the 1 week offered by E-Junkie is probably long enough to get familiar with the dashboard and the major features so you can decide if it is the right choice for you.
No Need to Worry About Security
Since E-Junkie hosts the shopping cart and checkout, you won't have to worry about SSL or other typical e-commerce security concerns for your own server. No personal data from your customers will be entered on your own server. This makes it hassle free for you, which is one of the reasons it is a good option for small online shops.
No Per-Sale Fees
E-Junkie charges a flat monthly fee based on a few factors like the number of products that you are offering and the amount of disk space that you need for hosting your digital products. E-Junkie does not charge any fees per transaction and they don't take a cut of your sales. You will, of course, still have fees for the payment gateway that you use, for example PayPal.
Secure Downloads for Your Products
E-Junkie protects your digital products by using secure download links. Customers will not be able to take the download links to your products and post them at other websites. You'll set a maximum number of times each file can be downloaded by the customer, as well as a maximum number of hours that the download link will last. If those limits are exceeded the download will not work. If customers need their links to be re-set you can do that from within the dashboard.
Customizable Email Templates
You can customize the "thank you" emails that are sent automatically to customers.
Newsletters
One nice feature offered by E-Junkie that DPD and SendOwl do not offer is the ability to send an email newsletter to all of your customers. You can send an email to customers who purchased specific products, or to all of your customers. This is great for promotions and for encouraging repeat customers. There is an additional charge for sending newsletters. The price depends on the number of emails that are being sent.
Built-In Affiliate Program
E-Junkie includes a built-in affiliate program so you can allow other website owners and bloggers to promote your products in exchange for a referral commission. Many affiliate marketers already have an E-Junkie affiliate account, and affiliates can manage all of their E-Junkie affiliate promotions through the same login.
Stats and Reporting
E-Junkie also offers a reporting engine that allows you to see stats on your sales by product and by date range.
How to Get Started with E-Junkie
If you'd like to give E-Junkie a try, head over to their website and click on the "register" link (make sure you are on the "Sellers" tab). You'll then enter your data where it says "register for free trial".
Next, you'll receive an email with an activation code that you need to enter to complete the registration.
You'll then be led to a page where you'll fill in some more details about your account. Here you can upload your logo, which will be used to customize the checkout pages.You'll also set up your payment gateway by entering your PayPal email address or your account details for Google Checkout, 2Checkout, Clickbank, or TrialPay. Then click submit when you are done.
Your account is now set up and you're in the admin dashboard.
To set up your first product click on the the "add product" link under "manage products". Here you'll give your product a name, set the price, and you'll have some other optional items as well. You can set it to send you an email whenever this product is sold, and you can customize the email message that is sent to buyers. Click on "more options" when you are done.
From here you can change the max number of download attempts and the length of time that the download will last, if you'd like. You can then submit the product.
If it is a digital product you'll need to upload your file. Go back to the admin dashboard and click on "view/edit/delete products". Select your product from the dropdown menu and click "edit". Then click on "upload product file" and it will lead you through the process.
After you've uploaded the file keep clicking on the "next" buttons until you come to the "submit" button. If everything has been entered correctly click "submit". You'll then be led to a page that has the code for an "add to cart" button.
Copy the code for the button and paste it at your website wherever you want the button to appear. If you're using WordPress, click on the "text" tab before pasting the code. Code doesn't work if you paste it while on the "visual" tab.
That's it! You've now got your first product set up. If you're interested in signing up for a free trial of E-Junkie please visit their site.