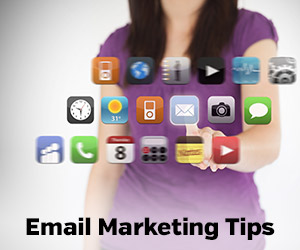 Email marketing is a critical aspect of building a business online. Although the topic of email marketing gets a lot of attention, a very small percentage of businesses and entrepreneurs are maximizing their potential impact with email marketing.
In this post we'll take a look at 10 practical and helpful tips that you can implement to get more out of your own efforts to grow and manage your list. Each tip comes from a different expert or company. Take a look at the tips and see which ones you need to implement in your own email marketing efforts.
Create a Dedicated Subscribe Page – Beth Hayden

In an article at Copyblogger, Beth Hayden recommends setting up a page on your site specifically for the purpose of allowing visitors to opt in to your email list.
These pages are helpful for being able to email a link to someone who wants to subscribe, and also for linking from your other posts and pages. If you're giving someone instructions on how to subscribe to your list it is much easier to send a link to a subscribe page rather than describing the area of the sidebar that they should use for signing up.
Use Video – Ryan Hanley

In this post Ryan Hanley mentions that simply including a video in your welcome email can increase the click through rate by 96% and reduce unsubscribes by 75% (Implix 2010 and Eloqua Email Marketing are the sources of those stats).
Creating a video may seem daunting, but it's actually quite simple. Ryan suggests simply creating a video with your phone and uploading it to YouTube. In your email you can include a screenshot of the video with a link to the YouTube page.
Write Your Drafts in Gmail – Will Critchlow

If you want your emails to sound more personal and less like marketing pitches, Will Critchlow of Distilled recommends in this post that you draft your emails in Gmail (or whatever email client you use) rather than in MailChimp, or the mailing list manager that you are using.
Creating emails that have a personal feel is critical to connecting effectively with your subscribers, and by drafting your emails in Gmail you're more likely to write natural emails like you would if you were writing to a specific person instead of to a massive list.
Use a Sense of Urgency and Specific Call to Action Instructions – AWeber

In order for your email list and your campaign to be effective you must be able to get your subscribers to click on links in your emails or to take the specific actions that you are after. In this post, AWeber recommends to use a sense of urgency and to be clear and specific with your calls to action.
Urgency is commonly used in copywriting and can be incorporated into your email campaigns in a number of different ways. One of the most obvious ways is to use a limited time promotional offer or discount if you are selling products. The recommendation also includes being clear and obvious when asking readers to click on your links to give them clarity on what they should do next.
Want to Sell Your Own Digital Products Easily?
I highly recommend SendOwl as a great platform for selling digital products. I use SendOwl at a few of my own sites and it is the most reliable and easiest platform I've used (and I've tried a lot of them) for selling digital files.
Always Include a Link – David Risley

David Risley suggests in this post (along with a lot of other tips) that you should always have something for subscribers to click in every email. You want to get your subscribers in the habit of clicking and taking action on your emails.
You could link to a post on your blog, a product that you have for sale, or an affiliate link. When your subscribers get accustomed to taking action on your emails you should see higher clickthrough rates and better engagement.
Send Emails On a Regular Schedule – Joanna Wiebe

In this post at Copy Hackers, Joanna Wiebe's tips include mailing your list on a regular, predictable schedule.
In Joanna's case she sends an email every Tuesday and when you sign up for her list she'll tell you to expect to receive an email from her every Tuesday. This type of repetition helps to build anticipation and is great for creating loyal followers that look forward to hearing from you. This can lead to better open rates and more engaged and responsive audience.
Send Your Emails at the Best Times – GetResponse

This infographic from GetResponse indicates that the best times to send your email campaigns are 8:00-10:00 am and 3:00-4:00 pm. Many people check their email at the beginning and the end of their work days, so it makes sense that these would be the best times for getting your emails opened and read.
You can use this knowledge to time your campaigns and give them the best chance of being opened and read. GetResponse has a useful feature called Time Travel that allows you to have your emails delivered at the same local time in every time zone, giving you more control over when your subscribers will receive your message.
Optimize Your Emails for Mobile Devices – Kyle Lacy

Kyle Lacy mentions in this post that 63% of U.S. consumers will delete emails immediately if they are not optimized for mobiles (statistic via Return Path).
The percentage of emails that are viewed on mobile devices is staggering, and growing very quickly. Everyone who uses a smartphone knows how annoying improperly formatted emails can be, so make it a priority to create email campaigns that are mobile friendly. Both GetResponse and AWeber allow you to easily create and edit mobile responsive email templates.
Solicit Engagement in Your Emails – Megan Dougherty

In this post/podcast, Megan Dougherty of Firepole Marketing suggests that you solicit engagement and responses from your subscribers.
If you're looking for an active, vibrant list of subscribers, make an effort to get them involved. You could ask them to reply to your email, suggest that they comment on a blog post, ask them to share the email via social sharing buttons that can be incorporated, or set up a poll or survey.
Give Exclusive Access – Jordie van Rijn

Jodie van Rijn mentions in this post that exclusivity is intriguing for customers. He suggests emailing your best customers to give them early access to major promotions, or create offers that are exclusively for them.
You can offer special add-ons or bonuses that are only offered to your VIP list. Many people who are included in this list of your best customers/followers will appreciate the exclusivity.
What Are Your Tips?
If you have any email marketing tips of your own that you'd like to share, please feel free to leave a comment.

Marc is the founder of ProfitBlitz. He has been working online for more than a decade and loves to write about topics like internet marketing and SEO. When he's not working he enjoys travel and photography.