Email marketing is a critical part of doing business and making money online. If you're not already focusing on growing your list, you should make it a priority today. And if you're already building a list, being able to make even a small increase in conversion rates can have a dramatic impact on the growth of your list and its effectiveness.
With an established email list you'll be able to stay in close contact with your most loyal followers, offer valuable information and content to them, promote your products and services, and generate traffic to your website or blog. As countless websites and blogs have experienced crushing drops in search engine traffic due to Google's algorithm changes and updates, growing a mailing list is increasingly important for the long-term stability of your business.
In this post you'll find links to a wide variety of resources, tools, and articles that can help you in your own email marketing efforts.
Email Marketing Services:
First things first, you need to choose a provider. There are a lot of different options, even more than the ones listed here, but here you'll find most of the leading options.
GetResponse
I use GetResponse to manage the ProfitBlitz newsletter list, and I've been very happy with their service. GetResponse offers loads of awesome features, a well-designed user interface that is easy to use, quality customer service, and affordable prices. If you're looking for a provider I highly recommend GetResponse. They also offer a 30-day free trial with no credit card info required.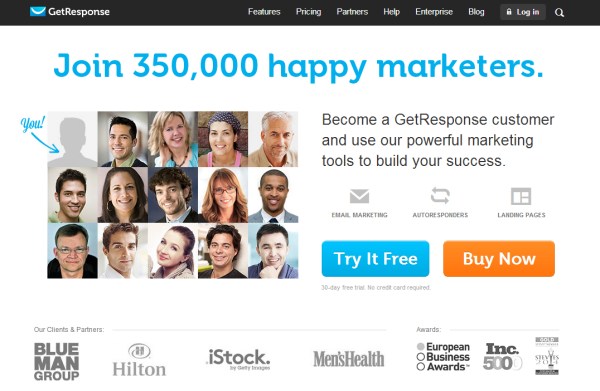 AWeber
AWeber is another leading option, and I have personally used AWeber with some of my other websites for several years. AWeber's customer service is excellent and they have all the features you need. My preference for GetResponse is mostly due to the user interface and easy of use, and their pricing is slightly lower than AWeber's. However, AWeber is still a service that I use and recommend. New users can try AWeber for $1 for the first month.
MailChimp
MailChimp is another popular option. Many users like the clean design of the MailChimp interface, and they also offer a free plan for up to 2,000 subscribers. While MailChimp is a good service that I have used in the pas, the free plan includes some limitations (like no autoresponder) that can ultimately wind up costing you money, so don't choose based on price alone.
Want to Sell Your Own Digital Products Easily?
I highly recommend SendOwl as a great platform for selling digital products. I use SendOwl at a few of my own sites and it is the most reliable and easiest platform I've used (and I've tried a lot of them) for selling digital files.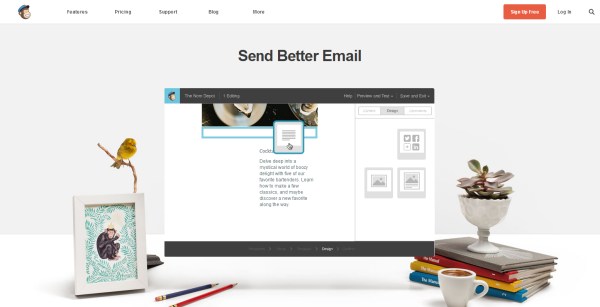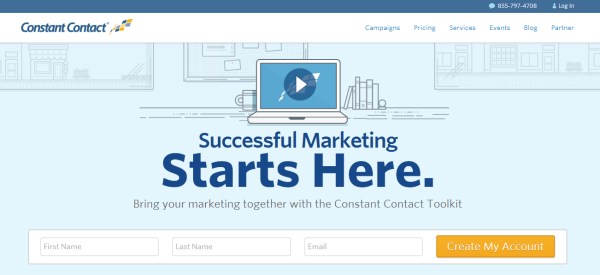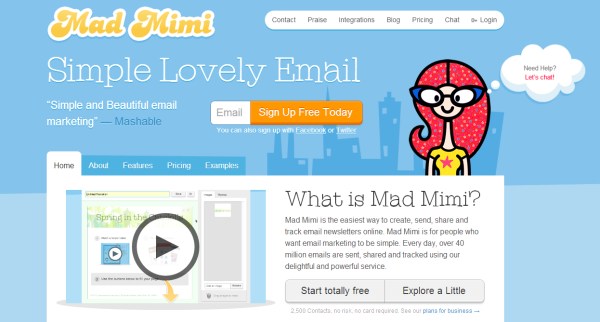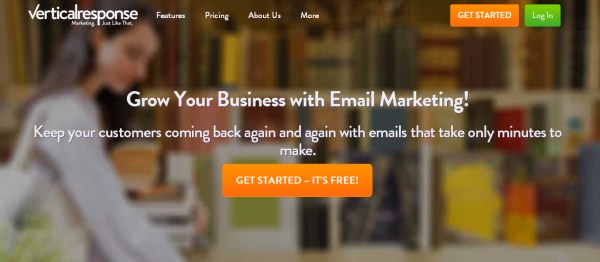 MyMail WordPress Plugin
This WordPress plugin offers an alternative to the traditional email marketing services. It gives you feature-rich email marketing options right from the WordPress dashboard.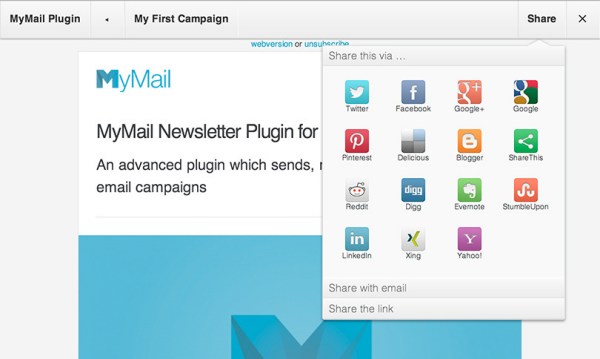 InfusionSoft
InfusionSoft is a small business CRM and marketing software. Email marketing is a big part of what InfusionSoft does, but there is much more than just email marketing. Due to the extensive features and the pricing, most users are best off by starting with GetResponse or AWeber and moving to a more feature-rich option like InfusionSoft as their business grows.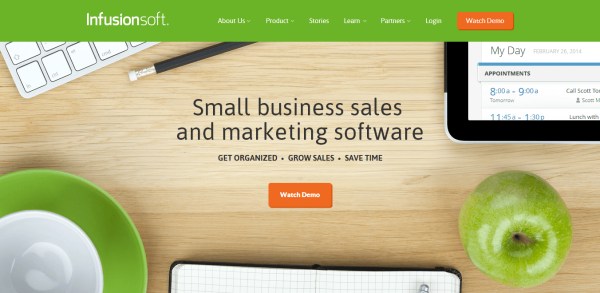 Ontraport
Ontraport is another very powerful small business CRM that includes email marketing functionality. As is the case with InfusionSoft, most users will be best served by starting with a simpler solution and moving to Ontraport when needed.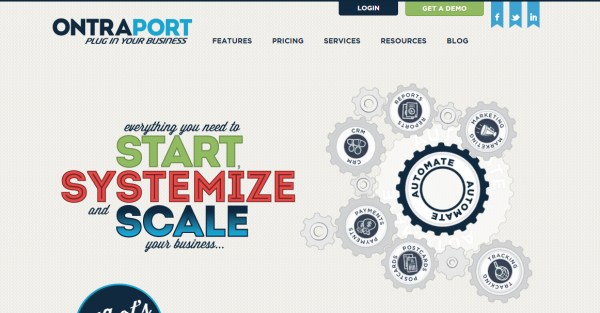 Popups:
Let's face it, most visitor don't really like popups. but despite the fact that popups can be intrusive, the fact is, they can be extremely effective for helping you to grow your email list. In fact, there are very few things you can do that will be as effective as a popup. When combined with free bonuses and offers for your subscribers, popups can help you to convert a decent percentage of your visitors into subscribers.
OptinMonster
OptinMonster is a relatively new WordPress plugin, released in 2013, but it's gaining popularity very quickly. I use OptinMonster here at ProfitBlitz, as well as at some of my other websites. OptinMonster has some unique features like exit intent, which detects user behavior and shows a popup before the visitor leaves the page. You can also set up several different types of popups, like the standard lightbox popup, the floating footer bar, and the slide in.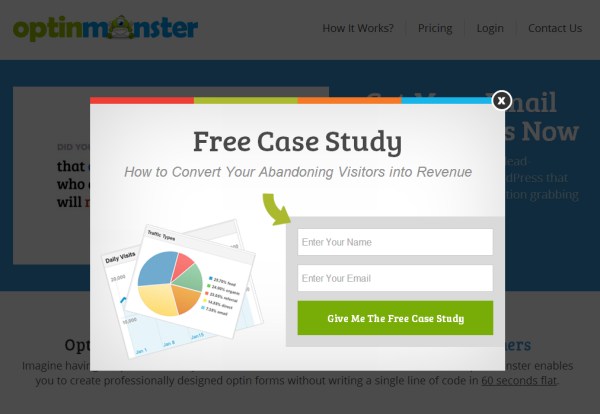 Popup Domination
Popup Domination is probably the most popular WordPress plugin for creating popups. It comes with 9 different popup themes, in 14 different colors. It gives you control to show the popup when and where you want, includes A/B testing, exit popups, and plenty of other features.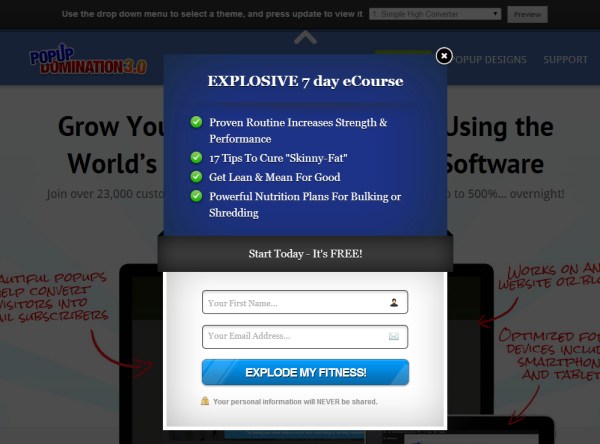 Hybrid Connect
Hybrid Connect allows you to create popups and other types of optin forms, sidebar forms, and squeeze pages.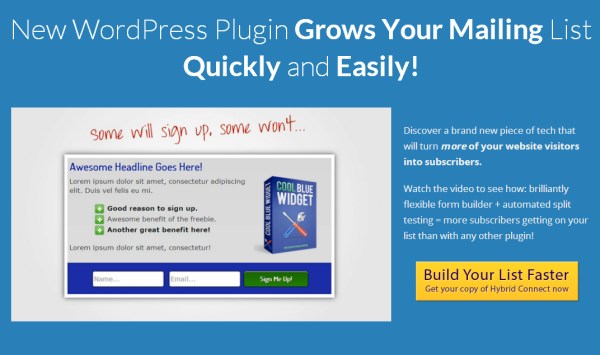 Pippity
Pippity is another WordPress plugin for creating popups. It comes with 12 different designs, customization options, A/B testing, and more.
WordPress Popup
WordPress Popup is a free plugin that allows you to add a simple popup to your site/blog. It doesn't include all of the features of OptinMonster, Popup Domination, or some of the other premium plugins, but it does offer a free option. There is also a pro version available with more features.
Dreamgrow Scroll Triggered Box
This free plugin triggers a popup when the visitor scrolls to the end of a page or a certain percentage of the page (you set up the details).
Bounce Exchange
Bounce Exchange uses exit intent technology to display a popup when your visitor is about to leave your site. This is an option for larger sites, but pricing starts at $3,995 per month, so the plugins are far more affordable for bloggers and most small businesses.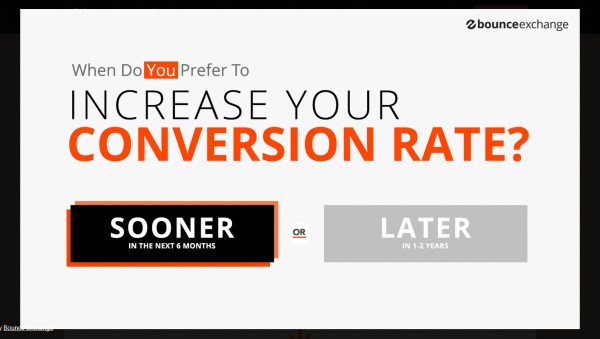 Popup Alternatives:
Popups can be effective, but they may not be the right fit for every website. There are some alternatives that can also help to give your optin forms more exposure without being as intrusive as a popup.
Hello Bar
Hello Bar is a free tool that adds a notification bar to the top of your site that can be used to promote your email list or your free bonus for subscribers.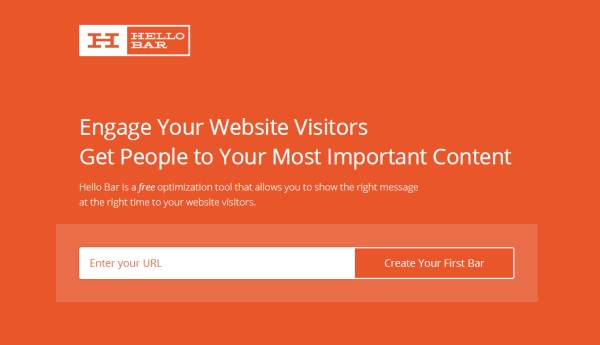 Foobar
Foobar is a WordPress plugin that is very similar to Hello Bar.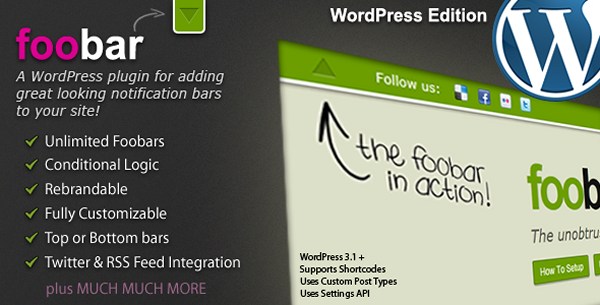 ManyContacts
ManyContacts is another alternative to Hell Bar, and it is also free.

Optin Feature Box
This WordPress plugin from Plugmatter allows you to add an optin box directly below your header and above page/post content, so it will get plenty of exposure to your visitors.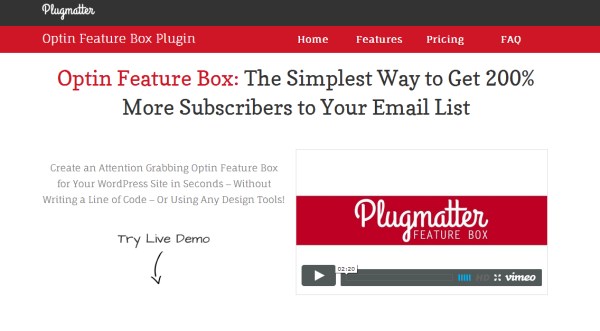 Magic Action Box
Magic Action Box is fairly similar to Optin Feature Box. It's a WordPress plugin that allows you to create optin boxes that will be displayed before or after your post content.

Unpop
Unpop is a WordPress plugin that displays an option form at the side of the site in order to be less intrusive than a popup.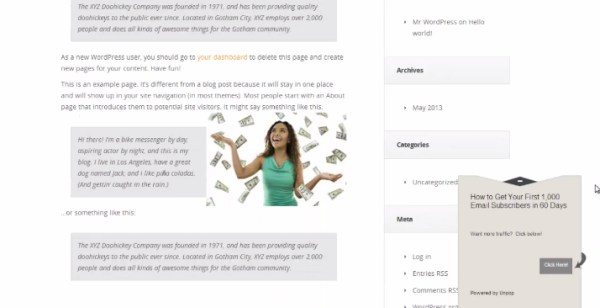 LeadBoxes
LeadBoxes is a feature of LeadPages that allows you to link to an optin box anywhere you can place link. You can use a LeadBox in your sidebar, within blog post content, and even at other sites. You can see how it is being used by Kim Roach of BuzzBlogger.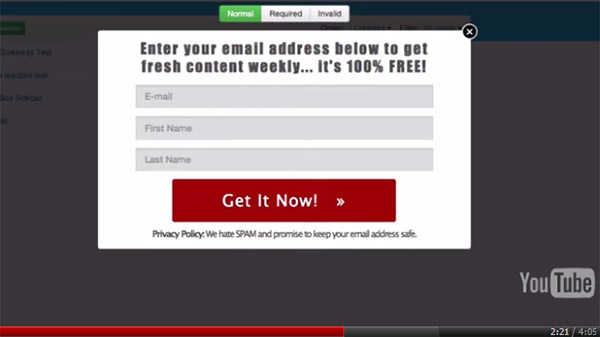 Drip
With Drip you can add an optin form that will offer something to your visitors, and it will appear from the bottom of their screen.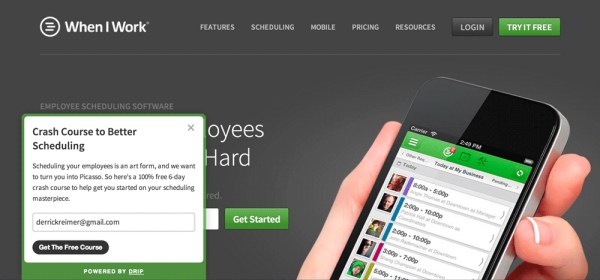 OptinSkin
OptinSkin is a WordPress plugin that allows you to create attractive optin forms that can be placed anywhere on your site. You can even have the forms fade in to attract more attention from visitors.

Slide In
With this WordPress plugin you can create messages and optin forms that slide in, rather than popups.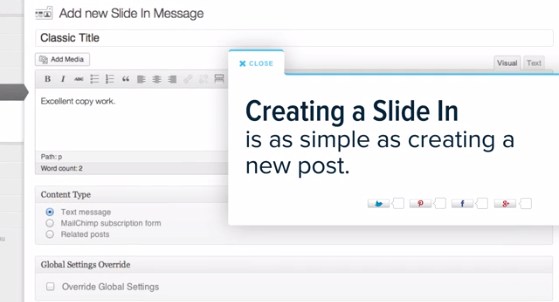 Genesis eNews Extended
If you use the popular Genesis theme framework for WordPress, the Genesis eNews Extended plugin is an easy way to add optin forms to your site or blog. You can see the plugin at work here at ProfitBlitz at the top of the sidebar and below posts.
Other WordPress Plugins and Themes:
Allow commenters to subscribe to your list
If you're an AWeber user you can take advantage of this free plugin. When visitors leave a comment on your blog they will have the option to check a box and subscribe to your list.
Re-direct first-time commenters to a "thank you" page
One effective approach is to re-direct a visitor to a thank you page after they leave their first comment on your site. The thank you page can include an optin form where they can subscribe to your list. This free plugin handles the re-direct for you.
Create a sticky sidebar opt-in form
This free plugin will allow you to create a sticky sidebar, so your optin form will stay in view for visitors.
Generate Theme
The Generate Theme from StudioPress was created specifically to prioritize email subscriptions.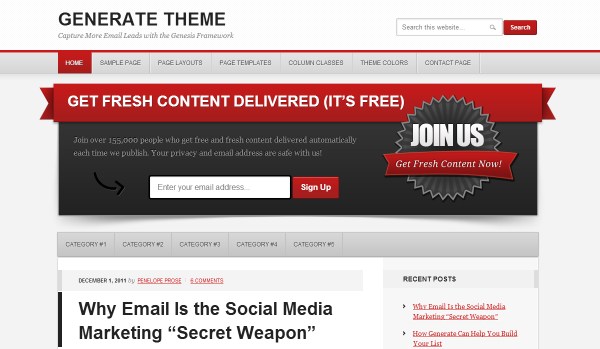 Landing Pages:
Landing pages and squeeze pages can be extremely effective for growing your list, especially if you are advertising. Many advertisements will lead visitors to a landing page specifically for the purpose of capturing email addresses. There are a number of resources that make it easy to create your own landing pages.
LeadPages
LeadPages is probably the most popular option right now for creating your own landing pages. LeadPages will host your landing pages, deliver free bonuses to subscribers, and you can use their templates as a starting point for your own landing pages. You can even create landing pages to integrate with your Facebook page.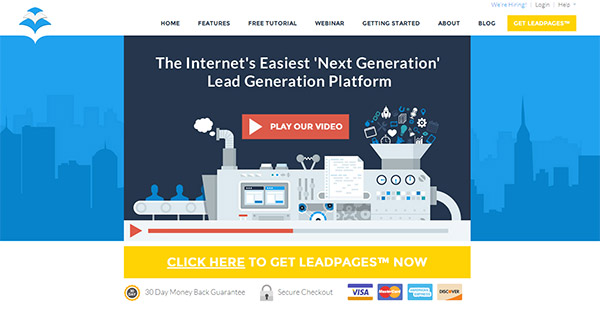 Unbounce
Unbounce offers a drag and drop WYSIWYG page builder that gives you the control to quickly create your own custom landing pages. They also offer a large collection of landing page templates that you can use.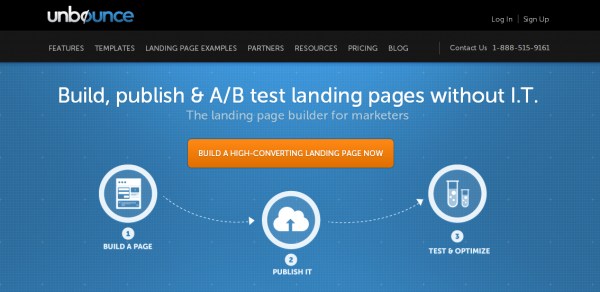 OptimizePress
With OptimizePress you can create landing pages, sales pages, and membership portals. One of the major advantages of OptimizePress is that it involves a one-time payment rather than monthly fees, unlike most of its competitors.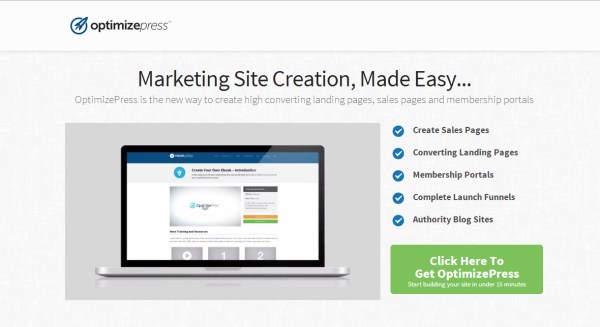 Instapage
With Instapage you can choose from over 50 different landing page templates and use a drag and drop editor to customize the page.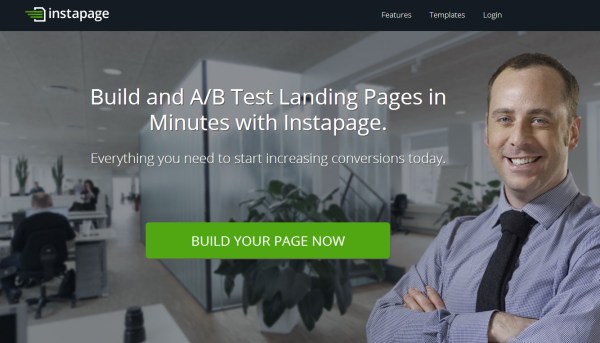 KickoffLabs
KickoffLabs allows you to quickly create landing pages. It includes some email marketing features and also integrates with AWeber and Mailchimp.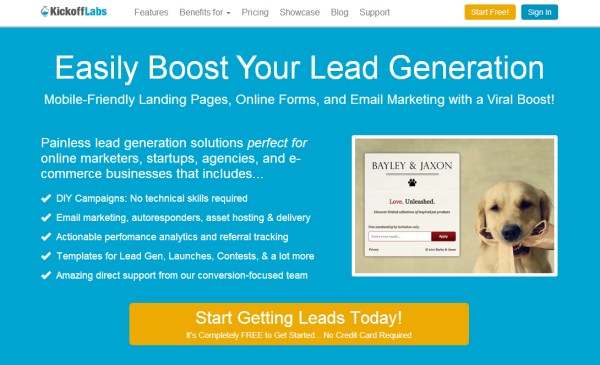 Webinars:
Webinars can be highly effective for growing your list and for interacting with subscribers and converting those subscribers into customers. You can use webinars to strengthen your relationship with your subscribers, making your email list even more powerful and valuable. The resources in this section make it possible to set up your own webinars.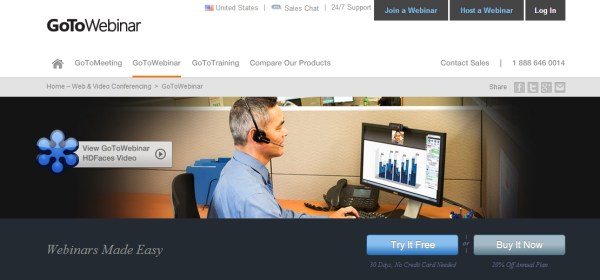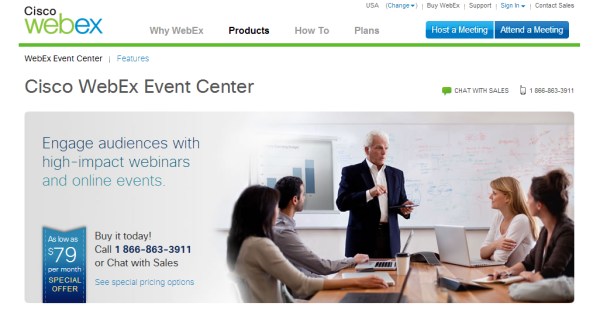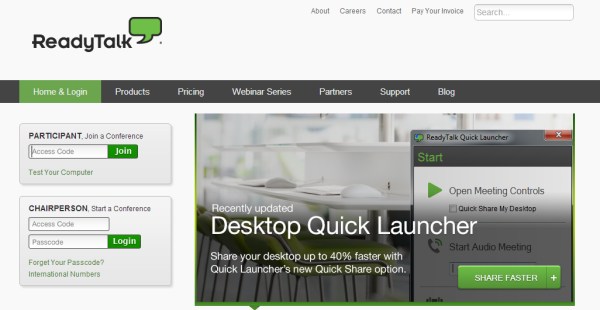 Contests and Promotions:
Contests and promotions can be great ways to gain exposure for your brand, and your email list as a result. There are a number of different companies and apps that can help you to run very effective contests that will integrate with social media to help you spread the word and increase the exposure of your contest. All of the resources listed here can help you in this way.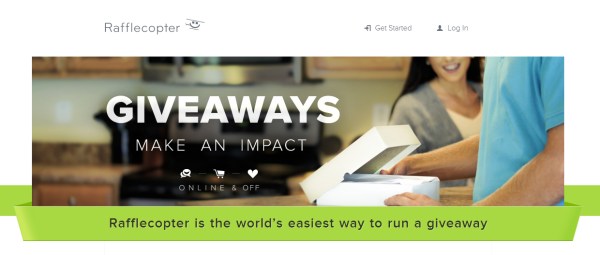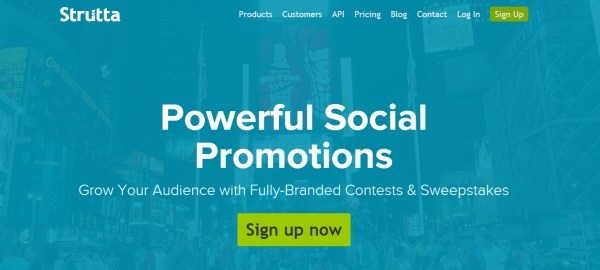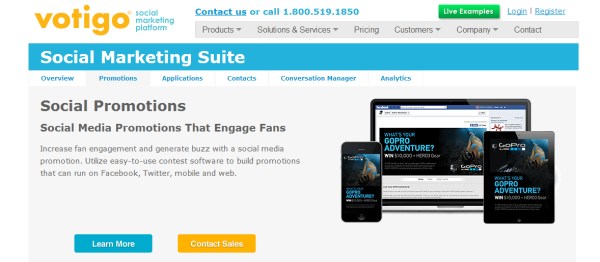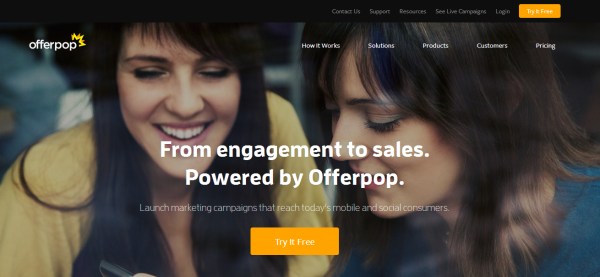 Social:
This section includes some resources that allow you to leverage social networks to help with building your email list.
ActionSprout
ActionSprout syncs with tools like Salesforce and MailChimp when one of your Facebook fans takes action. You can unleash more than 25 different social actions to foster more meaningful relationships on Facebook.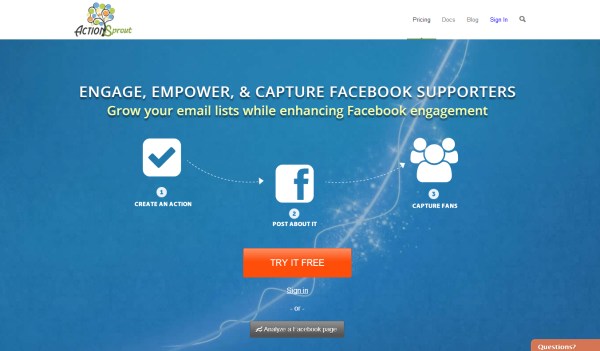 Antavo
With Antavo you can run viral Facebook contests, sweepstakes, and giveaways to grow your email list. You can create custom groups and segment your list, and integrate with AWeber, Mailchimp, Mad Mimi, and others.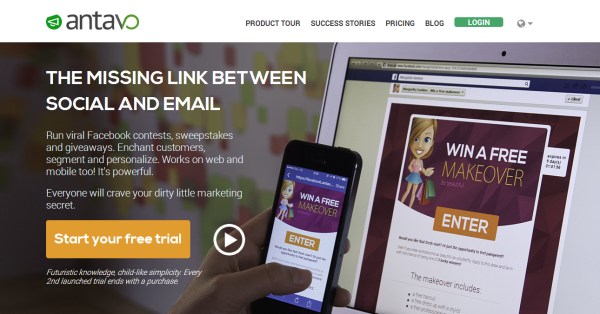 SplashPost
SplashPost allows you to generate fans, leads, and sales from your Facebook page. As far as email marketing is concerned, you can use an "email gate" so Facebook users have to opt in to see your posts.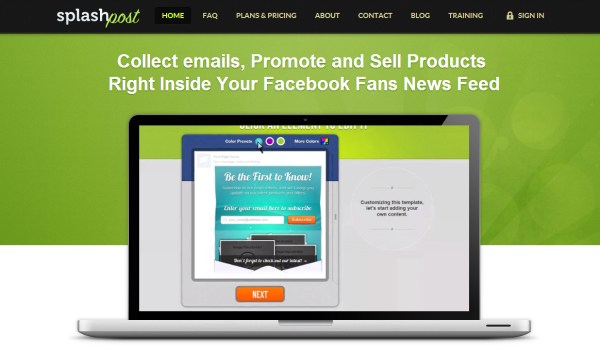 Educational Articles & Resources:
The articles in this section provide excellent insight, advice, and tips that you can use to improve your own results with email marketing.
The Complete Guide to Building Your Blog and Getting More Email Subscribers
By Adam Connell, published at Blogging Wizard
The 9 Must-Have Components of Compelling Email Copy
By Corey Eridon, published at HubSpot
The 12 Pillars of Reader-Friendly Email Marketing
By Corey Eridon, published at HubSpot
20 Simple Ways to Boost Blog Subscribers
By Pamela Vaughan, published at HubSpot
How to Advertise on Facebook (to build an email list)
By Matthew Woodward, published at MatthewWoodward.co.uk
Email Marketing Case Study: How I Generated $40,000 in Sales Without Annoying My Subscribers
By Yaro Starak, published at Entrepreneurs-Journey
How Email Segmentation Made My List Stronger AND $31,940 More Profitable
By Yaro Starak, published at Entrepreneurs-Journey
34 Ways to Increase Your Blog's Email Subscriber List
By Stuart Walker, published at Niche Hacks
41 Tips that Put Over 10,000 People on My Email Subscriber List
By Ramsay Taplin, published at Blog Tyrant
How to Write Emails that Sell (and that People Love to Read)
By Ben Settle, published at Copyblogger
11 Great Ways to "Get Personal" In Your Email Marketing
By Andy Pitre, published at HubSpot
8 Email Marketing Metrics That Matter
By Kristi Hines, published at CrazyEgg
7 Clever Email Campaigns That Get Customers Buying Again
By Corey Eridon, published at HubSpot
How to Grow Your Email List with Facebook Promotions
By Mike Gingerich, published at Social Media Examiner
How I Increased My Subscriber Rate by 10x Overnight
By Chris Spooner, published at Line25

Marc is the founder of ProfitBlitz. He has been working online for more than a decade and loves to write about topics like internet marketing and SEO. When he's not working he enjoys travel and photography.