Regardless of what topics you cover at your blog, a never-ending challenge is finding topics that will interest your readers, encourage them to share it with others, and convert first-time visitors into subscribers and repeat visitors. There are a number of different ways you can go about brainstorming blog post ideas, and a few months ago I covered this topic in 13 Easy Ways to Come Up with Blog Post Ideas. One of my suggestions in that post is to use Ubersuggest, a free tool that can help you to generate a lot of post ideas quickly. Ubersuggest is a really simply tool, but it can be quite useful to get ideas that are based on phrases people are actually using in their searches.
I recently came across a tool that takes the idea of search suggest to a new level, and I wanted to cover it in a blog post because I think it could be a very valuable tool for many bloggers. If you're not familiar with search suggestion tools here is a quick rundown of how they work. When you are doing a Google search Google will make suggestions based on the words/letters that you have entered and what other users are searching for.

Search suggestion tools simply gather this data on a larger scale much quicker than you could by doing different searches manually. When you see what Google, or another search engine, is suggesting it can give you ideas for topics that you could cover at your blog. And best of all, since the search engine is suggestion this phrase you know it is something that at least some users are actively searching for.
Power Suggest Pro can help bloggers to find countless article ideas that will lead to more search traffic. In this post I'll cover the basics of Power Suggest Pro, what it can do, and how you can start using it for yourself. To start with Power Suggest Pro currently costs $57 for a lifetime license.

I think the best way to explain is to show how Power Suggest Pro works with a sample search phrase. For this example I am going to look for some blog post ideas related to WordPress themes.
One of the things to like about Power Suggest Pro is that the user interface is very logical and there is not much of a learning curve. The first thing you'll do is enter your term or phrase.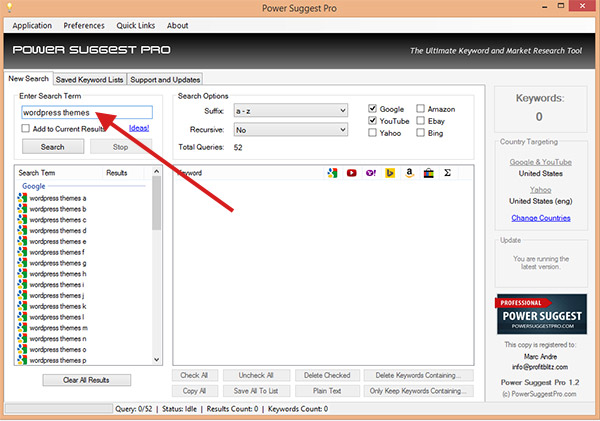 Next, in the "search options" area you have a few choices that will impact the results. The first option is "suffix". If you choose "none" it will simply report the search suggestions for your phrase. If you choose "a-z" it will report the search suggestions for adding each letter to the end of your phrase. For example, with the phrase of "wordpress themes" it would provide the search suggestions for "wordpress themes a", "wordpress themes b", "wordpress themes c", etc. So this option will exponentially increase the number of results that you will get. The other option for suffix is "aa-zz", which goes two letters deep and drastically increases the results even further. In this example it would provide search suggestions for "wordpress themes aa", "wordpress themes ab", "wordpress themes ac", and so on.
Want to Sell Your Own Digital Products Easily?
I highly recommend SendOwl as a great platform for selling digital products. I use SendOwl at a few of my own sites and it is the most reliable and easiest platform I've used (and I've tried a lot of them) for selling digital files.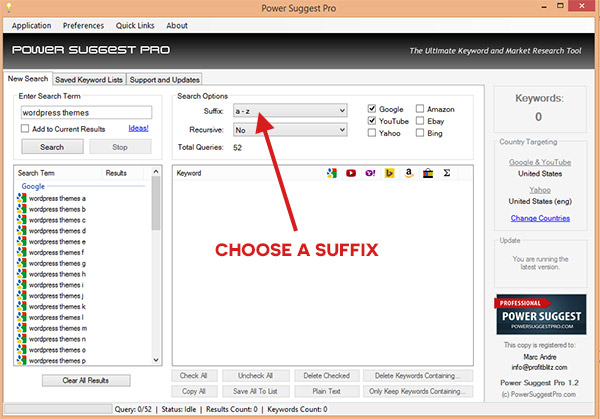 So far from my use I prefer to select "a-z" on most queries. That gives me plenty of results without getting too many that can be overwhelming to read through.
The next option is "recursive". If you select "yes" for recursive it will also search each result and give further suggestions. This is a great option for finding deep niches or generating a huge list of ideas. Generally I leave this set to "no" because I get plenty of results without it.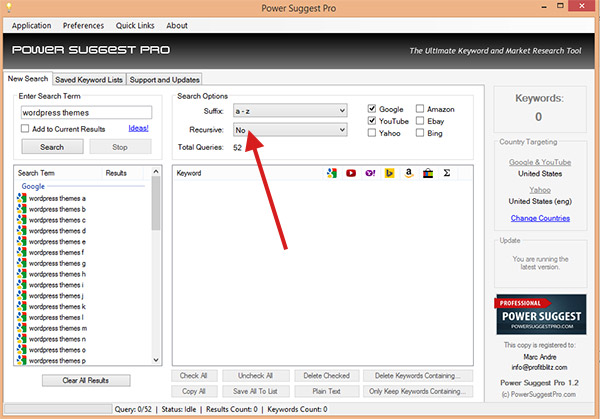 The last option involved selecting the search engines that you want to use. You can choose from Google, YouTube, Yahoo, Amazon, Ebay, and Bing. You can choose just one, or any combination. Obviously, the more search engines you use the more results you will get. Google and YouTube are great options for generating post ideas, and I also like to use Amazon because it can help you to get an idea of what potential buyers are searching for.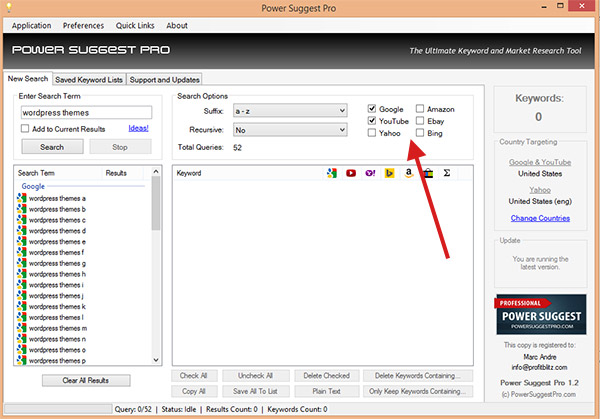 Once you have entered your search phrase and selected the options you want, it will show the total number of queries that will be performed. The more search engines you select, and if you use a suffix (especially "aa-zz") or the recursive option it will really increase the number of search queries. The fewer search queries involved the quicker it will run, although it is pretty fast even with a large number of queries.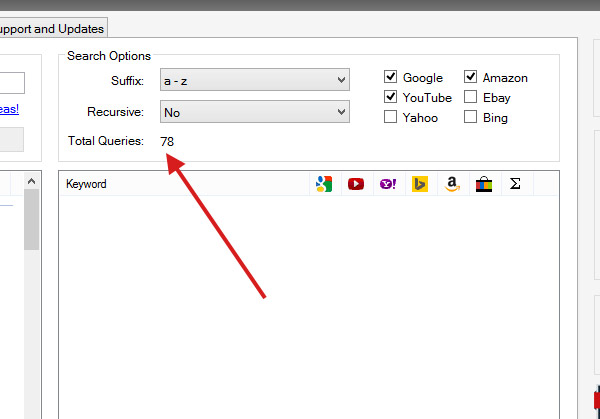 Ok, now you are ready to run it. Just click on the "search" button to start the queries.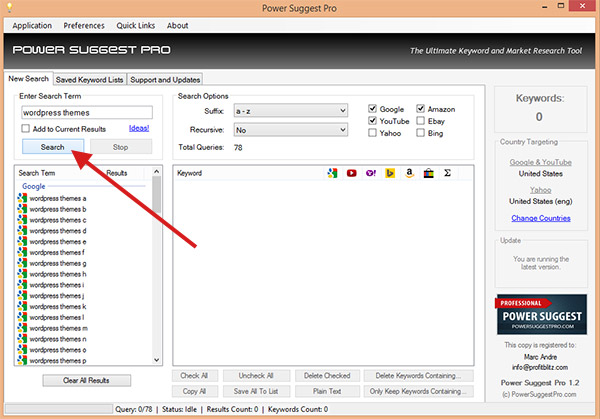 And with that quick process I now have a list of 283 results, based on suggestions that are being provided by search engines.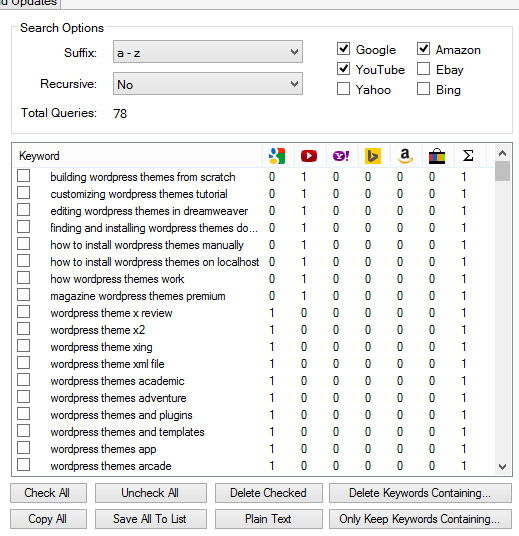 One of the key features of Power Suggest Pro is that you can save lists so that you can easily use them later. Here is how I go about it. Below the results I first click on the button for "check all".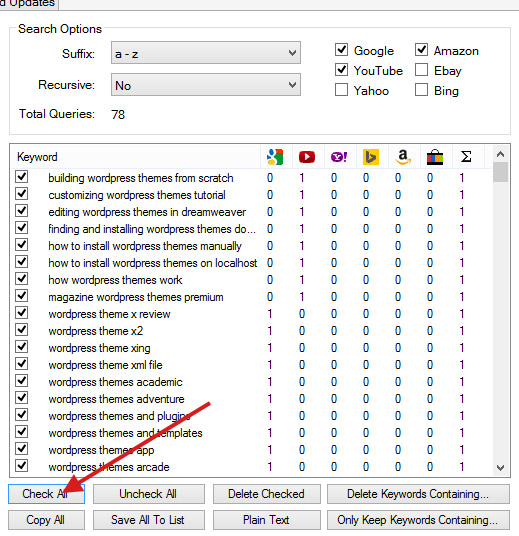 Next, I'll read through the suggestions and I'll uncheck the box of the ones that I want to keep on a list for using later. It might seem a little backwards to uncheck the ones that you want to keep, but after going through the whole list we're going to click the button to delete the checked items, so we want to uncheck any that shouldn't be deleted. Since I am using this tool to find possible blog post ideas I am going to want to keep any suggestion that I think could be a good topic for an interesting blog post.
Now that I have gone through the results and unchecked the ones that I want to keep I can click the "delete checked" button.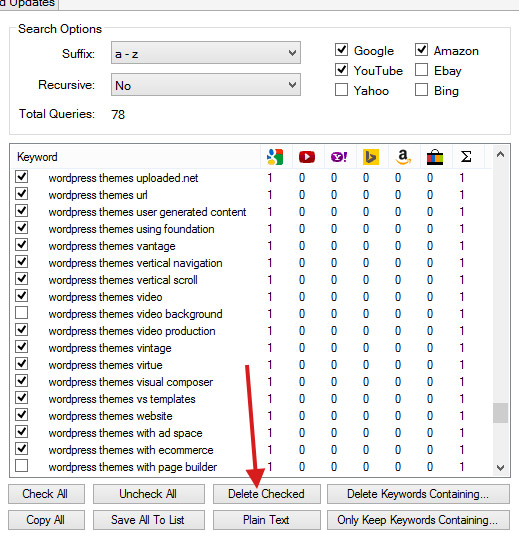 Now I have a smaller, much more manageable list of 35 items that I think could make good blog post topics. Here they are:
building wordpress themes from scratch
customizing wordpress themes tutorial
finding and installing wordpress themes downloadable version
wordpress theme x review
wordpress themes best 2014
wordpress themes best free
wordpress themes club
wordpress themes drag and drop
wordpress themes ecommerce
wordpress themes ecommerce free
wordpress themes for artists
wordpress themes for blogs
wordpress themes for business
wordpress themes for churches
wordpress themes for musicians
wordpress themes for photographers
wordpress themes for writers
wordpress themes generator
wordpress themes help
wordpress themes mobile
wordpress themes mobile responsive
wordpress themes news
wordpress themes not working
wordpress themes optimized for mobile
wordpress themes review
wordpress themes seo
wordpress themes that don't look like blogs
wordpress themes under $10
wordpress themes under $50
wordpress themes video background
wordpress themes with page builder
wordpress themes with sliders
wordpress themes with video backgrounds
wordpress themes woocommerce
wordpress themes you can customize
As you can see, it's very easy to quickly create a large list of post ideas. But Power Suggest Pro has many other features that make it well worth the price. For starters, you can save your lists very easily. So if I want to save this list to use at any point in the future all I need to do is click on the "save all to list" button. I'll then give it a name and save the list.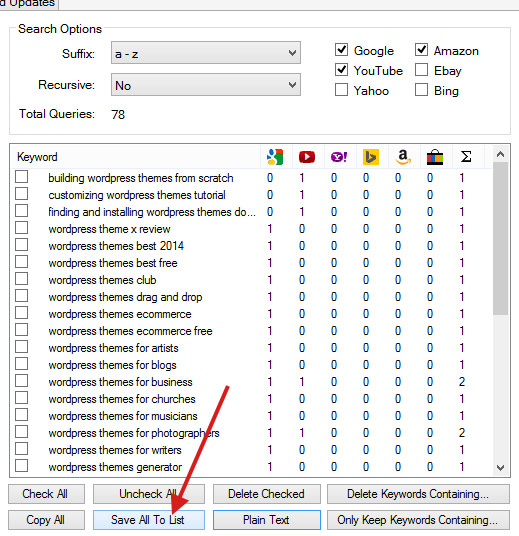 Getting Even More Powerful with an Asterisk
With suggestions from Google and Amazon you can use an asterisk (*) at the beginning or middle of the search phrase to open up the possibilities even more. Typically with search suggestions you will be getting results based on a suffix at the end of the phrase, but the asterisk works as a wildcard that will give you loads more possibilities and greater variety. So sticking with the same example I'll do a search for "* wordpress themes". You can still use a suffix, the asterisk just adds another element to the mix. And here is a list of just some of the results produced by a search for "*wordpress themes".
advanced wordpress themes
amazing free wordpress themes
animated wordpress themes
awesome wordpress themes
best responsive wordpress themes
business wordpress themes
cheap wordpress themes
clean wordpress themes
cool wordpress themes
corporate wordpress themes
customizable wordpress themes
dark wordpress themes
drag and drop wordpress themes
ecommerce wordpress themes
ecommerce wordpress themes free
gaming wordpress themes
how to create wordpress themes
how to customize wordpress themes
how to edit wordpress themes
how to install wordpress themes
innovative wordpress themes
interactive wordpress themes
killer wordpress themes
list of wordpress themes
magazine style wordpress themes
magazine wordpress themes
minimalist wordpress themes
mobile friendly wordpress themes
most popular wordpress themes
non profit wordpress themes
one page wordpress themes
question and answer wordpress themes
quick loading wordpress themes
sell wordpress themes
seo friendly wordpress themes
unique wordpress themes
updating wordpress themes
what are responsive wordpress themes
what are wordpress themes
where to buy wordpress themes
If I wanted to keep going I could search a phrase like "best * wordpress themes" to get more use out of the asterisk.
Accessing Your Saved Lists
At any point when you want to access one of your saved lists all you need to do is click on the "saved keyword lists" tab and you will see all of your saved lists.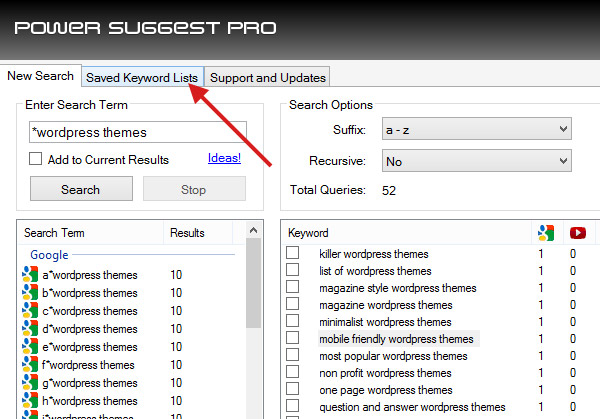 As you run more searches you can add to your existing lists, or you can create and save new lists.
Exporting the Results
Power Suggest Pro is a pretty powerful tool on its own, but if you want to take it a step further you can export the results for more detailed keyword research. With one of your lists open, click on the "plain text" button.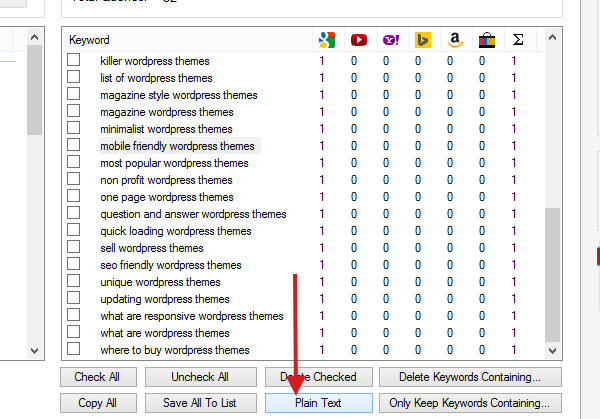 This will open a window that looks like the one below.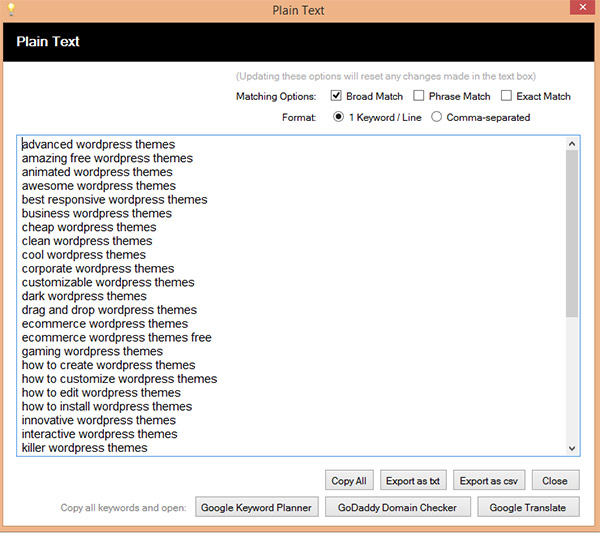 From here you can export the results to Google Keyword Planner, GoDaddy Domain Checker, or you can copy it as plain text and paste it into another tool for keyword research. You can set it to show one phrase per line (the default option) or to display it as a comma-separated list.
Personally, when I am doing keyword research I typically use Long Tail Pro. So now I can copy the phrases/keywords that I found through Power Suggest Pro, paste them into Long Tail Pro, and do more detailed keyword research if needed.
Who Should Use Power Suggest Pro?
After trying Power Suggest Pro for a while I really like what it has to offer. Yes, you can get some of the same data and suggestions from free tools like Ubersuggest, but Power Suggest Pro gives you far more flexibility, plus it has the ability to save your lists for future use so you don't have to re-run the reports every time you want to find a blog post idea.
The price of $57 is reasonable considering the amount of time that it can save you, especially considering it is a one-time fee for a lifetime license. If you're just getting started and you have zero budget it will be possible to do without a paid tool for this purpose. However, if you have $57 that you are willing and able to spend for a tool (and if you will actually use the tool after you buy it) that will save you some time and help you to uncover tons of possible blog topics, I think you will find Power Suggest Pro to be worth the price.
Disclosure: this post contains affiliate links. If you make a purchase through one of my affiliate links I will make a small commission (at no extra cost to you).

Marc is the founder of ProfitBlitz. He has been working online for more than a decade and loves to write about topics like internet marketing and SEO. When he's not working he enjoys travel and photography.