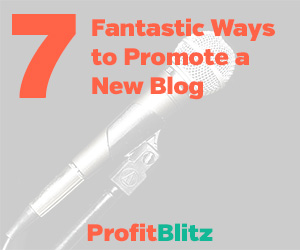 By far the most difficult part of making money with a blog is getting noticed in the early stages. You can publish the most interesting and helpful content, but that content needs to be noticed in order to make an impact.
So how do you go about getting people to notice and care about your blog?
There are a number of different strategies that you can use for growing a blog's audience, and in this article I want to take a look at 7 different methods that I have found to work. If you're planning to launch a new blog I think you'll find these strategies to be very effective. And if you already have a blog but getting readers has been a struggle, you can always apply these strategies with your blog as well.
1. Epic Content
Every blog needs content, and in order for your blog to be noticed it will need quality content that appeals to your target audience. One strategy to get your blog noticed is to go even above and beyond the requirements of quality content, and put together a blog post that is truly remarkable. I'll refer to this as "epic content" for your blog.
The idea here is to provide something that is extremely valuable to your target audience. It could be an in-depth tutorial, valuable tips that can't be found anywhere else, a complete guide to something relevant, a group interview with experts in the industry, etc. It also doesn't have to be limited to a typical text-oriented blog post. It can be an infographic or a video. In the case of this blog, my post Ultimate Guide to Choosing a Blog Monetization Strategy is my effort towards epic content.
The idea with the epic content approach is to totally "wow" your first time visitors. Hopefully they'll be intrigued by this new blog that has such awesome content, and they'll want to subscribe to email updates or an RSS feed in order to keep tabs on your upcoming posts as well.
In order to get your new blog off the ground you'll need to 1) convince first-time visitors that they should come back in the future, and 2) attract links from other websites and blogs in your industry or niche. Epic content can help you to do both.
Creating epic content is not easy, and that's also part of the reason it can be so effective. While writing your typical blog post may take you 30 minutes to an hour, putting together an epic post may take up to 8 or 10 hours (the time will, of course, vary from one case to the next). You may need to do extra research, gather helpful resources, create graphics to be used, and of course dedicate a lot of time to writing or recording a video. Since it takes a lot of time and effort, most people aren't willing to do it. So if you do take the time to come up with a great idea, to create the content, and to promote it (more on that in a minute), it can make a huge difference for your new blog.
Ok, as I said in the intro, publishing great content on your blog is not enough. So that means that you'll need to give your epic content a little boost to make sure that it gets noticed. If the post you've published truly is remarkable and helpful to people in your target audience your promotional efforts will be effective. It's key that you create something that people want to share with others in order to get the viral effect that will make your effort well worth the time.
There are a few different things you can do to give your epic content a boost. First, make sure that it is easy for visitors to share it with others. Include social sharing buttons for major sites like Twitter, Facebook, Google+, and any other social sites that are popular with your target audience, such as Pinterest. If you're using WordPress to power your blog there are a number of plugins that you can use to easily add these buttons. Check out Digg Digg or Add This.
Want to Sell Your Own Digital Products Easily?
I highly recommend SendOwl as a great platform for selling digital products. I use SendOwl at a few of my own sites and it is the most reliable and easiest platform I've used (and I've tried a lot of them) for selling digital files.
If your blog is in an industry or niche that overlaps with Pinterest's target audience, you may want to create an image that will be optimized specifically for sharing at Pinterest. Tall graphics tend to stand out the most on the site, and if your image stands out it will be much more likely to get re-pinned. See this article – The 3-Step Guide to Creating Pinterest-Friendly Graphics for Your Blog.
Another aspect to making your post easy to share is by using a short URL or permalink. WordPress gives you several different choices for how you want your site's permalinks to be created, but I recommend using the "post name" option. You can find these settings by going to Settings > Permalinks in your WordPress dashboard. If you have it set this way WordPress will create URLs for your posts by adding the entire post title, with hyphens between words, to the end of your domain name. These URLs can get rather long, which makes them a little awkward at times when copying and pasting, or when sharing at social sites. I recommend abbreviating it and using the most essential words. This way the URL will still be descriptive, but it will be much shorter and easier for people to share. For example, the URL for this post is abbreviated to http://profitblitz.com/promote-new-blog/. Rather than using every word in the post title I edited the permalink to only include the 3 most relevant words.
So now that your post is easy to share, you'll need to get some people to see it and hopefully some of them will share it to get the ball rolling. Here are some ways you can go about sharing it:
Through Social Media
You'll, of course, want to share a link to the post via your own social media profiles and pages, and hopefully some of your followers will share it as well.
Email Your Friends and Contacts
Another good place to start is by using whatever network you have. If you're just starting your blog you may not know a lot of people in your industry yet, but take advantage of whatever contacts you do have. Keep your emails brief and to the point. Introduce yourself, include a link to your epic content, mention why it can be really helpful, and ask the person to consider sharing it via social media or with a link from their site or newsletter. If you're writing to someone that you know fairly well and that you consider a friend, you may also want to mention that anything they do to share the post would be really helpful to you personally.
Email Other Bloggers in Your Industry
If your epic content is genuinely a great post, other bloggers may be interested in sharing it with their readers and followers. Visit blogs whose audience is likely to be interested in your epic post and find the contact form or email address of the blogger. Take the same approach as in the previous step to send them a brief message and ask them to consider sharing it via their blog, email list, or social media. Some will ignore you, and some will actually take a look at your post. If they think it would be of interest to their readers they may decide to share the link with their readers.
Since you won't have a 100% success rate, it's important that you contact a number of different bloggers in order to get a few shares. There is no exact number, it will also depend on how popular your industry or niche is and how many blogs exist that target a similar audience. Don't focus only on the biggest blogs in your industry. They have the most influence, but they are usually the least likely to share your link because they probably get several similar emails each week. Also reach out to smaller blogs because you're likely to have more success here.
Look for Roundup Blog Posts
Some blogs regularly publish roundup posts that provide links to important news or items of interest for readers. These bloggers are ideal for promoting your epic content because you already know they are interested in sharing relevant links with their readers. Browse through blogs in your industry or niche and look for weekly or monthly roundup posts like this. You can also try some Google searches for news in your industry and you may find some of these types of posts. Contact these bloggers with a brief email and ask them to consider including a link to your epic content in their next roundup post.
Find Pages that Would Benefit by Including a Link to Your Post
You can also try doing some Google searches for keywords and phrases that are related to your epic content. Take a look at the pages that are ranking on the first page or two for these searches and see if you can find pages that would benefit by including a link to your epic content. Maybe they are already linking to some pages on other sites that cover similar topics, and if your content truly is helpful they might be interested in linking to you. Or, maybe they cover part of the topic, but your epic content goes into much more depth. Maybe they would consider adding a link to you for their visitors who want more information.
Find a contact form or email address on these websites and ask if they would be willing to add a link to your post. Be sure that you include the URL of the specific page on their site that you would like to link to you. If you're able to get links from a few pages that are ranking well for related searches it could lead to a steady stream of visitors.
Write Guest Posts
I'll cover this topic more in just a moment, but writing posts that are published at other blogs is a great way to get some exposure for your epic content. Typically, your guest posts will include an author bio at the end of the article, and in your bio you can include a mention of your epic content and a link to it. Depending on the situation, it's also possible that you could include a link to your epic content within the article body of your guest post if it is relevant, and if the publishing blog permits it.
2. Guest Post Campaigns
Writing guest posts for other blogs is one of the most common recommendations that you'll see for promoting your blog. This is the main strategy that I used to grow my first blog about 6 or 7 years ago, and I've also used the approach with a few blogs since then, including ProfitBlitz. Unlike some other promotional tactics that turn out to be short-lived trends (like getting your blog to the front page of Digg), guest posting is an approach that has stood the test of time.
One word of warning: be sure that you are submitting your guest posts to reputable sites. There are a lot of low-quality sites and blogs out there that are willing to publish guest posts and Google has been cracking down on these sites, which means getting lots of links from them can actually harm your site. If you stick to submitting your guest posts to established sites that have a solid reputation in the industry you should be fine (and also avoid including unnatural, keyword-stuffed links to your site). You also don't want to go overboard and submit hundreds of guest posts in a short time span. It's impossible to put an exact number limit on how many guest posts you should submit, but you want to make sure that you're getting links from a variety of different methods, not just guest posts.
This point is titled guest post "campaigns" for a reason. In order to have real success with guest posts you need to write and publish more than one. Getting one guest post published with a link to your blog is likely not enough to make a lasting impact.
Another important factor is that you need to not only build links to your site with guest posts, but you also need to focus on convincing those visitors to come back to your blog in the future. Some bloggers set up landing pages specifically to welcome visitors for each guest post that they write. The landing page will then encourage the visitor to opt in to an email list or subscribe to the blog.
I'd recommend making a list of quality blogs in your industry that you know accept guest post submissions. You can always contact others to see if they would be interested in a guest post, but those that actively accept guest posts will be the most likely to publish your articles. Once you have a list of blogs, take some time to brainstorm post ideas that will be a good fit for each of them. If possible, try to focus on topics that are somehow related to your epic content as this tends to make your links more effective at getting clicks on your link.
For the first month or two of your blog's existence it is a good idea to continue to focus on guest posts. You'll also want to be publishing posts at your own blog, but an effort to get several guest posts published will allow you to get your writing in front of a large audience, and hopefully you'll be able to get a lot of visitors collectively from those links.
Spread your guest posts around to a number of different blogs rather than just having your posts published at the same blogs. When traffic to your own blog picks up to the point that you need to dedicate more time to managing your own site, you can take that time that you had been spending on guest posts and use it for working on your own blog. By this point you should have a large enough audience that some of your blog promotion will happen naturally as readers share links to your posts.
3. Egobait
Another way to get some attention for your blog is to take advantage of human nature. People love to be included in an exclusive list or to be given some type of praise. If you want to use this to the advantage of your blog you can mention people in a blog post and then ask them to share it with others.
An example of this would be the post at Expert Photography, Top 20 Most Influential Photographer Bloggers. The post lists and gives a brief description of each person being featured. I don't know what approach this blogger took, but if he contacted the people featured in the post I would guess that at least a few of them shared a link to the post through their social media profiles.
You can put together a list of influential people, people you admire, top bloggers, or whatever is appropriate in your industry. Then email those who have been featured and ask them to share the link via social media.
For a much more detailed guide on the subject please see A Guide to Producing Effective Egobait.
4. A Valuable Freebie
Offering a quality resource for free is also a great way to get people to link to your blog. This is one of the approaches I've taken here at ProfitBlitz with the free blogging e-book that can be downloaded. I spent a lot of time writing the e-book, but it's been a great resource for helping the blog to get noticed quickly.
People love freebies, so if you offer something that your target audience will like, it can generate a lot of interest for your blog. The type of freebie you release will obviously depend on the audience that you are targeting, but there are a lot of potential options. An e-book or a special report could work in just about any industry. Free webinars and training course are also popular. Think about your specific target audience and evaluate the types of digital products that are being sold to that audience. If you can provide something of that kind of value for free it will go a long way towards building your audience.
As an example, take a look at The Coffeeshop Blog. This blog offers a lot of free downloadable resources that can be used by photographers and digital scrapbookers. In some cases these are very similar to resources that are being sold at other sites. While The Coffeeshop Blog isn't directly making money like they would by selling these resources, the freebies are used to draw a lot of traffic and links.
If you dedicate time and effort to creating a free resource for your blog (or if you spend money to have someone else create it), you'll obviously want to make sure that it gets noticed. You can take the same approach as was recommended earlier for epic content. Make sure that it is easy to share and contact others to see if they would be interested in sharing the link to their audience.
5. A Contest or Giveaway
This method may cost some money, but it can be effective. Instead of offering a free resource that anyone can download, you could run a contest or giveaway that will reward one or more people with a valuable prize. The prize should be relevant to your target audience and something that most people in your audience would love to have. Giveaways with great prizes will often be shared via social media and links from other blogs, so they can help to get people to visit your blog.
If you don't have the money to spend on a prize, and let's face it, most new bloggers will not have loads of extra money, you can look for sponsors. The sponsor may be willing to donate the prize in exchange for the promotion on your blog. Keep in mind that as a new blogger it will be more of a challenge to get sponsors than it would for an established blog.
Some giveaways require people to do certain things to enter. For example, you could require that people subscribe to your email list in order to enter the giveaway. At the specified end date of the giveaway you can randomly select a winner from the people who are currently subscribed to your list. Other giveaways will award points for certain actions like tweeting a link to the giveaway or becoming a Facebook Fan. Apps like Contest Domination, Woobox, and ShortStack are great resources for this.
6. Leverage Your Network
If you have an existing network of blogging friends and/or social media users, this can be a big help for a new blog. Contact the people in your network to let them know about your new blog and ask them to consider sharing a link either at their blog or through social media.
If you don't yet have an established network, now is a good time to start working on making some contacts. If you work now to build your network it could come in handy the next time you launch a blog or website.
7. Leverage Your Existing Websites or Blogs
Many bloggers have multiple blogs. If you have another blog that covers topics related to your new blog, use it to your advantage and promote the new blog from the existing blog. You can do this in a number of different ways. You could write a post to announce the launch of the new blog. You could use a banner ad for the new blog. You could go back through your blog's archives and add links to your new blog in relevant posts. You could write a series of posts, publish some on the new blog and some on the existing blog, and interlink those posts.
Using your existing blog as a springboard for new blogs and projects can be very effective, and it's a great way to speed up the growth cycle of the new blog.
What Has Worked for You?
If you have found a particular approach to work well for promoting a new blog, please feel free to share in the comments.

Marc is the founder of ProfitBlitz. He has been working online for more than a decade and loves to write about topics like internet marketing and SEO. When he's not working he enjoys travel and photography.