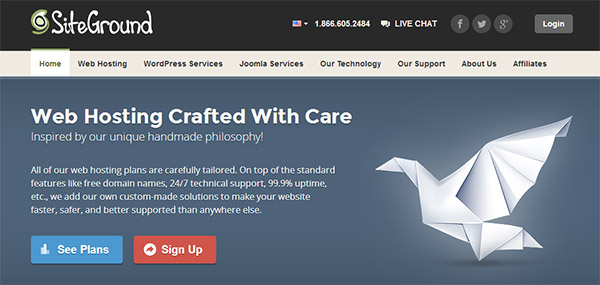 One of the most critical elements to having a successful website is reliable web hosting. Hosting isn't the most glamorous topic, but if your website is down or very slow it won't be producing the results that you need. Over the past 7 or 8 years I have used 10 different companies for various websites, and I know how frustrating it can be when there are issues with your site's hosting.
About a year and a half ago I started looking at SiteGround's services for hosting WordPress websites and I was really intrigued by how they compare to other managed WordPress hosts like WPEngine. I'm always skeptical of hosts that I haven't used in the past, so I decided to try SiteGround for one of my small websites as a test run. I liked SiteGround so much that I wound up closing shared hosting accounts at HostGator and Bluehost, two hosts that I had used for years, and consolidating all of those sites (I think it was 5-10 sites at the time) on my SiteGround account.  Since then I've used SiteGround when launching a few new sites, including ProfitBlitz.
I wanted to write this review today to share my experiences and opinions of SiteGround after being a customer for a year and a half. Please note that this post does include affiliate links. If you choose to purchase hosting through my affiliate link (thank you!) I will make a small commission for the referral. However, the affiliate relationship has not influenced the opinions or information shared in this post.
Why I Chose SiteGround
In the past few years as WordPress's popularity has continued to skyrocket, a new breed of hosts have emerged. The category of managed WordPress hosting includes companies like WPEngine and Page.ly that exclusively provide hosting services for websites powered by WordPress. There are some significant benefits from managed WordPress hosting, like servers that are optimized for WordPress, faster page loads, and expert WordPress support. The downside is the cost.
SiteGround doesn't provide services exclusively for WordPress-based websites, but they do target the WordPress community and they offer a set of features that is pretty comparable to what you would get from other managed WordPress hosts. The intriguing thing about SiteGround is that they offer the benefits of managed WordPress hosting, but there pricing is more comparable to standard shared web hosting.
At the time I came across SiteGround's WordPress hosting I was considering WPEngine for an upcoming project, but there were a few things that I just didn't like. The pricing is higher than regular hosting, but to me price can easily be justified if the quality is high. What I didn't like for my specific situation was:
The cost increases even more if you want to host multiple websites. Most managed WordPress hosts do not allow multiple domains on the same account, or if they do allow it you have to purchase a higher-priced plan to be able to host multiple sites. If you run several different sites the cost can get very high pretty quickly.
Email hosting not included. Many managed WordPress hosts do not provide email addresses for you. Sure, you can use Gmail to get an email address at your own domain name, but it's just a little bit less convenient.
Limited support hours and options. This is the biggest issue for me. I learned early on that having access to hosting support 24/7 is critical. If things go wrong during hours that your host's customer service is not available you will wish you had gone with a host that offers 24/7 support. Because most managed WordPress hosts are much smaller companies than larger hosts like Bluehost and HostGator they often have limited customer service hours. Most of them also do not allow you to get support via phone or online chat.
SiteGround's WordPress hosting overcomes all of these issues that were holding me back from managed WordPress hosting. You can host multiple websites on every plan except for their cheapest introductory plan. Unlimited email is included. And support is available 24/7 by phone, online chat, and through their email ticketing system.
With the impressive set of features for WordPress (which I'll cover more in just a minute), the right pricing, and none of the limitations or drawbacks typical of managed WordPress hosting, I decided to give SiteGround a try. I have had a great experience with SiteGround over the past year and a half, and I think they offer incredible service and a tremendous value, especially for WordPress users.
Things to Love About SiteGround
When you're looking for a web host there are a number of factors to consider. Here are the reasons why I love SiteGround, and why I am confident you will love them too.
Want to Sell Your Own Digital Products Easily?
I highly recommend SendOwl as a great platform for selling digital products. I use SendOwl at a few of my own sites and it is the most reliable and easiest platform I've used (and I've tried a lot of them) for selling digital files.
1. Reliability
The most important part of web hosting is the reliability. If you try to save a few dollars per month by going with the cheapest host you can find you'll likely wind up with a site that loads slowly, goes down frequently, and as a result does not make as much money for you as it could. In order for your websites or blogs to be successful they have to be up and accessible to visitors.
From my experience, SiteGround's reliability is unmatched. I currently have two different plans with SiteGround, ProfitBlitz is on its own account and I have several other sites on a separate account. All of my sites that are hosted with SiteGround have had a great deal of reliability. In fact, I think the reliability on a cheap shared hosting account with SiteGround has been as good or better than I have had with much more expensive VPS plans with other hosts. Pages on SiteGround will load quickly and downtime is basically non existent.
As I mentioned earlier, I moved several sites to SiteGround from Bluehost and HostGator. I had low-cost shared hosting accounts with both of those companies for years, and honestly they were pretty good for the price. I didn't move those sites because I was unhappy with Bluehost or HostGator, they are both pretty good options and I had limited downtime with both of those hosts as well. But SiteGround's page load speeds tend to be much better, from my experience. Faster page loads mean more time on the site for the average visitor and more pageviews. And Google even factors load speed into search rankings now.
2. Amazing Customer Service and Support
I've been very impressed with the level of service from SiteGround over the past year and a half. My experience with most hosts is kind of hit or miss. You may get an excellent support rep one time, and the next week you'll get service that just isn't very good. With SiteGround I've always been satisfied with the service. They offer customer service by phone, email, and online chat, and all are available 24/7.
I haven't needed a lot of support from SiteGround because their service is very reliable, but I have contacted them a number of different times with questions or looking for help with minor issues. The vast majority of my experience with their support has been through the online chat. I really like their chat support because you get connected to a support rep very quickly. Typically when I start a chat for support it will say I am something like the 10th customer in line, but in just a minute or two I will be connected to a rep. With HostGator it seemed like every time I used the chat for support I was waiting more than 30 minutes just to be connected to a rep. This wait kind of defeats the purpose of having a chat support option for convenience.
I have used the ticket system to get support from SiteGround by email on a few occasions, and every time I have received a response very quickly, and my issues have also been completely addressed. I don't remember exactly how long it took for me to get a response, but I am pretty sure it has been under an hour in each case. If you contact support by chat for a more complicated issue they may direct you to fill out a ticket. From what I have been told the more senior support reps and developers deal with their ticket system, so more complicated issues may not be able to be handled via chat. This is pretty typical with other hosts as well.
I have never used SiteGround's support by phone, but having the option is important to me. In an emergency I want to have the option to speak to someone, even if that is only to get confirmation that they are aware of the issue and working on it. A host that I used a few years ago had limited phone support on weekends so when my site went down one Sunday evening I had to submit a ticket. It took several hours to get a response and the whole time I was really just wondering if anyone was even aware of the issue. It was a really helpless feeling. With the option of 24/7 support by chat and phone you know that you will at least be able to get in touch with a real person at any time.
The best story about the support I have received from SiteGround includes an embarrassing mistake on my part. As I mentioned, I have two different accounts with SiteGround. I actually had three accounts at one point but I decided to close the one and move that site onto one of my existing accounts. I moved the site to the other account, then logged in and closed my account with SiteGround which deleted everything on the account. My mistake was that I was logged in to the wrong account, so I actually deleted several sites that I didn't want to delete. I contacted SiteGround through the online chat and explained my mistake, and in less than five minutes the deleted sites were back on line and my account was restored.
3. Optimized WordPress Performance
SiteGround doesn't exclusively cater to WordPress users, but they do offer several benefits if your site is powered by WordPress. Many of these benefits are what you would get with other managed WordPress hosts, but you would pay a lot more for it and you wouldn't have customer support available 24 hours a day.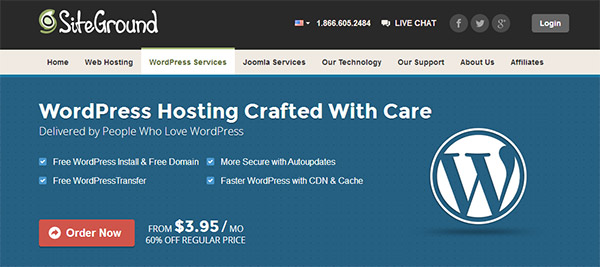 Caching
A big part of speeding up page loads on WordPress involves caching. Every SiteGround plan includes static caching automatically. Every plan except for their introductory plan also provides you with their custom WordPress plugin SuperCacher. Unlike some other caching plugins, SuperCacher does not require a complicated set up. The end result is that your pages will load quickly, and you can get this starting at $7.95 per month on a plan that allows for unlimited websites to be hosted.
Automatic Updates
When a new version of WordPress is available your installation will be automatically upgraded (you can opt out of auto upgrades if you prefer). Importantly, SiteGround will also make a backup of your site prior to the upgrade.
CDN
All SiteGround plans also include access to CloudFlare's CDN for free. This can help to speed up your website even further, and it can be set up in just a few simple steps.
Backups
All plans include free daily backups. The basic introductory plan will only store your most recent backup, but all of the other plans store 30 copies. While backups are another great feature from SiteGround, I highly recommend that you set up your own backup system as well, regardless of what host you are using. I've heard too many stories over the years where the host's backup file was corrupt or damaged for some reason. You should never completely rely on your host to backup your site if it is important to you. You can easily use a service like VaultPress for automated backups, or use one of many backup plugins that are available.
They are on Top of WordPress-Related Issues
When a security issue arises in the WordPress community, SiteGround will address the situation. It's not uncommon for popular plugins to have security issues that can be exploited, and what I have seen from SiteGround is that they will be proactive to implement a patch to protect their customers. Even if you are proactive in protecting your own site, if you are using shared hosting you could still have some vulnerability if other sites on your server are hacked. SiteGround is protecting you even just by patching the sites of other users who may not be as aware or proactive as you.
Priced Like a Standard Web Host
Although SiteGround offers a lot of awesome features similar to what you would get with one of the leading managed WordPress hosts, their plans are priced more comparably to standard shared hosting. The cheapest plan from WPEngine starts at $29 per month for one site, and it quickly goes up from there. SiteGround's pricing starts at just $3.95 per month to host one website. You can host multiple websites starting at $7.95 per month. These prices are comparable to what you would pay with most of the leaders in the shared hosting industry. You could find hosting cheaper than SiteGround, but the value of what you get for the price is outstanding.
4. Room to Grow
Moving a site to a new host can be a major inconvenience, and it's something I prefer to avoid whenever possible. Yes, many hosts do provide some migration assistance, but that usually comes with some restrictions and limitations, and they will not be willing to take responsibility if anything goes wrong with the move.
One thing I always look for in a host is the room to grow. Will I be able to stay with the same host and upgrade to a new plan when my site grows and my needs increase? SiteGround offers shared hosting as well as cloud hosting and dedicated servers. This means that you won't have to move your site to another host just because you have outgrown your current hosting plan. SiteGround's services and plans can grow with you.
5. Multiple Domain Hosting
As I mentioned earlier, SiteGround's cheapest plan (starting at $3.95 per month) allows you to host a single website. All of their other plans (the next one starts at $7.95 per month) allow you to host an unlimited number of sites. While most shared hosting providers, as well as VPS and dedicated server providers, allow the same flexibility, most managed WordPress hosts do not. If you manage a lot of small, low-traffic websites you can save a lot of money by keeping your sites on the same account.
Wrapping it Up
In a year and a half I really have had only good experiences with SiteGround. If I were looking to find a negative I could say that there are lower-priced shared hosting plans available elsewhere; however, the reliability and level of service will not be comparable to what you will get from SiteGround.
If you are looking for a great host I highly recommend that you consider SiteGround. I'm confident that you will have a great experience with them. Over the past few months I've heard and read from several people who were moving to SiteGround and I am yet to hear of a bad experience.
If you use SiteGround for hosting please feel free to leave a comment from your experience with them.

Web Hosting from SiteGround
Reliability

Customer Service

Features

Pricing

Value
Summary
SiteGround offers exceptional reliability and customer service at very reasonable and affordable prices. Get the benefits of managed WordPress hosting without the high prices and restrictions.
Marc is a personal finance blogger at VitalDollar.com. He's been blogging full-time since 2008 and has built successful blogs in several industries like web design, photography, travel, and finance.