So you're starting a blog. You've already chosen your niche but what next?
Choosing a name for your blog is the next logical step. But it's just as hard, if not harder!
You're going to stumble along the way and get stuck. You might even give up for a day or two because you just can't find that perfect name.
But don't worry. You've got this.
I'm going to walk you through some solutions to get your creativity sparked. In the end, you'll have all the tools you need to choose a name that works for you and your blog.
Things to consider before choosing your blog name
When I began my first blog the name I chose ended up being awful. At the time I thought it was fantastic – a play on the number of people in my close family with my favourite book series. But in reality, it was rubbish.
It had nothing to do with what I was writing about
The URL was way too long
It was hard to remember
There was no clear target
When choosing a blog name, consider the mistakes I made.
Your blog name should relate somehow to the niche or topic of your blog – this helps people finding you in the great Google goliath easier.
It should have a clear target, be easy to spell and remember, and most of all have a short, snappy URL, free of hyphens and other punctuation.
So gather everything you learned about finding a blog niche and let's get started with choosing a name.
Ways to find your best blog name
Finding a name for your blog isn't an exact science. It takes plenty of brainstorming, using some smart tools and sometimes, random luck.
Yet the following methods are a great place to start if your inspiration level is at zero.
1. Blog naming generators
Blog name generators are a good place to start when you have no ideas in the bag. They often use a fun play on words to find word combinations that are unique and unthought of.
Here are a few to try out.
Wordoid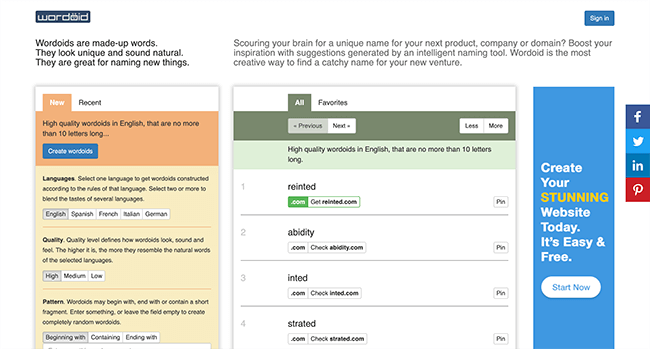 Wordoid is an intelligent naming tool that helps you come up with unique names. Alongside this, their name suggestions show whether the matching domain is available for use or not.
With Wordoid, you can refine suggestions based on:
Language
Quality
Pattern
Length
You can also choose to only show suggestions with an available domain name.
Panabee

Similar to Wordoid, Panabee is a simpler way to search for blog names.
It uses phonemes, syllables, abbreviations, suffixes, prefixes and popular trends inspired by your ideas to create suggestions.
To give you an example, typing in 'writing blog' yields results like these: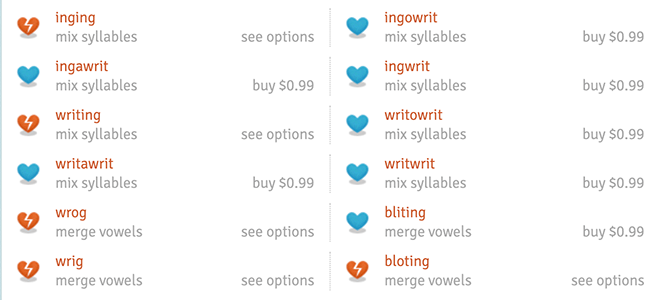 You'll also see translations, related terms and domain extensions to help vary things up. I have to say, this is a tool I could play with all day.
Other name generators include:
2. Use mix and match formulas
For a less technical solution to finding a blog name, you can manually use naming formulas. This involves using grammar in interesting ways. Try some of these methods.
| | |
| --- | --- |
| Formula | Example |
| The + [Adjective] + [Noun] | The + [Lazy] + [Blog] |
| [Noun] + [Adverb] | [Blog] + [Bravely] |
| [Adjective] + [First Name] | [Magnificent] + [Mike] |
| [Verb] + [Adverb] | [Writing] + [Wildly] |
| [Noun] and [Noun] | [Art] and [History] |
You can even go one step further and make your formulas more detailed.
Something like: [topic/audience] + [end goal/transformation].
Here's an example or three:
Funnel Overload = [Marketing funnels] + [Execution/Creation]
WPBeginner = [WordPress] + [Beginners]
Zen Habits = [Self Improvement] + [Productivity]
3. Use your own name
The easiest way to find a blog name is also the simplest. Use your own name!
This is an effective choice if you're building a blog around your own brand.
To give you an idea, I use this for my own website and blog. As a freelance writer, I am my brand, so connecting my name to my site, helps with personal branding.
You'll find many people use their own name to build authority and establish themselves as thought leaders in certain industries.
But there are pitfalls to this solution. It doesn't lend itself to selling products very well. In this case, the product name would be the best name to use, not your own.
4. Practice wordplay
Name generators and formulas are great solutions but there are other ways to play with words that are just as effective.
Alliteration – A series of words with the same first letter
Abbreviations – A shortened form of a word or phrase
Portmanteaus – Blend the sounds and meanings of two words to create a new word
Alliteration examples:
Yves Yoga Yearbook
Postbox Photography
Better Blogging Business
Abbreviation examples:
BMW – Bavarian Motor Works
HSBC – Hongkong and Shanghai Banking Corporation
NHS – National Health Service
Portmanteau examples:
Brunch – Breakfast & Lunch
Rockabilly – Rock 'n' Roll & Hillbilly
Frenemy – Friend & Enemy
Have some fun combining, shortening and with alliteration. You'll be surprised what you can come up with.
5. Use sound symbolism
Linguists suggest that sounds have certain meanings. And by degrees, they trigger images in people that are consistent and meaningful. Big brands use this for their own names.
Take Coca Cola and Kodak for example. They both use either the letter 'K' or one that represents the sound of 'K'. This letter is said to make people feel happy.
The letter 'H' evokes a sense of homely imagery. Interior bloggers can choose a name beginning with this letter to create the same feelings in their readers.
A powerful letter cluster is the combination of 'G' and 'L' forming 'gl'. This gives a sense of gleaming, glitz, glowing and glimmering. Fashion and beauty blogs would do well to keep this in mind for positive, luxury imagery.
6. Open a Thesaurus
If you're starting a blog, you should get familiar with your old friend – the Thesaurus. It'll come in handy when you're writing posts and it's ideal for helping you choose a name.
An interesting strategy for choosing a name is to find other words with the same meaning. Instead of using 'blog' for example, a quick flick through a Thesaurus, yields;
For more varied results, try a site like WordHippo to find synonyms. Again, searching for the word 'blog' provides ample suggestions.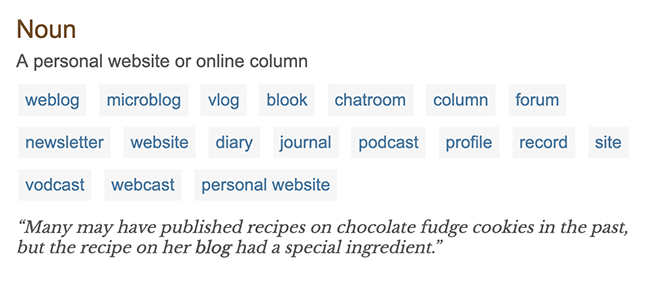 And then suggests even more: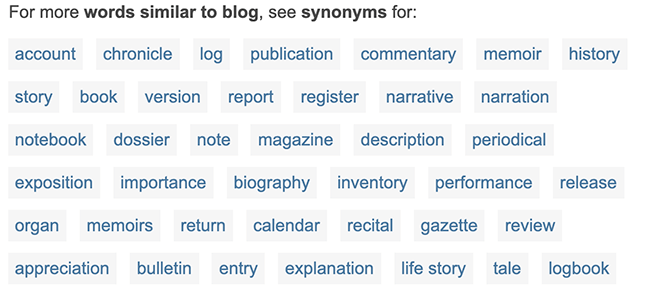 It takes a lot of the legwork out of coming up with the vocabulary yourself. Give it a try.
7. Use a different language
Language is a beautiful and varied thing. And even if you don't understand a word in your native language, it can lend a powerful and unique look to your name.
For example, the word for 'fashion' in Spanish is 'la moda'. How many times have you seen that used in the fashion world?
Food bloggers could use the Japanese word for food 'Tabemono', or meal 'Shokuji'.

Just make sure the translation service you use is accurate. You don't want to inadvertently insult one of your readers with inaccuracies.
8. Check out your competitors
There's nothing wrong with scouting the competition to see how they've gone about choosing their name. It's often the case that they have a bigger team with more brainpower to come up with something snappy.
Seeing what works for other sites can help spark the inspiration for what will work for you.
Take a look at some popular writing blogs:
The Write Life
Write to Done
The Write Practice
The Creative Penn
These sites all feature words related to writing but have a slightly different take on it to keep things relevant and interesting.
9. Brainstorm for ideas
A good brainstorming session is ideal for getting ideas out of your head and onto the page. Use a blank piece of paper or a brainstorming app. Then write down all of the things related to what you want to blog about.
It would be a good idea at this point to look back at your planning activities for finding your blog niche. Any brainstorming you did then, may also have the right words to form the basis of your blog name.
Sharing your ideas on social media to crowdsource ideas has the potential to provide suggestions without limits.
Pro Tip: Remember to keep in mind your target audience and niche to stay on-topic.
10. Play with URL extensions
The internet is so sophisticated today, that even the extension you choose for your domain name can factor into creating a fun and interesting blog name.
Although now closed, T-Shirt printing company DoomdInk, used the extension .ink to reflect their name and URL doomd.ink.
Here's an overview of other companies using interesting domain extensions to good effect:
Bitly – bit.ly
Sniply – snip.ly
Slitherio – slither.io
Sierra Finance – sierra.finance
Nneyah Cards – nneya.cards
Behold Photography – behold.photography
London Sport Exchange – londonsport.exchange
Bresse Healthcare – bresse.healthcare
By typing your idea into a popular domain registrar like Namecheap, you'll see a list of domain extensions you can put to good use. Some even suggest different wording.
Final thoughts on choosing a blog name
Finding the right name for your blog may at times be frustrating. Especially when the ideas don't flow and your creativity is out the window.
The perfect name will always depend on your
Blogging niche
Target audience
Offer
Messaging
Understanding what goes into choosing a great name, saves you from making messy mistakes that could harm your efforts further down the road. Play with the methods above, seek advice from others and see what you come up with.
What's more, don't let it stress you out. When you're enjoying the process, you're more likely to be open to sparks of inspiration.
Have fun!
Further reading:
Stacey is a freelance writer and content manager for hire with 5+ years experience. You'll find Stacey writing for a bunch of websites covering WordPress, marketing, finance, remote working and more. Fun facts: she hates wearing socks and is addicted to yarn.