How To Choose A Niche For Your Blog (The Smart Way)
So you want to start a blog.
It's easy, right? Choose a platform, start writing and you can join the hordes of influencers making fast money for little effort.
Everyone's doing it. It'll be a breeze… Right?
Wrong!
It might seem like everyone's got a blog going and living the influencer lifestyle. But, the reality is only a small number of those who try, make their blog a thriving success.
One reason for this is the niche they choose to blog about.
One quick glance shows an online world saturated with bloggers. They're all competing for the same space.
Beauty bloggers
Interior bloggers
Gaming bloggers
Parent bloggers
There are thousands of people warring over the same blogging territory. This can make it harder for new bloggers to gain a foothold.
Choosing the right blogging niche is one of the key ways to make sure you're off to a strong start.
But first, educate yourself on what a blog niche is.
What is a blog niche?
Let's demystify this first little question.
Your blog niche is a specific topic you'll create content about on your blog.
To give you an example, my very first blog was a mosaic of every topic on parenting I could think about writing. I was writing for everyone with even a slight interest in parenting tips.
Sure, I got a small following but things never took off. And that is because everyone in that niche was doing exactly the same thing.
People had seen and heard it all before. It was just a regurgitation of the same old stuff.
If I were to go back and do it all again I'd get even more specific.
Instead of catering to a huge market, I could have chosen to blog about parenting for single parents. Or around parenting a child with a specific disability (especially since I have one of those).
By getting detailed about things, I could target a smaller but more engaged part of a huge market. That is, instead of trying to cater to everyone.
Start with a niche brainstorming session
If you're not sure where to start or feel like you have way too many ideas, begin with getting them down on paper.
A good brainstorm helps to visualise the information whizzing around your head. Start with the basics and see where it leads you.
What interests you? – Think about your hobbies and the stuff you like doing to chill out.
Are you an expert in anything? – What do you have solid knowledge about?
What do you read? – Blogs, magazines, books, articles that have held your interest.
What have you experienced? – Life events, lessons learned, daily life.
Look at your environment – Possessions, furniture, places you've visited, what pops out?
What have you bought? – Shopping lists, wish-lists, shopping sites, browsing history.
These are all useful ways to generate ideas – they may not be fully formed yet but it's better than staring at a blank page.
Plus, I'll help you drill down those ideas to something more solid next.
The 3 'P's' of finding your blog niche
I've always thought the process of finding a good niche, comes down to what I call the '3 Ps'.
Right now you might be feeling Peeved, Pointless and Panicked.
But since this is about finding a great niche, let's flip it around to the 3 Ps your blog should encompass.
Purpose – Your blog has a solid purpose that's specific to your target audience
Passion – You're passionate enough about the topic for it to be a long-term commitment
Profit – You have ways to make a profit from your hard blogging work
If you keep these rules in mind when fine-tuning your blog plan, it's hard to go wrong.
Pro Tip: Keep-in mind how specific your niche is. If it's too broad – everyone's heard it before. If it's too narrow you'll have a limited audience.
1. What purpose will your blog have?
As I mentioned above, the first 'P' is Purpose. So ask yourself,
"What will the purpose of my blog be?"
Will you be blogging for profit, pleasure or both? It's a weighty question that needs some serious consideration.
Blogging for pleasure may be something you do as a hobby without wanting to make any serious money. If this is the case, you can have a more relaxed approach to choosing a niche.
But blogging for profit will take more planning. You'll need a niche that's competitive enough to earn money from.
So think carefully about why you want to start a blog before going any further.
2. Is it something you're passionate about?
Next up you need to think about if you're passionate enough about your topic.
Regardless of what the purpose of your blog is, you need to be able to show your readers you're enthusiastic. Believe me, if you have no interest or knowledge about your niche, your readers will notice.
So what do you have enough knowledge, passion and expertise about? Especially to keep the content ideas coming for years?
Let's find out.
On a piece of paper, jot down everything you enjoy, know about and in the words of Marie Kondo, sparks joy for you.
Circle the things that relate to each other in some way.
Now brainstorm ideas for each of those circled topics.
Here's a quick example: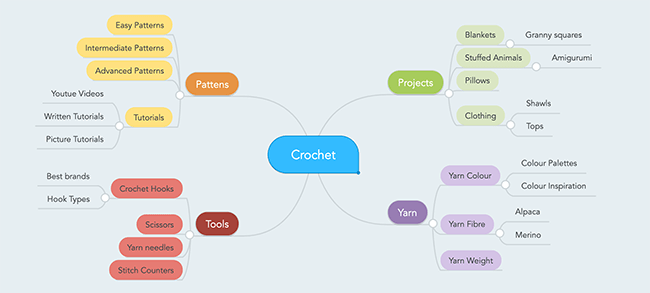 Yours doesn't have to look this fancy of course.
Each branch is a topic you can get ideas from. And as you find your flow, you'll notice there are plenty of ideas to mine from a single topic.
For example, you may decide that customer service is the area that you are most passionate about. This could lead to topics such as setting customer service objectives, assessing customer pain points, and the impact of reaching out to customers at various key touchpoints in their customer journey.
3. Can you make a profit?
You know your blog's purpose. And you have ideas to last you for months. Now let's talk profit.
If you're not interested in making any money, you can skip this step. But it's useful to consider if you change your mind further down the road.
Making money from your blog depends on if your niche is profitable. If there's no money to make form your awesome, passionate content, it's a wasted effort.
Yet there are some ways to figure out if your niche is any good at earning money.
Are there any affiliate schemes?
Many bloggers use affiliate schemes as a passive way to generate an income. It involves sharing a trackable link or banner in your content. If a reader clicks that link and purchases a product, you earn a small percentage of the sale.
To see if there are any affiliate schemes available, do a quick google search or head to a vendor's website.
In my brainstorm above, my topic is crochet. So I searched for 'crochet affiliate programs' and came up with quite a few options.
Deramores, a popular yarn store has its own program, as do many crochet magazines. Lion Brand – a yarn brand has its own mini-course on how to use their affiliate program.
If your niche is in blogging, you can find affiliate schemes for:
Website hosting
WordPress plugins
Courses
Services
…and many other products.
Are other bloggers making a profit?
Another great way to see if you can turn a profit is to scout other bloggers in your niche and see how they do it. If they're making money, you certainly can too.
It might seem counterintuitive to compete with another blogger. But it if the market is healthy enough for people to make money from it, you're in with a good chance of doing so too.
To put this into practice, open your browser and find a list of the top bloggers in your niche. Alltop is a great site for finding popular blogs, but a quick search will yield some good results too.
Take a look at how each of these bloggers are monetizing their sites. If you can see clear evidence for this in the form of:
Affiliate links
Income reports
Banner ads
And sponsored posts
It's a good sign that there is money to be made.
Pro Tip: Check out their disclosure page – here they should be transparent about how they make money.
Is it possible to sell your own product?
Another way to earn an income from your niche is by creating and selling your own products.
Author Jeff Goins, for example, writes books which he sells. He combines this with affiliate links, podcasts and courses for a diverse income.
Check to see if there's a way for you to do something similar. Could you write an ebook about your niche? Is there a way you could sell a course? Maybe you could coach other bloggers
Pro Tip: You'll need to build authority and influence first. But after doing so, this is one of the most profitable ways to earn from your blog.
Recapping how to choose a blog niche
I understand it's a lot of information to take in. Let's go over what we've covered so you're not too overwhelmed.
Finding a good blogging niche requires careful planning.
Figure out why you want to blog – what is the purpose of it?
Can you create content consistently enough to not get burnt out and lose interest? Will your heart be in it for the long-term?
Is there money to be made? Are there diverse ways to make a profit?
After answering these questions you should have a pretty good idea of how to find a niche that suits you well. And as a bonus, one that actually works.
But don't forget – this is just the beginning. Hard work follows and that's how you make your blog a true success.
Once you've chosen your niche, you'll need to start considering blog names and domain name ideas. Here are a few posts to read next: