6 Content Promotion Tactics That Will Skyrocket Your Blog Traffic
You know content marketing works. That's why it's the cornerstone of your business.
There's just one problem:
Despite publishing stellar content, the traffic needle just isn't moving as fast as you want it to.
In all likelihood, the culprit isn't your content; it's your content promotion strategy.
While creating killer content is important, the tactics you use to promote your content is often the difference between a successful and unsuccessful blog.
Because if no one is reading your content, it doesn't matter how amazing it is.
This is why you need to spend more time promoting your content and getting it in front of as many people as possible.
In this post, I'll show you tactics that will help you promote your content and drive more traffic to your website.
To make things easier, I've broken these tactics into two categories: paid and free.
Free content promotion tactics
Free content promotion tactics should form the bulk of your content promotion strategy.
While these tactics require more work from your end, your efforts will pay off in the form of organic, long-term traffic.
Your objective should be to set up a content promotion machine that does the work for you on autopilot.
For example, if you have 100,000 followers on Twitter, you essentially guarantee that every one of your tweets will have at least some retweets and shares.
And, if you have 10,000 email subscribers with a 30% open rate and a 20% click-through rate, you guarantee that every link you send out will get at least 600 clicks.
If your content is good enough, these 600 clicks might result in a few dozen shares, bringing in even more traffic.
Let's look at some ways you can use free promotion tactics to do this:
1. Repurpose your existing content
People learn in different ways.
Use this to your advantage by repurposing existing content into something entirely new and different. This will ensure that it reaches people that may have never seen it otherwise.
Think of it as a second chance to promote existing content.
For example, if you have a lengthy blog post, you might turn it into an infographic which allows visual learners to scan and still come out with the key takeaway(s).
Here are some other examples of what you can do with various blog post types:
YouTube video
Infographic
Slideshare presentation
For example, over at Blogging Wizard, we took a blog post on social media psychology that already had thousands of visitors: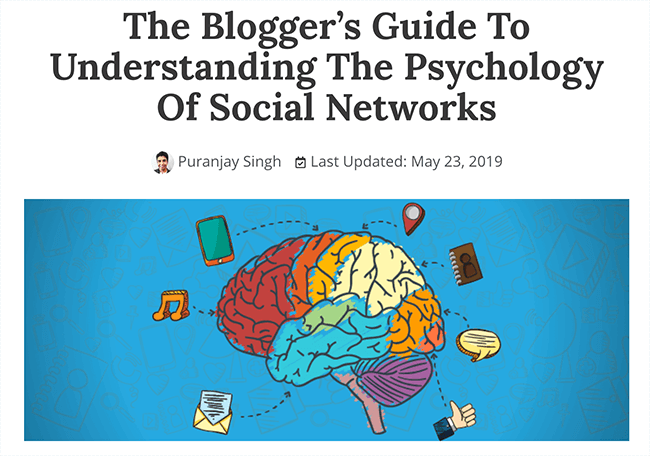 And we repurposed it into a Slideshare presentation that received an extra 25,000+ views.
Would we have reached those people if we hadn't repurposed the presentation? Nope.
We took things a step further and repurposed the same post into an infographic which received thousands more visitors, and over 1,500 more shares: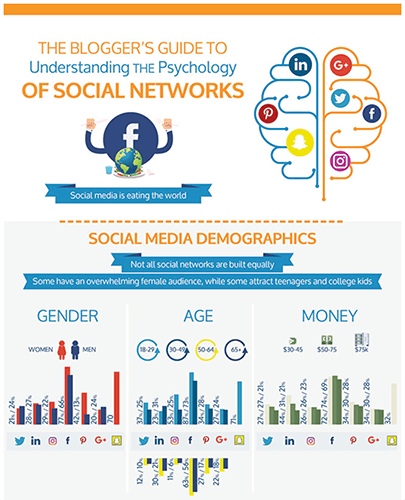 Repurposing content is particularly effective when you can leverage a platform's existing audience. Slideshare, for example, gets over 80 million monthly unique visitors.
By turning a blog post or an ebook into a presentation, you have a chance of reaching some of those 80 million visitors.
In the case of infographics, they tend to perform particularly well on sites like Pinterest, and are particularly well suited to earning backlinks.
With the example above, we didn't support the post with outreach yet we still earned backlinks from several authoritative websites.
2. Submit content to niche sharing websites
Wouldn't it be amazing if you could gather your potential customers in one spot? It would make content promotion a whole lot easier, right?
The good news is that your customers are already doing just that on niche communities.
Sites where people spend time connecting with like-minded individuals discussing a product, service, or specific industry.
These may be devote sub-communities on large multi-topic websites such as:
Or they may be small single-topic focused communities, such as:
GrowthHackers (Growth hacking)
HackerNews (Tech-focused news)
Either way – they make for extremely powerful content promotion platforms.
For example, if you have a product or service aimed at entrepreneurs you might promote your content on r/entrepreneur, Reddit's entrepreneurship-focused community: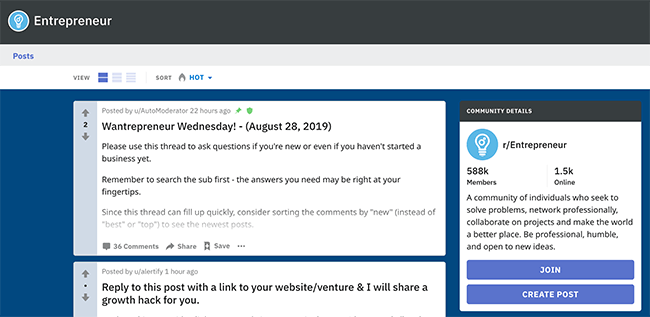 You can use Reddit's search function to find more sub-communities that are relevant to your audience.
For example, searching for "marketing" shows me these 'sub-reddits' (Reddit's term for communities):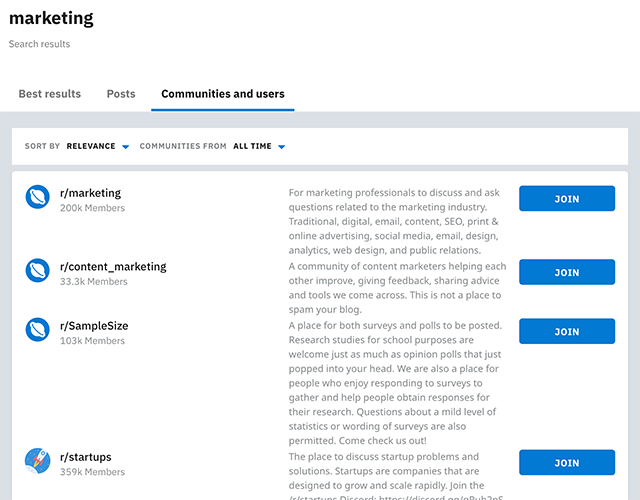 The first result in that list has 200K subscribers which is a huge number for a topic like this.
Browse through these sub-reddits and make a list of relevant communities.
Once you have your list, you can now promote. Remember not to just dump links and expect good results – you'll do more harm than good.
Here's how to promote effectively by providing value:
Most of niche communities look down on self-promotion.
If you make promotional posts about your product or service, it won't be long before you get banned.
Furthermore, you risk turning off potential customers from your brand altogether.
This is why you should focus on providing value without expecting anything in return.
One way to do this is by leaving insightful comments on other people's content so that the community becomes familiar with what you do and begin relating to you on a more personal level.
Eventually, they will check out your site on their own terms.
(This is more helpful on identity-focused communities such as GrowthHackers.com)
If you really want to link out directly to your content, you can provide a short summary of your content that reveals key insights but hides the main takeaway.
Here's an example: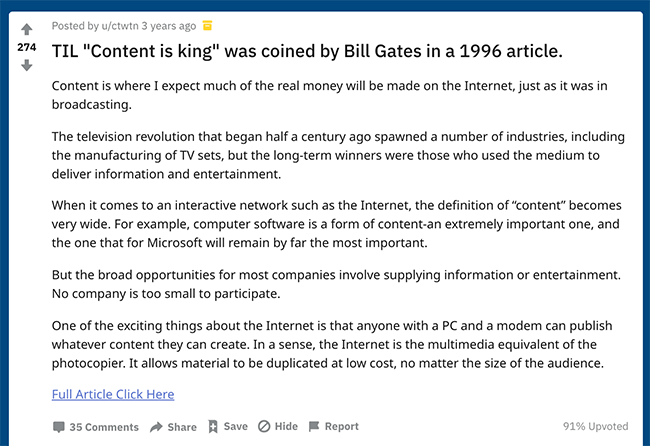 Notice how the post contains content with insight and a link to the full article at the end? This allows users to decide on whether to follow through (most will to uncover the takeaway.)
Note: Don't always share your own content. Doing so gives off a disingenuous vibe that you are there just to promote or make a sale.
Instead, link out to a variety of content so that people think of you as an individual who genuinely cares about improving your niche.
People will be much more likely to follow your links and requests down the line.
3. Conduct outreach
A powerful method to promote your content is to get other people to share or link out to it. This provides you with traffic in the present and SEO benefits down the line.
And to get people to help you out, you need to send outreach emails.
This doesn't mean you should start contacting any random person. Instead, create a list of targets that are likely to respond and take action after receiving your message.
To improve your chances, target the following groups of people:
A. People you've mentioned in your post
Getting people to share content is challenging.
People only link out for very specific reasons and one them is if the content makes them look good.
When you mention someone in a post, you do just that and that is reason enough for most people to share content.
Take a look at this example from Snappa (original article is no-longer live):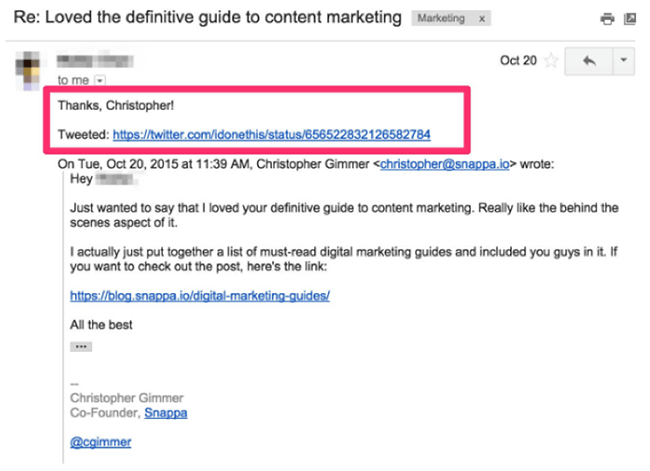 Snappa's co-founder sent an email to I Done This notifying them that they have been mentioned in their newest roundup post.
What was the outcome?

A tweet which provided traffic and exposure to I Done This's userbase.
B. People who linked to/shared similar articles
With the amount of content available online, the law of probability favors the existence of similar content. To find it, use a tool like BuzzSumo and plug in keywords.
For example, let's say you write a blog post on 'productivity hacks for entrepreneurs'
Use it as a keyword to carry out a search on BuzzSumo: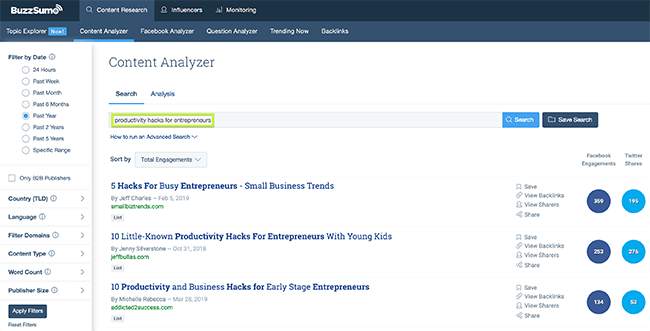 You can find those who shared the article using the "view sharers" feature: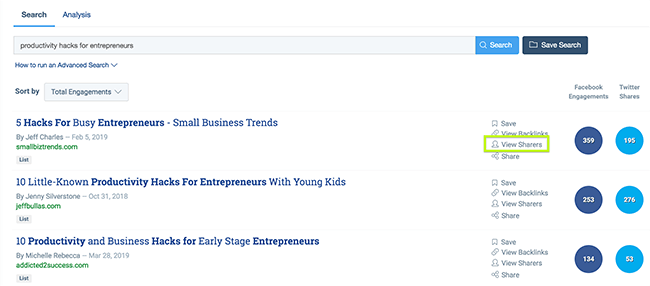 Go through the results to find content that closely matches yours. After you find a few, reach out to the people who have shared the article.
C. Influencers related to your topic
Every niche has its own set of influencers.
Influencers are individuals who have a large following and the potential to sway people's opinion.
Note: I'm not going to give you any examples here because I don't want anyone reading this to immediately reach out to influencers. That said, you'll likely know the ballers in your niche already.
Getting a link from such people can be a game-changer, but it's no easy task. Influencers are short on time, not emails asking them for favors.
These influencers are inundated with pitches, emails, and social media messages on a daily basis.
So, you need to think beyond simply sending them an email.
Instead, focus on establishing a relationship with them so you get on their radar before asking them to help you out. And ideally, you'll have helped them out multiple times before asking them anything.
Here's a list of steps you can follow:
Follow influencer on social media
Tweet at the influencer
Leave comments on their blog posts
Share their content
Join their email list and engage with them
Now, it's important to note that you'll get the best results when you don't set out with the intention of asking someone for a link.
Simply get to know people in your niche that share information that resonates with you. When you forged a meaningful connection with someone like this, you'll naturally find ways to help each other.
On a related note, outreach campaigns can be tricky to manage with a spreadsheet and email account. Check out this article on outreach tools over at Blogging Wizard – these tools will help you keep your campaigns organized and scalable.
Paid content promotion tactics
On paper, paid promotion sounds counterintuitive to the promise of blogging. Wasn't it all about getting free, organic traffic?
The truth is that paid promotion can give your content an instant boost. This boost can be the difference between a post that dies after 15 shares, and a post that goes viral in your niche.
Paid promotion is particularly effective in three situations:
When you have a well-optimized sales funnel and want to drive traffic to it, instantly.
When you have content with built-in viral potential (think memes, lists, etc.) and want to expand its social reach.
When you want to use your blog content in a branding campaign.
Now, let's take a look at three tactics you can use to promote your content via paid channels:
1. Use Facebook Ads to boost 'viral' content
With 2.41 billion active monthly users as of 2019 and coverage of both B2C and B2B audiences, its' popularity amongst marketers is no mystery. In fact, 84% of marketers use Facebook Ads with the favorite ad type being those that show up on a user's newsfeed.
If you've ever shared a blog post on your Facebook page, you might have seen this link: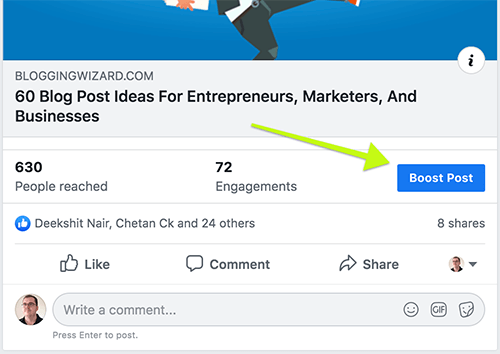 This gives an option to "boost" your content. You can either target people who have already liked your page, or you can define a target audience, just like any Facebook ad.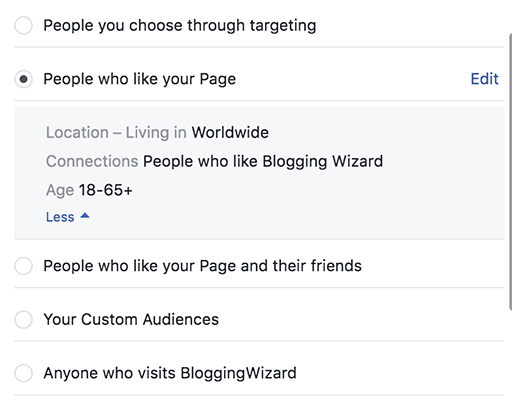 And here's an example of a promoted Facebook Ad that appeared in my newsfeed: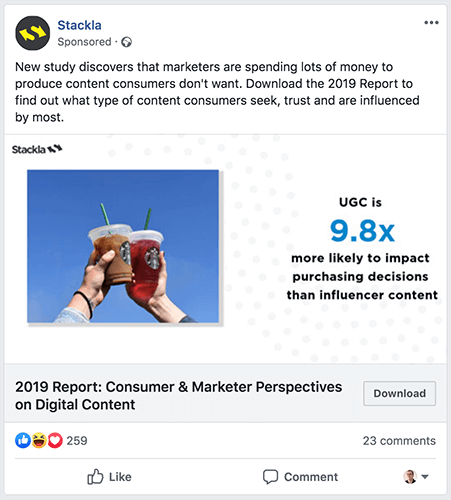 It feels pretty similar to a regular Facebook post, right?
Most importantly, your audience can share, like and comment on the post – just like any Facebook post.
Promoting content with viral potential – think lists, memes, visual-heavy content – is particularly effective with Facebook Ads. Once you "seed" traffic to the content, you can start a viral loop which can give you substantially higher organic reach.
2. Use promoted tweets
Twitter might not have the same reach as Facebook but it's fast-moving feed is great for promoting blog posts and trends.
In fact, according to a 2018 study by CMI, Twitter is the second most used platform among B2B marketers, next only to LinkedIn.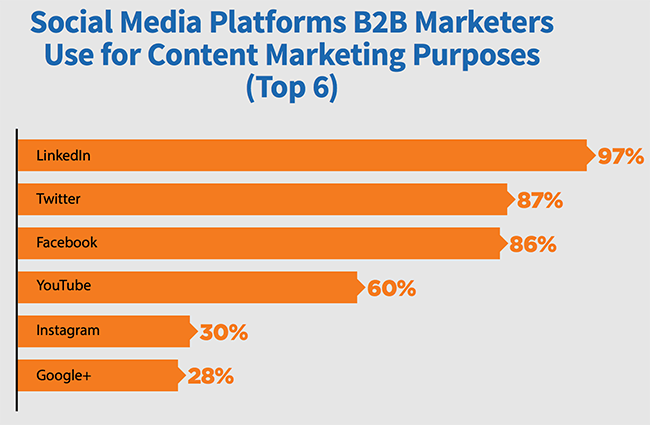 However, the fast-moving feed also means that your updates can get lost easily.
With promoted tweets, you can do away with this roadblock.
Promoted tweets seem like a normal tweet on a user's timeline. Unlike normal tweets, however, they are they are always shown at the top of search results and near the top of a user's twitter stream.
Furthermore, you can use them to target a specific audience based on keywords, interest, and even accounts they are following.
Here's an example of a promoted tweet from Huawei: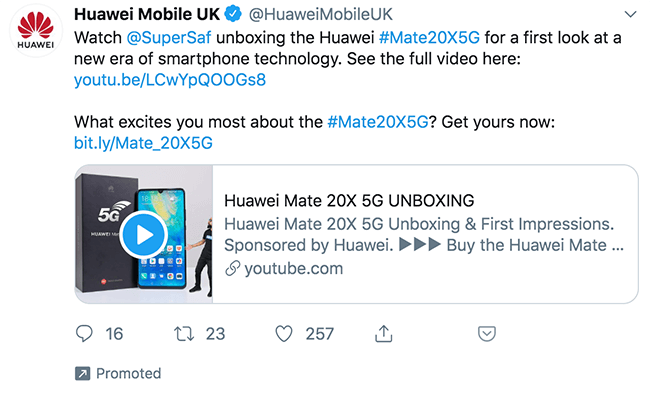 Like on Facebook, make sure you include an image or video in your ad as tweets with multimedia increase engagement by up to 313%.
There is an added benefit of using promoted tweets: you can use it to promote a hashtag.
In the above example, Huawei #Mate20X5G. This is a branded hashtag used by Huawei in its ad campaign. By promoting tweets with this hashtag, it can get others to use the hashtag.
This, in turn, can get the hashtag to trend locally, increasing Huawei's organic engagement and boost its brand.
And while a link to YouTube was included in this example, you could link directly to a blog post or a landing page that leads people into your sales funnel.
3. Use content discovery platforms (Outbrain, Zergnet, Taboola)
Have you ever noticed these links at the bottom of the content on your favourite blogs?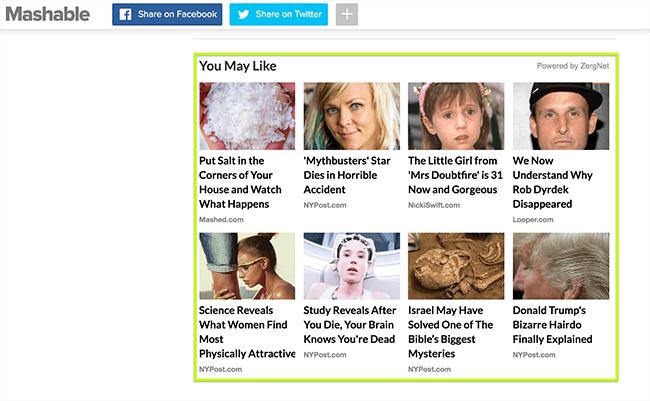 This example illustrates how this "Sponsored Content" is essentially a form of advertisement that links to content on other websites.
While content discovery platforms tend to be dominated by click-bait style content (as you can see in the example), it's still a great opportunity for startups to promote educational content.
This is classic content marketing: instead of pushing a product directly, an article is shared to entertain or educate readers.
As a marketing veteran, you would recognize this as the first stage in the buyer's journey: to increase awareness of your product and the problem it solves.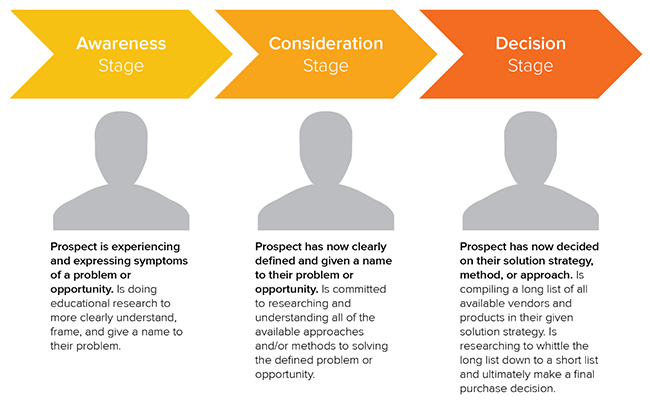 Content discovery platforms such as Outbrain, Zergnet, Taboola, etc. have grown exponentially in the last few years.
These platforms connect publishers with advertisers. Advertisers place their ads, set their budgets and bid for placement on publications. Publishers, on the other hand, make money anytime someone clicks on a link.
The top content discovery platforms like Taboola and Outbrain bost marquee publishers such as TIME, HuffPo, etc.
With cost per click often as low as $0.10, this is one of the best ways to get your content discovered on brand-name publications.
Wrapping it up
Creating great content is only winning half the battle in the war for your audience's attention.
To actually claim victory, you need to follow-through with stellar content promotion.
Most of your focus and effort should be directed at content promotion rather than creation.
After all, you could create the best piece of content, but if nobody ever sees it – what will be the point?
A strong focus on content promotion will ensure your content brings people in and helps your business grow. And the best part is, you can choose to focus on paid or free promotion tactics, depending on your budget, time and resources.