How To Get More Email Subscribers: 11 Proven List Building Tactics
If you're not already going all in on building your email list – now is the time.
After all, email marketing continues to rank among the best channels for marketing ROI. Far ahead of marketing staples like social media and video advertising.
And with the increasingly fragmented nature of social media, email remains the one single constant for your target market. Your users might have 6 different social media accounts, but they'll likely have just one email address.
To do email marketing right, however, you need to first build a strong email list.
In this post, I'll show you the list building tactics you need to follow today.
Email acquisition tactics
There are essentially two ways to capture more emails:
Drive more people to your landing pages
Get more of your existing audience to opt into your email list
In this section, I'll show you some tactics to drive more visitors to your opt-in pages.
1. Use the "expanded" guest post technique
Guest posts are great for building powerful backlinks and authority.
But with a few simple tweaks, you can also use them to get new subscribers.
Here's how the idea of "expanded" guest posts works:
Create a guest post as you normally would.
In the byline, mention that you have additional "bonus" tips/tactics related to the guest post on your site.
Create a conversion-optimized landing page where you package these bonus tips into an eBook/downloadable.
Conceptually, this isn't any different from content upgrades – you offer readers an "upgrade" closely related to the content. The only difference is that you offer this upgrade on an existing high-traffic website.
For example, in this expanded guest post, Brian Dean uses a lengthy outro to pitch a 'bonus' that expands on the post: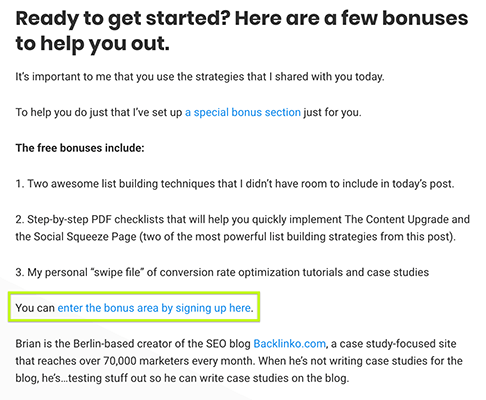 This pitch directs users to a landing page on his site, giving them the option to join his email list and get all the goodies: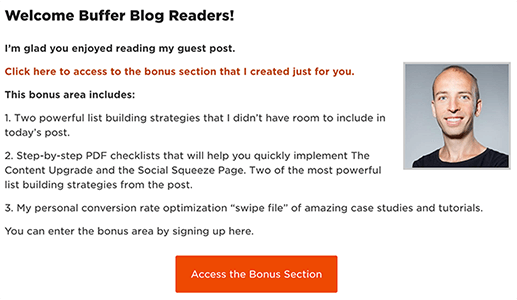 2. Use slide-in forms to encourage engaged readers to subscribe
You've probably already seen opt-in forms like this across the internet: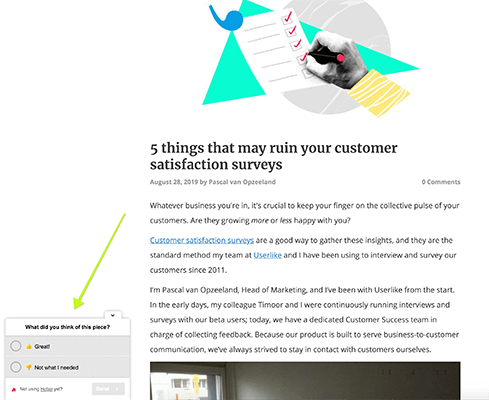 They're a slide-in style form that appears in a corner of the site once a user gets towards the end of an article.
Users who read all the way to the end of your article are far more likely to subscribe for new content than anyone else, so this is a prime location to add your email capture form.
And there are plenty of tools and WordPress plugins for adding opt-in forms like this.
Usually my go-to plugin is Thrive Leads because it covers plenty of other form types, integrates with lots of email service providers, supports various trigger types (% scroll, timing, exit intent, etc), and has a drag & drop visual editor.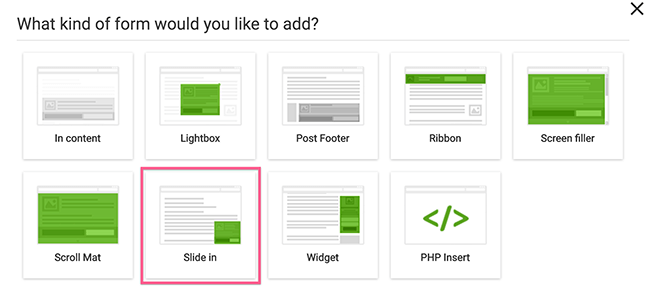 3. Use Facebook Lead Ads
Facebook's Lead Ads are a criminally underused tactic for capturing lead. Facebook has even put in more features to make them more attractive for getting new subscribers.
For example, you can now use the "context" card to give would-be subscribers a brief write up about your newsletter. This GIF from Facebook shows how it works: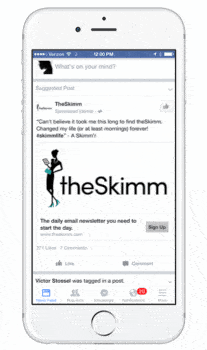 Facebook Lead Ads become even more powerful when you combine them with other Facebook advertising products.
For instance, you can choose to show lead ads only to your most engaged users. You can do this by going to the Facebook Ad Manager, then go to Audiences > Create Audience. Here, select "Facebook Page".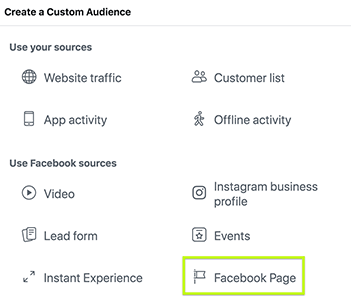 On the next screen, you can select users who have engaged with your page recently.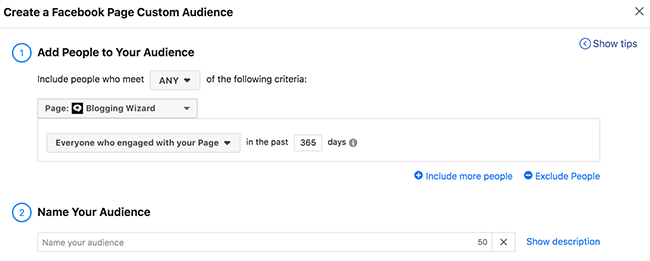 You'll now be able to run Facebook Lead Ads and select your new custom audience.
And since you'd only be targeting your most engaged users, you will likely see strong opt-in rates.
4. Use Facebook Live videos
Facebook Live isn't my thing but I feel it's important to mention because it has so much potential.
Live video has exploded in popularity as a media channel in the last couple of years. Facebook has invested heavily in this format, even paying media companies upwards of $50M to create live video content.
And as of 2018, Facebook Live videos have received more than 3.5 billion views.
While live video is great for building an audience for cheap (there are little to no production costs, after all) and establishing your brand, you can also use it as a way to get more email subscribers.
How you choose to do this is entirely up to you. You can take the "content upgrade" route – talk to viewers about 5 tips to do something, then share a "bonus" 6th tip via a download page on your blog. Or you can mentions and links to your downloadable content throughout the video.
Think of the live video as a casual webinar. You can even turn the camera towards the computer screen to show off something. The trick is to tie the video to content on your site.
For example, Amy Porterfield uses live videos where she shares actionable tips. Then she adds a plug to a download in the video description. Viewers can chime in with their questions with Amy answers live. If they want to know more, she points them to the download.
The result is more email subscribers and valuable video content that will stay on your page for future visitors.
5. Run automated webinars
Live video might be great for capturing emails, but if you want to take things up a notch (and create something more professional and evergreen), consider running automated webinars.
These work just like conventional webinars, but instead of doing the webinar live, you create them once and offer them to visitors on an automated schedule.
For example, Venngage, a popular graphic design tool, offers daily training for infographics which ties into one of the core use-cases for their product.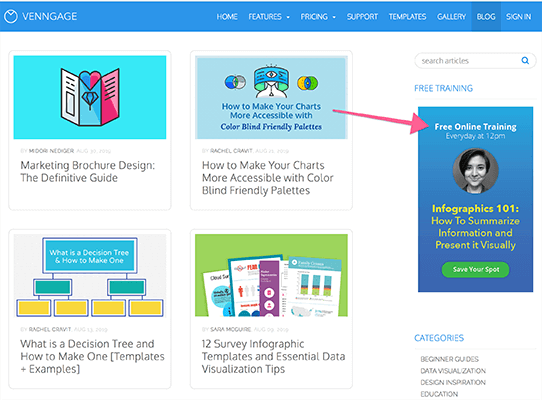 How you position this webinar is up to you. But, if your main goal is to grow your email list, then you'll want to create a webinar that's packed with value.
Forging a strong connection with potential subscribers helps to create a lasting positive impression. And, will ensure they stick around on your email list for longer.
And, while it is true that this approach erases some of the intimate, "live" feel of a conventional webinar, you more than make up for it in terms of scale.
It is time-consuming and nearly impossible to do a webinar every day (or even every week), but you can run automated webinars 24/7 and in the visitor's time zone.
This approach also benefits the user because they won't have to wait around too long for the next webinar.
Note: don't present automated webinars as if they're live, like some marketers do. That's disingenuous and will only hurt your brand's reputation in the long-run.
It's worth mentioning that you will need a tool to run your webinar. David Hartshorne wrote a great post comparing the best webinar software platforms – I highly recommend giving it a read.
6. Create a virtual summit
The live marketing conference business has grown dramatically in the last few years. Most major marketing companies today offer some form of live conference as a part of their content marketing efforts. Moz runs Mozcon, CMI runs Content Marketing World, Marketo runs the Marketing Nation Summit and HubSpot runs Inbound.
You can't possibly run a live conference just to capture some emails, but you can offer an alternative: an online-only, virtual summit.
Think of this as an expanded webinar where several experts join in to have conversations about a few related ideas.
Here's an example from Jon Schumacher who hosted a virtual summit about webinars featuring 25 leading niche experts.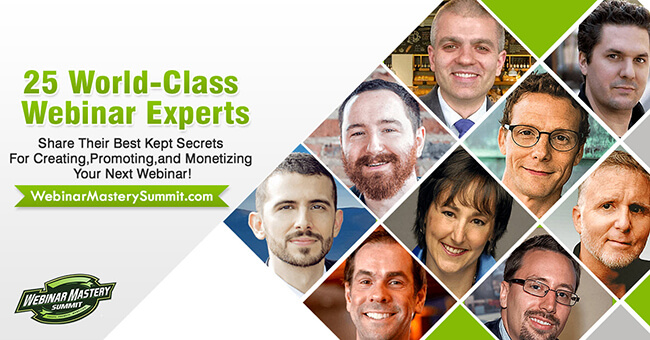 Virtual summits work for two reasons:
They leverage the existing audience of the summit guests. For example, if you can get Tim Ferriss to be a guest on your summit, you also get access to his 2M+ subscribers.
They are affordable (often free) and easy to attend. By bringing together multiple experts, they also give away a ton of value to attendees.
You don't have to make this summit overly elaborate. Nor do you need industry-leading names to get attendees interested. Start small by asking top experts within your circle to create a joint webinar, then repackage that as a virtual summit.
7. Pin your email sign-up form on Twitter
As far as list building techniques go, this is as simple as they come: drop a link to your email sign-up form at the top of your Twitter feed.
If you want to give people a bigger incentive to sign-up, make the pinned tweet something that gives a lot of value, such as a webinar or virtual summit.
Sujan Patel does this on his feed. His pinned tweet is a link to a virtual summit which requires an email to attend.

If you're running a content-focused business (like a blog), you can also pin a link to a sample newsletter to give readers a taste of your content.
8. Create a series of blog posts (and ask people to opt-in to get notifications)
There are essentially two ways to get people to opt into your email list:
Give them massive value
Pique their curiosity
What if you could do both?
That's exactly what the blog post series tactic accomplishes.
Instead of writing a single article, this tactic requires that you break down the article into multiple smaller articles. Then instead of a content upgrade, you add a link for readers to get notified when the next part of the article goes live.
Brian Dean of Backlinko used this tactic sometime ago in an article about increasing conversions.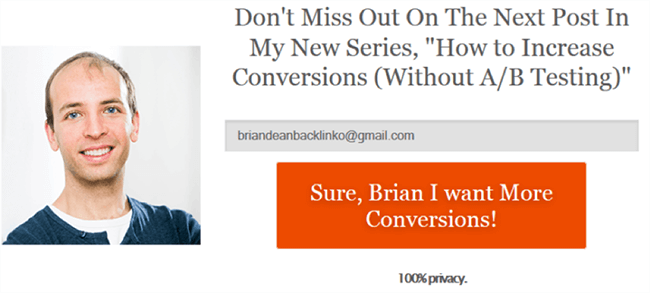 This tactic works because readers who've read one part of the article are likely going to be interested in reading the next part of the article. When you offer them a way to get notified (or better, get bonus content), you pique their curiosity while also giving them value.
It also helps that you don't have to create content separately for a blog post series. Just take a regular long blog post and break it down into 2-3 articles.
This way, you also get to maximize the value you get from a longer post.
Note: Whether this makes sense to do will depend on the article. There are other factors to consider such as the targeting of specific keywords, etc. You may want to only do this for articles with the goal of engagement, rather than SEO focused articles.
Email opt-in optimization tactics
While driving more targeted traffic to your opt-in pages definitely works, you can also grow your email list by turning more of your existing visitors into subscribers.
In this section, I'll show you some optimization tactics to convert visitors into subscribers without needing more traffic.
1. Use better opt-in confirmation instructions
For the double opt-in process to work, people have to enter their email into your lead capture form, then confirm the subscription via email.
While the first part of this process is easy enough for your readers to follow, you might be losing subscribers in the second part.
This might be for several reasons:
The reader might forget about confirming the subscription.
The confirmation message might land in the spam folder.
The reader might not know how to confirm the subscription.
You can stop this leakage by offering better opt-in confirmation instructions. Instead of the standard template from your email marketing provider, create a dedicated landing page where you show subscribers exactly how to confirm their subscription.
For example, this is the page you'll see after you enter your email in Ramit Sethi's email form: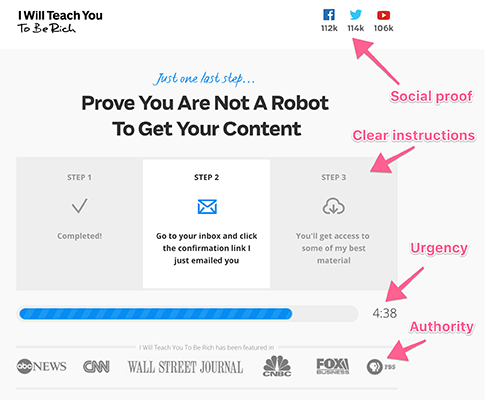 Notice how he uses social proof, authority indicators (publication logos) and an urgency indicator (a countdown timer) to get users to take action?
Creating something similar can greatly reduce the number of people who sign-up but forget to confirm their subscriptions.
2. Use social proof in your opt-in forms and landing pages
Social proof is a powerful motivator for action. When others see that you or your products are already popular, they are more likely to join in – aka the "wisdom of the crowds" belief.
There are several ways to use social proof in your opt-in forms and landing pages. The most obvious way is to simply mention your existing subscriber count in the form.
You don't have to be exact; a vague number (the larger the better) is good enough to show that you are already popular.
Just don't fabricate this number or you'll run the risk of tarnishing your brand's reputation.
For example, CMI mentions how you'll be joining thousands of your peers when you sign-up for its email list. The "peers" part is important – CMI insinuates that you will be missing out on information your colleagues have if you don't subscribe.

But what if you don't have thousands of existing subscribers?
This is usually the Catch-22 problem with social proof: you need subscribers/fans/followers to use social proof, but to get subscribers, you need social proof.
One easy way to work around this problem is to use subjective social proof instead of hard numbers.
This subjective social proof can be:
An email from a reader (reprinted with her permission, of course)
A positive public comment made on Twitter
A positive public comment on your blog
A testimonial from an influential reader
A quote from an authority institution such as a respected publication
For example, Tim Ferriss uses quotes from leading publications on his landing page where he plugs his email list: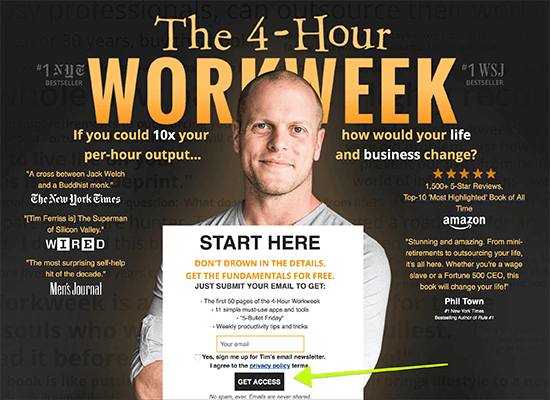 You don't have to get an influencer quote; a tweet from a user can work as well (though it won't have the same impact as something from an authority figure).
3. Use value-focused copy
Most readers don't want to opt into yet another newsletter that promises to send them the "latest" articles.
This is why copy that simply describes an action (such as "subscribe to our newsletter") fails at converting visitors into subscribers.
As an alternative, try using value-focused copy in your opt-in forms and landing pages. Bonus points for including persuasive power words in the copy.
For example, take a look at Copyhackers' full-screen popover.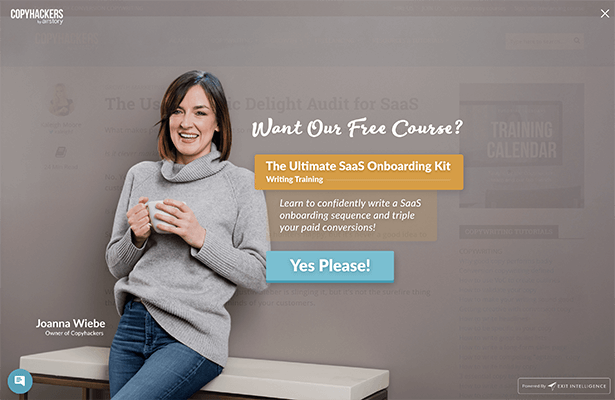 Right at the top, we see a question "Want Our Free Course?" which speaks to the value of what subscribers will get. Courses are typically higher value than something like an ebook or free PDF. And, the button "Yes Please!" answers the question in the headline directly.
In between these elements, users are presented with an offer that appeals to a very specific audience (SaaS businesses.)
Then, a brief section explaining what users will get from the course and the results they can expect. Despite there not being much text, several power words are included and the messaging is hyper specific throughout.
Now, how can you take inspiration from this type of copy for your own website?
Take a look at any lead magnets you currently offer and think about what readers stand to gain from it. For example, if you're offering a downloadable guide to growth hacking, tell them how the guide will help them grow traffic, instead of telling them about the number of pages or how in-depth it is.
And, if you're offering readers a PDF version of the blog post as a content upgrade, focus on how readers can print the PDF and read it at their leisure.
Remember the old adage:
"Features Tell. Benefits Sell."
Do this for all your copy and you will see a definitie uptick in conversions.
Wrapping it up
Building an email list is critical for your marketing success. But, to get more email subscribers, you need to go beyond the tried and tested tactics.
Use the tactics I've listed above to get started but don't be afraid to run your own experiments. Find what works and do more of it.
Now, I'll leave you with this:
Whichever list building tactics you use, always be clear about what people are signing up for.
If you're offering a webinar and you'll be subscribing people to your email list for further updates – you need to convey that at the point of sign up or give people the option to choose email updates only if they want them. So, consider GDPR.
I'm not a lawyer so I'm not going to give any advice on GPDR, but it's something to consider when creating your opt-in forms & developing your offer.