21 Personalization Statistics And Trends For 2023
Personalized marketing is the key to acquiring more leads and customers for any business. Unfortunately, there are business owners who struggle with personalized messaging. This leads to poor customer relationships.
Boosting your personalization efforts will improve brand loyalty and reduce customer acquisition costs. It will even help you capture more customer data and lead to an improved customer experience.
But before you draft your personalization strategy, take a moment to go over these personalization statistics. These will help you determine which digital marketing tactics will yield better results.
So without further ado, here are the most important personalization statistics for online marketers and striving businesses.
Personalization adoption statistics and facts
Most marketers have already embraced personalization. As you'll see in these personalization stats, a huge majority already have personalization strategies in place. And those who don't are working their way to have one in place.
One of the big reasons for the push is that consumers are already expecting it from the brands they support. They don't mind companies that give them personalized recommendations.
And the good news is that the benefits of personalization are starting to show. Some companies report more sales because they use personalized marketing.
Check out these personalization stats and let these help guide your marketing strategy.
1. 75% of marketers say personalization increases engagement
According to 75% of marketers, personalization (especially in email marketing) is a big deal. After conducting tests and studies, they came to the conclusion that adding personalized elements helps increase engagement and their return on investment.
It can be as simple as adding a customer's name in the subject line but you don't have to stop there. If you have a ton of customer data in your hands, then you should use it to your advantage.
Source: Blogging Wizard
2. 89% of businesses are investing in personalization
A Forrester report reveals that 89% of businesses are starting to invest in personalization. These include the likes of Coca-Cola, Netflix, Sephora, and Wells Fargo.
There's also a need for companies to redefine what personalization means. From tactical segmentation, they must pivot to a more strategic individualization.
Source: Forrester
3. 66% of customers expect companies to understand their unique needs
66% of customers said that they now expect companies to understand their unique needs and expectations. The bad news is that the same percentage of customers feel like they're being treated like numbers.
Times are changing and customers demand more from brands these days. 52% said that they now expect businesses to always offer personalized experiences. Also, 68% of people want brands to demonstrate empathy.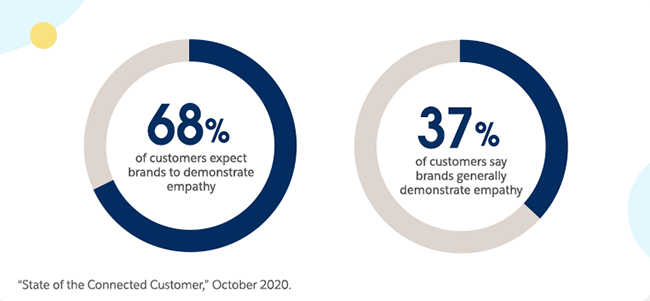 Unfortunately, only 37% of customers feel like brands are able to express empathy. So businesses will have to do better if they want to have stronger customer relationships.
Source: SalesForce
4. 72% of users said personalization is highly important
According to a Capco survey, 72% of users feel that personalization is highly important. Only 8% said that it isn't. Meanwhile, 20% of respondents were neutral on the matter.
Millennials are very particular about personalization at 79%. This is followed by Gen Z users (75%) then by Gen X users (74%).
86% of those who said personalization is important are willing to provide feedback on their experiences at least once a year.
Source: Capco via Business Wire
5. 90% of marketers said personalization contributes to profitability
90% of leading marketers have said that personalization made a significant contribution to their business profitability.
So if you're still doubting the power of personalized messaging, listen to what experts are saying.
In addition, 61% of users expect brands to tailor experiences based on their preferences. This seems to support other studies mentioned in this list. People don't mind brands that are implementing personalization. They're kind of expecting it at this point.
Source: Google
6. 60% of marketers claim that their content is extensively personalized
Most marketers will tell you that they are already in the process of creating personalized content. 60% will even say that their digital content is extensively personalized.
But it's not like the rest of them are not adopting personalization. It's just that they think there's still room for improvement. Besides, 51% of marketers already rate personalization as their number one priority with 79% of businesses in the retail sector investing in personalization tools.
88% of marketers said that their main priority with personalization is improving the overall customer experience which is a noble goal.
Source: Startup Bonsai
Email personalization: statistics and facts
Email marketing is one of the fields that benefit the most from email marketing. And these statistics will show you just how effective personalized emails can be. You'll see just how it improves open and click rates.
And if you're wondering if personalized subject lines work, there are statistics here that might clear it up.
Personalizing emails also have an impact on transaction rates so it's definitely worth considering if you're still not implementing personalized email marketing.
7. In 2021, email is the 3rd most used marketing channel
It's important to start personalizing emails, especially since it's the 3rd most used marketing channel as of 2021.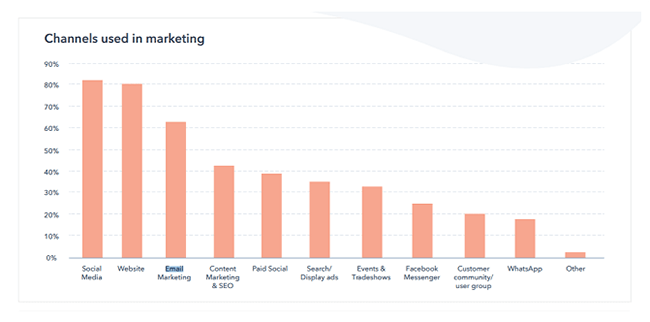 In addition, 64% of small businesses use email marketing as part of their marketing strategy. Because there are a lot of automation solutions available these days, even smaller businesses are able to maximize their email marketing efforts.
There are even tools that will help you personalize your emails automatically. These are crucial for marketers since most of them have to deal with other strategies that take up their time. Being able to automatically personalize emails is a huge relief for most marketers.
Wondering which marketing channels got the top spots?
As you might expect, social media is at the top of all marketing channels followed by business websites.
Source: Blogging Wizard
8. Personalized email messages have a high open rate
According to Statista, emails with a personalized message and a non-personalized subject line have an open rate of 18.8% and a 2.1% click rate.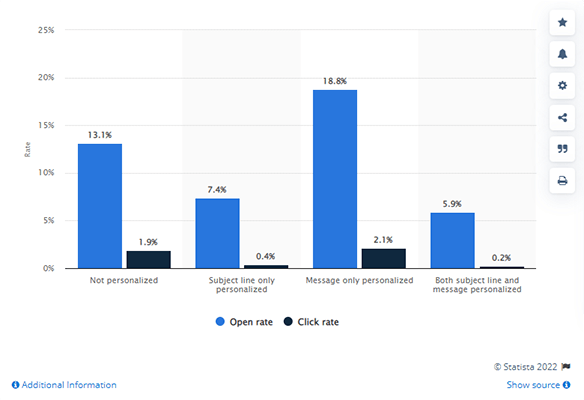 Surprisingly, non-personalized emails (body and subject line) have an open rate of 13.1% and a click rate of 1.9% which is higher than personalizing the subject line only or both subject line and body.
So if you're thinking about personalizing your emails, maybe you should consider adding a few personal touches in the message only.
Source: Statista
9. Emails with personalized subject lines are more likely to be opened
Campaign Monitor provides another perspective on the use of personalized subject lines. It claims that emails with personalized subject lines are 26% more likely to be opened.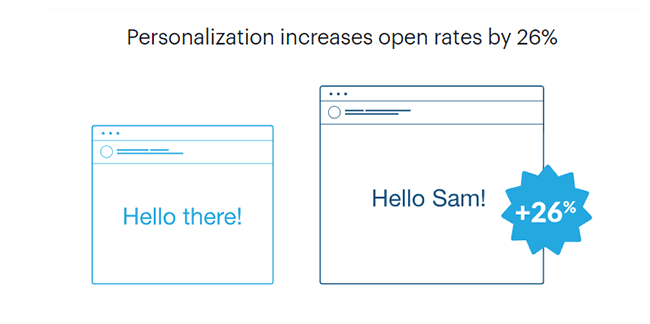 Segmented campaigns also received a 760% increase in email revenue. With proper segmentation, dynamic content, and email automation, you can send personalized offers more efficiently and effectively.
Source: Campaign Monitor
10. Personalized emails deliver 6 times higher transaction rates
When marketers use personalized emails, they see 6 times higher transaction rates. But the sad thing is that 70% of brands don't bother with it.
According to a study, personalized emails had 29% higher unique open rates and 41% higher unique click rates. And when it came to triggered email campaigns, the use of personalization resulted in double the transaction rates.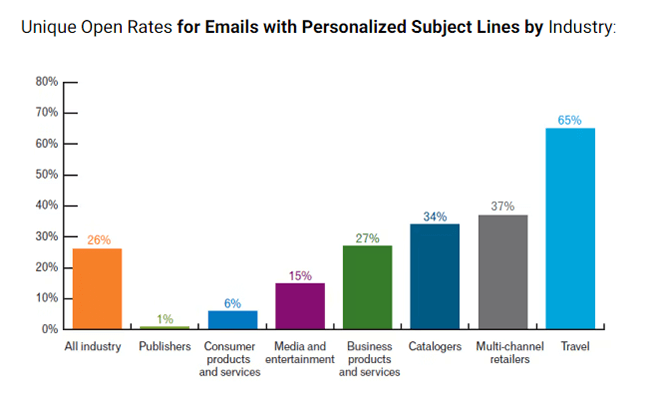 This is more evident for marketing emails in the travel industry. It had a 65% unique open rate.
Source: MarTech
11. Personalized subject lines resulted in 27% higher click rate
Experian collected data and found that emails with personalized subject lines experienced 27% higher unique click rates. It also led to 11% higher click-to-open rates and twice the transaction rate.
The company emphasizes that customers now want brands to create personalized emails so that they receive messages that are relevant to them.
You should keep this in mind when developing a strategy. You should do away with generic email messages and instead cater each one to a specific target customer or lead.
Source: Experian via PR Newswire
Personalization and shopping: statistics and facts
Customers love personalization. You might not think so, but they've come to expect businesses to offer them products that are right for them. They also like receiving messages that are specific to them. It makes them feel like a business really knows what they need.
And when customers feel like businesses are being impersonal, they become frustrated. They might even consider shopping elsewhere.
There's even a study that reveals how personalized call-to-actions increase click-through rates.
If all the stats you've read so far have not sold you on the importance of personalization, these statistics will.
12. 71% of customers are frustrated with impersonal experience
71% of consumers become frustrated when their shopping experience seems impersonal. That's one of the findings that Segment when it conducted a survey. 44% expressed that they're more likely to become repeat customers if they have personalized experiences.
Not only that — 49% said that they bought a product that they initially didn't want to buy after they got a personalized recommendation from a brand. In addition, 40% said that they bought something more expensive than originally planned because of a personalized experience.
Source: Segment
13. 91% of consumers will likely shop with brands with relevant offers
Accenture says that 91% of consumers will likely shop with brands who not only recognize and remember who they are but also give them relevant offers and recommendations.
Another 48% said that they have left an online store and shopped elsewhere because they felt that it offered a poorly curated experience.
This isn't great news for businesses that fail to update their online stores to provide personalized experiences.
14. 80% of consumers prefer a personalized experience
80% of consumers are more likely to buy from a business that offers personalized experiences.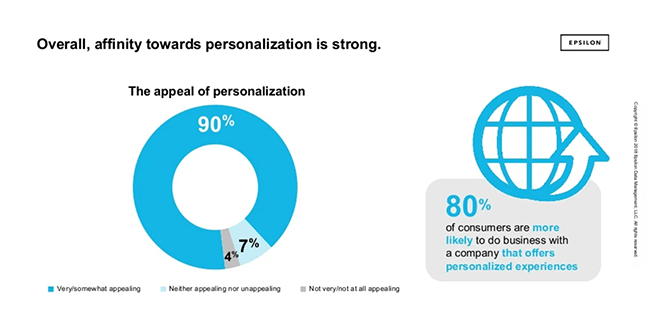 Only a small minority don't believe that personalization is as important. The same report mentions that companies are continuing to improve their ability to offer personalized experiences. 66% said they're doing much better. 27% said it stayed the same while 7% think that they're doing much worse.
Source: Epsilon Marketing via SlideShare
15. Revealing details about personalized ads increase click-through rates
The Harvard Business Review partnered with Maritz Motivation Solutions, a company that runs redemption websites for loyalty programs like airline frequent-flier programs.
In their joint experiment, they found that when trust is high, the customer click-through rate increased after disclosing that the ads they saw were personalized to them.
Not only did click-through rates increase by 11%, but the time spent on viewing the ad also rose by 34%. This also had an impact on revenue as product sales grew by 38%.
Source: Harvard Business Review
16. Personalized call-to-actions are better for conversions
A HubSpot study analyzed 330,000 call-to-actions (CTAs) over six months. It showed that personalized CTAs are 202% better at converting than their default versions.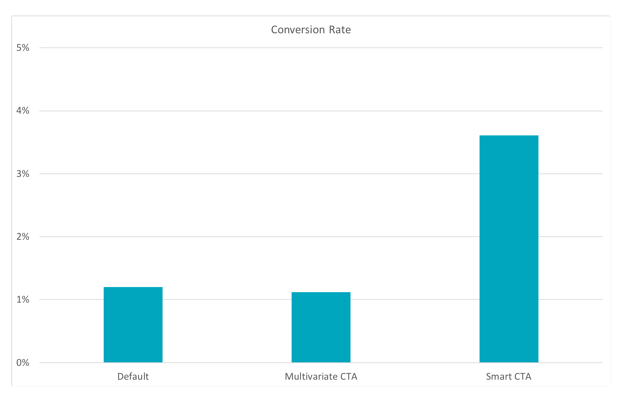 The reason why personalized CTAs work is because leads are being served with content that reflects their current interest and knowledge on the subject.
(You can learn more in our roundup of lead generation statistics).
Source: HubSpot
17. 72% of shoppers will only engage with personalized content
72% of shoppers said that they will only engage with personalized messaging. That's a lot of potential buyers. So you should cater your messaging to each individual instead of releasing a blanket statement for everyone.
Personalization is not a trend. People want to feel like a company knows them and what they need.
One of the more interesting personalized stats on this list is that 45% of consumers think that the coolest personalized engagement tactic is sending apology emails. When a customer has a bad customer experience, receiving an apology email will ease the tension and possibly regain their trust.
Source: Startup Bonsai
Personalization and data collection: statistics and facts
One of the problems with personalization is that marketers will need access to a lot of customer data. And not all customers are willing to hand their personal information over.
But you might be surprised at how many customers will gladly hand over their details. They want businesses to give them a personalized experience and they know that they'll need information to do that.
The appetite for personalized content is something companies will need to address as these statistics will show.
18. Marketers need access to more customer information
While marketers agree on the importance of personalization, it does come with challenges. For one thing, 58.1% of marketers need access to customer data if marketing personalization would be their priority.
That's one of the reasons why they are unable to run comprehensive personalization campaigns.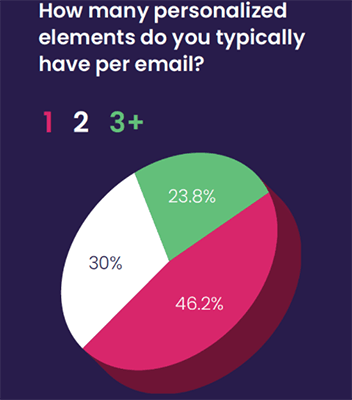 46.2% of marketers said that they're only able to include one personalized element in their marketing emails. Compare that to the 23.8% of respondents that were able to use three or more details and you'll see how desperate some marketers are for more customer information. Otherwise, they won't be able to even the playing field.
Source: The State of Email Marketing Survey Report via Ko Marketing
19. 83% of consumers will share their data for a personalized experience
83% of people said they'd be willing to share their personal information if that's what it takes to have a personalized experience.
There is a condition though:
Businesses should be transparent about the data they collect, how they collect it, and what it will be used for.
73% added that they never felt like brands communicated with them in such a way that they were too personal or invasive.
And of those who felt like a brand got too personal, it was mainly because they thought a brand had information about them that they didn't share knowingly or willingly. One example would be receiving recommendations based on purchases they made with other establishments.
Source: Accenture
20. Customers expect data protection from businesses
Customers who provide their data to companies understandably want their data to be protected. Only 48% of customers feel like they can trust businesses with their information.
What's even more alarming is that only 27% of customers said that they completely understood what companies are doing with their personal information. It's no wonder then that 86% of users are demanding more transparency.
Sadly, 61% of consumers felt like they've lost control over their personal information and how it's being used. That's 46% more than what was recorded in 2019.
Source: SalesForce
21. 36% of shoppers want retailers to offer more personalization
Up to 36% of retail shoppers want businesses to offer more personalized experiences. This percentage is even higher for households that earn more than $100,000 annually at 43%.
Conclusion
Now that you've got a better understanding of how important personalization is for businesses, you should be able to incorporate it into your strategy if you haven't yet.
And for those that are struggling with personalizing content, know that there are marketing automation tools that could help you deliver a better customer experience.
These statistics only show that marketers are already on top of their personalized campaigns. And if you want your business to prosper, you should be doing it too. Don't wait too long to offer personalized content — otherwise, your competitors might start outperforming you. And you don't want that.
Sources