9 Best Blogger Outreach Tools For 2023
Are you planning to launch a blogger outreach campaign this year?
Blogger outreach offers an effective way to secure backlinks and brand mentions from high-authority websites.
But the process can be complex and time-consuming, involving tasks such as finding link opportunities, sending emails, managing responses, etc.
Fortunately, there are several tools that can help make blogger outreach simpler and more efficient. In this article, we'll share nine of the best blogger outreach tools so you can choose the right one for your outreach campaign.
The best blogger outreach tools compared
We'll dig into each tool in detail shortly. But first, for those who are short on time, here are our top picks:
BuzzStream – Perfect for those who are novices to blogger outreach. Wide range of outreach tools all at an excellent price.
LinkHunter – Perfect for those focusing on high-quality backlink opportunities. It has a user-friendly interface, and is a great blogger outreach tool.
Snov.io – Perfect for those who are focusing heavily on converting leads into sales. Can be used to verify emails, and has Chrome extensions for ease of use.
---
#1 – BuzzStream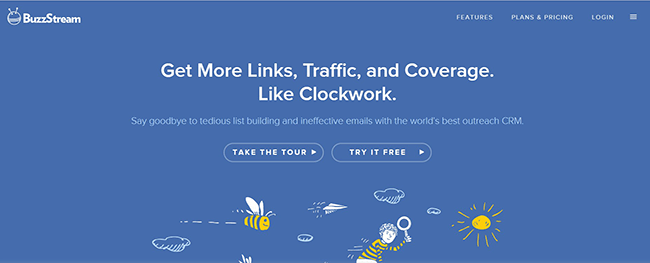 BuzzStream is a tool that helps expedite the process of conducting your entire blogger outreach strategy. It includes features such as an automated email sequence, prospect research, and link-building management.
One thing that makes BuzzStream stand out is its ease of use. The platform is intuitive, so you can get started with outreach quickly.
Moreover, BuzzStream offers a wide range of tools ideal for building a successful outreach campaign. It doesn't just stop with the prospect list but helps with follow-ups, link tracking, and reporting.
BuzzStream lets you add prospects in one click, personalize and schedule your email campaigns, and set notifications to ensure timely outreach.
This tool also makes team collaboration effortless. You can create outreach campaigns, add team members, and assign tasks to streamline your workflow.
You can sleep well at night knowing that your outreach campaigns are well-organized and executed.
But that's not all. BuzzStream provides detailed reports of your campaign progress, email deliverability, and link placements. This helps you track your efforts and make necessary changes to improve your results.
If you're looking for a solid tool with great features, BuzzStream is the best blogger outreach tool.
Key features
Complete outreach CRM
Contact segmentation
SERP prospecting
Email templates
Follow-up automation
Campaign management
Team collaboration
Backlink monitoring
Pricing
BuzzStream offers its Starter plan at $24/month. 14-day free trial available.
---
#2 – LinkHunter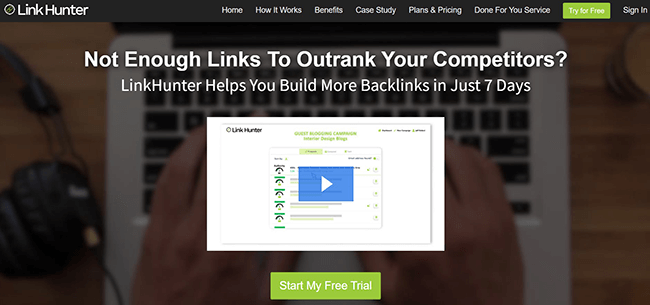 LinkHunter is another powerful link-building and blogger outreach tool that helps you establish relationships with other bloggers and website owners in your niche.
It's known for its ability to find high-quality backlink opportunities that can push your site up the search engine rankings.
LinkHunter's interface is beginner-friendly, making it one of the best outreach tools for those just starting out.
You can summarize LinkHunter's link building process into three simple steps – prospect search, email reach out, and monitoring.
First, LinkHunter quickly scans the web for backlink opportunities so you can easily find top-ranking link prospects. You don't have to do other research, as this tool will provide you with all the necessary emails.
Once you have the list, you can use the pre-made email templates to reach out to these bloggers and prospects.
Now all you have to do is to follow up, track your progress, and see the results! LinkHunter provides a quick overview of where you are at on your blog outreach campaign.
For instance, you'll see whether you have already contacted the prospect, followed up, got a response, or acquired the link. No need to open new tabs, software, or excel sheets!
LinkHunter is one of the best blogger outreach tools because it makes quality link-building and outreach campaigns easy.
Key features
Advanced website search
Email discovery
Pre-made email templates
Downloadable reports
Progress tracking
Import lists
Google Suites and Gmail integration
Pricing
LinkHunter offers a free 7-day trial for new users, and the Starter plan costs $49 per month.
---
#3 – Snov.io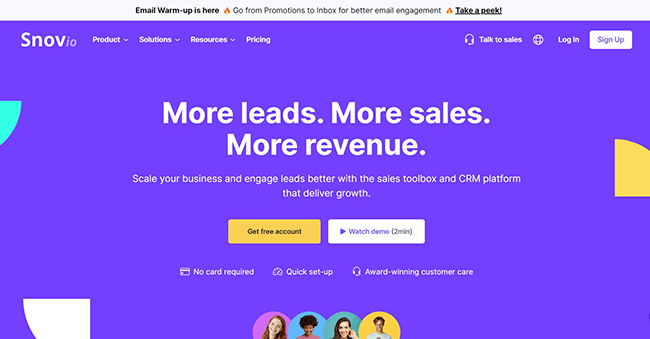 Snov.io is a powerful sales toolbox and CRM that helps sales professionals find and contact potential customers efficiently.
This outreach tool focuses on sales rather than outreach. It's ideal for users who want to generate leads to boost sales. But you can still use it for blogger outreach and link-building campaigns.
One of my favorite features of Snov.io are the email finder and verifier. They allow users to quickly find prospects' contact information while ensuring that all emails are valid or active.
The outreach process is already tedious, so wasting your efforts on dead or invalid email addresses would be a nightmare. Using these tools will improve email campaign delivery by purging your outreach lists of spam traps and other types of undesirable email addresses.
Additionally, I like the free CRM that Snov.io provides. It makes setting up sales processes and working with team members a breeze. This tool is a must-have for running multiple and massive outreach campaigns.
Another thing about Snov.io is its convenience. It offers Chrome extensions for prospecting and finding email addresses. So you can work on outreach even when you're outside the platform.
Overall, Snov.io is one of the best outreach tools on the market, especially for those who want to focus on increasing sales.
Key features
Drip campaigns
Bulk search
LinkedIn prospecting
Unlimited campaigns
AI-powered emails
Team collaboration
Sales pipeline
Pricing
Snov.io paid plans start at $39/month, but it has a free version with limited features.
---
#4 – Hunter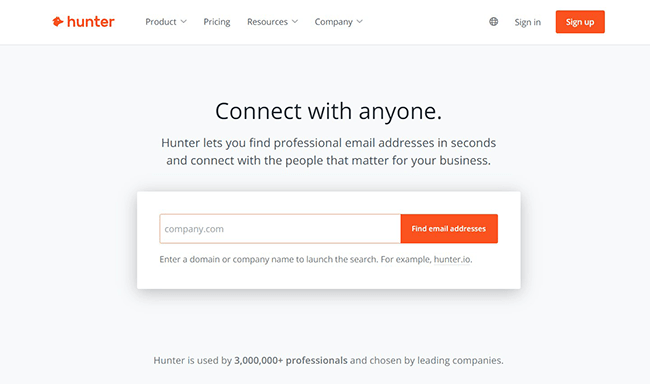 Hunter is a widely used blogger outreach tool that enables users to find email addresses associated with websites and domains. It also includes the ability to send outreach emails verify email addresses.
It's known for its simplicity and reliability – two factors that are essential in any good outreach tool.
Its vast email address database sets Hunter apart from others, making it ideal for blogger outreach. It has indexed over 100 million email addresses, making it one of the most decent email-finding tools.
On top of that, Hunter values data transparency and ensures that every email address it presents is from a public source.
The team indicates where and when they found the data so you can feel confident you're getting updated information from legal sources.
Hunter also provides advanced search filters, which allow you to classify emails by types and data to ensure an efficient link-building and blogger outreach process.
Hunter also offers email verification and simple cold campaigns. Email verification cleans your prospecting list from bounced emails, and cold campaigns let you automate repetitive tasks like sending follow-ups.
If you want an incredible yet intuitive blogger outreach tool, Hunter should be on the top of your list.
Key features
Domain search
Email discovery
Email campaigns
Email verifier
Third-party integrations
Chrome extension
Pricing
Hunter.io lets you start with a free plan. Then you can upgrade it for as low as $49/month.
---
#5 – Semrush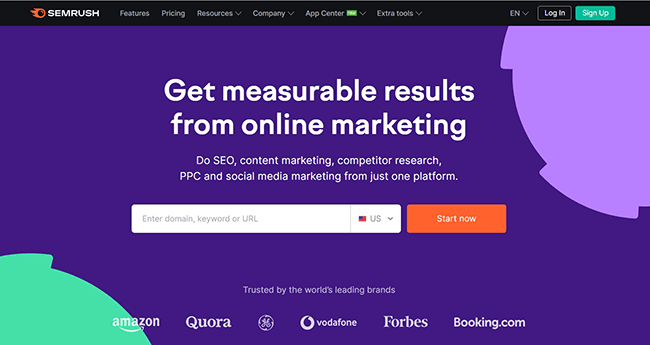 Semrush is an extremely popular SEO and marketing tool that provides users with actionable marketing insights, valuable strategies, and comprehensive data.
SEO professionals and digital marketers widely use it because it offers a complete view of the digital marketing landscape. From keyword research and content marketing to paid advertising and social media, Semrush has got you covered.
That's why it's still the top choice for many experts and businesses.
Semrush delivers well, even regarding link-building and finding brand-mention opportunities. However, since it has over 50 tools, you must make an effort to see these features.
To give you an idea of how you can use Semrush as a blogger outreach tool, here's a link-building process that you can follow.
First, use the Competitor Analysis or Backlink Analytics tool to find link-building opportunities. You can spy on your competitors and see the top domains with the richest backlink portfolios.
Once you gather enough data, you can start your email outreach and monitor your campaign using the Link Building tool.
With this tool, you can monitor your link-building progress and targeted domains and get detailed insights.
Semrush doesn't have email hosting, so you'll need to integrate it with a third-party email provider like Gmail or Outlook.
Once you connect your email account, Semrush will let you create cold pitches, customize templates, and track your email progress.
You can do so many things with Semrush to build a more effective blogger outreach strategy, but you'll need to learn how to use it.
If you're always looking for new link-building opportunities and ways to improve your SEO performance, Semrush will help you reach your goals.
Key features
Domain overview
Keyword research
Competitor research
Content marketing
Rank tracking
Site audit
Backlink analysis
Social media management
Advertising research
Agency toolkit
Pricing
Semrush paid plans start at $129/month, and it offers a 7-day free trial.
---
#6 – MailerCheck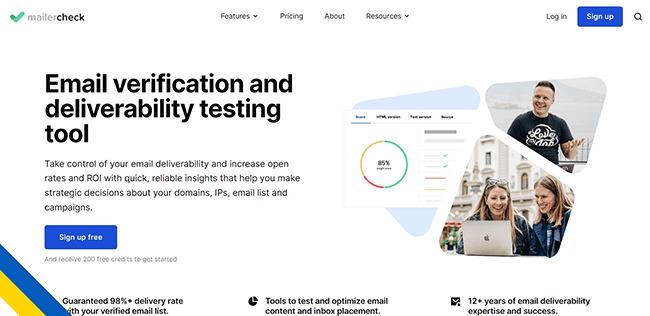 MailerCheck is an email verification tool known for its accuracy and speed.
Unlike the others on the list, it doesn't offer extra features for your outreach efforts. However, it's worth mentioning because email addresses play a crucial role in successful blogger outreach.
No matter how good your strategy or impressive your prospect list is, you're not going very far if your emails bounce.
MailerCheck can help you avoid that fate by quickly verifying the accuracy of email addresses before you even send your first message.
Additionally, you can also gain some insights into your email content. This tool can show any warnings or errors affecting your deliverability.
For instance, if your cold email sounds spammy and is likely to trigger spam filters, you'll know about it before you even hit "send."
The email insight tool can also detect broken links and flagged words so you can make the necessary changes.
Lastly, with the Inbox Placement feature, you can foresee how likely your email will reach the recipient's inbox.
This is a great way to avoid the dreaded "Promotions" tab for Gmail users, which can often lead to emails being overlooked or deleted altogether.
I like MailerCheck because it's a straightforward tool. It can help you avoid bounced emails and improve your deliverability rate.
Key features
Email verification
Content optimization
Deliverability checker
API verification
Usage reports
Integration
Email insights
Pricing
MailerCheck allows you to opt for pay-as-you-go for as low as $10. You can sign up for free and get 200 credits.
---
#7 – Lemlist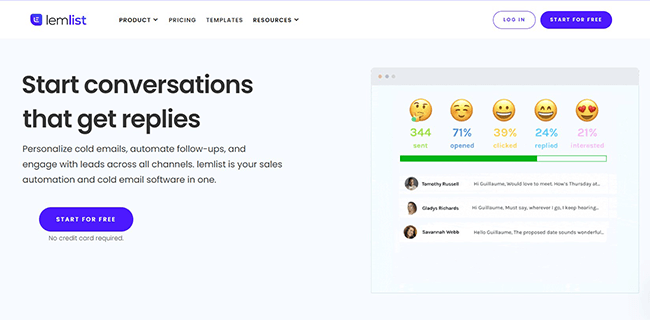 Lemlist is an automated cold email outreach tool that allows users to create highly personalized emails at scale.
It is known for its ability to increase the recipient's engagement and replies and automate the entire process of sending cold emails.
With this blogger outreach tool, you can add custom call-to-actions and texts and even include videos in your emails. This allows you to create a more personal connection with the recipient and encourage them to take action.
For example, you could use Lemlist to reach out to websites in your niche and ask if they're willing to do some collaborations. Then instead of using texts, you can insert videos of you talking to them.
On top of the customizable emails, it also offers follow-up automation for its users. Some tools only offer the basic features, but Lemlist takes it further by providing more complex options.
For instance, you can set it to send the following email "X" days after your lead opened the previous one. It's better than just scheduling emails because it allows for more flexibility and can increase the likelihood of getting a reply.
Additionally, you can add delays to your follow-up emails, which is helpful if you don't want to seem too pushy.
Customizing your follow-up strategy can create a more efficient process tailored to your needs.
And here's more. Besides emails, Lemlist also allows you to expand your workflow to multiple channels like calls and social media platforms. This feature enables you to increase your chances of getting a response.
Overall, Lemlist is an excellent tool for blogger outreach campaigns. It emphasizes personalization and follow-ups, which are essential for a successful strategy.
Key features
Email customization
Advance follow-up automation
Team collaboration
A/B testing
API
Integrations
Pricing
Lemlist offers a 14-day free trial, and its paid plans start at $29/month.
---
#8 – Pitchbox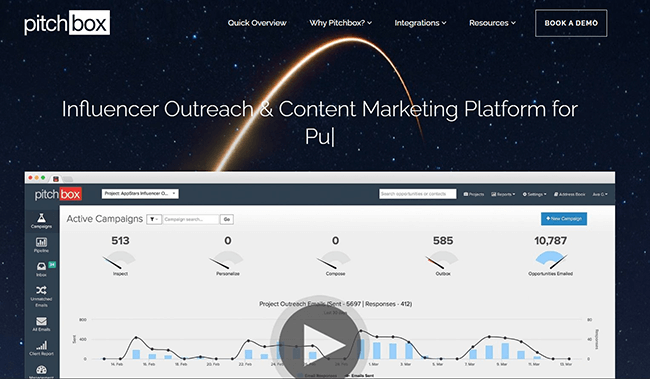 Pitchbox is a content marketing and outreach tool that helps marketers connect with influencers and bloggers to create relationships that produce powerful results.
Pitchbox belongs to this list of best blogger outreach tools because of its ability to scale outreach efforts, target specific audiences, and monitoring efforts.
Besides securing a backlink opportunity, you can maximize Pitchbox to grow your network and get more brand exposure on both search engines and social media.
First, Pitchbox provides smart prospecting. It won't just show you a random list of bloggers or influencers but will give you relevant ones based on your niche or industry.
It can save you time and energy because you'll have a qualified list of prospects to reach out to from the start.
Second, Pitchbox lets you control how you want to carry out your outreach strategy. It also allows you to personalize each email you send out and follow up automatically with prospects who have yet to reply.
This whole process can increase your response rate by up to 62%. That's some serious efficiency right there!
One more thing I like about Pitchbox is that it supports productive workflow. It has a site viewer tool that allows you and your team to work on opportunities without distractions.
Pitchbox is worth trying out if you're looking for a blogger outreach tool that can save you time and help you achieve better blogger outreach results.
Key features
Email management
Pipeline outreach
CRM
Campaign scheduling
SEO integrations
Social media prospecting
Pricing
Pitchbox requires you to book a demo before showing their pricing plans. But it starts at $195/month.
---
#9 – Mailshake
Mailshake is another reliable blog outreach tool. It is known for its effective sales engagement, link-building, and high email deliverability rates.
Like most tools, Mailshake helps you automate your prospecting and blogger outreach. It also offers email customization to ensure a better response rate and follow-throughs.
I like Mailshake's ability to pause a sequence automatically. So when a lead replies or unsubscribes, the tool will automatically stop sending them email messages until you manually resume it.
This is a great way to avoid bombarding your leads with too many emails and coming off as salesy.
Besides email automation, Mailshake allows you to monitor all your leads and sales reps in one place.
This progress and team tracking are helpful because in making you understand what outreach strategies are working and which ones need improvement.
Additionally, you can stay on top of your reps' progress and ensure they are productive.
One unique feature that Mailshake has is the AI writer. If you struggle with personalizing and writing cold emails, you can use this feature to get out of the rut.
Finally, Mailshake provides a complete overview of your lead's outreach history.
This means that you get to see all emails, social messages, and phone calls they've received from you. This tool can help you determine whether a lead is still worth pursuing.
Key features
Email management
Social media prospecting
Automated outreach
A/B testing
Outreach monitoring
Cold-calling
Chrome extension
AI email writer
Software integrations
Pricing
The most affordable Mailshake plan starts at $58/month. No free trial but they offer a 30-day money back guarantee.
---
Conclusion
Establishing a blog outreach strategy doesn't have to be complicated.
With the right tools, you can easily connect with other influencers and websites, strengthen relationships, grow your network, and get more high-quality links.
We hope this article helped you choose the best blogger outreach tool for your business.
And if you'd like to learn more, be sure to check out our posts on backlink analysis tools and link building software.