9 Best Giveaway Apps To Run Social Media Contests In 2023
Social media contests, giveaways, and raffles have the potential to drive huge amounts of visitors and create a buzz around your brand.
More followers. More email subscribers. More potential customers.
The only problem? You're going to need the right tool to help you make the most of any giveaways you run.
That's why today in this post, we'll be reviewing the best social media contest tools in the market to date. I've included the top features of both below.
So, let's take a look at these social media contest tools and see how they stack up against one another.
The best social media contest tools – summary
#1 – SweepWidget
SweepWidget is a powerful social media contest tool where you can run viral giveaways, social media contests, leaderboard competitions, instant coupon campaigns, and newsletter growth competitions.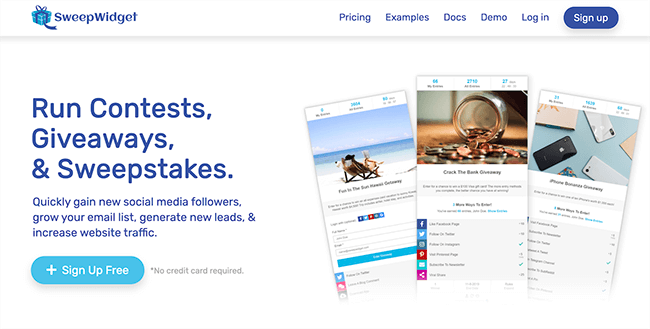 SweepWidget offers an impressive 30+ social media platform integrations with 90+ entry methods to choose from. Create giveaways quickly and easily with their drag-and-drop system.
Once ready, easily embed your contest directly into your website or use a free hosted landing page. You can also manage all of your entries by randomly/manually selecting winners, disqualifying/deleting entries, and exporting all users/entries to a CSV file.
Key features:
Integrates with over 30+ social media platforms with 90+ entry methods
Viral/refer-a-friend giveaways
Leaderboard competitions
Instant coupons/rewards sweepstakes
25+ API integrations with 20+ CRM integrations
Multi-language support for 103 languages
Custom design & CSS
Custom native API
Pricing: SweepWidget has an unlimited free plan to start.
Pro plans start at $29 per month which gives you access to 30+ social media entry methods, 20+ API integrations, custom design options, and more.
The business plan is $49 per month which allows you to run leaderboard competitions, instant coupon giveaways, use email verification, and more.
The premium plan is $99 per month which gives you white labeling, custom logos throughout the widget, custom transactional emails, and more.
The enterprise plan is $249 per month which allows you to accept payments/donations, use the native API, custom SMTP, and more.
#2 – ShortStack
ShortStack claims to be the most customizable all-in-one contesting software. With it, you can create an unlimited number of interactive landing pages for contests, giveaways, quizzes, and more for collecting leads and landing conversions.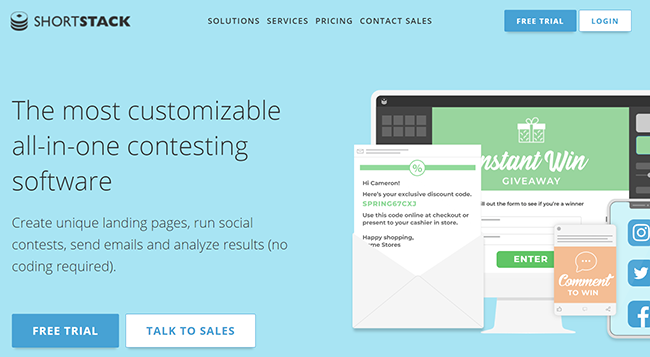 You can utilize its white-label capabilities to make your contests you own. And thanks to the easy embed option, you can place your contests anywhere you like or enable them to pop up on your site and really capture people's attention.
Key features:
Voting restrictions for limiting the number of votes per person
Autoresponders, scheduled, and follow up emails
Built-in analytics for campaign tracking
Admin entry alerts for tracking contest activity
Instagram, Facebook, Twitter, and TikTok contests
All-in-one campaign dashboard
Pricing: You can try ShortStack for free and receive 20 entries and 100 views. From there, premium plans come in at $99, $199, and $499 per month. With each premium plan you get access to features such as video upload contests, team member collaboration, and unlimited hashtag and retweet contests. If you pay for the year in full, you'll get a discount.
#3 – Wishpond
Wishpond is an all-in-one marketing solution that can help you create social media contests and capture, nurture, and convert leads from social media and beyond.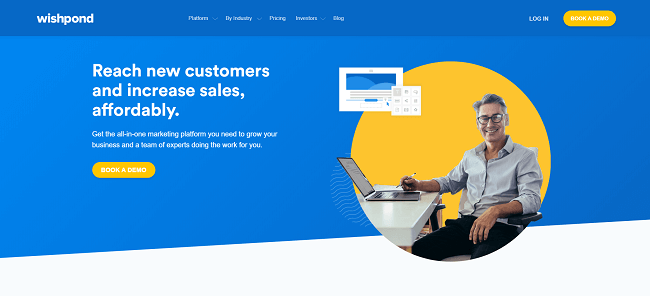 Creating contests on the platform is super easy. You can create contests from a range of different types including Instagram Hashtag, Photo, Pinterest and video contests. It can also be used to create more unique contests such as Essay contests and sweepstakes.
In addition to its social promotion features, Wishpond is packed full of other tools that can help you to build landing pages, manage and automate your email marketing, and more. Here's a rundown of some of the key features.
Key features:
Easy to use contest tools
12 different contest types included
Optimized contest templates
Analytics and reporting for tracking your contests
Landing page builder
Marketing funnels
Email marketing and automation
Pricing:
Wishpond offers 3 plans: Starting Out, Everything You Need, and Rapid Growth. Starting Out is the cheapest plan and starts from as little as $49/month billed annually. This includes access to unlimited social promotions (contests and giveaways) as well as unlimited landing page and popup creations for up to 1000 leads. There is also a 14-day free trial available for annual plans.
#4 – Woorise
Woorise seeks to help businesses grow with interactive viral giveaways, contests, landing pages, surveys, and quizzes.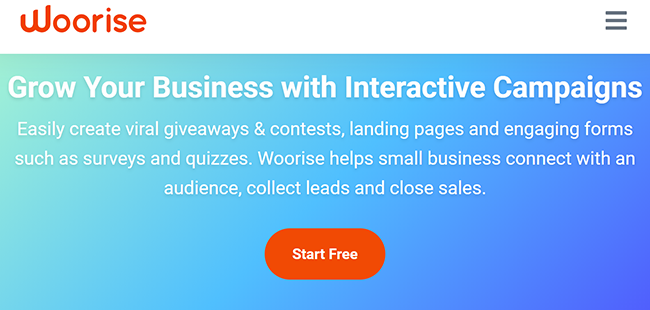 It comes with an extensive list of features that give you everything you need to design your contest and embed it on any website, blog, or Facebook page. What's more, you can easily collect payments for products, subscriptions, or online donations to generate more revenue and achieve your financial goals.
Key features:
Unlimited number social media contests
Drag and drop design, complete with pre-built templates
Support for multi-page forms
Automated email notifications, conditional logic, and merge tag functionality
Separate workspaces for better client and business organization
Multi-language support, even RTL languages
Pre-designed interactive calculators or build-your-own option
Pricing: Woorise has a free plan that comes with 500 entries/month and unlimited campaign creation. The premium plans start at about $28/month and come with more entries per month and advanced features like third-party integrations, email notifications, and removal of Woorise branding.
#5 – VYPER
VYPER is a referral marketing platform that lets you run two major types of campaigns – viral contests and referral programs.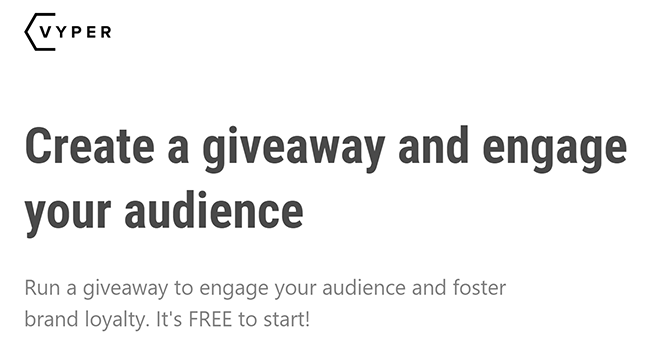 It comes with its very own built-in page builder, which is unique to most social media contest tools. Plus, you can select from any of the pre-designed templates for designing your campaign to match your branding and boost recognition among loyal fans and newcomers.
Key features:
Choose from 3 display modes for added styling
Landing and thank you page creation to accompany any campaign
Bonus actions such as sharing, liking, following, and referring
Integrates with email service providers like Mailchimp, Drip, and AWeber
Pixel tracking and Google Analytics integrations for tracking conversions
Give away discounts, free products, premium content, and more
Pricing: VYPER lets you try it out for free, right up until you start your first campaign. Then, you'll have to invest either $149/month for up to 30k leads/month or $299/month for up to 120k leads/month. Annual pricing comes with a 50% discount – or 6 months free. There is a 15-day money back guarantee on your first charge with VYPER.
#6 – Gleam
Gleam is a simple, streamlined social media contest app that aims to help you grow your email list.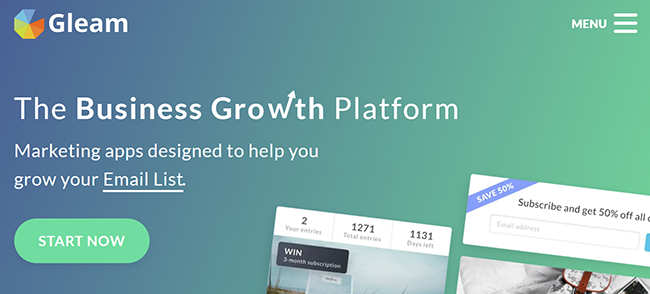 As a four-in-one app, complete with one unified dashboard, Gleam lets you run competitions, instant rewards, social galleries, and email capture forms. Adding to that, Gleam integrates with hundreds of marketing and other third-party apps, making your life a lot easier.
Key features:
Drag and drop functionality
User verified actions for higher quality leads and saved time
Built-in referral and viral sharing options
One-click entry using social accounts for easy contest participation
Smart notification emails to all entrants
Support for over 25 languages from around the world
Pricing: You can buy each Gleam app separately, each with their own price tiers. Or, you can bundle the apps starting from $97/month. If you pay yearly, you'll get a significant discount. It's worth noting there is a limited free plan, as well as a 30-day refund should you not launch a campaign within 30 of purchasing a premium plan.
#7 – RafflePress
RafflePress is a WordPress specific social media contest tool designed to help you grow your email list, website traffic, and social media followers using viral giveaways and contests. Simply install the WordPress plugin on your website, use the drag and drop builder, and let the contest begin.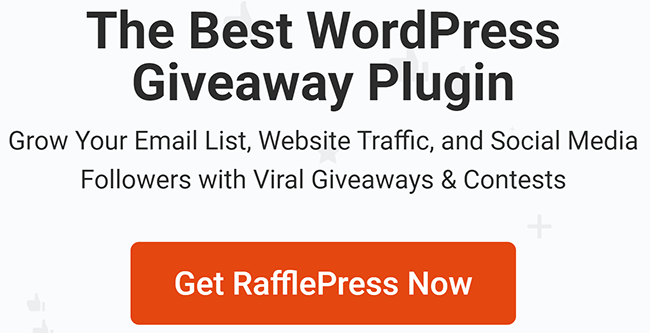 Key features:
Responsive design, complete with mobile-friendly templates
1-click contest entry and built-in fraud protection
Distraction free giveaway landing page
Tracking analytics and retargeting capabilities
Share on a social media platforms such as Facebook, Instagram, YouTube, Twitter, and more.
Email marketing services and CRM support
Pricing: RafflePress plans start at $39.20/year, making it one of the most affordable premium options on this list. If you want to save lots of money, you can always pay $359.20 for a lifetime RafflePress license. There's a 14-day money back guarantee.
#8 – Outgrow
Outgrow is another exceptional social media contest tool that requires no coding knowledge and helps you garner highly qualified leads. But best of all, Outgrow gives you an opportunity to establish trust with customers by providing them with interactive content such as quizzes, calculators, chatbots, assessments, surveys, polls, and more.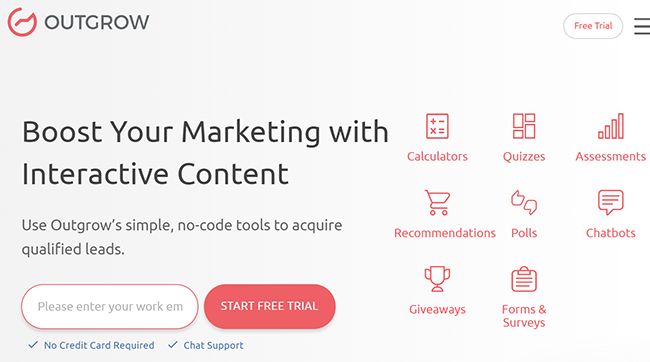 Key features:
Unlimited smart conditional logic branches based on user behavior
Detailed analytics collected for each user and conversion rates at each stage
Conditional messages with options to add images and video content
Customizable logo, color scheme, fonts, and styles
Embed contests anywhere – full screen pages, iFrames, as a popup, or as a chatbot
Share on social media platforms such as Facebook, Twitter, and LinkedIn using share CTAs and like and follow buttons
Pricing: Outgrow has a free plan that comes with limited features. If you want advanced features such as more leads, content types, and full analytics and tracking, you'll have to invest in a premium plan starting at $22/month. If you pay for the year up front, you'll earn a 44% discount.
#9 – Rafflecopter
Rafflecopter makes creating, launching, and capitalizing on a giveaway a cinch. You don't need any technical knowledge to use it, and it only takes a few steps to get your contest up and running. Simply pick the prizes to offer winners, choose the entry methods, and publish your contest anywhere you like by cutting and pasting.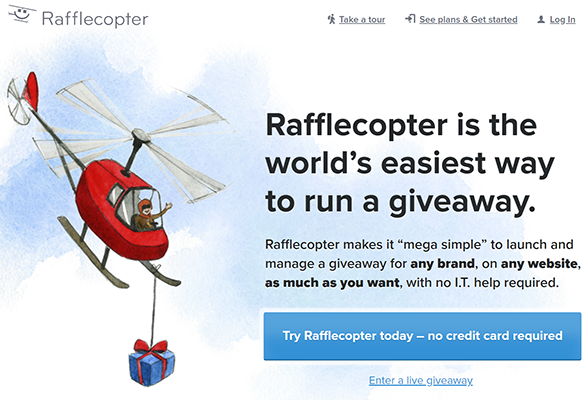 Key features:
One-click email integrations (Mailchimp, AWeber, Constant Contact, and more)
Custom design entry forms
Viral refer-a-friend entry option
White-label capability
Rafflecopter brand removal
Unlimited giveaways and entries
Pricing: Rafflecopter is one of the most robust free social media contest tools in the market. However, if you want more features such as Pinterest contest entries, a Terms and Conditions template, and real-time analytics, you'll need a premium plan. Paid plans start at $13/month. There's also a free trial for any paid plan that allows you 7 days or 50 entries, whichever comes first.
Finding the best social media contest tools
Interacting with your social media followers is one of the best ways to expand your reach, target new customers, and build a bigger fanbase. Luckily, no matter which features you need or what your budget looks like, there's a social media contest app out there that will fit your needs.
Overall, SweepWidget is the best giveaway app for most users. The feature set is extensive. For example, you can even integrate directly with Stripe to take payments for raffles. There's a WordPress plugin for easy integration. And you can pick from a huge range of actions for your visitors to take to enter your giveaways. Anything from sharing a tweet to following you on Soundcloud.
And, the best part is that SweepWidget includes a generous free plan. Paid plans are quite affordable as well if you need to unlock premium features like API integrations with email providers.
ShortStack is the complete package for people that want to tap into all the social media platforms, access highly targeted and detailed analytics, and a seemingly unlimited number of contest types designed to intrigue all people no matter what they like.
Woorise is a nice option for those that want to go slightly outside of what most social contest tools provide. It is more than capable of helping you create viral campaigns that people come to know and love.
Finally, for those with a WordPress website, RafflePress is a good option. Not only does it integrate seamlessly with the popular content management system, it comes with helpful features like built-in fraud protection, one-click entries, and distraction free giveaway landing pages.