Digital Marketing Analytics: Why It Matters To Your Business
Before the internet became our haven, many people made decisions on fallible insights – without the right metrics on hand.
Some of these decisions were unsubstantiated; did not or were not able to dig deep below the surface. Many relied on their gut feelings while others sought solace in intellectuals and hardcore analysts.
On the commercial front, decision making is a daily struggle for any business; making an important one comes with a price.
For this reason, marketing analytics and marketing campaign reports, over the years, have proven beyond a reasonable doubt to be the near-perfect solution for business decision making and lead generation.
So, why worry and suffer from unnecessary mental stress?
You are capable of building a sturdy backbone of analytics upon which you make choices that embolden growth and power your content marketing game overall.
What is digital marketing analytics?
Having an effective content marketing plan will not carry you all the way to success. Digital marketing analytics is a practice designed to improve resource allocation and is crucial in your journey.
With measured and analyzed marketing performance, the practice is orchestrated towards maximizing efficiency and improving return on investment. It allows you to utilize a marketing budget to its limits while giving you the best overview of your marketing performance.
Digital marketing analytics tackles all forms of metrics – from SEO rankings to email marketing.
It spreads its wings to all online marketing channels, therefore helping in the holistic development of your business.
Why do you need marketing analytics for your business?
Marketing is the backbone of any business – big or small. In the past, marketing was shallow and dark. Businesses struggled to get the perfect pictures of their audience and campaign performance.
Did you know that people are moved by what they see rather than what they hear? Marketing back in the days was not convincing with words; people needed visual proof before they could believe the claims being made.
Fortunately, that practice is on the verge of extinction and new ideologies are governing the world today. With the web at our disposal, information can reach the far ends of the globe within seconds. You may have observed this especially in the case of ecommerce marketing.
With its immense reach, digital marketing has revamped the content marketing game and provides analytics that can be gathered, stored, used, and re-used to ensure last-longing growth of any business.
Digital marketing and the analysis it provides is accessible to any business – even the 'small fish'. With all the tools at one's disposal marketing budgets can be used more sparingly while still reaching far and wide; gathering valuable intel along the way.
You need to recognize the available opportunity in this space while growing your content production efforts. If it is given, utilize it to its maximum potential. Chances are if you are not employing digital marketing or gathering these analytics, your competitors are.
Sadly, they can quickly engulf your venture and siphon your business off your hands; the world is rough enough and everyone just wants the piece of the cake. This is especially true in a saturated niche.
Your business competitors are probably learning, unlearning, and relearning business advancements from you and the little information they have at hand. So, if you hesitate to employ analytics in your decision-making process and as part of your content marketing strategy, you may fall by the wayside in this digital world we now live in.
What areas can I leverage digital marketing analytics in?
From the simplest of metrics to vast datasets, digital marketing analytics can help you build an entire campaign or improve existing ones; for example by helping you boost your lead generation stats.
You just have to envisage what you want to do with it and most importantly, have an insight on how to measure it. Voila! You are on your way to achieving endless (almost) possibilities.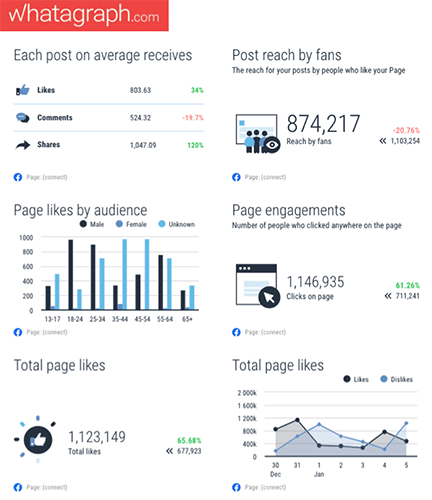 Analytics attained through the use of digital marketing tools can also help you strategize and adjust your website performance accordingly. In this sense, you can analyze your website traffic metrics with near-perfect data aggregation.
There are literally millions of companies out there that have used and are still making use of the in-depth user data sets. These data sets paint a clear picture of their ICP and competitor performance.
This inbound knowledge has helped marketing analytics a great deal to know how to reach their target demographic and how to react outperform their competition.
Marketing analytics in content marketing
The web is becoming increasingly more saturated with blogs and forums. Millions of people have learned to communicate freely with the help of these mediums – millions more are learning to do so every day.
These platforms connect diverse groups of users and make room for new business opportunities. Otherwise known as a content marketing strategy, content creators that span a variety of platforms – video, text, graphic – get a chance to communicate their message to the masses much more effectively.
Blogs are nests of information deliberately created to attract those unaware users. As such, it is important to manage your digital assets well and ask yourself some important questions. When you post content on your blog, does your audience respond negatively to it? Do they understand the concept and ideas of your content at all? Are your contents interlinked with other social networks?
These were not questions asked years ago. However, with the internet and marketing analytics in the picture, bloggers get to analyze and understand users' needs perfectly and how they respond to the content produced by you.
There is much digital marketing analytics in the world today, so, let's take a look at the platforms powering them.
Google Analytics
This is one of the most frequently used tools for data assessment since the last decade. If you are new to the system, you might find it overwhelming, nonetheless, it provides a platform for newbie's and experts alike to assess their reach.
For older and recent online sites looking for strategic evaluation, certain basic metrics are provided on these platforms for easy guidance and they include the following:
Dashboard metrics
The first step on this platform is to sign in, afterward, the dashboard metrics are presented to the users.
The dashboard shows many statistics that provide a one-time glance at your performance. These statistics include pages per visit, bounce rate, and average visit time.
The pages per visit give an insight into how many pages a visitor viewed before leaving the website. If the number of pages is a handful, that means they find your content quite interesting. If the number is low, something might be wrong with the content on your site.
The bounce rate shows the percentage of users that viewed a single page before departing. A high percentage shows that visitors viewed a piece of the content and were not interested to explore the site further.
Most viewed pages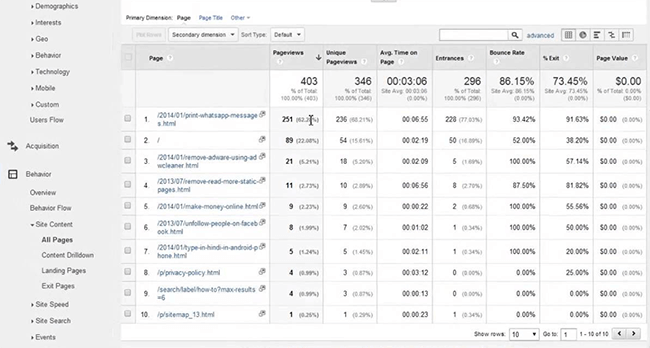 Keeping tabs with blogging and forums can be a mentally tasking endeavor. The most viewed pages feature keeps you in check gives you insights into the content that is most liked by your audience. That content may also be the most optimized for SEO. Keep track and see why some pages perform better than others.
Exit rate
This suggests the last page a user viewed before leaving your site.
Exit rate may help you understand some of the issues associated with the pages that most often lead to a person leaving your website. It could be the content itself, grammatical errors or the page layout.
Referring sites
If you produce compelling content, others may be enticed to link to it. Having an accurate assessment of who is linking to you is categorized as referring sites. These often come in the form of backlinks.

When people find your content appealing, and it supports some of the claims they make within the content they produce, they may link to your post. This builds website authority and can be analyzed with tools such as Ahrefs.
Understanding user behavior
This is not as simple as it sounds. It is technical and as such must be handled the best way possible.
Users visit online platforms for many reasons. Some users visit to catch up with the latest trends, others, to make a quick online purchase. Whichever form it takes, it is rarely clear at a glance.
Human behaviors can never tally accurately with user engagement metrics and as a result, a false assessment may be made – if you jump to conclusions quickly.
Let's analyze a hypothetical user – Mr. Joe. He opens several tabs before leaving for work in the early hours of the day. Sadly, he is unable to catch up with the trending news because of time, so, he saves the links for a later moment. During the day, he also decides to do some window shopping online but shuts the pages down because of a meeting. Finally, he gets home tired, checks but a few pages leaving many pages unread.
Well, to humans, it was a matter of timing since he couldn't read most of the tabs opened. However, for the computer, it was much more than that.
The system records different information on the visited pages, bounce rate, and average visited time for that day. In this case, it had no accurate records of Mr. Joe's browsing habits. His behavior and various distractions during the day lead to distortion of browsing data.
This may become more detrimental when the sample sizes are small.
For more informaton on analyzing websites, I recommend checking out HotJar's guide to website analysis.
So what is the importance of context?
The major work done in this regard comes from online marketers. They are supposed to have a fit understanding of individual differences. As a result, they are to segment personal and product context throughout the cycle of interaction.
Thereby, this can aid their creative ideation process and help them come up with strategic plans to indicate fulfilment for users' needs.
What are other metrics to consider?
Some metrics apart from the conventional metrics mentioned earlier also provide valuable insight into the digital world and they include:
Organic search traffic
The organic search traffic is garnered through effective SEO efforts and optimizing the content you produce for search engines. The good thing about it is that Google Analytics provides it with search results that give users 94% accuracy.
It also helps assess valuable keywords for your content to rank for in a way that specifically leads users to your website. With these keywords, more traffic will be generated and it will help facilitate direct future traffic from all specific search queries.
Traffic to site
Every content creator wants to increase traffic to their site. This metric helps online business bloggers to find the source of the traffic and analyze it.
Segmentation
Segmentation provides an avenue for buyers to have a diverse choice. With this, they are not constrained to a one-way ticket to choosing categories.
Google Analytics separates and ascertains users' behavior based on certain characteristics. From traffic source to keyword search, you can better understand user's intentions, goals, referring source, and their subsequent behaviors.
Go smart with your marketing
With the era of digital transformation upon us, there are many factors to be considered while taking the routes of digital marketing and content creation.
In getting information to this effect, bloggers and online businesses, should have a working understanding of why digital marketing analytics matter to businesses.
And, analytics tools go further than Google Analytics. There are a wealth of marketing tools on the marketing.
Some of which specialize in providing analytics and reporting data for specific channels such as social media. Where others focus on email or advertising. Other tools such as Cyfe provide a way to collate information from different tools.