How To Get More Pinterest Traffic For Your Blog: 6 Tips That Work
Pinterest is not your typical social network.
In fact they don't consider themselves as a social network at all.
Regardless, Pinterest has around 442 million monthly users and happens to be one of the biggest search engines on the web.
This means Pinterest has the potential to send a lot of traffic to your blog posts.
I've been experimenting a lot with Pinterest in recent years. Trying different image styles, color combinations, and more.
In this post, I'll show you exactly how to get started and skyrocket your Pinterest traffic.
1. You'll need pin-worthy Pinterest images (and here's how to make them)
Given that Pinterest is primarily a visual platform, it should come as no surprise that the success you have correlates to the quality of your images.
And right now, given the level of quality pins being shared on Pinterest, the bar has been set quite high.
So what does a pin-worthy image look like? Here's what you need to consider:

It's a vertical image – 600×900 is typically the most common size used but Pinterest recommends any image size with a 2:3 ratio.
The colors are vibrant – Pinks, reds, and oranges tend to work well on Pinterest but you should experiment with other colors because if everyone uses the same ones, nobody will stand out.
One focus element to catch people's attention – Depending on the type of content you're promoting, you may want to the text to be the focal point of your image. But, if you're a food blogger sharing recipes, a photo of the food should probably take center stage.
An enticing headline – For most content you'll promote on Pinterest, an enticing headline is critical. For example, instead of using something like "The Best WordPress Backup Plugins" I would go for "Don't Lose Your Blog! Use One Of These WordPress Backup Plugins" instead.
Your image is branded – Take inspiration from other images but develop your own style and make them
Typography you can actually read – Cursive fonts look pretty but they're not user-friendly. We're not coming up for logos of death metal bands here.
A neat design with good use of space – Details matter. And while it may not stop people from sharing your image, make sure everything is aligned properly, and neat. Use equal spacing between elements, etc.
High-quality photos – Whatever imagery you use has to be as high quality as possible. Use stock photos to your advantage but avoid those that look like they're obviously stock photos. To get a head start, check out this list of the best stock photo websites over at Blogging Wizard.
How to create Pinterest images with no design experience
Not sure how to get started with creating your own pins? No problem.
You can use a free design tool like Canva to get started. There is a paid version and paid imagery that can be added to your images but you can get loads done with the free version.
One of the great things about Canva is that you can quickly load up an awesome template like this: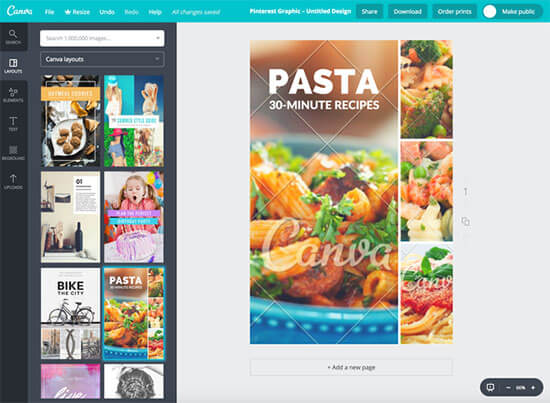 Then, you just tweak the text, add your images, tweak to match your branding and export the image.
You can then use the customized image as a template for future images. Simply duplicate the image and edit the new version.
2. Level up your pin descriptions on Pinterest
Remember how I mentioned Pinterest was a huge search engine? Well, part of it's algorithm comes down to the descriptions you use.
You need to write descriptions that do the following:
Create intrigue.
Encourage people to click your image.
Include keywords people may search for.
Include popular hashtags that people may also search for.
How about an example?
Let's say I was sharing a pin for an article on how to start a blog.
I'd write something like this:
Learn how to start a blog that grows in record time | Click the image to start reading | #BloggingTips #StartABlog #BlogTips
While this is a fairly short description, it covers everything I mentioned in the bullet points above.
It's also worthwhile pre-populating pin descriptions if you have Pinterest share buttons on your website. If you use WordPress, a plugin like Social Snap makes this easy.
3. Leverage the power of group boards
If you're just getting started with Pinterest then you likely only have a handful of followers. Naturally, this means you'll have a limited audience who will see your pins.
An easy way to get around that limitation is to share your pins to group boards.
There are a few ways to find group boards:
Search Pinterest for keywords relating to your niche.
See which boards popular pinners in your niche are in.
Search for your niche using a platform like PinGroupie.com.
The best approach is to look over the pins of each board and make sure all of the pins look high quality. Then, add the link and board description to a spreadsheet to create your own database.
So, how do you actually join group boards?
Well, there are two main ways:
You'll see a request to join button just next to the follow button.
The owner will put instructions in the board's description.
If there's no request to join button, you'll likely find instructions in the description but not always. Some board owners won't accept new members – just skip those.
Now let's look at how to pitch Pinterest board owners.
How to pitch Pinterest board owners
Typically the process will work like this:
Follow the board
Follow the board owner
Repin some pins from the board
Email the board owner asking for permission to join (they'll either leave their email or link to their contact form)
Note: Be sure to check the board's description for special instructions and rules to follow.
Your email should let the board owner know you've followed them, the board, and will follow the rules. And ask them if they can send you an invite.
To save the board owner time, also include a link to their board, your Pinterest profile, and your Pinterest email.
Keep your email short but consider including some personalisation so they know you're not just blasting these emails out. Chances are they get a lot of requests so how you word the email matters.
5. Create a sharing strategy focused on optimal posting times
When creating your sharing strategy, you should consider a bunch of factors but the main three are:
Frequency of pins
Timing of pins
Sharing of other people's pins
All three need to be factored into your strategy.
When it comes to frequency of pins, you'll get the most mileage out of Pinterest when you regularly. We're talking 20+ times each day.
The times you pin will impact your success too. And while there are plenty of studies that say when you should pin, those studies are created with other people's data. They're in different industries and may not be relevant.

So, experiment with post times or use a tool like Tailwind to work out what works best for your audience.
And don't forget to share other people's pins regularly – it's an easy way to get more content to share.
6. Find what works and do more of it with Pinterest analytics
Did you know that Pinterest has it's very own analytics platform?
It'll give you access to some incredibly useful data and it's completely free. You just need to sign up for a business account. And once you're all set, you can navigate to this page to view your analytics.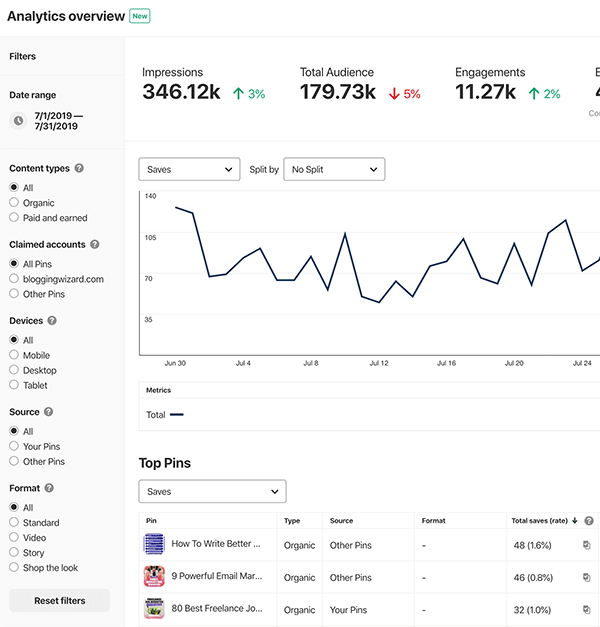 You can see your impressions, saves, and other metrics on a graph. And use a bunch of different filters.
I personally like to look at how individual pins are performing so I can take note of what stands out about them. Design, copy, topic, etc.
Ultimately, your goal should be to find what works and do more of it.
Wrapping it up
Pinterest is one of the most significant social networks around (even if they don't think of themselves as one).
If you want to get more eye-balls on your content – Pinterest is a great platform to use.
Scaling your blog traffic with Pinterest won't be quick or easy. It's going to take time and patience but the potential is incredible.
For example, I know some blogs in B2C niches that are getting thousands of daily visitors. Not bad right?
The advice in this post will help you get started but keep pushing to find what works and adapt as Pinterest tweaks it's algorithm.