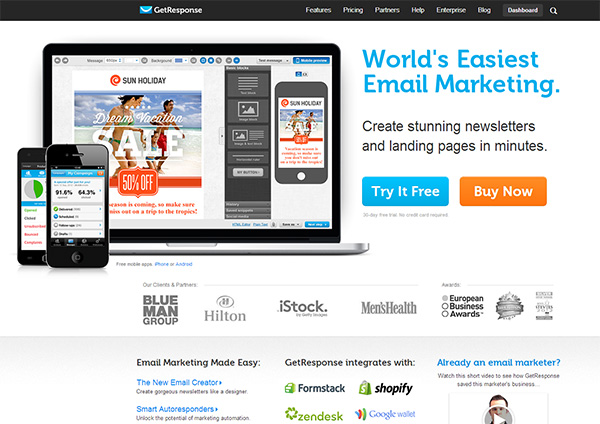 Choosing the right service for managing your email marketing is critical. There are a lot of companies out there that can help you to maintain a newsletter or mailing list, but not all of them do a great job. I personally use GetResponse for managing the ProfitBlitz newsletter, and I'd like to tell you why I use GetResponse, and what they can offer to you as well.
Excellent Deliverability
Whenever you're looking at options for mailing list managers or comparing different providers, things like features and prices tend to get the most attention. While those things are important to consider, the one thing that is by far the most important, in my opinion, is how effective they are at getting your emails to your subscribers, and in their inboxes instead of junk or spam folders. It doesn't matter what kind of crazy features a mailing list manager has, if the emails aren't reaching your subscribers it will do you no good.
I've found GetResponse to be very good in terms of deliverability. When I was comparing my options I read a lot of reviews and comparisons and I saw a lot of good reports about the delivery rates and open rates from GetResponse. Although their features and pricing are great, this is the one single reason that I decided to even give GetResponse a chance.  Better delivery rates can lead to higher open rates, and ultimately to better ROI for your email marketing.
Quality Customer Service
GetResponse offers customer service by a few different methods. Support by phone is available 6 days per week. Support is also available by email, and my preferred method is online chat. I've found the support via chat to be helpful and very fast.  Some of GetResponse's competitors don't offer support via phone or chat, so having more options for support is always good. In addition, they also have an extensive knowledgebase with articles and brief videos that are actually quite helpful. Search with your question and you're likely to find an answer pretty easily.
Free Trial
GetResponse offers a free 30-day trial, and you don't even need to enter your credit card info until you decide you want to upgrade to a paid account. You don't have to worry about forgetting to cancel during the trial and having your credit card billed. The free trial is obviously a great option if you're not convinced that GetResponse is the right choice for you.
Great Pricing
After the free trial is over, GetResponse's pricing is lower than many of it's leading competitors. I use AWeber for some of my lists, and while I do like AWeber, GetResponse's pricing is a bit lower. Pricing starts at $15 per month with GetResponse as compared to $19 per month with AWeber.
Responsive Templates
As the use of smartphones and tablets continues to increase drastically, it's becoming critical that your emails look and function effectively on mobile devices. GetResponses templates are mobile responsive, which means that your HTML emails can look great for your subscribers regardless of what device they are using.
Drag-and-Drop Editor
Alternatively, you can start from scratch or use a base template and have more flexibility over the look using GetResponse's drag-and-drop editor. You don't need to know anything about coding email templates or HTML, you just drag-and-drop and create your email visually.
Landing Page Creator
The landing page creator is an add-on that will cost an extra $15 per month, but it's an interesting feature that many users love. You can use a template or the drag-and-drop editor, integrate e-commerce, host it at GetResponse, or host it on your site. You can even integrate it with your Facebook fan page. I've personally never used this feature, but I think it's something that many users will appreciate.
Inbox Preview
Before you send an email to your list you can use the inbox preview to see how it will look in all of the leading email providers and clients. This is extremely helpful for testing and for making sure that your messages will appear to your subscribers as you are intending.
Try GetResponse
If you're looking for a mailing list manager, I recommend giving GetResponse a try. I'm pleased with their deliverability, features, customer service, and pricing, and the free trial makes it risk-free.