4 Examples Of Linkable Assets That Generated 1000s Of Links (And How To Create Your Own)
Hundreds of links, thousands of shares, and instant recognition from your peers.
That's the promise of a well-executed linkable asset.
A linkable asset is any content that is designed to attract links and shares. This can be an infographic, a mini-site, a video, or even a blog post.
When done right, a linkable asset can drastically improve rankings and brand recognition. A single piece of content designed to attract backlinks can often change a company's fortunes.
But how can you create your own super successful linkable asset?
In this post, you'll discover 4 stellar examples of linkable assets, and how you can create similar content of your own.
1. Sajio George's Marketing Tool Finder
Marketing tools lists are a dime a dozen, but they are rarely as detailed or user-friendly as this page.
Altogether, it lists over 150 tools and resources across dozens of categories. If you want to find a tool for a job, this is pretty much as comprehensive as they come.
While the page doesn't rank as well as it used to, it still earned a significant amount of links and shares.
Let's see how this linkable asset works in more detail below.
Results
First, let's look at the impact of this linkable asset.
According to BuzzSumo, it's earned a decent amount of shares: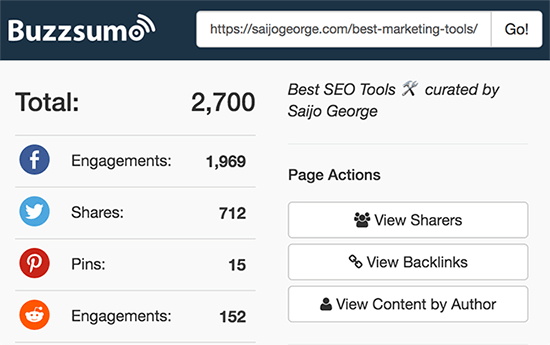 Note: Of those 2K+ Facebook engagements, 600+ are shares. And the count of tweets and pins are likely a lot higher as they're both notoriously difficult to track.
And, most importantly, this page has earned a hefty 800+ backlinks from 260+ referring domains, according to Ahrefs.

These aren't low value links either – the page has backlinks from Moz, Buffer, TheNextWeb, and SEJ.
Distribution
According to the creator, Sajio, this tool didn't really need a strong marketing push.
In an article from Ahrefs (which has since had this quote removed), he said:
"I haven't gone out of my way to actively promote it. I usually mention it in my talks, keep an eye on people mentioning it via mention.net and suggest it to people starting off in marketing/SEO on various communities"
The thing about linkable assets is that success often creates more success. If you get a few backlinks from big publications, smaller publications will pick up on it and link to you as well.
This page, for example, did pretty well on Inbound.org (Now Growth.org):

From here, it was picked up by Twitter users…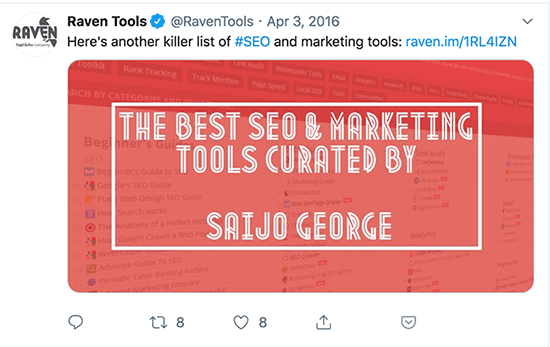 …shared by Facebook pages: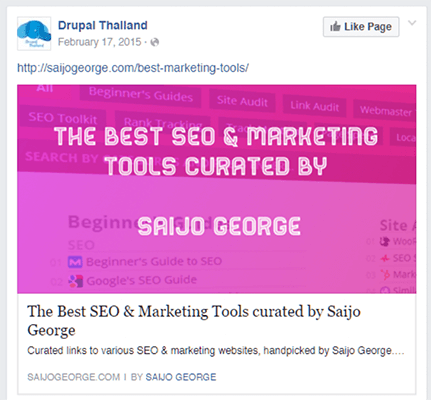 And even shared on Reddit:

What makes it work?
Two things:
The presentation: A lengthy list of tools would've been hard to navigate as a standard blog post. The searchable static page with category tags makes the page much easier to use. Plus, as a static page, it stands out from the hundreds of pages of similar content.
The depth: Plenty of pages have comprehensive lists of tools, but few are as in-depth as this one. From finding images to researching backlinks, this page will help you find tools for any marketing task.
What you can learn from it
Presentation matters, perhaps even more than content. For some content-types, a text-heavy blog post might not be the best idea. Ask yourself this question before you create any content.
2. Unbounce's "Noob Guide to Online Marketing"
At over 13,000 words, this guide is massive.
And if that wasn't enough, it even has a "giant" infographic (and even says so in the headline itself).
Incidentally, this was a guest post originally published by Oli Gardner of Unbounce on YouMoz. But since the content was so good, it was pushed to the main SEOMoz blog. This was back before SEOMoz was rebranded to Moz.
Outside of the infographic (which requires strong design skills), this is essentially a very in-depth blog post. And it helped generate hundreds of links and massive word of mouth in the marketing space.
The results
Since this article has since been migrated to a different domain and was originally published in 2011, it's difficult to get an accurate picture of the results – particularly in terms of social shares.
If we look at the backlinks for the old URL, we can see 480+ backlinks from 160 referring domains:

However, looking at the links pointing to the new URL on Moz.com, we can see 7.4K+ backlinks from 500+ referring domains – wow!

Unbounce also published the infographic on their own website, which received another 1.3K+ backlinks from 290+ referring domains:

In true content marketing fashion, Unbounce didn't stop there. They pushed this mammoth piece even further by repurposing it into an ebook.
The landing page of which received links from 50+ referring domains and since they used a "pay with a tweet" delivery method, they gained 11,000+ tweets as a result.
The distribution
Unbounce could have very well published this on their own site and it would have arguably done spectacularly well given its depth.
However, by publishing it on Moz, Unbounce leverage Moz' immense reach in the marketing sphere (448k followers on Twitter alone). Since Unbounce's target users are other marketers, piggybacking on a behemoth in the space helped it get much more exposure.
In fact, in an Inbound.org AMA (now on Growth.org), Oli Gardner, the CEO and founder, said that this post was one of the "two biggest sparks to our growth".
Besides posting on Moz, Unbounce also took advantage of several tactics to get more out of this post.
For example, at the time, it offered readers a pre-populated tweet to help spread the word.

It also asked readers to tweet using the #noobmarketing hashtag (note: this has been removed since the AMA was moved to Growth.org).

This hashtag is still generating them tweets – more than 5 years since the post was published!
The post itself was designed to get backlinks. The infographic is deliberately "gigantic" since it forces readers to click on it to view a larger version.
This, of course, leads them to Unbounce.com where they can grab an embed code to add it to their site.
Most importantly, the sheer depth of the post forced Moz and its community to take notice. A 14,000 word post deserves attention even today.
What makes it work?
Three things:
Content length: At 14,000 words, this is one of the longest posts on Moz. In 2011, this helped it stand out head and shoulders from the competition.
Giant infographic: The infographic stands out from others because of its sheer scale. Oli himself claims that at 15M pixels, it is the "largest infographic in history".
Innovative distribution: By publishing on Moz, Unbounce took advantage of Moz' immense reach to make a big impact before its target audience of marketers. This, combined with the gigantic infographic, #noobmarketing hashtag, pre-populated tweets, and "pay with a tweet" ebook helped it generate tons of buzz.
What you can learn from it
Sometimes, it's better to put your linkable assets on existing platforms than your own blog. This "platform piggybacking" is particularly effective when you don't have a large audience of your own. Bonus points if that platform is associated with a prominent influencer (in this case, Rand Fishkin) who can help you connect with other influencers.
And of course, creating something so in-depth that people can't help but pay attention also helps.
3. The Periodic Table of SEO Success Factors
What does it take to succeed with SEO?
Search Engine Land answered this question in the form of an infographic.
Flying in the face of convention, this infographic was wider than it was tall, and didn't just list off a bunch of statistics.
Instead, it used the innovative, but familiar structure of the periodic table to help readers understand the factors that lead to SEO success.
Let's take a further look at what made this linkable asset so effective.
The results
This page resulted in 16K+ backlinks from 1.6K+ referring domains – far more links than most sites will attract in their entire history:

It received backlinks from high profile sites such as Forbes, Social Media Examiner, Wikipedia, and Entrepreneur.
What's even more impressive is that a lot of the articles linking to it also have more than 50+ referring domains – quite a few in their 100s.
And it received well over 20,000 social shares: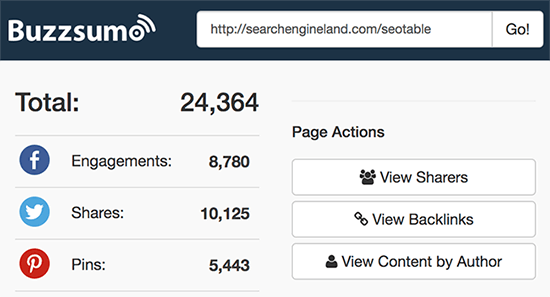 The distribution
Search Engine Land has a massive audience of its own with over 600,000 followers across Facebook and Twitter alone. Anything it sends out is on the radar of hundreds of thousands of marketers.
This provided the initial traction needed for the infographic to earn so many links and shares.
But that wasn't all. Search Engine Land later updated and repurposed the infographic into a Slideshare presentation which has received over 1.5 million views: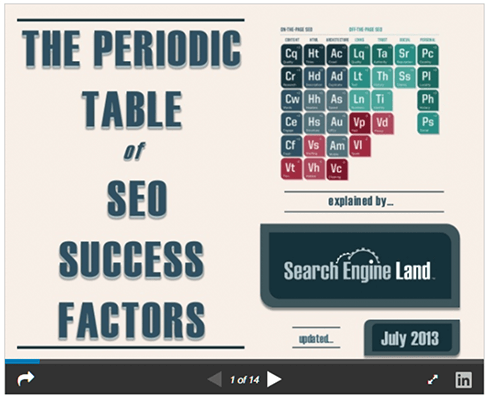 Danny Sullivan, the co-founder of Search Engine Land, also spread the word about the periodic table on his Reddit AMA. And due to the visual nature of this linkable asset, Pinterest proved to be a good channel to spread it as well.
Because the format was so innovative, it inspired a bunch of similarly framed graphics, such as this periodic table of content marketing from eConsultancy.
Note: Search Engine Land have continued to update the graphic but have since replaced the publicly available version with an opt-in form. That said, the new PDF version offers a lot more depth than the original graphic.
What makes it work
New take on an old format: The infographic follows a familiar format – lots of data crammed inside a long vertical image. This one did away with the data and used a wide image instead.
Innovative design: The periodic table is familiar to nearly everyone, even if they can't name anything beyond Helium and Hydrogen. By creating a periodic table of SEO, Search Engine Land used a familiar design in an innovative way.
Continuous development: Given that Google releases regular updates, the landscape of SEO often changes. Search Engine Land update this graphic each year to account for these changes.
What you can learn from it
If you take something people are familiar with – a standard infographic, for example – but present it in an unfamiliar way, you'll grab attention and hopefully, some backlinks.
Bonus points if you can do it by appropriating a common design pattern such as a periodic table.
4. 100 Ways to Conserve Water
What can we do to conserve water?
WaterUseItWisely.com answered this question in the form of a long list of water conservation tips.
While the list of tips itself isn't nothing extraordinary – you can find similar content on blog posts across the web – the innovative design helps it stand out.
This is yet another case of presentation trumping content.
Let's see what makes this linkable asset tick.
The results
With 21,000+ backlinks from 1.9K+ referring domains, this is the most popular linkable assets on this list in terms of total backlinks.
This includes backlinks from TED.com, Examiner.com and lots of local government websites such as bloomington.in.gov and ncsd.ca.gov.
Here are the results:

And, it earned close to 20k shares with 15k shares on Facebook alone.
These extraordinary numbers are fitting since the topic itself is very broad and aligned with a cause people care about deeply – water conservation. Plus, since it's in the B2C niche, it will get more link love than B2B topics.
The distribution
The website – WaterUseItWisely.com – doesn't have a particularly strong social media profile (under 20k followers on Twitter and Facebook combined). Because of this, it couldn't rely on a built-in audience to spread its content.
Lots of early links to this page came from placements in popular blogs and local media. Way back in 2009, for example, Alternet.org wrote 10 facts about water use with a plug for this page at the end: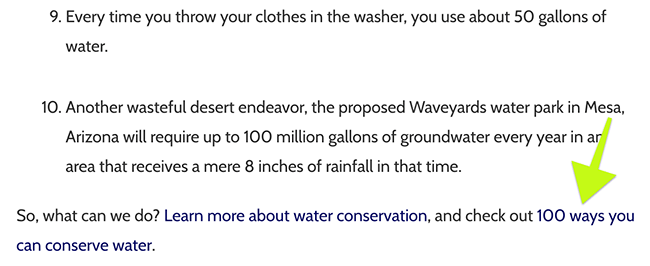 Besides reaching out to bloggers and journalists, the site also took advantage of resource pages. This University of Arizona resource page on the 'top water blogs', for instance, has a link to the site: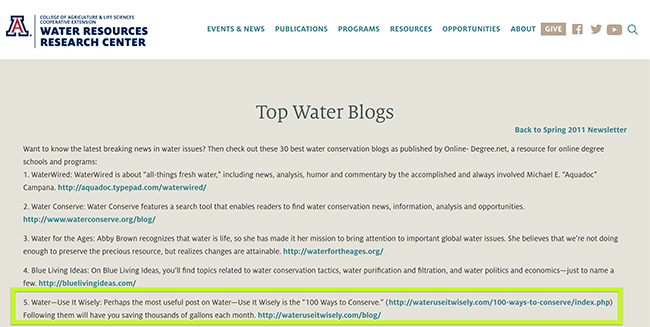 All these links are likely the result of heavy outreach. Since the content itself is so good, I'm pretty sure most writers were more than happy to include a link on their pages.
The site also turned the list into a downloadable PDF which was heavily shared on local government, education and community focused sites.
What makes it work
Presentation: The list of water conservation ideas itself is nothing new, but the beautiful presentation makes it stand out.
Interactivity: You can view the page as a grid or a list. You can also sort the tips by use (indoor, office, etc.). This interactivity is something blog posts can't pull off.
Smart distribution: Instead of social media alone, this site reached out to writers, bloggers and journalists to spread the word. Outreach is something marketers often forget about when creating linkable assets.
Linkworthy subject: If you reached out to a blogger about linking to your site about 'tips to get six-pack abs', you'll probably be shot down. But if you did the same for a site about water conservation, you'd get the green light pretty easily. By choosing a subject nearly everyone can appreciate – water conservation – WaterUseItWisely.com almost assured its own success.
What you can learn from it
Once again, presentation matters, perhaps even more than content. If you can present old ideas in a new format, you'll earn attention and backlinks.
It's also important to choose a subject matter people are happy to share. Sometimes, this means changing the positioning to something positive. "Ways to lose weight" might come across as spammy, but "Ways to cut down on heart attack risk" is something most people can get behind (even though losing weight is a big part of relieving heart attack risk).
How to create your own linkable assets
Creating your own linkable asset isn't easy, nor is it cheap, but the returns can be spectacular when done right.
Follow these 3 tips when you're creating your own linkable asset:
1. Positivity wins against negativity
If you understand the psychology of social networks, you know that what you share on social media is seen as a reflection of your own personality.
The same can be said for pages you link out to on your blog.
This is why positive content gets more shares and links than negative content. People generally prefer to be seen as folks who support water conservation or help their followers understand complex topics (such as online marketing).
Use this as the foundation of your linkable asset. Avoid topics with negative connotations such as "losing weight". Instead, pick something that is seen in a positive light, such as "being healthy". This will help you get far more shares and links.
2. Presentation matters even more than content
The internet is in a sort of content arms race at the moment. People are creating more and more content of increasingly higher quality. Standing out amongst competition is hard, if not impossible.
However, much of this content is still in the form of blog posts and articles. The standard blog post format affords the creators little room for creativity in the design or presentation.
This is where you can stand out with your presentation. As you've seen above, a simple list looks far more compelling when it is presented as an interactive page or an innovative graphic.
No matter your topic, presentation should be your first concern when creating a linkable asset.
3. Focus on distribution
More often than not, how you distribute your content will define the success of your linkable asset. You should have a distribution plan in place before you even write a single word of your content.
Try to create a linkable asset that has a distribution strategy built-in (such as Unbounce's large infographic). It's also smart to tap into an existing audience (such as guest posting on an authority site) and repurposing for Slideshare, rather than building an audience from scratch.
And, you should also be prepared to undertake an extensive outreach campaign to maximize your backlinks.
Wrapping it up
Creating your own linkable asset will be hard work, but the results can be worth the effort.
When done well, you can potentially receive thousands of links from hundreds of referring domains.
As you can see from the four examples above, a successful linkable asset typically consists of three primary components:
Innovative design and presentation
In-depth content
Smart distribution
Try to come up with a creative take on a familiar subject and think of distribution tactics that increase your chances of getting links. If you do it right, you might very well transform your business overnight.
---