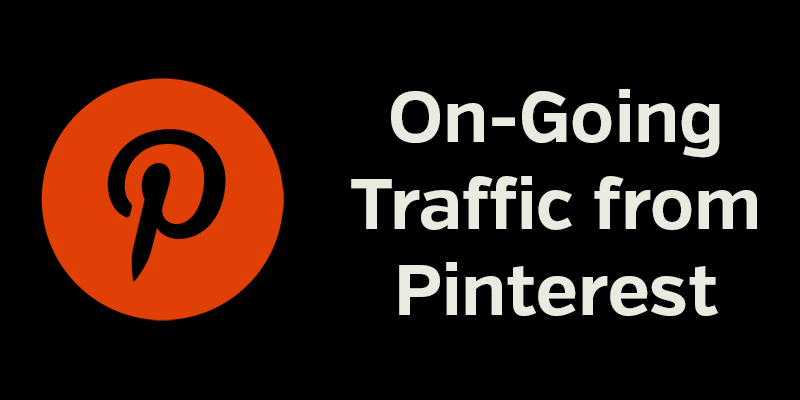 Back in January I published a post about how I was able to more than double my traffic from Pinterest in just 30 days. A few months have gone by since that time and I wanted to follow up to show the results over a longer period of time. One of the reasons I love Pinterest is because, unlike most other social networks, it has the potential to be a consistent source of traffic. Facebook can lead to huge traffic if you get a link shared on a popular fan page, or if your content is shared/liked by loads of users, but that traffic is always short-lived. The life of a post that gets a lot of pins at Pinterest can be far longer. This reliability and consistency makes Pinterest an extremely valuable source of traffic that shouldn't be overlooked.
As a recap to my original post, in November of 2014 I started an organized experiment to try to boost traffic from Pinterest to one of my sites by creating better graphics for my pins and pinning them to my own boards, as well as to group boards that I was joining at the time. During the first 30 days I was able to take the daily average traffic from Pinterest from 238 visitors per day to 519 visitors per day. At the time I was spending about 20 minutes per day (5 days a week) on Pinterest, which includes pinning content from other sites as well as my own content.
The statistics used in that original post ended on December 20th, 2014. I'm gathering the data for this follow up on April 15th, 2015. From December 21st through April 14th the site of this experiment (it is one of my other sites, not ProfitBlitz) has received a total of 76,604 visitors from Pinterest, which comes out to an average of 660 visitors per day. For the past 4 months I have been continuing with my original plan of using quality graphics and group boards to get more pins and traffic, but I've actually cut back on the time I spend a little bit. Most of the existing content that I wanted to promote on Pinterest was pinned within the first 60 days or so of the experiment so I don't have as much to do.
My Pinterest Activity Since the Original Post
Since I published the first post I have continued to use Pinterest on a daily basis Monday through Friday. Occasionally I'll use it on the weekends, but not very often. In general I still spend about 20 minutes per day on Pinterest, but much of that time is spend scanning through my feed reader looking for content on other blogs to pin. Since December 20th I've published a total of 14 posts on the blog being used for this experiment, so it is somewhat active but the increase in traffic isn't the result of spending countless hours cranking out new posts to pin. Actually, only 6 of those 14 new posts have really been promoted on Pinterest.
What I've Learned About Pinterest Marketing
In addition to the details I covered in the original post, the past few months have emphasized a few other things to me.
1. Not every post/pin gets results. By pinning my posts to several different group boards as well as my own boards I can get a small flow of traffic to just about any blog post. However, the on-going steady traffic is mostly the result of a handful of posts that have gotten a lot of (a few thousand) pins. Like any other social network, some posts do better than others on Pinterest. This means you need to do your best to create really great content that Pinterest users will love and re-pin in masses. I'm currently working to create more posts following the same patterns as the ones that have worked really well for me.
2. Moderation is key. I've read posts by some other bloggers that are having great results with Pinterest. Some bloggers get insane traffic from Pinterest. Some of those bloggers come about the traffic mostly organically, while others are very aggressive with their pinning. Some of the people that I follow pin the same content over and over again to the same boards. In fact, there are some tools that will automate much of the process for you. While I can see that this is working quite well for some users it comes across as spammy to me. I prefer to pin my content no more than one time to a group board and I rarely pin the same content more than once to my own boards. I have looked into the possibility of using some tools for automation but I really don't like the approach of over pinning (or more accurately, what I perceive as over pinning). I've decided to do everything manually and avoid re-pinning the same content to boards multiple times even if it means slower growth and less traffic.
3. One popular group board is more valuable than many less popular group boards. I'm a contributor to a few group boards that generate a decent amount of exposure and pins, and others that rarely get any re-pins or exposure. If your approach on Pinterest involves using group boards, which I think is a great approach, make it a priority to get an invite to the best boards possible. Don't waste too much time chasing down invites to a lot of boards with few followers and not many re-pins on their pins.
4. Once you have a strategy set up it is pretty easy to maintain. When I first started the experiment I spent a few hours finding group boards using PinGroupie and reaching out to try to get invites to those boards. I also spent a few hours going back and creating better graphics for some of my existing posts. Now that I am a contributor to some quality group boards all I really do is create a graphic whenever I publish a post, and then I pin it to relevant group boards and record where I have pinned it in a spreadsheet. I try to only pin a few times per week to any group board, and not more than once per day.
Want to Sell Your Own Digital Products Easily?
I highly recommend SendOwl as a great platform for selling digital products. I use SendOwl at a few of my own sites and it is the most reliable and easiest platform I've used (and I've tried a lot of them) for selling digital files.
What I Plan to Do Going Forward
In all of 2014 I got 59,276 visitors from Pinterest. In the first 3.5 months of 2015 I have already had 71,323 visitors from Pinterest. I'm quite happy with the growth, but I know there is far more potential and I plan to ramp up my efforts over the next few months. Here are the things I will be doing.
1. More of the same. I will continue to use my approach of creating graphics for my posts, pinning them on my own boards, and also pinning them to relevant group boards.
2. Write and publish more posts specifically targeted for Pinterest. Now that I have several posts that get consistent traffic from Pinterest on a daily basis, and many other posts that get a trickle of traffic, I have a pretty good idea of what types of content work well on Pinterest with my audience (in this case it is photographers). Since I started this experiment in November I have only published one post specifically with Pinterest in mind, and that post is doing quite well. I have a list of several posts that I plan to write and promote over the next several months. I think with this approach I have a good chance to be getting over 1,000 Pinterest visitors per day by the end of the year.
3. Experiment with ads. I'm planning to set up some ads on Pinterest very soon, so we'll see how those ads do in comparison to my efforts with free traffic. I plan to experiment with Pinterest ads for generating traffic, building an email list, and selling products. I'll be starting with a few ads that are simply intended to bring traffic to the site.
I'll probably publish a case study on my results of paid advertising on Pinterest once I have some data. If you have any experience with Pinterest that you'd like to share please leave a comment.

Marc is the founder of ProfitBlitz. He has been working online for more than a decade and loves to write about topics like internet marketing and SEO. When he's not working he enjoys travel and photography.