One of the most important aspects of monetizing a blog is getting the right offers in front of the right people. If you want to promote products as an affiliate or sell your own products promoting them in the main body of your content is far more effective than simply throwing some banners in your sidebar. Promotions within the post content, or directly above or below the content will generally be the most visible, attract the most clicks, and ultimately make you the most money.
A few years ago I was looking to maximize the affiliate revenue from one of my blogs so I started adding brief blurbs about particular products at the beginning or end of posts. The products I promoted were extremely relevant to the content of a particular post so the results were great. Within six months of adding these types of promos and including more affiliate links in the body of posts I was able to increase my affiliate revenue from just a few hundred dollars per month to more than $10,000 per month (it was a high-traffic blog, so there were a lot of opportunities). The problem was there was no easy way to insert these promos into posts and it was pretty tedious to go back through a large archive of posts to add promos. It also required knowledge of HTML and CSS to style the promos so they would stand out from the text and look good.
Since that time I've used a similar approach with some of my other blogs and continued to get good results. About a year ago I decided it would be great to create a WordPress plugin that would make it simple to create promo boxes and insert them wherever you want, allowing for really precise placement of your promos to keep them highly relevant to the blog content. But I'm not a developer, so doing this on my own was not a possibility. I reached out to my friends at Plugmatter, the creators of the popular Optin Feature Box plugin, to see if they would be interested in working together on the development of this plugin. They also saw the potential in this idea, so for the last year or more we have been working to develop the new Promo Box plugin (ok, so they have been doing the real work, I just gave them some ideas).
Introducing the Promo Box WordPress Plugin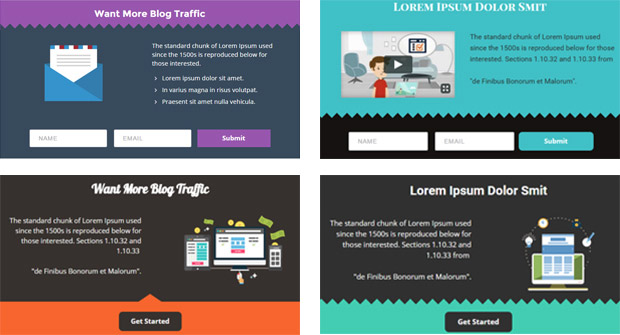 Promo Box makes it easy to add promos very precisely in your blog content so that your promos will be extremely relevant to the content that visitors are reading. This allows you to promote multiple products, services, or whatever you want to promote. You can use it to promote affiliate products, to sell your own products, to grow your email list, or simply to draw attention to other content on your blog. You can easily create attractive promo boxes with no design or coding skills.
Let's take a look at the main features and benefits of the Promo Box plugin:
Create Your Promo Boxes Very Easily from Pre-Designed Templates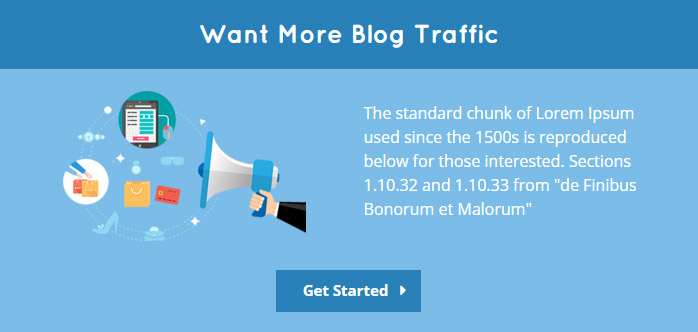 Plugmatter has designed a large collection of templates that you can use to insert your own content and links. There are optin boxes that will integrate with your popular services like GetResponse, AWeber, and all of the popular providers to allow you to grow your list quickly. There are CTA (call to action) boxes that are perfect for promoting your own products or affiliate products. And there are also simple simple info boxes, which are great for creating a quick callout that will draw the attention of visitors. To use these pre-designed templates you will simply insert your own text and, in some cases, images.
Create and Design Your Own Custom Promo Boxes
If you don't want to use one of the pre-designed templates you can also create your own promo box from scratch by using the design functions within the plugin. You won't need to touch the HTML or CSS code, just use the built-in template editor to create your own design.
Precise Placement of Your Promo Boxes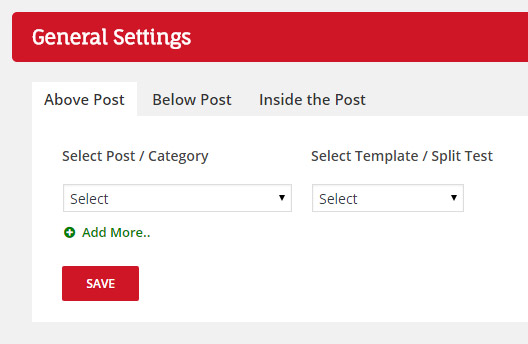 Want to Sell Your Own Digital Products Easily?
I highly recommend SendOwl as a great platform for selling digital products. I use SendOwl at a few of my own sites and it is the most reliable and easiest platform I've used (and I've tried a lot of them) for selling digital files.
The key to making these promo boxes extremely effective is to place them in the right places on your blog. With the plugin you will be able to place your promo boxes above posts, below posts, and inside posts. You can display them on all posts, pages, custom post types, or posts within a specific category. For promo boxes that are displayed within the post content you can decide where it will be displayed by selecting the number of paragraphs that should be above your promo box.
Content Upgrades
Content upgrades (offering some additional content in exchange for an email address) have become one of the most popular and effective ways to grow an email list. The Promo Box plugin also allows you to use a shortcode to place your promo boxes within post or page content, so you can easily create boxes for your content upgrades and then place them exactly where you want them using the shortcode.
Split Testing
You can even use the split testing feature to test multiple variations of a promo box to see which one gets the best results.
An Example Use
Being able to control which promo box is displayed based on the blog category is a huge opportunity for getting the most relevant promos in front of visitors, which of course means higher conversions. For example, say that you have a blog that publishes content related to travel. Maybe your blog categories include cruises, budget travel, and backpacking. You can create a box that will promote an ebook you wrote about how to find a great deal on a cruise and use the plugin settings to display that promo box only on posts that are in your "cruises" category. You can choose to display it before post content, after post content, or within the post content. You can then create a separate box promoting an affiliate ebook on how to travel the world on $50 per day, and set that box to be displayed only on posts in the "budget travel" category. You can then create a third box to that will include an affiliate link to Amazon or another site that sells backpacking gear and display it only on posts in the "backpacking" category. As you can see, with this plugin you're able to easily create boxes that will promote any offer, and then place the boxes so they will be highly relevant to visitors based on the content that they are reading.
I'm currently using the Promo Box plugin here at ProfitBlitz to power the optin form shown at the end of posts, as well as a simple promo box inside the blog content that promotes SendOwl. At the moment I only have these two promo boxes that are displaying sitewide because I haven't had a chance yet to create more specific promos for certain categories.
If you want to take your promotions to the next level I highly recommend the Promo Box plugin from Plugmatter. There are 3 different licensing options (Single, Professional, and Developer) that range from $37 to $97. To get all of the features go with the Professional license at $67, which allows for usage on 3 different websites or blogs. If you want to use it on more than 3 sites you can go with the Developer license.
Get the Promo Box WordPress Plugin from Plugmatter

Marc is the founder of ProfitBlitz. He has been working online for more than a decade and loves to write about topics like internet marketing and SEO. When he's not working he enjoys travel and photography.