SEO is a topic that many bloggers and website owners obsess over. While search engine traffic is very valuable and can often be a source of higher-than-average-quality traffic, I think many bloggers focus on it too much. Having a well-optimized blog is a good thing, but allowing SEO to take up too much of your time and focus can have a negative impact on your overall blogging efforts. From my experience, some bloggers and website owners want to obsess over small details but then they don't do the things they should be doing that have a major impact on SEO (like focusing on creating amazing content and getting links from other sites).
My approach is to set up the blog to be search engine friendly and well optimized, and from that point forward I tend to focus on the content of the blog. Good content is good for SEO because it will attract links. At first you'll also probably need to make some effort at getting links from other websites, although it doesn't have to be overly complicated.
From my experience this approach often has better results with getting search engine traffic as compared to obsessing and testing every little possible SEO tweak. There are hundreds, if not thousands, of possible factors that influence search engine rankings, but there are a few important factors that carry the vast majority of the weight. These are obviously the ones that you want to focus on.
On-Page Factors
The factors that influence search engine rankings are often broken down into two categories: on-page and off-page. On-page factors are things like the coding and the content of the page itself. Off-page factors are other things not contained on the page itself, like links from other websites or the age of the domain name. Here we'll take a look at the most important on-page factors.
Title Tags
The most important on-page factor is the title tag. We talked about this a little bit during the introduction to SEO in chapter 6. Your title tags should include keywords and phrases for the page. The title tag of your homepage will typically be your blog name, followed by a tagline that includes a keyword or phrase.
Title tags of your pages and posts will usually be the page or post title, possibly followed by your blog's name. Title tags will sometimes be used as the anchor text when links are created to your blog posts, so having a keyword or phrase in the title tag can also lead to anchor text that includes the keyword or phrase.
As mentioned earlier, I recommend using a WordPress plugin like All-in-One SEO Pack or WordPress SEO by Yoast to have full control over the title tags.
Heading Tags
In HTML, heading tags are used to indicate headers and sub-headers. Typically these elements will be styled in bold, larger font sizes, and possibly a different color font as compared to the body text. Heading tags have importance because it helps search engines to determine the subject and the hierarchy of the page's content.
Think of heading tags in terms of an outline. Sometimes the title of the blog or the logo will be wrapped in h1 tags, but I recommend using the h1 tag for the post or page title, as it will generally be more relevant to the content of that specific page, and therefore more useful for SEO purposes. The blog theme that you are using will dictate where h1 tags are used. Unless you are going to customize the code of the theme or create a custom theme, you'll be stuck with however your theme is coded.
If you're using h1 tags for your page/post titles, the first level of sub-headings that you use within the content will be an h2 tag. In WordPress you can easily designate any text with the body of your post as an h2.
Want to Sell Your Own Digital Products Easily?
I highly recommend SendOwl as a great platform for selling digital products. I use SendOwl at a few of my own sites and it is the most reliable and easiest platform I've used (and I've tried a lot of them) for selling digital files.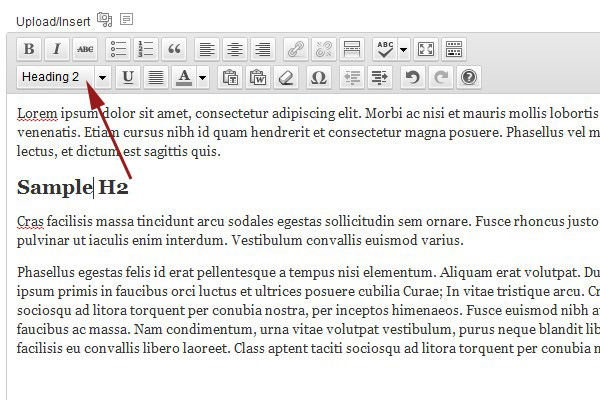 You can use multiple h2 tags, so any other sub-headers at the same level if you were creating an outline would also be h2's. Other sub-headers that would exist another level down would be h3's and so-on.
What you don't want to do is simply use bold text to indicate what content are your sub-headers. Human visitors may not notice the difference between text in an h2 tag and text without the h2 tag that is in bold and a larger font size, but there is a difference for SEO purposes. When you are using sub-headers in your content, make sure you are tagging them appropriately. Also, make sure that you are working your keywords or phrases into some of the sub-headers, as they will carry some weight for determining search rankings, but don't go overboard and repetitively use your keywords in every sub-header or it can wind up looking unnatural and hurt your rankings
Keyword Usage in Text
In addition to using keywords and phrases title tags and heading tags, they should also be used in the body text of your post or page. You don't need to go overboard with it and stuff your keywords into every sentence or even every paragraph, but it is a good practice to use your keywords somewhere in the text. It's also helpful to use slight variations of your keywords or phrases, as closely related words and phrases will usually be considered as well. If your key phrase is multiple words, you can also use the individual words separately (if appropriate) with the post/page content.
It's important to not consider the SEO factors too highly here. Don't create content with search engines in mind that is difficult to read or doesn't make much sense to humans. Being readable and helpful to your visitors is more important, but you want to optimize it in ways that doesn't compromise it.
Alt Tags
Whenever an image (a photo or a graphic) is added to a page it can, and should, include an alt tag. Alt tags are important because they are used by screen readers for disabled visitors, but they are also used by search engines to influence rankings. For SEO purposes it is ideal to have your targeted keywords or phrase in the alt tags of your images. Alt tags are not an extremely important ranking factor, but they are a part of having a well-optimized page. With WordPress you can enter an alt tag whenever you are adding an image to a post or page.
Meta Description
Meta tags con be contained within the HTML of a page but they are not viewed on the screen by visitors. They are essentially hidden unless someone is looking at the HTML code of the page. Meta keywords used to be important for search engines several years ago, but they have been insignificant throughout most of Google's existence. Keywords could be easily manipulated and that led to search results that weren't helpful to the person performing the search. As a result, they are a non-factor now.
The meta description is not significant for determining search rankings, but it can be helpful for increasing the click through rates (CTR) for your links. Some search engines will display the meta description below the link on the search results page. So if your description can entice people to click, it could increase the amount of search engine visitors that you receive.
If you have a keyword or phrase that is used in the search, it will sometimes show in bold in your description, which can help to draw more attention.
WordPress users can enter meta descriptions with either All-in-One SEO Pack or WordPress SEO by Yoast.
Original Content
One of the major challenges that search engines face is eliminating duplicate content from the search results. There are so many sites that publish content that is copied from another source (sometimes with permission and sometimes without permission), that duplicate content is a major issue. Google, and other search engines, don't want searchers to get frustrated by finding 5 versions of the same article on the first page of search results, so they do everything they can to eliminate duplicate content. This means that the search engines not only have to identify content that is the same or extremely similar, but they also have to determine which one is the original source. The goal is to have the original content in the rankings and to push duplicate content down, or completely out of the search results.
Since Google and other search engines only want to see original content, be sure that your blog is not re-posting articles that have already been published at other websites and blogs. Google has also come up with its authorship program as a way to help with identifying the true source of content. With a Google profile or a Google+ account you can link your profile and your blog so that your blog posts are rightly credited to you. I won't go into the details of how to set this up, but I highly recommend that you follow these instructions provided by Google.
Content Length
In addition to original content, Google also likes to see pages with some depth. Your blog posts don't need to be novels, but for SEO purposes it is best if they are at least around 400 words. WordPress includes a word count just below the post editor after you save a post, so it's easy to keep an eye on your post length.
URL/Permalink
The URL of a page/post can also have a small influence on search engine rankings. In WordPress the URLs are determined by your permalink settings, and you also have the ability to set custom permalinks for any post or page. In your WordPress settings, click on "permalinks" and you'll see several choices. I recommend "post name", which will create URLs like this: http://yourdomain.com/post-title/. This is best for SEO, and it helps to keep the URLs shorter than if you also use categories or dates in the URL. When creating a post or a page you can further improve the permalink by eliminating unnecessary words. Keep keywords and phrases in the URL whenever possible. Ideally, your URL will also help communicate to human visitors what the post or page is about. For example, if you saw the URL http://yourdomain.com/wordpress-seo-guide/ you would know by looking at the URL that the post covers the topic of SEO for WordPress websites. That is a good URL because it includes keywords, it's relatively short, and it is logical to human visitors.
Google Authorship
Google allows you to claim your own content through Google+ and their authorship program. When you publish a new post on your blog it will be tracked to your Google+ account, and if your content is copied or re-published at another website Google can more effectively tell which page is the original source and which one is the copy.
Every blogger should be taking advantage of Google authorship because it helps to prevent copies of your content to outrank your own original posts, it adds a thumbnail photo of you in the search results, which helps to make your link stand out, and it may have more influence on search engine rankings in the future. If Google decides to change their search algorithm to place more emphasis on the author of pages it will be important that you have authorship set up at your blog and that you have an active and strong Google+ profile. The best thing you can do is start now and if these changes to come in the future you will be in a good position. To get started, follow the directions on this page. And then make an effort to get involved at Google+ and establish your profile.
Off-Page Factors
In addition to the on-page factors that we've discussed so far, there are also some important factors away from your pages that will contribute to achieving top search engine rankings.
Inbound Links
Links from other websites will have an incredible influence on where your site ranks in the search engines. The logic is, if a lot of other bloggers and website owners are linking to your site it must be a good resources and it should rank higher than a similar site that doesn't have many inbound links.
When it comes to links there are a few different important factors. The number of links is important, but the quality of those links is even more important. For example, if a major news website like CNN was to link to your blog it would carry much more weight with the search engines than links from several small websites that have hardly any traffic and authority.
It is important to keep in mind that quantity of links and quality of links matter. This means that you'll need to work towards getting links from some of the leading websites and blogs in your industry.
Anchor Text
When another website links to your blog, the text that is used for the actual link is called anchor text. For example, if another blog links to ProfitBlitz, the anchor text in this case is "ProfitBlitz". If they constructed it this way: "ProfitBlitz is a blog about internet marketing", the anchor text would be "internet marketing".
Anchor text is used by search engines because it is often a good indication of the subject of the page that the link is pointing towards. So if I want my blog to rank well for the search phrase "internet marketing" I would need to get some links from other websites with "internet marketing" as the anchor text.
The flip side is that you don't want to go overboard and use the same anchor text for all of the links that point towards your website, because it can put up a red flag and it can be seen as trying to game the system. Not too long ago Google announced some changes to their algorithms to reduce the significance of anchor text, partly because it has been abused by many SEOs in the past.
Although the importance of anchor text may have been reduced, that doesn't mean it is insignificant. If you're attempting to target a particular word or phrase you should try to build some links with the appropriate anchor text.
You won't always have control of the anchor text when another website or blog links to you, but in some cases you will. If you are writing guest posts you can write your author bio to include specific anchor text. You can also have some influence on the anchor text used when other people link to your blog posts. Many links will use your post title as the anchor text when linking to the post, which is another good reason to include your keywords or phrases in your post title.
As a good practice I would recommend varying the anchor text between your targeted keyword or phrases, related words and phrases, and your site title. So if I were building links for ProfitBlitz and I wanted to target the phrase "internet marketing" I could try to build no more than 20-30% of links to use the anchor text "internet marketing". The remaining links could use the anchor text of the site title, ProfitBlitz, the URL, or they could use phrases related to internet marketing like "blog marketing", "make money online", "making money online", "website marketing", "learn internet marketing", etc.
Age of Domain
Search engines prefer to send visitors towards trusted sites rather than to newer sites that haven't yet established a track record. This doesn't mean that you can't get search engine visitors to a new blog or website, but it does mean that with some consistent effort you should be able to see that search traffic increase slowly and steadily over a period of time.
If you're just getting started with your blog and you have a new domain without any history, keep this in mind and work on publishing quality content and attracting links from other websites and blogs. This will put you in a position to benefit later when your domain has a little more history.
Authority/Trust of Domain
In addition to the age of the domain, the authority of the domain is also import. For example, two different websites could each be five years old. The first website may have been built 5 years ago but it never attracted links or traffic. The second website was also built 5 years ago, but new content has been added to the site fairly consistently over the years and the site has become popular within its industry in terms of inbound links from other sites and visitors. While the age of these two domains may be the same, the authority and trust is not. The second site will have much higher authority and will likely outrank the first site for any relevant search phrase.
The point here is that you want to work on getting to the point where your blog is recognized as an authority in your industry. If you're able to do this, the benefit is that it will be easier to get your blog posts to rank well and to attract search engine traffic. Your goals for getting your blog to reach this authority status should be to focus on publishing the highest quality content possible, which will make it easier to get links from other sites and will work towards establishing your reputation with readers.
Freshness
Within the past year or two Google has made some significant changes in their algorithm so that newer pages are often given a boost in the rankings. This can at times seem to contradict my earlier point about the age of the domain, but they can actually work together.
Google's purpose with this algorithm change is to get current, relevant pages in the search engine results rather than old, outdated content. The age and authority of the domain can still come in to play. The strongest pages will be fresh posts/pages on a site that has already established itself as an authority. Brand new sites can also benefit from the freshness boost, but typically you'll see authority sites and blogs that frequently publish new posts as the major benefactors here.
Some bloggers are changing the publication date of their old posts to artificially influence the freshness factor. I personally know some bloggers who have had success with this approach, but at this point it is not something I would recommend as I could see Google viewing it as manipulating the system and penalizing sites that do this.
Keyword Research
We talked about keyword research a little bit earlier in chapter 2. As I mentioned in that chapter, I don't do very much keyword research to assist with finding a topic for a new authority blog.
Where I have used keyword research in the past, and where I do recommend it for others, is for finding topics for blog posts and for choosing titles for posts. Keyword research can show you how many people are searching for a particular word or phrase, so you can target the right words and phrases that will send visitors to your blog in the future.
One term that I want to mention at this point is "long tail" keywords. Popular search phases are often very short. Words and phrases like "SEO", "blogging", "internet marketing", and "web design" have a really high number of searches. As a result, an unbelievable number of websites and blogs are competing for the top spots and it is nearly impossible to crack the top 10 for a phrase that is this competitive if you are just starting a new blog. The solution is to target long tail keywords, which are searched less frequently, but it's also much more realistic to expect to get a top 5 or top 10 ranking for these keywords or phrases.
An example would be the phrase "learn internet marketing", which has only 1,300 global monthly searches as compared to the 74,000 for "internet marketing". If I wanted to start a course or sell an e-book that teaches internet marketing, it may be a good approach to target the phrase "learn internet marketing" because it would be much more likely to achieve a top ranking than it would be to do the same for the phrase "internet marketing".
Long tail keywords can be great for bloggers because each post you publish can target a different phrase. While none of the phrases may get huge amounts of searches each month, they can all add up to something significant. Tools that can help you to identify the right long tail phrases to target with your posts can be extremely useful.
There are a number of different tools that can be used for keyword research. Some of them are free, some are priced to be affordable for bloggers and website owners, and others are higher priced and are geared more towards agencies and companies that handle SEO and marketing for their clients. The higher-priced options will obviously include some additional features that aren't available on lower priced or free options, but for your purposes you can usually do with just a lower-priced or free option.
The first tool I want to mention is the free Keyword Planner tool from Google AdWords. This tool was created by Google to assist people and companies who are paying for advertisements through Google's AdWords program, but it can be useful for any blogger or website owner. The tool is pretty simple, which in a lot of ways is a good thing. To access it, login to your AdWords account (or create one for free if you don't already have an account), and then click on "Keyword Planner" under "Tools and Analysis".
I won't go into detail here about how to use the Keyword Planner, but you can read all about how to use it here – Google Keyword Planner: The Ultimate Guide.
In my own blogging this is about as far as I go with keyword research, and it's not even all that often that I do any keyword research. Another tool that I use on occasion is Long Tail Pro. It's a paid product that costs $97, but it does offer a 10-day free trial. I definitely think it is worth the money for bloggers who want to do a little more in-depth keyword research.
SEO Conclusion
Search engine optimization is such a big topic that it can't be covered comprehensively in this one chapter. Although it is a big topic, my advice to bloggers is to focus just on the basics. If you start with a blog theme that is well coded and search engine friendly (Genesis and Thesis are popular for these reasons), focus on publishing quality content for your readers and the search engine traffic will come with time. Pay attention to your title tags, always work on getting links from other sites, and don't obsess about all of the intricate details of SEO.
Further Reading on SEO
If you want to read more about search engine optimization there are several articles and websites that can help.
Marc is the founder of ProfitBlitz. He has been working online for more than a decade and loves to write about topics like internet marketing and SEO. When he's not working he enjoys travel and photography.