8 Best Social Media Management Tools For 2023
Everyone from bloggers and freelancers to small businesses and large companies, want to achieve success on Social Media.
We spend so much money creating and promoting content that it makes sense we want to see a decent return on that investment.
But what's the point of exerting ourselves when we don't know how to monitor the effectiveness of our campaigns?
Who cares about how many followers we have when we can't engage with them in the right places?
Finding a great tool that can help you get the most out of your social platforms is the key here.
A tool that combines and implements everything you should be focusing on is as essential as choosing the best content to create.
That's why I've hand-picked the best all-in-one social media management tools, to help you:
Plan
Schedule
Post
Repurpose
Engage
And analyze every detail of your social activity.
The best all-in-one social media management software tools
1. Sendible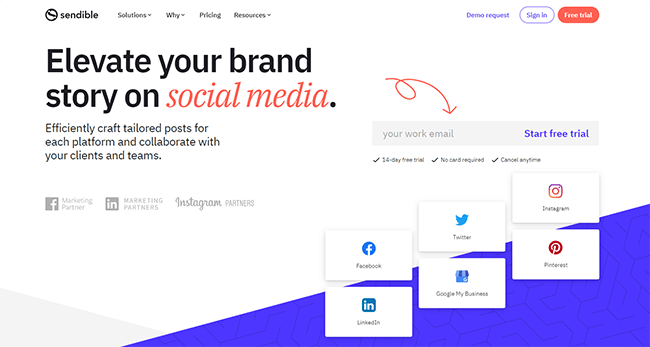 Sendible is the social media management tool we use to manage all of our social media accounts.
Aimed at solopreneurs, all the way up to large teams, they've streamlined how you manage social media, helping you become more efficient.
The key features of Sendible include:
Dashboard
Publishing
Collaboration
Social listening
Analytics
Mobile
Sendible's dashboard helps you identify important messages all in one place. For example, using the social listening features you can track and act on conversations as they're happening.
When publishing you can schedule posts to social media individually or in bulk, while the shared publishing calendar provides a visual overview of your monthly schedule.
Team Collaboration makes it easy to work with your colleagues on campaigns. Proper analytics reporting helps you display all of this to your clients with beautiful custom reports.
With over 20 integrations with popular social and blogging platforms and informative visual tutorials, it's a comprehensive piece of software that's on every marketer's wishlist.
Sendible starts at $29/month with 15% discount available on annual plans.
---
2. Agorapulse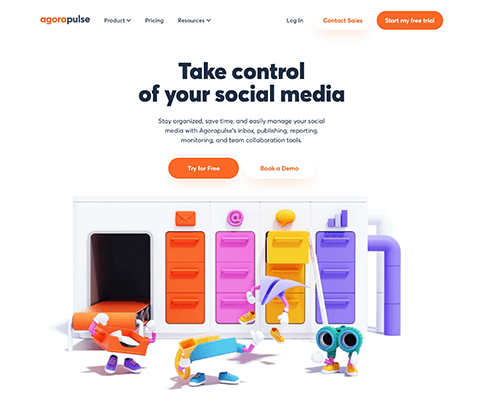 If you're looking for a simple and affordable social media management tool Agorapulse may be the one to go for.
It's aimed at small businesses to full enterprise solutions and packs a great amount of functionality into a simple, easy to navigate platform.
Besides the usual array of features like a full social inbox and real-time collaboration, it also includes a built-in CRM to label and group your followers into useful segments.
Here are some more key features:
Message management in one place
Versatile publishing options
Brand monitoring out of the box
Team collaboration
Detailed reporting
Audience insights
Agorapulse also has a useful range of built-in special features to make scheduling your content and engaging with your followers much easier.
The Automated Inbox Assistant allows you to set up automated moderation rules to tag, hide and assign key messages.
Full coverage of all ad comments helps you increase the ROI of your social ads by ensuring every single ad comment is there in your inbox.
What's more Publishing Queue Categories allows you to organise queued content by time slot and queue topic. This means you'll always know what's going out when.
A free plan is available for 3 social profiles and 1 user. Paid plans start at €59/month/user. Yearly discounts available.
---
3. Sprout Social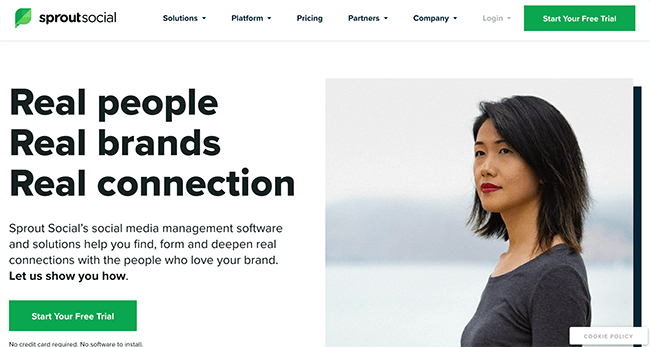 Sprout Social is a social media management solution with the aim of truly fostering deep connections with your social followers.
As a solution that's built to scale as you do, it includes all the features you would come to expect from a long established platform. Indeed, I can recall a time when Sprout Social was nowhere near as comprehensive as it is now.
Today, you can expect to find the following features:
Rich social data and analytics
Monitoring and engagement in one inbox
Plan create and manage content as a team
Detailed social listening
Beyond this Sprout Social are official partners with Instagram, Facebook, LinkedIn, Pinterest and Twitter, which ensures they are always up-to-date with the latest these platforms have to offer customers.
For even more functionality they provide listening and advocacy add-ons at an additional cost to their plans.
This is a really comprehensive app and with only a glance at their features, you get a solid idea of how much value is packed into this service.
However, the pricing does reflect this in that it quickly scales to some hefty numbers.
Like with any digital product there are large costs involved with producing value. And as Sprout Social has developed and grown, so too has their pricing.
In 2014 it used to cost only $39 per user per month for their entry plan. Yet as you can see below things have changed significantly over the years.
Compared to Sendible and Agorapulse, Sprout Social works out more expensive especially if you need team accounts. Sprout Social plans start from $99/user/month.
---
4. MavSocial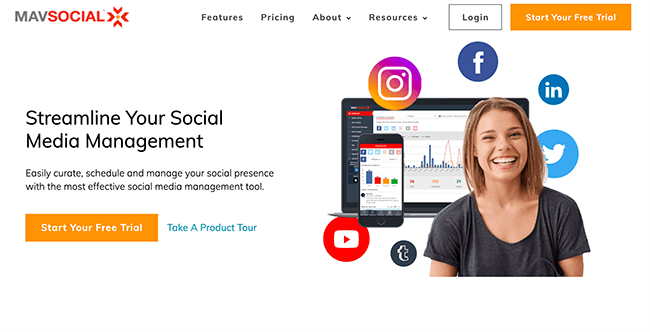 If your interests lie in streamlining your social media management as much as possible, it's worth checking out MavSocial.
Claiming to change the way you connect with and manage your social audience, MavSocial has plenty of excellent features to help automate your traffic flow.
These features include:
Schedule, automate and boost posts
Track, filter and act on conversations through social listening
View, sort and respond with engagement tools
Monitor, analyze and export with reporting
Collaborate with teams
Content curation
What's particularly interesting about this tool is its strengths lie firmly in handling visual content. I'm not just talking about the versatile drag and drop interface either.
MavSocial's content curation tools make it easy to identify and schedule user-generated content. What's more, you can create your own visuals using free assets from their stock image market.
Editing your creations is even easier. Upload and store assets from your computer, Google Drive and older posts. AI image recognition will make it easier to search and find assets. Then, make them shine with filters, stickers and effects that your audience will love.
A free plan is available for 2 social profiles and 10 scheduled posts. Paid plans start at $16/month (billed annually).
---
5. eClincher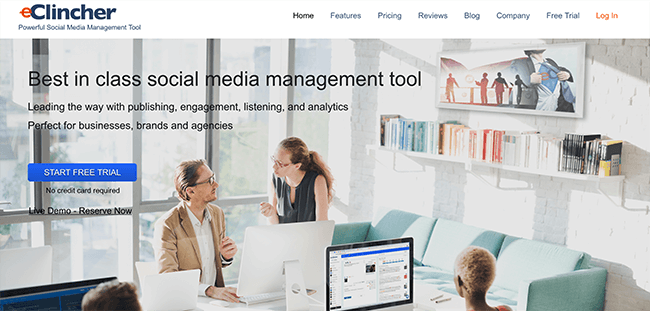 eClincher is a social media management tool with a robust set of features that integrates with all major social platforms.
It's aimed at Small and Medium businesses who manage their own social activities and agencies working on multiple accounts. And, you can connect up to 6 users per plan.
While on the outset, it doesn't look like much of a competitor to larger social tools like Hootsuite, it still offers everything you would expect and more.
The main features include:
Publishing and scheduling
Auto posting
Engagement
Social media inbox
Analytics and optimisation
Pocket integration
Something eClincher doesn't mention clearly is the ability to integrate with Sniply. This adds a call to action and popup on sites where your content is posted. Plus, it's a marketing tool many of us make use of.
Similar to MavSocial, eClincher offers built-in visual marketing tools that make it easy to create and share original content.
We all know that Canva is a powerful platform for visual content creation, so being able to use it within the eClincher platform is a huge benefit. Giphy and Emoji integrations make the visual package complete.
With a Chrome extension and GDPR ready services, I'd say eClincher could give the big players a run for their money.
Paid plans start at $59/month with 15% discount for annual plans.
---
6. Hootsuite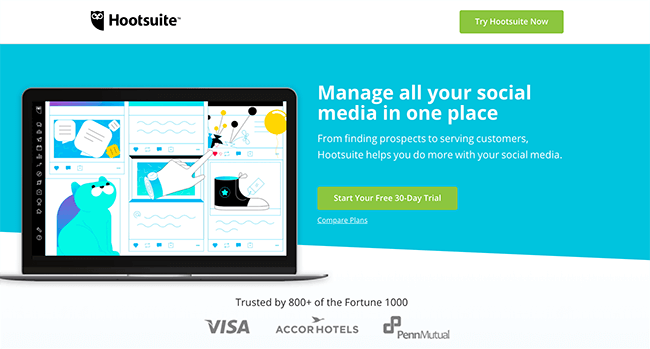 If you haven't heard of Hootsuite by now, you've been living under a rock. Probably one of the most popular social media management dashboards. With over 10 million users across 175 countries, it has grown significantly over the years.
Hootsuite can be used directly from your browser, reducing the need to download extra apps and software. Yet it still offers excellent features including bulk scheduling and RSS integration.
Further features include:
Scheduling
Content curation
Boosting
Analytics
Monitoring
Team management
Security
Apps and integrations
One of the pitfalls of Hootsuite is that it doesn't have the Social Inbox that many newer tools include as standard. This means having to use social streams, where it can be easy to miss messages, particularly when going between desktop and mobile apps.
And while you can auto-schedule content to post at various times in the future, it lacks the ability to automatically recycle that content for later use.
That being said, the filtering options within Hootsuite, are great for social listening. Simply, filter by hashtag, keyword, location and even language to find the conversations that mention your brand.
If you're new to social media management or want to brush up on your skills, check out the Hootsuite Academy. There's a wealth of lessons and tutorials to help you get to grips with the platform and social media in general.
You can also go one step further and take part in their certification programs. While this comes at a cost, doing so can include you in Hootsuite's certified professionals' directory. Pretty great for attracting new clients.
Paid plans start at $99/month (billed annually). Reporting does work out quite expensive compared to other tools.
7. TweetDeck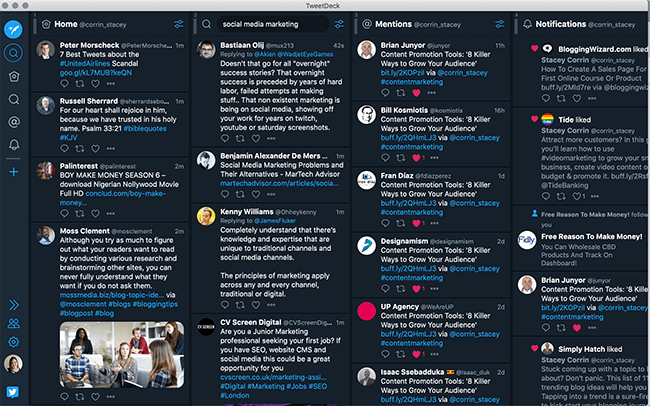 TweetDeck is a social media management tool designed specifically for Twitter. It's been around for years and was bought by Twitter back in 2011.
I've included it in this list largely due to its rich feature-set which helps you manage multiple twitter accounts in one place. This brings us to its stand-out feature which is the beautiful TweetDeck dashboard – a one-stop overview of what's happening on your chosen twitter profiles.
This streamlined dashboard makes it easier to monitor conversations, keep an eye on hashtags and keywords and engage with existing and potential followers.
Full features include:
Tweet scheduling
Monitoring tools
Notifications
Twitter list support
Auto updated lists
LinkedIn column
Trending Topics
While TweetDeck doesn't have the broad spectrum of features you get from newer tools, it does have everything you need to get going. Sometimes keeping things simple is where the magic happens.
Available across all devices, you can use TweetDeck from your iPhone, Android, Chrome app, and Macbook. So, managing things on the go is a breeze. And with no complicated settings you'll never use, things are kept simple and effortless.
How much does it cost?
Absolutely nothing. TweetDeck is completely free to download and use.
---
8. Tailwind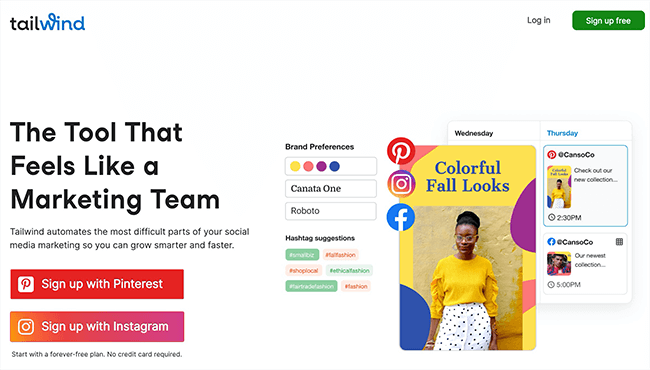 Tailwind is a Pinterest and Instagram marketer and scheduler that focuses on those two visual heavy platforms only. It's one of the best tools around for Pinterest management and has grown massively since it's launch in 2011.
Combining powerful marketing tools with visual content is what Tailwind does best and it's been the go-to tool for thousands of bloggers and businesses, including myself.
Even though the website states it's made for Teams, the huge community around Tailwind has made it incredibly effective for the solopreneur too.
Let's look at the key features:
Pinterest management and scheduling
Pinterest content marketing
Pinterest trends and monitoring
Pinterest analytics and reporting
Tailwind Communities
Tailwind SmartLoop
Instagram scheduling
Instagram hashtag finder
Instagram analytics and reporting
While Tailwind does include features for Instagram, the majority of features are still geared towards Pinterest.
The launch of Tailwind Communities has made it easy to find content curated from other users, who reciprocate the sharing process. This fosters a sense of community and trust that can have great results.
A more recent offering – Tailwind's Smart Loop, brings the power of evergreen content to your visual assets. This feature imports your best-performing pins and republishes them at the best times and frequency to the boards that suit it best. This also includes Seasonal loops aimed at seasonal pins – taking the effort out of manually repinning your Christmas DIYs.
Tailwind has a free forever plan but features are limited. Paid plans are $9.99/month per one Pinterest and one Instagram account. Higher tier plans offer more accounts and more scheduling.
---
Which social media management tool is right for you?
These social media management tools have so much to offer, it's probably hard for you to choose the one that suits you the best.
Take a moment to go back through and consider your options.
Generally, you can't go wrong with either Sendible or Agorapulse.
Both offer the ability to schedule content, reply to comments via a unified social inbox, monitor detailed analytics and create useful reports.
And, if you want to take your social media marketing further, check out our article on social media contest tools.