Why TikTok Should Be Part Of Your Ecommerce Marketing Strategy
In the vibrant fast-changing digital marketing world, any technological innovation is no longer a surprise.
Remember the first TV advert ever shown on British TV?
Search Google for "Gibbs SR Toothpaste 1955". As of 8th July, the black and white video has reached 37k views on YouTube, which is a fraction in views compared to what the "elephant toothpaste" experiment reached on TikTok in a matter of days!
Of course, we didn't have TikTok 65 years ago, but the fact that 15-second videos are rocking the world of digital advertising is undeniable.
TikTok has 800 million active users from 150 countries, and they are just getting started.
In this post we're going to discover the phenomenon behind the Douyin social network from China, and how vast its potential is for ecommerce.
Let's dive in.
What do we know about TikTok?
Apart from the amount of active users, and the popular use of short-video content, what other information and statistics about TikTok are available on the web? Figures speak louder.
104 million downloads of the app were registered in January 2020. And this is 46% more than in January 2019!
42% of TikTok audience are Z-gen representatives aged from 18 to 24, 60% of these are females.
29% is the engagement rate in TikTok. To compare, Instagram average ER is 3%.
If you want to uncover more TikTok stats, check out this article from Blogging Wizard.
TikTok video formats
TikTok for consumers is a place of entertainment and joy. Background music and visual effects are highly addictive, making users continue to use the app for hours. Although, the majority of content consumers (68%) open and passively scroll the feed making no interactions with the existing content.
Why does this matters for ecommerce businesses?
One is the trust of the younger audience. Two is a whole universe for imagination (hold on for further details). Three, dress it with the chance for a brand to be a pioneer.
TikTok's potential to become another power marketing tool has already been noticed by the app creators, who go on inventing and testing new business assets. Some of these assets were successfully tested in different countries and implemented by large ecommerce brands, while others still wait for worldwide roll-out.
Consider the following:
TikTok already has its own marketplace, where brands can find the right content creators and start a collaboration.
At the end of 2019 TikTok announced testing the "link in bio & social commerce URLS" feature in the U.S. The innovation is designed to allow the app users to view the product advertised following the shoppable link in the bio or a post, while they are viewing videos.
Having 1000+ followers, each Tiktoker can start live streaming to their audience. This is shown in the image below: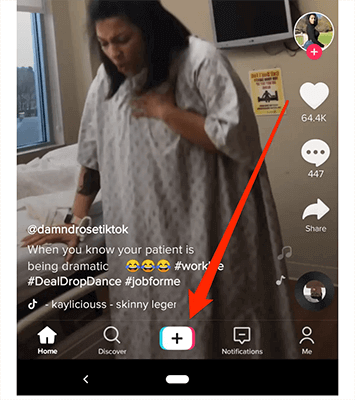 During the Coronavirus lockdown TikTok along with several distinguished brands launched the "Small Gestures" program. The initiative helped TikTok users to order online gifts for their nearest and dearest when at a distance. For instance, one could order a monthly subscription to Adobe Premiere Rush for free. Sending the gift was available via a clickable purple banner that appeared inside the app: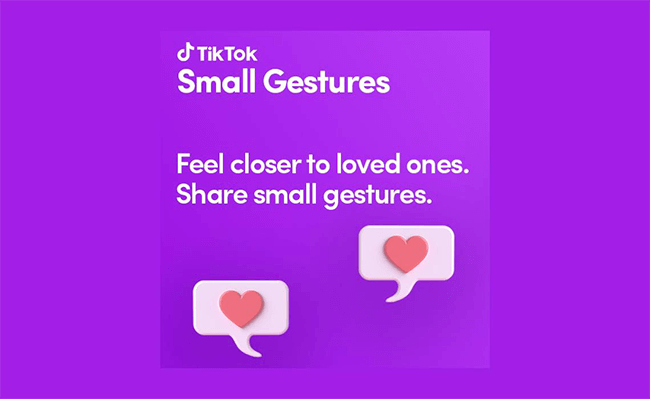 16% of all TikTok videos are recorded as a part of Hashtag challenges, which are also one of the marketing assets that exist in the app. Those can earn a total of 172 million reactions (likes, comments, and shares), and 2.5 million UGC (user-generated content) in response. Proved by Clean & Clear's #UnbottleApnaSwag challenge that grew the brand's audience by +10.4k followers, thus becoming the most successful TikTok ecommerce initiative in India.
The app already has 2D animated lenses which you can add to a video. Those are usually triggered by face and hand movements and are known as "Branded Effects". The feature is reported to be used at least once by 64% of Tiktokers: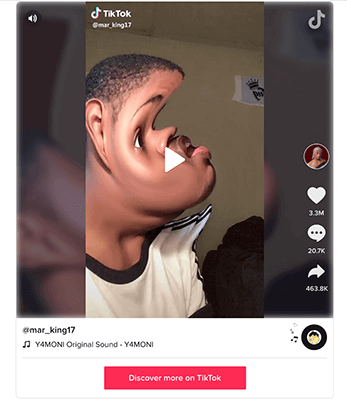 By the end of Q3 2020, TikTok promises to launch a brand-new augmented reality format or the so-called mascots and lenses designed by TikTok content creators. Using these, other app users will be able to create videos with authentic audio and graphic effects, while the creators are going to earn real money from the effects they invented.
Wait, a clickable link in bio, hashtag addiction, live stories, face filters, and mascots triggered by your face movements. Doesn't that ring a bell?
Battle of Stories: TikTok vs Instagram
Instagram stories were launched in 2016 and, according to the latest data, 500 million users do not miss the opportunity to use them daily. What is more curious, is a third of all viewed stories are generated by ecommerce businesses.
Stories were swallowed so greedy because, by the time they were launched, the audience had already been tired of the unnaturally filtered photos and videos, which the production and editing required an eternity.
Clicking on the "+" button is used for livestreaming in TikTok, the format very much resembles Instagram Stories. Moreover, the entire format of shooting in haste short videos and uploading these to the network is a reference to the story that appeared on Instagram 4 years ago.
Taking into account the fact that Instagram with its face filters and mascots, in turn, inherited Snapchat. With that in mind, we dare assume that TikTok is awaiting the same scenario. It's enough to look at the growth dynamics of Instagram stories immediately after their launch in 2016 compared to Snapchat.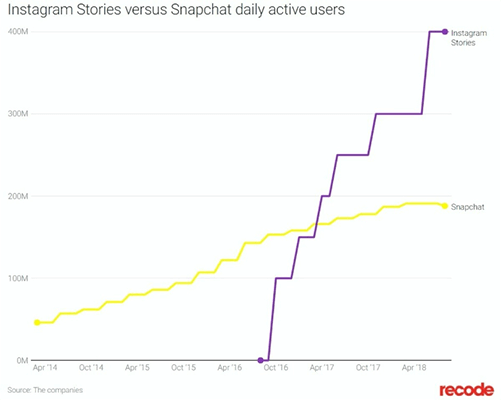 TikTok marketing power
Just like any other social media platform, TikTok has marketing potential for businesses who want to expand their reach. With over 800 million active users, that's a lot of people to potentially reach.
Ad formats in TikTok
Currently, there are 4 formats of advertising integrations available in TikTok and already used by ecommerce brands.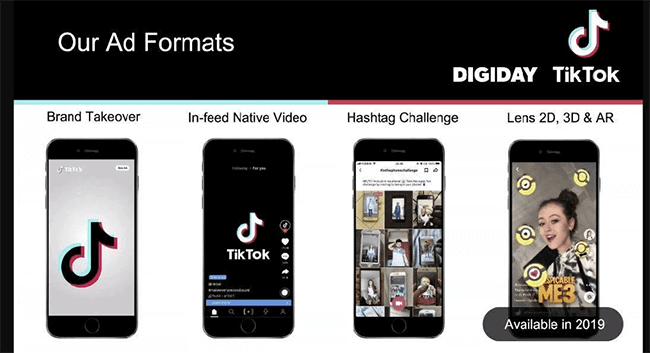 Brand Takeover is in fact a brand ad appearing at launch. It literally takes over the screen for 5 seconds. It's possible to advertise both external websites and internal content. This format allows you to measure the reach of the ad in terms of views and clicks.
In-feed native videos (15 seconds length) represent a format that includes interactive elements, reactions & clickable links. Interactions available are super-like (the reaction that appears on the surface of a video just like the one you can tap viewing Instagram Stories), voting & other cards that seem to root from Insta-stories as well. Metrics available are the depth of views, audience reach and reactions (likes, clicks, comments, leads).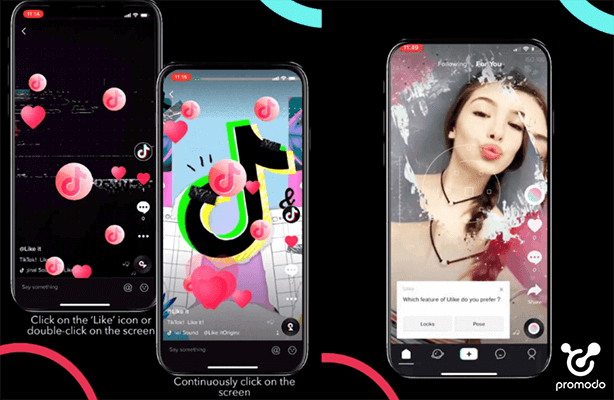 Hashtag Challenge. The one that hitched the jackpot for a skincare product brand in India. It's enough to come up with a unique branded hashtag, confirm it with TikTok, distribute among other tiktokers / influencers for free, or at a certain price and see the results where you can measure your reach and reactions.
2D/3D lenses and augmented reality are creative formats that allow users to integrate into a brand. The latter can create branded filters that make it possible to try on a new lipstick palette or a GTA-like lens. Metrics available for such video types are views, likes, comments and reposts.
Ad analytics in TikTok
Bidding system like the one Google has? Why not?
TikTok mechanics are wise enough to register the target action and point your ad campaigns to the part of the audience that needs them most. Registration on the website, product view adding it to the cart, sending the request form, chat with Support, and a completed order are counted as target actions.
Moreover, it reacts to each successful conversion on the website by adjusting settings in a needed way.
What are the bidding methods or what does a brand pay for when they order TikTok paid ads?
CPC (cost per click) – This is the cost per click on your ad.
CPR (cost per result) – This method delivers your ad to users who are more likely to take the action.
СPM (cost per mille) – Means the price you pay for one thousand impressions. The ad is to reach as many customers as possible within a budget.
CPV (cost per view) – The price you pay for one thousand 6-second or 2-second video views. Currently, we are talking about a beta version of this method.
TikTok biddable ads can target your ads by age, location and gender.
Brands taking over TikTok
NBA, Universal Pictures, Guess, and Maybelline – are just a few brands represented in the Inspiration page of the TikTok official website. Indeed, it would be a total waste to neglect the potential that TikTok can offer to businesses. And the latter seem to be doing a great job.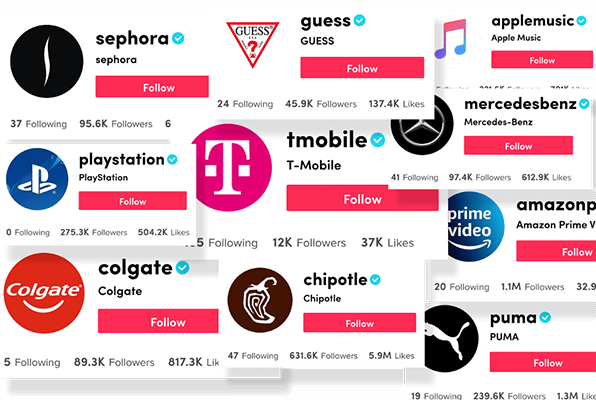 Here we have a dozen of brands with different audience size and engagement rates (likes) from different niches:
Automotive
Electronics
Mobile providers
Clothes & sportswear
Food & restaurants
Health & beauty
Marketplaces
I asked one of my colleagues at Promodo to share their insights:
TikTok promotion seems a perfect fit for brands in different niches, doesn't it?
"Indeed, TikTok works for businesses in pretty much every niche. The key factor is the presence of a brand's audience in the app. That's the main question marketers should ask themselves when entering TikTok."
Why is gaining the trust of Z-gens a good strategy to grow a brands' loyal audience?
"TikTok is a win for brands that appeared 20 years ago, are top of people's minds today, and will stay in the market for years to come. That is why the majority of brands that choose TikTok are the ones we already buy from."
How can a brand boost sales with the help of TikTok?
"That's definitely a bad reason to start Tiktoking. The best you can achieve with your presence in TikTok is visibility among your audience. This is a place to manifest your brand values and be heard."
How much does it take a brand to become visible in TikTok?
"From day one to year one. It all depends on the idea. History knows of cases when a single 15 sec video skyrocketed the online space in just 24 hours. It often becomes that further videos are less successful, while the consumers are already there, bringing more traffic and conversions every day."
What's prohibited in TikTok? In other words, what is a firm taboo for brands that use TikTok for marketing purposes?
"If you ask why lots of brands have failed in TikTok, I would refer to the fact that brands have their own taboos. Those could be the restrictions imposed by the tone of voice or the brand book. While TikTok itself is a total mess, where you can forget about political correctness or being religious-friendly. Imagine a baby-boomer joining a crazy Z- Gen pool-party and wearing floaties. This is how big brands may at first feel entering the TikTok crowd.
Does it mean no boundaries should exist for a brand that chooses TikTok?
"Exactly. Typically, there exist two types of content that work for the TikTok audience: trash and epic. We refer to the latter as what's impossible to repeat in real life. Remember the Elephant Toothpaste Experiment that appeared to be the most viewed video of 2019?"
How much do TikTok ads cost?
"Speaking of TikTok capacities for marketing, there are two types of integrations: the paid ad system and Tiktoker collaborations. The former has fixed prices, while the latter is discussed with content creators and differ depending on the size and level of craziness."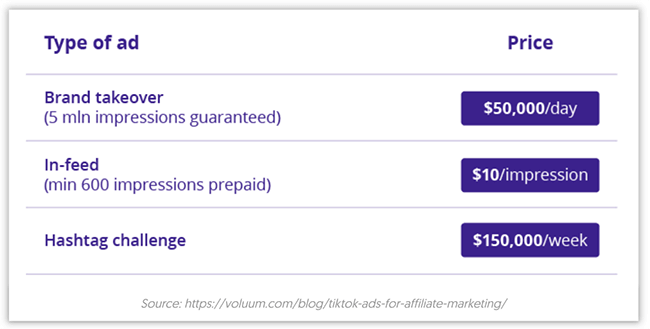 #wrappingup
TikTok is already equipped with the essential business assets, and with its marketing potential it should not be underestimated. Thus, brands' penetration into the platform is just a matter of time.
One of the best things TikTok can offer a brand is the possibility to stand one step closer to the consumer.
Apart from the existing ad formats, TikTok is all about being sincere, breaking boundaries, and crossing the line of common sense. Embedded editing capabilities and a variety of sound effects make the shooting process easy and cost-effective.
TikTok has become really obsessive among Z-gens. For eCommerce brands, this is a great chance to capture and grow their loyal audiences. To get into their hearts, brands need to be sometimes ready to cross the line. Otherwise, they risk finding themselves feeling like baby-boomers at a teenager's pool party.