Image designed by Vecteezy
Everyone loves getting something good for free. As a blogger or marketer you can use freebies to gain valuable exposure and reach a larger audience, and the best news is that you can use freebies in just about any industry or niche.
I've been using free downloads with my own blogs for about 5 years now, and it is a strategy that has proven to work very well for me over the years. In many cases I use the freebies to promote digital products that I sell, and I also use them for attracting traffic to my sites/blogs.
In this article I'd like to share a few quick tips that can help you to get better results with the freebies that you offer to your visitors. But first, let's take a look at some sample scenarios of how freebies can be used.
For the purpose of this article I'll be assuming that the freebie is some sort of downloadable item that your visitors or subscribers can get at no cost to them. One of the most common approaches is to offer an e-book, usually in PDF format. E-books can be created on any topic, so this is a versatile approach that you can use with any type of blog or site. And PDFs can also be very easy to create.
Other examples would include a band offering an MP3 of a song, a photographer offering stock photos, a designer offering a template or graphics, a fitness blogger offering an exercise guide, a food blogger offering a recipe book, and the list could go on.
Now, let's take a look at some things you can do to get more effectiveness out of your freebie.
1. Require an Optin
One of the best reasons to use a freebie is to grow your email list. Your email list is possibly the single most important asset to your online business, so anything you can do to grow your list faster will have a significant impact on your success.
It's a very common approach now for bloggers and marketers to offer some sort of free bonus for people who subscribe to their email list. It could be an e-book, a special report, and any other type of digital download.
Want to Sell Your Own Digital Products Easily?
I highly recommend SendOwl as a great platform for selling digital products. I use SendOwl at a few of my own sites and it is the most reliable and easiest platform I've used (and I've tried a lot of them) for selling digital files.
If you have a valuable resource that you are offering to your visitors for free, require them to join your email list in order to get it. If they really don't want to be subscribed to your list that can always unsubscribe, but the vast majority of them will remain subscribed.
2. Present it Effectively
Presentation counts, even when it comes to freebies. One of the biggest lessons I have learned about selling digital products is that presentation is just as important with a digital product as it is with a physical, tangible product. People judge products in large part based on their appearance and how they are presented. This is why the most successful e-book authors make it a priority to get a great-looking cover designed.
The same thing applies with free products. A freebie that is well-presented with a great visual and good design will get far more attention than the same product with no visual presentation.
It can be well worth the money to hire a designer to create a cover or a visual element for your freebie to ensure that it looks great. You can hire someone at a site like Elance, or even Fiverr, for a very reasonable fee.
Let's take a look at an example. Sue Anne Dunlevie of Successful Blogging offers a free e-book or report "How to Attract 1000 Subscribers in 30 Days" as a lead magnet. She's implementing the first two points we've covered by requiring an optin and by presenting it with a nice graphic. Although it is a free resource, it looks great and as a visitor there is some perceived value to something that looks professional.

3. Make it Something Worth Buying
When creating a freebie to distribute from your website or blog it is best to forget that you will be offering it for free, and pretend that you will be selling it. If you give it the same degree of care that you would give to a product that you will be selling your freebie will be far more valuable to users, and it will be more effective for you as a promotional tool.
Death to the Stock Photo offers a free pack of stock photos each month to email subscribers. These photos are a very comparable quality to stock photos that would need to be purchased at other sites.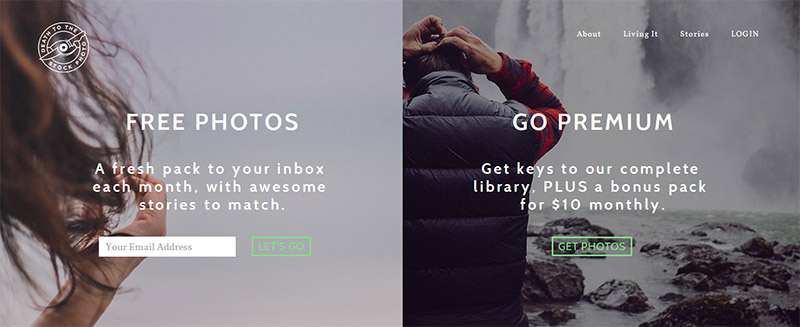 4. Make it Relevant to Your Own Products or Affiliate Products
Two of the best ways to monetize a website or blog are to sell your own digital products or to promote other people's products as an affiliate. In both cases you can use a freebie to help you make more money. If you're selling your own products you could offer a small sample of a product or a different but related product for free. The freebie will attract people who are interested in what you have to offer, and some of them will be likely to purchase your product if they are impressed by your freebie. This is another reason to make sure that you treat your freebie like you would treat a product that you would sell, because if your freebie is of poor quality it could actually wind up hurting you by turning off potential buyers.
The previous example of Death to the Stock Photo is also a good example for this point. Their free offer is highly relevant to the product that they sell, a monthly membership for even more stock photos.
If you don't have your own products you can also take a similar approach with products that you promote as an affiliate. Take one of the affiliate products that consistently makes money for you and think of a related freebie that you could offer to attract attention. Once you have people at your site and on your email list you can promote the related affiliate product.
5. Offer an Upgrade
This is one of my favorite techniques and it has worked well for me with a few different websites and products. People who are opting in to your list in order to get your freebie are very good targeted prospects for the related product that you are selling. You can get the most out of this by offering a discount on the product you are selling to anyone who joins your list to try your freebie.
There are a few different ways you can set this up, but one of the easiest ways is to create a Thank You page that includes the download link for your freebie. In GetResponse, AWeber, or whatever email marketing platform you are using you will set your custom thank you page so that whenever someone joins your list (if you are using double optins you will want to set this as the confirmation page so people will need to confirm their email address before they get your freebie). they will be automatically directed to this page. On the thank you page you'll also want to promote the product you are selling and offer a coupon code as a thank you for subscribers trying out your freebie. If the freebie is highly relevant to the product you are selling and if the freebie is of good quality you can use this approach to make a lot of sales. You can also set up the autoresponder to send an email reminder in a few days that will include the coupon code so that subscribers see the offer again.
If you don't have products of your own you can take a similar approach with an affiliate product. All you have to do is set up the thank you page to promote the affiliate product instead of your own product. You may even be able to get a custom coupon code from the product seller if you are willing to promote their product in this way.
6. Promote it on Social Media
Once you have a quality freebie created and your site/blog is set up to collect email address in exchange for access to the freebie, the next step is to get more exposure for your offer. If your site has a large audience you may not need any help promoting the offer, but in most cases you will want to actively promote your freebie.
Social media can be a great way to get more exposure if you have a quality free resource, because many visitors will want to share it to let others know about your free offer. Of course, you'll want to promote it through your own social media profiles. You can also use a service like JustRetweet or Viral Content Buzz to get some extra shares that may turn into a larger viral effect. If you're a part of Facebook groups, Google+ communities, or LinkedIn groups you can also mention it there, just be sure that you are following the policies of the group/community so that you are not spamming. Pinterest is also a great site for promoting freebies (see How to Double Your Traffic from Pinterest in 30 Days).
7. Use it to Build Links
Freebies can also be very effective for attracting links from other websites and blogs. If you'd like, you can be pro-active about getting links by contacting other bloggers and site owners or writing guest posts for other blogs that will include a link to your freebie in the author bio or the article body.
The more exposure your freebie gets the more effective it will be for building your email list and helping you to sell products. Getting links from other sites and blogs is a great way to get that exposure.
If you're unsure how to get started with getting links to your freebie see 101 Massively Useful Link Building Ideas.
What's Your Experience?
Have you used freebies to grow your list or promote products? If you have any tips from your own experience feel free to share in the comments.

Marc is the founder of ProfitBlitz. He has been working online for more than a decade and loves to write about topics like internet marketing and SEO. When he's not working he enjoys travel and photography.