The chances are that if you're reading this post, you're looking for an email subscription plugin to grow your email list faster.
Perhaps you need a simple plugin to handle the basics. Or, maybe you need a feature-rich one to handle many opt-ins in one organised place.
With so many email subscription plugins for WordPress to choose from, where do you start?
Don't worry – you're in the right place.
In this post, I'll show you some of the best WordPress email subscription plugins that make creating opt-in forms for your site, easy as pie.
The best WordPress email subscription plugins for 2020
1. Thrive Leads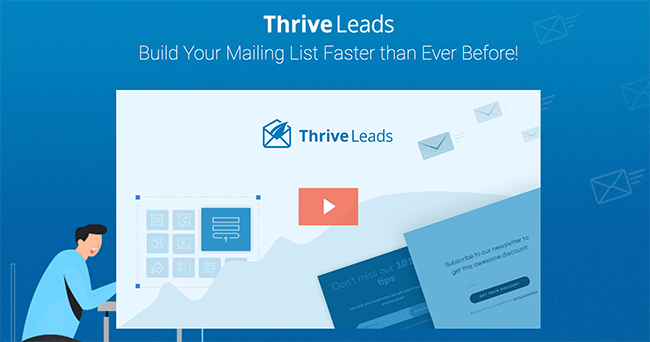 Thrive Leads is the most feature-packed email subscription plugin for WordPress.
Building opt-in forms is effortless with the massive range of included templates. The drag and drop form builders make codeless design a breeze.
And those forms come in all manner of variations from popovers and widgets, to header bars and slide-ins. Simply choose which page, categories or tags you'd like to display them on and you're good to go.
Split testing is handled a little differently with Thrive Leads. While usual split testing tools allow you to test one form against another, Thrive allows you to split test different types of forms against each other too.
When it comes to reporting, it's packed full of insights – providing a brief overview, to begin with. Then you can dig further into the stats of many different report types like the 'Content Marketing Report'.
Key features
50 + opt-in form templates plus templates for content upgrades
Drag and drop editor for easy form customization
Opt-in forms for popovers, header bars, widgets, shortcodes, slide-ins
Various triggers including Exit Intent
Advanced form targeting options
Split testing functionality
Powerful reporting and statistics
Supports email providers who use HTML
API integrations for all popular providers
2-step opt-in forms
Shortcode placement support
Multiple form fields
Content locking
Digital Asset Delivery
Smart Links
Price
Plans start at $67 for unlimited updates and 1 year of support. Alternatively, you can grab all Thrive Themes products. Check out their membership plan.
---
2. ConvertPro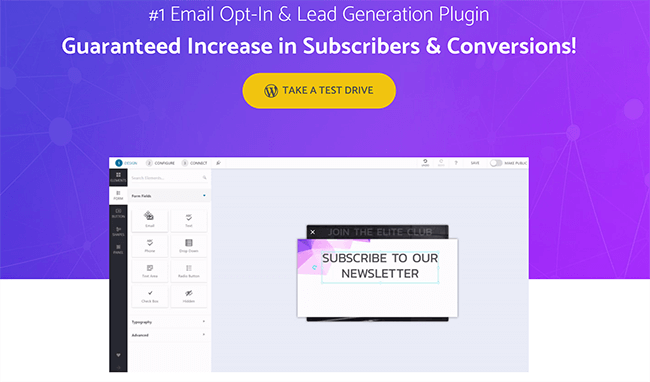 ConvertPro is a popular WordPress email subscription plugin from the same company behind the Astra theme.
This plugin has a great drag and drop editor for a wide variety of form types. And with it comes the ability to fine-tune behaviour and targeting options.
The opt-in form types you'd most expect are available with this plugin, alongside more advanced types like content locking and yes/no forms.
Integrating with all the main email service providers, ConvertPro makes it easy to find the one you use regularly. And visitor identification makes targeting more intuitive.
Because ConvertPro is a modular plugin, you won't be left with a bloated plugin full of features you'll never use. By turning off the ones you don't use individually, you'll be running things in a more streamlined and optimised way.
Key features
Drag & drop form builder
Many opt-in form types
Various form triggers including exit intent, timer, on-click, etc.
Visitor identification
Taxonomies Targeting
Advanced form elements
White label branding
AdBlocker detection
WPML compatible
Price
Plans start at $99/year for unlimited websites which is super affordable. Lifetime options are available. And be sure to check out their agency bundles with all their other plugins & Astra theme included.
---
3. Elementor Pro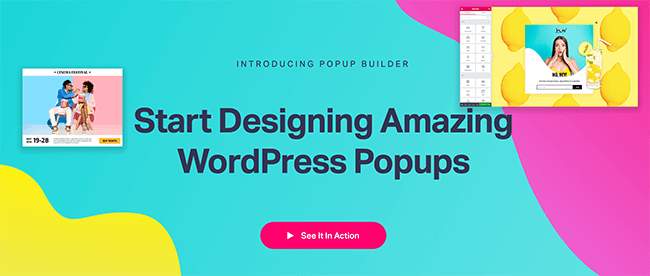 You might know Elementor Pro as a WordPress page building plugin. But what you may not know is that it has its own native opt-in form builder.
Using the same intuitive drag and drop editing tools as those used for building beautiful WordPress pages, Elementor Popups enables you to deploy stunning pop-ups & lead capture forms that work seamlessly with the rest of your website.
You can build almost any type of popup with Elementor, including fly-ins, hello bars, slide-ins and more. And with over 100 templates to get inspiration from, your popups will be looking amazing in minutes.
For advanced needs, you can create content upgrades (otherwise known as lead magnets) or even lock content completely. While support for WooCommerce, allows you to show related products and upsell.
Advanced targeting helps you to display opt-ins to the right visitors, which can be further tweaked with advanced rules to show content to only the people who meet the right conditions.
Best of all, Elementor integrates with not only your favourite marketing tools but popular email marketing services too.
Key features
9+ popup types
Unlimited use
Utilise built-in Elementor widgets
100+ templates
Advanced targeting
Support for popular email providers
Zapier integration
Supports content upgrades
Price
Plans start at $49 for 12 months support and updates. This includes the full-featured Elementor Pro page builder (Popups is just one feature).
---
4. OptinMonster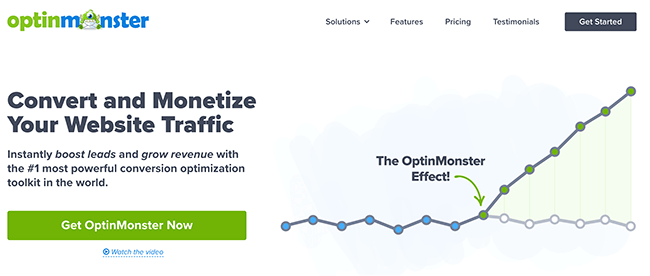 OptinMonster is a WordPress email subscription plugin, loved by many WordPress users the world over. Now, however, it's evolved into a cloud-based app, where everything is managed from one central location.
This means you can create, edit, deploy and split-test forms from within a web app – an advantage for those of you who run multiple sites. Alongside this, the plugin itself provides access to targeting options for each site.
There's a host of opt-in form types with OptinMonster and the form editor is easy to use. Plus, you can use advanced features like content locking, dynamic text replacement and much more.
The downside to OptinMonster is that it's pricey and certain features are unlocked behind higher pricing tiers. That said, pricing does not go by the number of page views like many of other web apps of it's kind.
Key features
Multiple opt-in form types
Great selection of templates
Exit intent feature
Easy to customize
Supports multiple email marketing platforms
Custom CSS support
Support for shortcodes
Page-level targeting
A/B split testing.
Dynamic text replacement.
Content locking.
Advanced display rules.
Price
Plans start at $19/month for the basic plan with limited functionality. Some important features are only available on higher plans.
---
5. Leadpages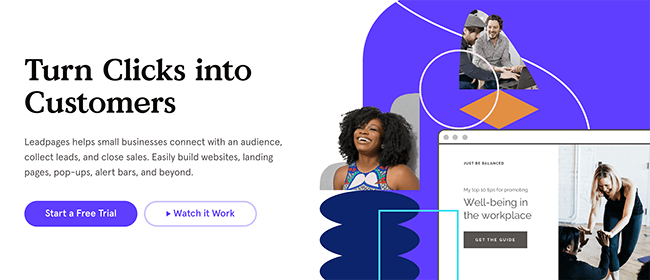 Leadpages is far more than a WordPress email subscription plugin. It's a SaaS app integrating with WordPress to provide a comprehensive platform for driving conversions and growing your email list.
With Leadpages you can create professional high converting landing pages using an easy drag and drop page builder.
And you can create popups which can be triggered by a link click or a timer. Similar to landing pages, they can be easily added to your site with WordPress.
What's more, you can include notification bars in your content to drive more traffic and subscriptions.
From one single dashboard, you can manage landing pages & opt-in forms from a variety of domains and all pages can be created without the need to host them on your blog.
The best part about Leadpages is that landing pages, forms, and websites (yes, they have a website builder too!) are hosted for you. This reduces load on your own server.
Key features
Drag & drop customization
70+ landing page templates
Mobile optimized Templates
Unlimited landing pages
Unlimited domains
Unlimited traffic
Lead capture popups
A/B split-testing and analytics
Sub Accounts
Digitized asset delivery
Custom form fields
Major email Service Integrations
Website builder
Price
Plans start at $37/month. Extra features like split-testing are available on higher plans. Core functionality is available on all plans.
---
6. WP Subscribe by MyThemeShop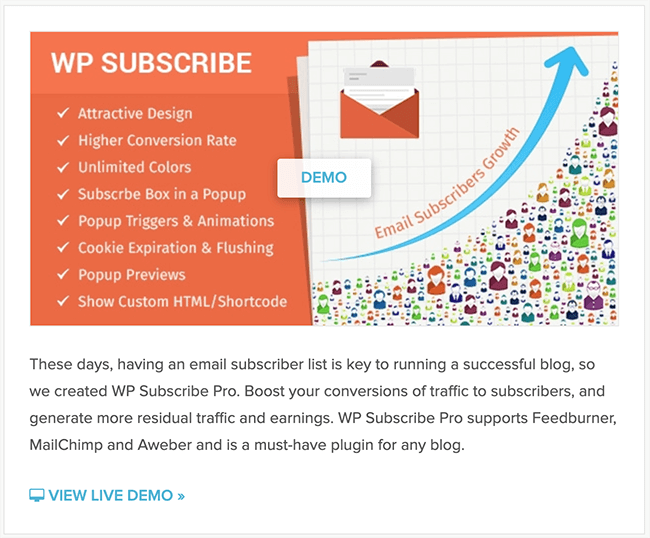 WP Subscribe is a freemium opt-in form plugin for WordPress. It's designed for ease of use and simplicity. So, setting things up is as easy as installing the plugin, activating it and dragging the widget to your desired widget area.
Connecting to your chosen email service provider is just as easy with over 17 integrations available. And the text displayed in the form can be changed to suit your needs.
As I mentioned above this plugin is a freemium one. So, features like colour customisation aren't available in the free version of the plugin. To access it, you will need to subscribe to one of the paid options.
Key features
Exit intent
Mobile responsive
Speed optimised
17 email service integrations
Unlimited colours
Form animations
Form display triggers
Price
Pricing starts at $29, but there is a free version with limited functionality available at WordPress.org.
---
7. WP Notification Bar by MyThemeShop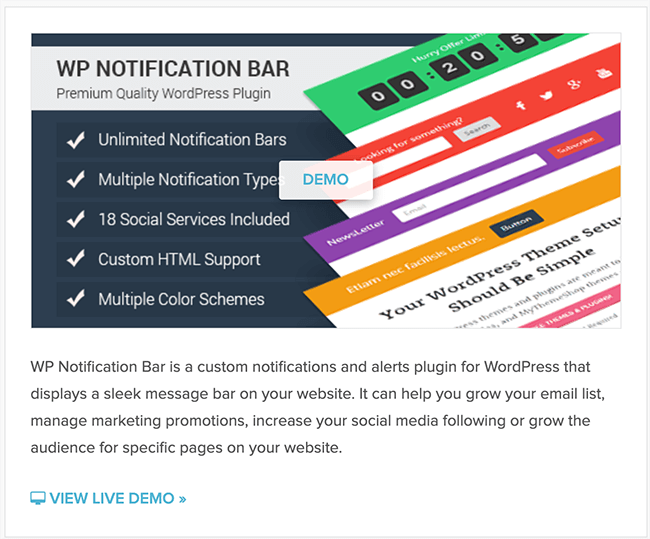 WP Notification Bar Pro can be used easily to display calls-to-action (CTAs) on your website.
The plugin allows you to add a notification bar at either the top or bottom of your site. And when it comes to opt-ins you can include one within the notification bar, or add a button that links to one of your landing pages or other URLs.
Alongside different bar types with social buttons, countdown timer and CTAs, you can access advanced page targeting, easy split testing and basic analytics.
Popular email integrations are included with the likes of AWeber, MailChimp and GetResponse to name a few.
The only downside is the free version of this freemium plugin, lacks opt-in form functionality. To access this and further advanced features, you'd need to upgrade to one of the paid options.
Key features
Unlimited notification bars
Multiple Notification Types
18 Social Services Included
Custom HTML Support
Multiple Colour Schemes
Price
Pricing starts at $29 for a single website. A free version is available on WordPress.org but it can only be used for adding CTAs to promote landing pages.
---
8. Gravity Forms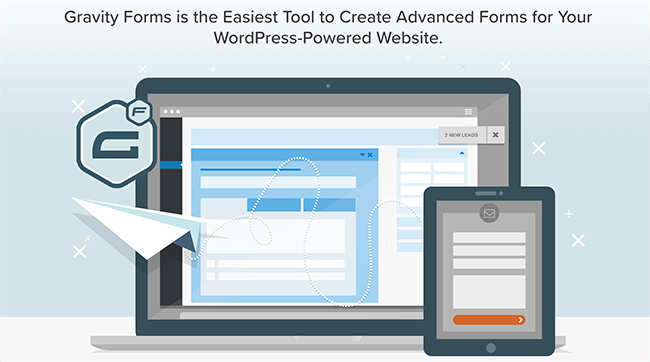 Gravity forms might be known best as a contact form plugin used by thousands of WordPress users. But due to its great integration with email marketing services, it warrants inclusion on this list.
The forms can be created quickly and intuitively with the visual form editor. And with over 30 form fields to choose from, you can customise them to your heart's content.
Conditional logic is where the magic really happens with Gravity Forms. This allows you to show and hide form fields, pages, sections and the submit button if you like, based on the selections of the user. It really tailors your forms to your user's needs, which in turn helps to improve conversions and the information you gather.
Key features
Easy to Use forms
30+ Form fields
Conditional Logic
File Uploads
Email Notifications
Form Scheduling
Multiple Integrations
Responsive Design
Google ReCaptcha
Price
Pricing starts from $59/year with access to all basic add-ons. This includes email provider integrations. Pro add-ons for PayPal, CRM's, etc are available on higher plans.
---
9. Thrive Quiz Builder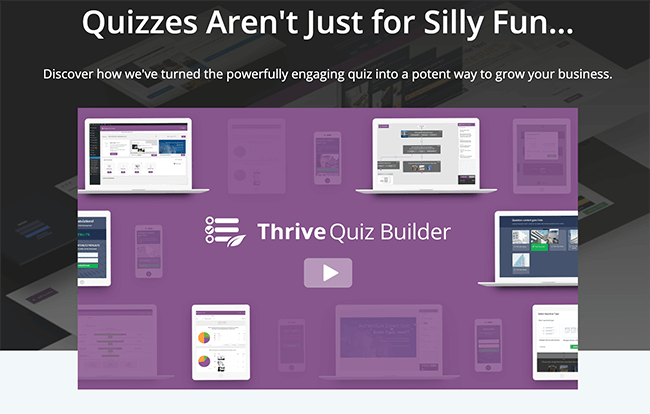 Thrive Quiz Builder may sound like an unusual entry for this list of WordPress email subscription plugins, but stay with me!
As you might expect, this plugin allows you to build interactive quizzes. You can add opt-in gates to these quizzes where visitors need to enter their email address to access the results.
This is a really powerful way to grow your email list and one that most users won't be expecting. Combine this with question weighting and multiple quiz options, not only can you get more subscribers, but learn more about your readers too.
You'll also be able to use the plugin to get social media followers and generate viral traffic.
Key features
4-step setup wizard
Multiple quiz templates
Question weighting
Opt-in gate
Social sharing badge editor
A/B testing
Dynamic results
Powerful analytics
Mobile friendly
Quiz dashboard
Price
Pricing starts from $67 for unlimited updates and 12 months support. Be sure to check out the Thrive Themes membership for access to all their products.
---
10. WP Quiz by MyThemeShop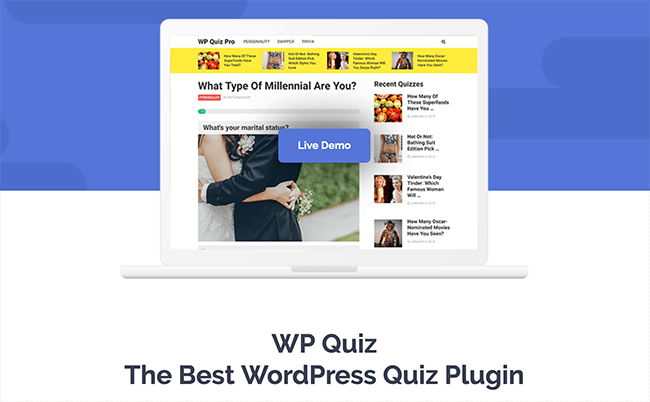 WP Quiz is a similar yet simpler plugin to Thrive Quiz Builder. This plugin is available in both a free and paid version based on your individual needs.
The free version of the plugin offers everything you need to build fun and interactive quizzes with basic settings. But to access email subscription features, you'll need to upgrade to one of the paid options.
The paid version of WP Quiz, allows you to include the option of having users to subscribe to your email list in order to view their quiz results.
Alongside this, it offers integration with AWeber, MailChimp and GetResponse which is useful for WordPress site owners using those 3 email service providers. The downside is if you're using a different service provider, your options are limited.
The free version of the plugin also lacks the advanced stat and open graph features, yet you do get access to 3 quiz types, modern flat skins and share buttons for major social networks.
Key features
Multiple quiz types
Advanced quiz statistics
Advanced player statistics
Development friendly
Advanced options panel
Mobile responsive
Payment support
Email and social media integrations
Price
The premium version of WP Quiz is available from $67 for 1 website. There is a free version available on WordPress.org worth checking out.
---
11. Thrive Comments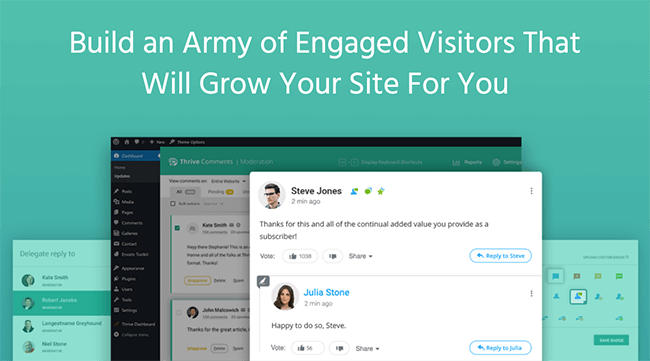 To round off this list of great email subscription plugins for WordPress, allow me to introduce Thrive Comments. An unusual inclusion, I know, but this plugin has features that can drive list growth in all the right ways.
It has everything you need to improve comment engagement on your site, with comment social sharing, comment subscriptions and upvotes.
But, where the email list growth comes into play, is with post comment options and conversion-focused comments.
Here you can ask first-time commenters to take action. Actions, like redirecting the commenter to a 'welcome' page with a free gift and directing them to a landing page with your opt-in offer. Or if you use Thrive Leads in conjunction, open a popover with your opt-in form.
This is a game-changer for comments, that usually attract very little attention. And, it provides another area of prime real estate to convert your readers.
Key features
Redirect first-time commenters to your landing page
Display an opt-in form to encourage email sign ups
Comment likes
Achievements via badges
Upvotes and featured comments
Keyword linking
Social logins
Conversion-focused comments
Comment subscriptions
Audience insights
Mobile responsive
Price
Plans start at $39 for unlimited updates and 12 months support. If you're considering more than one Thrive Themes plugin, you'll get more value for money by checking out their membership plan.
---
Which WordPress email subscription plugin is right for you?
With all of the above in mind, how are you supposed to choose which plugin is right for you? The options are varied with many pros and cons. But it remains that choosing a plugin needs to be based on your own needs and the unique problems you face.
What is the best overall email subscription plugin for WordPress?
Thrive Leads is our top pick. It's got a drag & drop editor for complete customisation, split-testing, all the opt-in form types you'll need, taxonomy targeting, reporting, and more.
Note: be sure to check out the Thrive Themes membership plan to get Thrive Leads, and all their other plugins.
ConvertPro comes in at a close second. If you're looking for an alternative to Thrive Leads – this is it!
I want to build custom opt-in forms – which plugins have the best visual editor?
Thrive Leads has one of the best visual editors around, but you may also want to check out Elementor Popups. Just remember that Elementor has no built-in split testing.
And if you really want to improve your conversions, you'll need to run split-tests.
Which email subscription plugin is best in terms of integrations with email providers?
Thrive Leads and ConvertPro have the best selection of email integrations. Aside from the usual API integrations, each plugin has it's own stand-out feature:
Thrive Leads has a useful "custom HTML" feature for those services it doesn't integrate with. That said, it's rare you'll find something it doesn't integrate with.
Whereas, ConvertPro integrates with Zapier which options up a lot of extra possibilities.
I'm looking for a free email subscription plugin – what are my options?
WP Subscribe Pro has a free version on the plugin repository. It's a great plugin but it's heavily limited in terms of integrations with email providers.
Alternatively, if you already have a solution for building landing pages, you could use WP Notification Bars free version to add CTAs to your content and drive traffic to landing pages.
I run a lot of websites. Which lead generation plugin is going to be most suitable?
For pure convenience, a SaaS platform like OptinMonster would make it easy to manage all of your opt-in forms, and run split-tests from a single dashboard.
Leadpages would be another great option here. While it doesn't have the deep opt-in form feature set that OptinMonster does, it offers the addition of landing pages. In fact, it's one of the best landing page builders on the market.
Which plugins offer unique functionality that can't be achieved with the usual opt-in form plugins?
With Thrive Quiz Builder and WP Quiz, you can use viral quizzes to generate social traffic + email subscribers.
If you haven't considered quizzes before, it's well worth it. They're quick to create and they can provide great results.
Then there's Thrive Comments – while a lot of it's features are geared towards encouraging comments & engagement, you can use it to add opt-in forms or direct commenters to a landing page after the leave a comment.
Finally, we've got Gravity Forms. You can either use this to build sign up forms, or add a tick box to your contact forms giving people the option to join your email list when submitting your contact form.
---
Wrapping it up
We've talked through a lot of email sign up plugins.
Each have their benefits and limitations. And plenty of them have their own special way to give your email list a boost.
Now it's time to grab one of those plugins and start building your email list.
Stacey is a freelance writer and content manager for hire with 5+ years experience. You'll find Stacey writing for a bunch of websites covering WordPress, marketing, finance, remote working and more. Fun facts: she hates wearing socks and is addicted to yarn.