Regardless of what type of website you have and what industry it is in, growing a responsive mailing list should be a top priority. Email lists can be used to stay in close contact with your most loyal followers and customers, increase traffic to your site, promote and sell your own products, promote affiliate products, and much more.
With all of the search algorthim changes Google has made over the past few years, and all of the sites that have lost loads of traffic as a result, an email list should be your first line of defense. Reducing your dependency on Google for traffic is an important step towards increased security for your traffic and income.
So you know that you need to grow your mailing list, but getting subscribers can be a challenge. Your typical visitor sees countless optin forms and offers each day, so in order to get people's attention and encourage new sign ups you will need to make growing your list a major focus.
For WordPress users there are a number of plugins that exist specifically for the purpose of helping you to build your list quickly. In this post I'll highlight 15 of the most noteworthy plugins of this kind. Some of them are free, but the majority must be purchased. Purchasing a plugin to grow your list faster can actually be a very wise investment if you put it to good use, as a larger list can allow you to very quickly recover those costs.
Take a look at the plugins featured here and see which ones have the functionality that will help you to take your list building to the next level.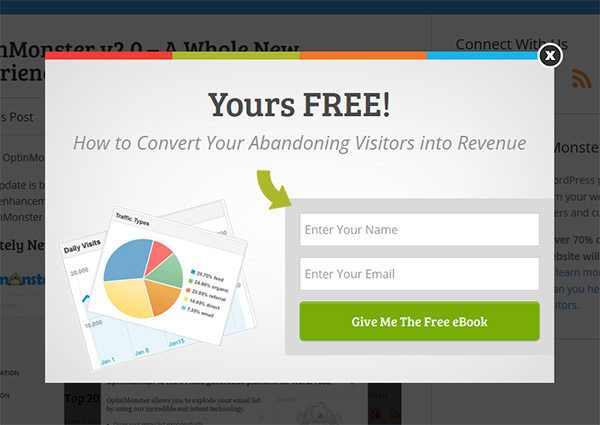 OptinMonster has quickly become one of the most popular plugins for list building. I'm mentioning OptinMonster first because it is the plugin I use on all of my own sites, and I highly recommend it from experience (I have used, and still do use, several of the other plugins mentioned here, but OptinMonster is by far the main plugin for my own list building).
There are several different things that make OptinMonster a great choice. It allows you to create a variety of different types of optin forms, it integrates easily with all of the major email marketing providers (like my favorites, GetResponse and AWeber), it provides you with statistics and A/B split testing, and you have control over the look of your optin forms.
What first attracted me to the plugin is its exit intent technology. The exit intent technology uses the visitor's mouse movement to detect when he or she is about to leave your page and it shows a popup before they can hit the back button or type another URL in to the browser. What I like most about exit intent is that it gives your content time to impress visitors because asking them to hand over their email address. Optin Monster doesn't force you to use exit intent. You can also show popups as soon as the visitor arrives at a page, or after a set number of seconds on the page.
In addition to popups, OptinMonster also allows you to create sidebar forms, end of post forms, slide-ins, and floating footer bars. I also use the end of post optin forms within page/post content at one of my sites. When you create the form OptinMonster will provide you with a shortcode, and you can then use that shortcode in a page or a post where you want to display the form.
Want to Sell Your Own Digital Products Easily?
I highly recommend SendOwl as a great platform for selling digital products. I use SendOwl at a few of my own sites and it is the most reliable and easiest platform I've used (and I've tried a lot of them) for selling digital files.
Another thing to like about OptinMonster is that it is actively developed. Many of the features and functionalities that I just mentioned have been added in the past year, so chances are this plugin will continue to get better and more useful.
OptinMonster starts at $49 for a single-site license, and a 3-site license is $99. In order to use the exit intent technology you will need at least the Pro plan, which is $199 and allows for use on unlimited sites.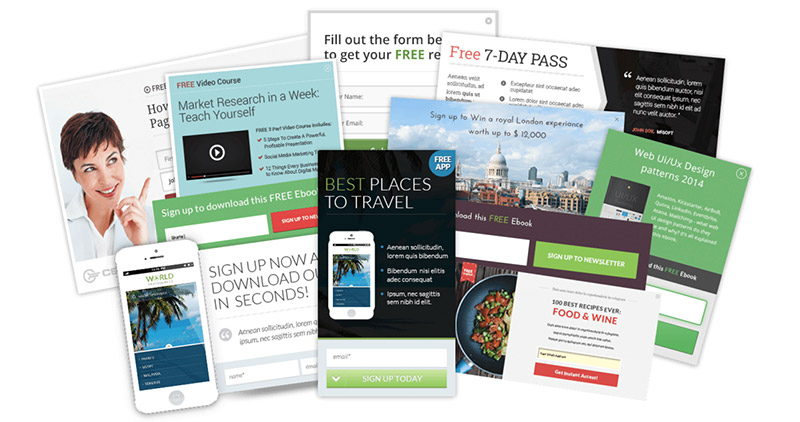 Thrive Leads is another excellent option that allows you to create a very wide variety of types of optin forms, including popups. What separates Thrive Leads is its versatility. You can create popups, sidebar forms, slide-in forms, in-content forms, "sticky" ribbons (notifications that stay at the top of the browser), and two-step optin forms. Of course, it works with all of the major email marketing providers.
Other features include stats, split testing, many templates, a drag-and-drop editor to design your own, and more.
A single-site license for Thrive Leads costs $59, and a multi-site license (for use on an unlimited number of your own sites) is $97. If you want to use it on client sites or sites that you will flip, you can get the Professional license for $247.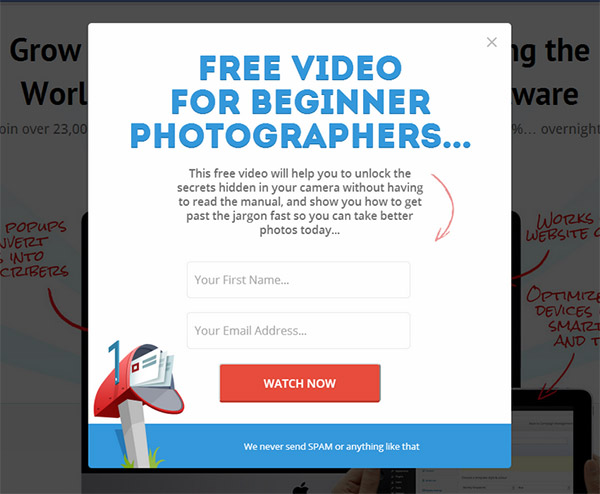 Popup Domination really started the trend of WordPress plugins for popups and optin forms, and it still continues to be a viable and useful option. I used Popup Domination several years ago with very good success, and although I now use OptinMonster instead, I do recommend Popup Domination as a great option.
Probably my favorite thing about Popup Domination is that it offers some of the best-looking popups and optin forms. It's easy to get get a form/popup that will look great on your site because PopupDomination has an excellent selection of templates, and of course, everything is customizable.
Popup Domination includes A/B testing, analytics, and full control over when and where the popup is displayed, including to show popups before a visitor exits the page. One unique feature is the "forced subscribe" which will hide your page/post content unless the visitor subscribes.
A single-site license costs $47. A 3-site license costs $77. And an unlimited license costs $97.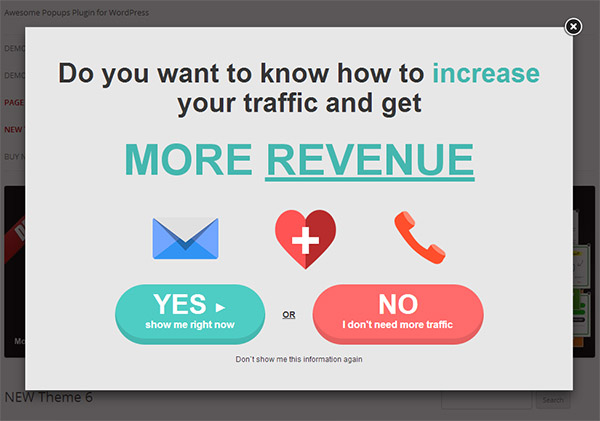 Ninja Popups is another excellent option for easily creating popup forms. There is a lot to like about Ninja Popups, including a wide selection of different types of popups and optin forms. The one shown in the screenshot above is similar to what you often see powered by Bounce Exchange, a very high-priced but effective service.
Ninja Popups integrates with all the major email marketing providers, as well as with many social networks. It includes features like exit intent, A/B testing, easy customization, and more.
A single-site license costs only $20.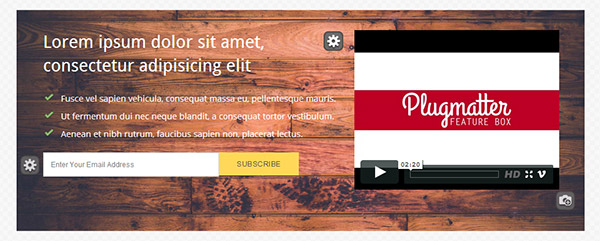 Plugmatter's Optin Feature Box enables you to create an optin form that will be displayed between the header and your main content. It's less intrusive than a popup, but the placement gives it great visibility.
The plugin comes with 10 different templates that you can use as a starting point. You can then customize them to suit your needs by changing colors, text, fonts, and images. The responsive templates work well on smartphones and tablets, in addition to desktops. You can create different feature boxes for different parts of your site, which is great for creating a customized offer for posts by category or for a specific page. You can also turn the feature box off for visitors who are already subscribed.
A single-site license starts at $37. A 3-site license costs $57. And the unlimited Developer's license costs $97.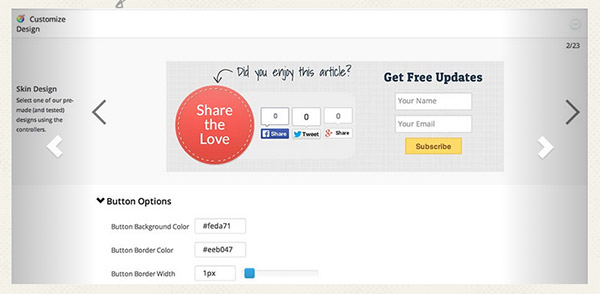 OptinSkin is another popular plugin that has been around for a few years. It was released after the popup craze started, with the purpose of offering less-intrusive ways to build your list. You can add forms anywhere on your blog, like the sidebar, in content, and below content.
OptinSkin comes with pre-design templates that can be customized, or you can use your own designs. You can set the forms to fade in, which helps to make them more noticeable.
A single-site license costs $67, and an unlimited license costs $97.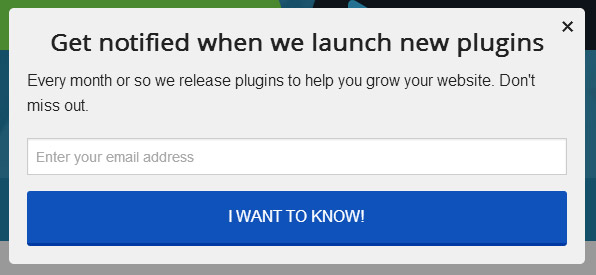 SumoMe is a free plugin that is growing in popularity very quickly. It allows you to create a simple popup to collect email addresses, and it integrates with AWeber, MailChimp, Constant Contact, and Campaign Monitor. It gives you customization options and display options as well. As far as free popup plugins go, this one is probably leading the pack right now.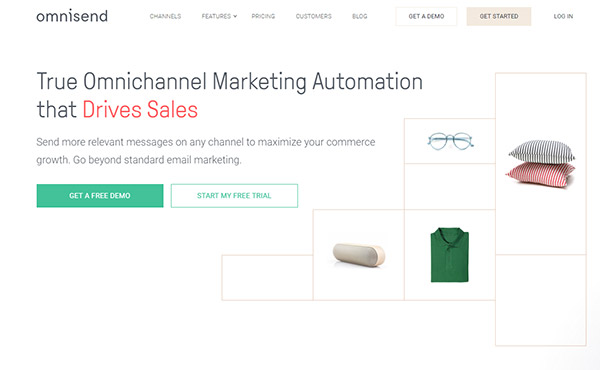 Omnisend is an advanced omnichannel marketing automation tool with many different email list growing functionalities. With Omnisend you can easily customize signup boxes, popups, landing pages and even an animated Wheel of Fortune sign up form. Custom fields allow for collecting all the information you need. Also, you can choose different triggers for your email forms.
Of course, Omnisend doesn't just do forms. Marketing automation workflows, communication channels like email, SMS, Web push notifications, and Facebook Messenger – you will get everything from $16 per month.
Pippity has been around for a few years and is another relatively popular option for creating popup optin forms. The popups created with Pippity have a bit of a different design style than those created with most of the other plugins, so depending on the look and feel of your site/blog it may or may not be a better fit than some of the other plugins.
Pippity, of course, allows you to easily create and customize your popups. It also includes features like A/B testing, and control over when and where the popup is displayed.
Pricing starts at $49 for a single-site license. You can also get a 5-site license for $87, or an unlimited license for $164.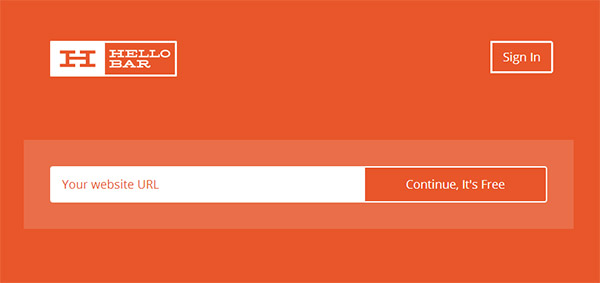 Hello Bar is a popular, and free, option for adding a bar to the top of your website. The bar can be used to provide a notification to visitors, to link to specific content on your site, or to encourage visitors to join your email list.
Hello Bar is pretty easy to set up, but like most free plugins it does not have as many customization options as some of the paid plugins.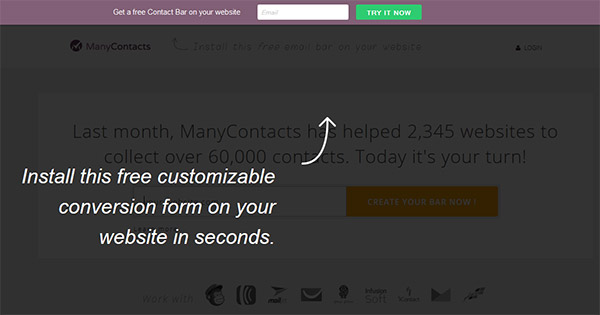 Many Contacts is similar to Hello Bar, but with a few differences. You can easily create a notification bar to encourage optins and customize it to some extent. What makes Many Contacts unique is that it will black out the screen and point all of the attention towards your optin form (the visitor can X out of it to see your content). It is more intrusive than a regular header/notification bar, but also draws more attention to your form.
Many Contacts is free while it is in beta.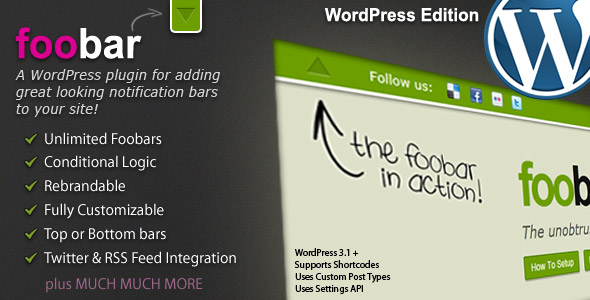 Foorbar uses a similar concept as Hello Bar, placing a sticky notification bar at the top of the browser. While it is not exclusively for building an email list it can be used for that purpose. I used Foobar at one of my blogs for more than a year and had very good results by using the notification bar to drive visitors to a landing page where they could optin to get free subscriber bonuses.
Foobar includes all kinds of customization options. You have full control over the colors and size of the bar. You can also set a lot of options like how it will be displayed, and the cookie length (if visitors close the bar it will not be shown again for a set number of days).
The cost of Foobar is $16 for a single-site license.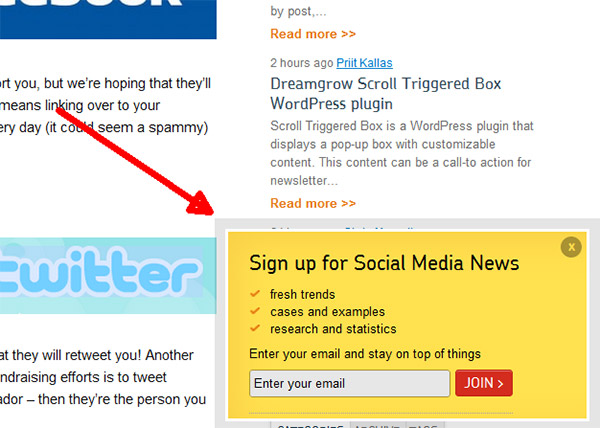 Dreamgrow Scroll Triggered Box is a free plugin for creating popups. The popup is triggered by an event that you set, such as the percentage of scroll or reaching the end of the post. The idea is to present the popup to engaged visitors in order to get the best response rate.
It's a viable option for getting started with your list building, but it doesn't offer all of the options and features that you can get with one of the more advanced plugins.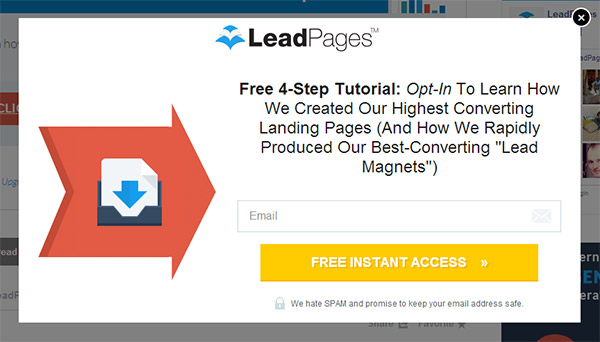 LeadPages is the leading option for easily creating squeeze pages. It is not exclusively for WordPress, but it does include a plugin for integration with WordPress. LeadPages includes a feature called LeadBoxes that is an excellent option for growing your email list. With LeadBoxes you will place a button or link in your page/post content, and when a visitor clicks it will open an optin form like the one shown above. This two-step approach has been shown to increase optin rates.
The downside to LeadPages is that it involves a monthly payment. Plans start at $37 per month with a limited set of features (LeadBoxes is included in this plan).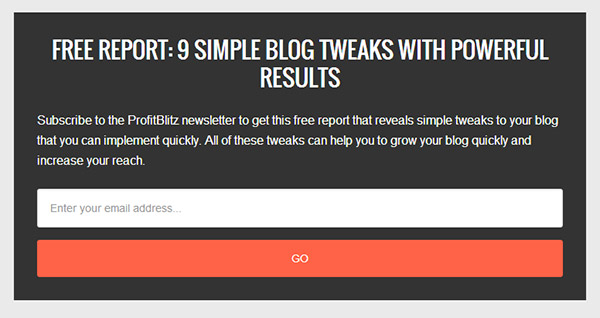 Genesis eNews Extended is a free plugin for users of the Genesis theme framework. The plugin allows you to create simple optin forms that integrate with FeedBurner, FeedBlitz, MailChimp, AWeber, and others. The forms can be used wherever you can use a widget. I'm currently using this plugin to power the optin forms at the top of my sidebar and below post content.

The Comment Re-Direct plugin from Yoast is not specifically a list-building plugin, but it can be used for that purpose. When a visitor leaves their first comment on your blog the plugin will re-direct that visitor to a page of your choice. You can set up a "thank you" page to show your appreciation for the visitor's participation, and this is a great place to include an optin form and encourage the visitor to subscribe.
What is Your Choice?
Do you use any of these plugins to grow your list? If so, please share your experiences in the comments.
If you're not currently prioritizing your list building efforts I highly suggest that you choose one of these plugins and make your list a major emphasis.

Marc is a personal finance blogger at VitalDollar.com. He's been blogging full-time since 2008 and has built successful blogs in several industries like web design, photography, travel, and finance.