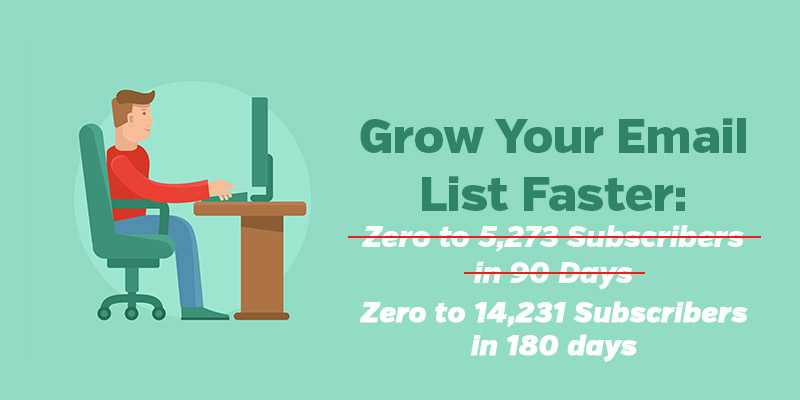 About 3 months ago I published a post Zero to 5,273 Subscribers in 90 Days where I covered the process I used with one of my sites to start building an email list. Today I'd like to follow up on that email and show the progress of that project over the past 90 days. I know building an email list is a major priority for many people who are reading this and so I hope there is some information here that can be useful to you with your own projects.
Before I get into the details I'd like to mention that the site I am writing about here is not ProfitBlitz, it is one of my other sites that actually gets very little of my time or attention. The site does not have an active blog, although I did publish a handful of posts for the purpose of having some content to feature (and link to) in the autoresponder sequence that subscribers get over a span of a few months after they subscribe. I think there are about 12 autoresponder emails set up, some that link back to articles on the site and some that do not. The site generates revenue by selling digital products that I created last year.
When I started the email list in January my main goal was to use the list to increase sales through the autoresponder sequence. I have been somewhat successful at that, but to be honest the percentage of subscribers that convert into customers could use some improvement. The good news is that traffic to the site has increased and so has the revenue of the site, so even without any improvement in the conversion rates the site is still doing pretty well considering it takes very little time to manage or promote.
Back in March when I wrote the original post I had reached 5,273 subscribers in the first 90 days with the list. I was able to do that with a simple and not-that-time-consuming approach of:
Creating a lead magnet (which is a sample of the products for sale on the site)
Creating a landing page to display the offer
Creating a popup with OptinMonster to show on other pages aside from the landing page
Publishing 4 guest posts at other blogs
In the 90 days following that post the list grew to a total of 14,231 subscribers, which is an increase of 8,958. Obviously, some people have unsubscribed as well, but 14,231 is the number that are currently subscribed at the time of writing this post (June 26th). In June alone more than 4,000 people have subscribed.
Throughout April and May the list continued to grow based on the original work that I did earlier in the year, and in June I finally put in some time to see if I could improve the results. In June I took the time to create 8 additional guest posts for other blogs. Most of those were published at the original 4 blogs that published my guest posts earlier in the year, but I did have a post published at one other blog. I already had those connections, so it was easy to get in touch and offer a new guest post. The result was a boost in traffic, faster growth in subscribers, and my best month of revenue with the site so far.
Taking the Next Step
In the original post I mentioned that the challenge I was facing was to decide what to do with that list. My main goal with subscribers is to have them go through the autoresponder sequence and hopefully upgrade many of them to the paid products. The autoresponder emails are not aggressive sales pitches, most of them are informational to try to build the trust of subscribers and establish a connection. So at the time of my original post the first subscribers were completing the autoresponder sequence and if I didn't start sending regular emails they wouldn't be getting anything from me. So I decided to use the email list to curate news from other sites/blogs in the industry and also include a brief ad for my products in the footer of the email. I mail the list once every two weeks and so far that has worked out to be a pretty good setup that doesn't take too much of my time. It's probably 30 – 60 minutes every other week.
I also spent some time to teak and, hopefully, improve the emails in the autoresponder sequence. I revamped one or two emails that were getting low open and click rates and I changed up the text in almost all of the emails to try and make it conversational and personal.
Increasing Traffic
The new guest posts have had a nice impact on overall traffic to the site. They're still relatively fresh so it will be interesting to see the long-term impact and how much traffic they continue to send month-after-month. I specifically chose the blogs based on their ability to rank well, which is the same thing I did with the initial set of 4 guest posts that have done quite well. Now, the traffic is still nothing impressive, in June the site has had 1,000 – 1,200 visitors on most days. But with 4,000 new subscribers in June that traffic has turned into something useful. And more importantly, revenue has also been increasing. Here is a graph of total traffic to the site from January to June.
Want to Sell Your Own Digital Products Easily?
I highly recommend SendOwl as a great platform for selling digital products. I use SendOwl at a few of my own sites and it is the most reliable and easiest platform I've used (and I've tried a lot of them) for selling digital files.

Going Forward
Now that I have established a routine with the bi-weekly emails and have seen again that guest posts can get great results, here are some things I am considering for the site moving forward:
More guest posts at other sites. I know this can work, I just need to find some time to make it happen. I don't think the results will be quite as good because I will be focusing on some blogs with smaller audiences, but it will still be worth the time.
Possibly adding new products. I've been very hesitant to do anything with this site that requires very much time, because my goal with it from the start has been to use it as a side project that doesn't demand much time. That being said, as the list of subscribers and customers grows it would be more profitable to create some additional products. This isn't anything that I have immediate plans for, but it is a possibility for later this year.
What's with These Guest Posts?
The original article got some comments with questions about the guests posts I was publishing and how they were resulting in so many subscribers. The first thing I want to point out is that these guest posts are not for SEO purposes in terms of attracting search traffic directly to my site. In fact, if the links were nofollowed I wouldn't really care.
I have seen a small increase in search traffic, but the majority of the traffic is from click-through visitors coming in from the guest posts that I've written. I specifically targeted blogs that I thought would give me the potential to rank for phrases that were related to my free giveaway (lead magnet) and so people who are searching for something similar find my guests posts, find my lead magnet, and many of them subscribe to my list. This is a high-traffic niche, so there is a huge potential audience. The 14,000 subscribers I have right now and the 1,000 or so visitors that I get each day is nothing in this niche. So if you're in a niche with fewer people searching for something you'll probably need some patience to reach as many people.

Marc is a personal finance blogger at VitalDollar.com. He's been blogging full-time since 2008 and has built successful blogs in several industries like web design, photography, travel, and finance.