15 Best Affiliate Networks & Platforms Compared (2023)
Are you looking for ways to monetize your blog? Then you should absolutely consider joining an affiliate network.
Affiliate marketing gives you a chance to earn some cash by offering your audience products that they could be interested in buying. But not all affiliate platforms are the same. Some will be better than others depending on your needs.
So to help you pick the right platform for you, we're sharing the best affiliate marketing networks out there along with information on what wonderful opportunities they present.
---
1. ShareASale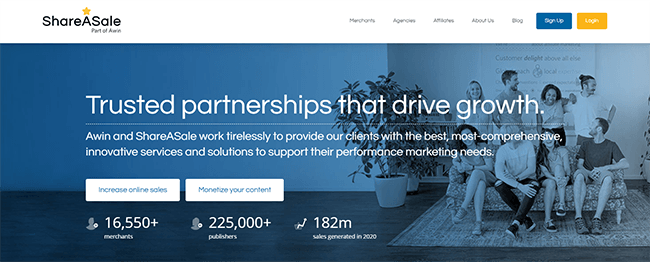 ShareASale is one of the biggest affiliate networks today. What makes it so great is the fact that it has over 4,000 merchants on the platform. Plus, ShareASale claims that there are 260 new programs being launched every month. That means no matter your niche, you'll definitely find products that would suit your audience.
It also makes it so easy to browse through all the merchants through its Merchant Search feature. You can set filters to weed out brands that don't meet your requirements. You can also discover brands by popularity, saving you time from having to figure out which products people tend to spend on.
And you're not stuck with physical products either as this platform will let you sell digital goods as well like WordPress plugins and products of that nature.
What makes it even better is that you're not stuck selling no-name brands. You'll find plenty of products from reputable companies that people actually want to buy.
As far as reporting goes, ShareASale offers transparent reporting. You'll have no issue tracking your progress as an affiliate marketer. You'll even know which merchants are performing well. The company will also let you know if there are broken affiliate links on your site so you can replace them as needed.
ShareASale notes
Commission Rates — The merchant gets to set the commission rate.
Products Offered — Mix of physical and digital products representing over 39 consumer categories.
Payout — 20th of each month for the previous month's transactions. If the 20th falls on a holiday or a weekend, then payment is made the following business day. You must have at least $50 in your account.
ShareASale pros and cons
Pros
A trusted name when it comes to affiliate marketing
Has plenty of products to choose from
Handy reporting feature; plenty of useful data
Cons
Outdated user interface
You have to be approved by a merchant before becoming a partner
---
2. Amazon Associates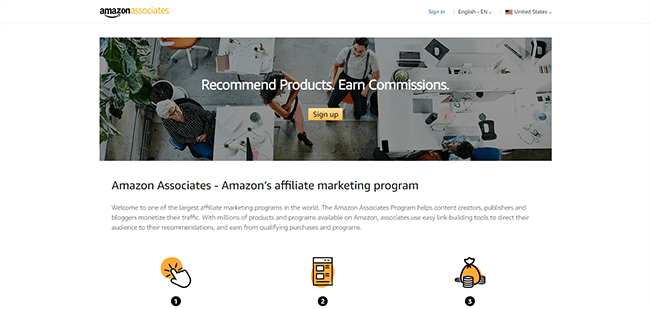 Amazon Associates is a good affiliate network for people who want to work with a well-recognized company with a solid infrastructure in place.
One advantage that Amazon Associates have over its competitors is its name. Your followers might be more comfortable clicking on an affiliate link if it links them to an Amazon page, a site that they most probably have used before.
And since Amazon is also home to other sellers, you can offer your audience products beyond Amazon Basics.
One of the few downsides of this popular affiliate network is that you will need to qualify for the program. However, the requirements for registration are pretty basic. Your site should contain original content and be publicly available.
Your site should also not contain sexually explicit content, promote violence, contain defamatory materials, or be involved in illegal activities. When you sign up, Amazon will review your site to see if you meet these requirements.
It should also be pointed out that there is a separate affiliate program for influencers with an established social media following.
Amazon Associates work just like any other affiliate network. You sign up, browse through all the products offered on the platform, and get your affiliate link.
Amazon Associates notes
Commission Rates — Fixed based on the product category. You can earn anywhere between 1% and 20%.
Products Offered — Mix of physical and digital products
Payout — 60 days following the end of each calendar month
Amazon Associates pros and cons
Pros
Amazon is immensely popular and trusted
Wide variety of products offered
No fees for signing up; simple sign-up process
Cons
Commission percentage varies depending on product category
No commissions for some products like gift cards and alcoholic beverages
You'll only get paid 60 days after closing a sale
---
3. Rakuten Advertising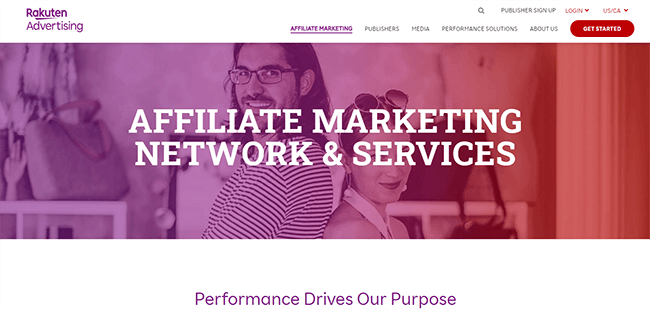 Rakuten Advertising has an affiliate program that uses AI technology to match you with the right brands to work with. That means it can create a custom product showcase that will match your site's content and target audience.
This affiliate marketing program sets you up for success as memberships include access to educational tools and training materials. It even has mobile app tracking so you can track your leads and conversions anywhere you go.
There's also a multi-touch commissioning system in place which lets you earn money for contributions made through the lead's purchase journey.
Rakuten may not have as many advertisers on its platform. But the ones that are signed up with them are some of the biggest in their respective niches. Some of the brands they work with include JetBlue Vacations, Ecco, Virgin Holidays, New Balance, Sephora, Udemy, and Jansport.
The Rakuten interface is pretty easy to navigate. Even new affiliate marketers shouldn't have any trouble navigating their way through the site. And yes, Rakuten does have support tools should you ever need help learning the ins and outs of this affiliate network.
To view the list of all available advertisers, you'll need to sign up for a Rakuten account. Once you're in, you will see all the available programs. If you find an advertiser's program appealing, you can apply to be a partner. And should you get approved, that's when you get to choose what link type you want. You'll also get an affiliate code.
Rakuten notes
Commission Rates — Undisclosed; Rakuten says it depends on the advertiser
Products Offered — Travel and leisure, apparel
Payout — You'll get paid as soon as the advertiser does (they are billed monthly but they can pay earlier). Payment cycle occurs every week (Wednesdays) but advertisers.
Rakuten pros and cons
Pros
Well-established company; one of the first affiliate marketers in the industry
Works with some of the biggest brands
Great user interface
Cons
Unclear commission rates
Not as many affiliate partners
---
4. CJ Affiliate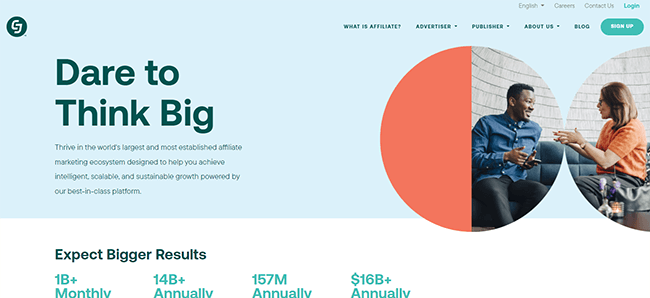 CJ Affiliate—formerly Commission Junction—is one of the biggest and best affiliate networks in the industry. It's one of the longest-running affiliate programs in the business. Simply put: If you're in the affiliate marketing industry, you know what CJ Affiliate is.
According to the company, it's able to pay out $1.8 billion in publisher commissions annually. Its advertisers include the likes of Barnes & Noble, Blue Apron, Office Depot, Overstock, Priceline, and J. Crew.
This affiliate network makes the whole onboarding process as simple as possible. It's designed for people who aren't that familiar with affiliate marketing just yet. It will help you show your value so that brands will want to work with you.
Joining a program is easy too. CJ Affiliate promises that all it takes is one click. And with the included features such as its Deep Link Generator, you can track links directly from a brand site or use it to auto-detect and convert existing URLs into links you can track.
The omnichannel tracking can also track users from online to offline, across devices, phone calls, and in-store while being compliant with privacy regulations. You'll also have dozens of payout currency options and two monthly payouts.
CJ Affiliate notes
Commission Rates — Depends on merchants
Products Offered — Apparel, books, office supplies, and more
Payout — 20th day of each month for transaction from the previous month
CJ Affiliate pros and cons
Pros
Packed with great features ensuring ease of use
Can continue tracking links even if a user goes offline or switches device
No minimum traffic requirements
Cons
There are reports on TrustPilot about bad customer service
---
5. Awin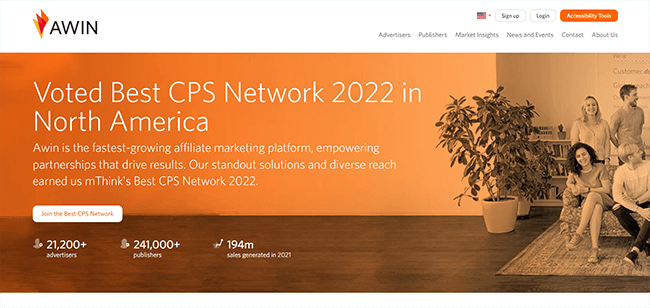 Awin is a great affiliate marketing network that connects over 241,000 publishers with the 21,200 advertisers on the platform. The company claims that in 2021, its affiliates earned $1.3 billion.
One of the best things about this affiliate network is that you'll get paid whether the advertiser pays Awin or not. That's not true for some of Awin's competitors; You'll have to wait for advertisers to pay the affiliate before you claim your earnings.
The user interface that Awin has can support small-time bloggers all the way to publishers with large-scale operations. It's intuitive, user-friendly, and packed with useful features. You'll be able to monitor your affiliate marketing progress. And should you need it, a publisher support team is ready to give you assistance with any product-related query.
Its list of advertisers includes Under Armour, XE Money Transfer, Ali Express, Etsy, Naked, and HP.
Awin notes
Commission Rates — Depends on the merchant you partner with
Products Offered — There's a wide variety of advertisers on the platform
Payout — 15th of the month for commissions earned up to the 30th of the previous month
Awin pros and cons
Pros
You still get paid even if advertisers failed to pay Awin
You can become a publisher even if you don't have a site using social media
Cons
There is a $5 deposit to join the affiliate network
---
6. Avangate Affiliate Network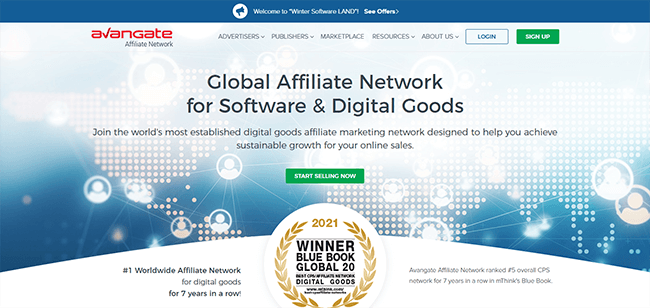 Avangate Affiliate Network is a program for people who'd like to help sell software and other digital goods. Its advertisers include known software brands like Malwarebytes, Kaspersky, and Bitdefender.
What makes this particular affiliate network good?
It has deep linking capability which allows you to get a higher conversion rate since you can create links that go directly to an advertiser's checkout page. You can also create localized shopping carts through geotargeting. This increases your conversion rate when targeting new markets.
Avangate also comes with 24/7 chat support. So you know you're covered should you have questions about your account.
There are no sign-up costs when you start an account. However, you will have to request a partnership if you find an advertiser that you'd want to work with.
Avangate notes
Commission Rates — Depends on the merchant you partner with
Products Offered — Digital products
Payout — Monthly if the minimum amount of $100 is met; Weekly or bi-weekly if the minimum amount is $4,000
Avangate pros and cons
Pros
The sign-up process is quick and easy
Deep-link technology gives you a better chance of earning a commission
There is 24/7 chat support
Cons
Minimum amount for checkout is a little high at $100
---
7. eBay Partner Network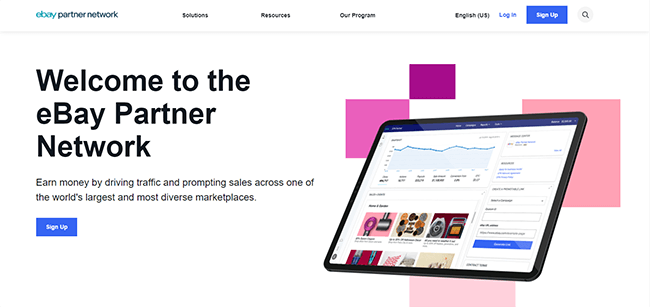 The eBay Partner Network gives you access to the company's long list of products being sold on the platform. Just like Amazon, eBay is a well-known brand so it wouldn't be that farfetched to think that your audience would be comfortable ordering through this affiliate network.
What's even better is that you don't necessarily have to earn a commission from the product you promoted. If your followers, for example, clicked your affiliate link but ended up buying a different product then you'd still get the commission.
Any traffic coming from your site that resulted in a sale will be credited to you. That's a great way to earn passive income.
Plus, affiliate links aren't the only way to earn money on eBay. You can check out its list of commissionable deals to earn some extra cash.
You can also link to different types of pages to improve your chances of earning your commission. You could link to a product page as normal but you also have access to category pages, search results, and brand pages.
And if you ever come to the point when you drive high traffic volume to eBay, you can join the Premier Program. This gives you access to exclusive content that helps increase earnings, new tools, faster issue resolution, and customized incentives and promotions.
eBay Partner Network notes
Commission Rates — Anywhere between 1% and 4% depending on the product category
Products Offered — All listings on eBay with a few exceptions (gift cards, etc.)
Payout — Every month as long as you meet the minimum required amount of $10
eBay Partner Network pros and cons
Pros
eBay is a recognized brand with lots of products to offer
You earn money from any sale as long as you brought the customer to the site
Different types of landing pages available
Cons
There's a cap on how much you can earn on commissions depending on the product category
---
8. FlexOffers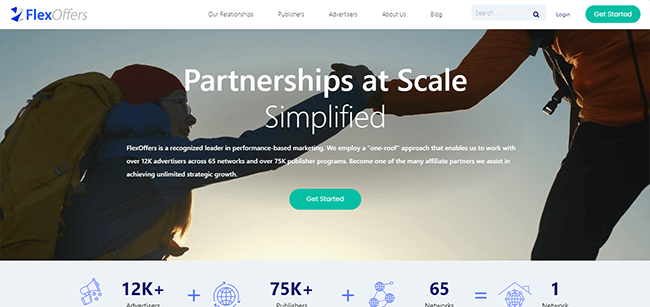 FlexOffers states that it has advanced payment options and a reach of 12,000 affiliate programs. That's a great start for people looking for an affiliate program that rewards them for their performance.
As a publisher, you'll get access to APIs and real-time reporting. You'll also receive content monetization solutions, faster payouts especially for top performers, and strategic account management.
And the advertisers that FlexOffers have is no joke either. It includes big brands like Lowe's, HP, Dell, Nike, Kohl's, Macy's, Sephora, Samsung, Hulu, Microsoft, and Nordstrom.
Built-in solutions like Flexlinks means you're able to automate the creation of affiliate links to quickly create quality content. It's able to instantly recognize new and existing links to brands that have not yet started to monetize. Deep linking is also available.
FlexOffers claims to have a database of over 650 million products so you're spoiled for choice when it comes to product offerings. Plus, you also have promotions and coupons that you can offer your followers to entice them to buy.
FlexOffers notes
Commission Rates — Depends on the advertiser
Products Offered — A huge variety of products
Payout — Commissions earned for the month are processed for 60 days. But publishers that perform well can get paid faster.
FlexOffers pros and cons
Pros
Long list of popular brands that you can work with
Intuitive dashboard
Comes with different payment options
Cons
Not a lot of customer support options
---
9. Pepperjam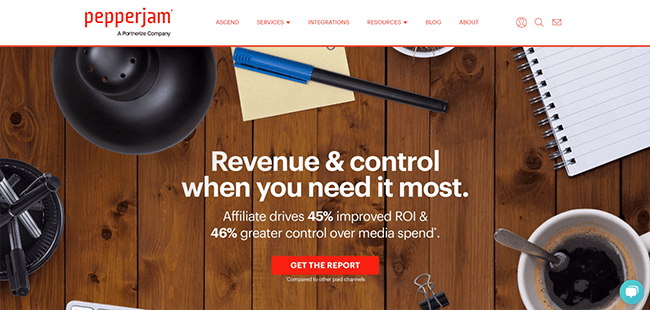 Pepperjam uses advertiser data and preferences to match you with the right advertiser. And it also lets you use different assets so that you can properly introduce products to your audience. For instance, you can use banners, links, and coupons.
With Pepperjam, you can work with brands like Puma, Tarte, Bonobos, Nordstrom Rack, Cole Haan, Ace Hardware, AutoZone, and more.
Applications will typically take 3 to 5 business days. So just keep that in mind when you sign up.
This affiliate network is also transparent about your data. There's even an integrated, fully custom reporting feature that gives you more power over your information. Through this feature, you'll be able to create a winning affiliate strategy.
Pepperjam notes
Commission Rates — Depends on the advertiser
Products Offered — Different brands that cover a lot of categories
Payout — 1st and 15th of each month if you meet the minimum requirement of $25
Pepperjam pros and cons
Pros
Great at presenting the publisher's affiliate information
You get matched with advertisers based on preferences and data
It won't cost you anything to sign up for the affiliate program
Cons
Not as many advertisers on the platform
---
10. Affiliaxe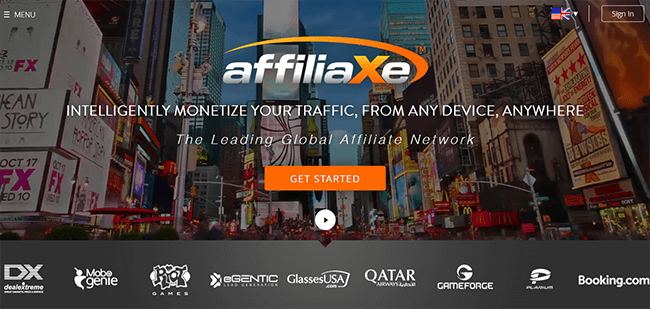 Affiliaxe has a good number of advertisers on the platform that span a wide range of categories. But what's interesting is that there are gaming-related brands here as well which is not something you'd normally find on other affiliate networks.
This affiliate network says that whether you're on mobile or desktop, it will have the right product for your audience no matter where they are, what niche you're in, or what kind of traffic you get. And when you see the advertisers on the platform, you can only believe them.
It has brands like Riot Games, Gameforge, Wargaming.net, and Goodgame Studios to name a few. But you'd get other brands like Emirates, Newegg, Hotels.com, Avon, Hilton, and Groupon. Affiliaxe says there are 25 verticals on their platform.
What's more, Affiliaxe promises guidance, support, and management for all of its publishers.
As a publisher, you'll also get access to advanced monetization tools like XML product feeds and cross-device targeting.
Payment options include debit cards, wire transfers, checks, PayPal, Payoneer, and Global ACH.
You'll have to submit an application to brands that you want to work with.
Affiliaxe notes
Commission Rates — It will depend on the advertiser you work with
Products Offered — A wide range of verticals including automotive, casual dating, ecommerce, fashion, insurance, home living, mobile apps, and travel
Payout — 15th and 30th of the month. Minimum payout of $100
Affiliaxe pros and cons
Pros
You can get paid twice a month if you meet the minimum requirement
Great list of advertisers on the platform
Comes with a dedicated affiliate manager
Cons
It can be a difficult platform to join
---
11. GiddyUp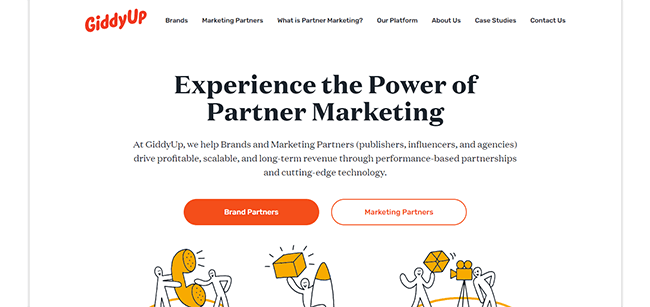 GiddyUp helps affiliate marketers and influencers earn through commissions more consistently thanks to its list of advertisers that create evergreen offers. This means you'll have a long-term revenue generator at your fingertips.
It's also promising a high return on investment thanks to its exclusive bundles, discounts, and upsells. With it, GiddyUp says you should be able to increase your average order value — and with it, your commissions.
This affiliate network also utilizes frictionless funnels so that you'll always get the best possible results from your campaigns.
When you sign up for the partnership program (and get accepted), you'll work with a partner manager. That manager's job is to set you up for success before you start picking brands and products to work with.
From there, you can choose your products and create your marketing funnels. You can use the Creative Library to add copy, videos, images, and other media to draw your audience's attention.
You can then review the real-time data to see where you're falling short so you can improve your strategy. GiddyUp will take care of customer tracking.
GiddyUp works with legitimate brands. However, it should be noted that these brands aren't as popular as some advertisers on competing affiliate networks.
GiddyUp notes
Commission Rates — Depends on the advertiser
Products Offered — Spans different categories
Payout — Unspecified
GiddyUp pros and cons
Pros
You'll be partnered with an affiliate manager that can guide you through the process
Comes with tools to help you design media files
Cons
It's not an easy platform to join
---
12. PartnerStack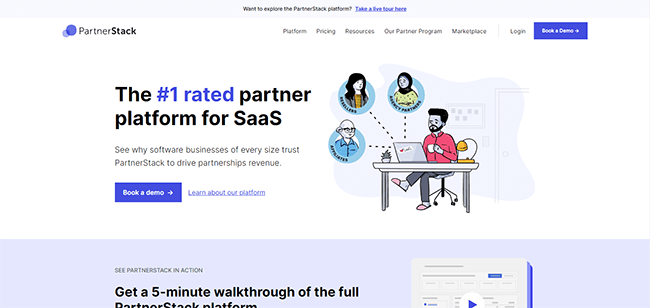 PartnerStack is a good alternative if you're into software products as that is this affiliate network's specialty. It currently works with brands like Unbounce, Evernote, Intuit Quickbooks, and Asana among others.
What makes PartnerStack great is that it pays the publishers on behalf of companies. That means it's less stress on brands because they'll know their partners are always paid on time. And it's less stress on you, the publisher, since you'll always get paid every month.
PartnerStack notes
Commission Rates — Depends on the advertiser
Products Offered — Software products
Payout — Once a month
PartnerStack pros and cons
Pros
It offers a wide range of software products; mostly productivity tools
You will get paid automatically
Cons
Not enough payout options
---
13. PeerFly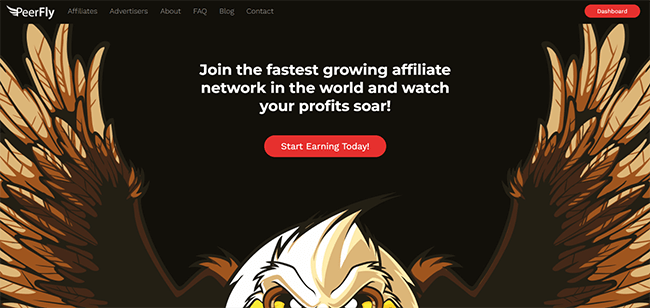 PeerFly intends to differentiate itself from other affiliate networks by building its own custom software from scratch. That means it can add features that you might need to get more commissions from sales.
Advertisers on the platform include Agoda, World of Tanks, Target, Fiverr, CBS, Uber, Lootcrate, and Booking.com.
Its features include guaranteed top payout, custom tracking, accelerated payment options, free training, and a rewards program.
PeerFly notes
Commission Rates — Depends on the advertiser
Products Offered — Mix of physical and digital products
Payout — Every 30 days, every 15 days, or every week
PeerFly pros and cons
Pros
PeerFly doesn't take a high commission for its part
You can join from anywhere in the world
A diverse list of advertisers
Cons
The application process can take a while
---
14. JVZoo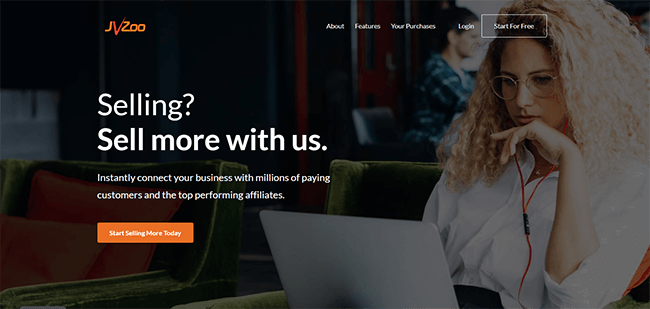 JVZoo claims to have over 800,000 active affiliates which is quite impressive. It also partnered with brands like Payoneer, AWeber, PayPal, Slack, GetResponse, and Stripe — some of the biggest tech companies out there today.
And not only is JVZoo a free affiliate network to join, but it also ensures that publishers get 100% of their commissions. Best of all, it promises that publishers will get paid on time. You'll never be put in a position where you'll have to argue with an advertiser over pay.
Your commissions will get deposited to a JVZooPay account where you can withdraw funds anytime you want.
PeerFly notes
Commission Rates — Depends on the advertiser
Products Offered — Digital products
Payout — Deposited to a JVZooPay account; withdraw funds at any time
PeerFly pros and cons
Pros
Get your fund when you need it
Free to join
Free resources plus a ticket support system
Cons
Reports of some questionable product listings
---
15. Skimlinks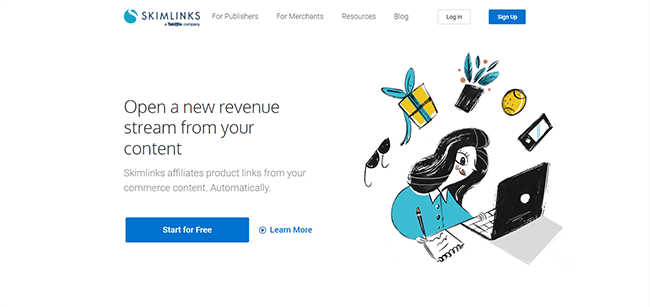 Skimlinks is a bit different from the other affiliate networks on this list. This platform automatically adds affiliate links from their merchants — a list that includes Yahoo!, Huffpost, Conde Nast, B&H Photo Video, Nordstrom, Dyson, and thousands more.
That means you can stay focused on publishing content and let Skimlinks handle everything else. This is ideal for publishers that don't want to be hands-on when it comes to their affiliate marketing efforts.
All it takes is for you to add a piece of code to your website and AMP pages. After that, you'll start earning commissions without even having to think about it.
Skimlinks notes
Commission Rates — Depends on the merchant
Products Offered — Mix of physical and digital products
Payout — Within 30 days of receiving payment from the merchant
Skimlinks pros and cons
Pros
You earn commissions automatically
User-friendly
Thousands of merchants are available
Cons
Skimlinks gets 25% of what you earned
---
Wrapping it up
Signing up for an affiliate network is the first and most important step in the affiliate marketing process.
We've discussed all of the top affiliate networks to consider. Shareable is our top recommendation so you may want to start there.
Shareable has a good selection of affiliate programs that offer both physical and digital goods.
For physical products, you may also want to look at the eBay Partner Network and Amazon Associates.
Remember – you can join multiple affiliate marketing networks. You're not limited to only one.
If you found this post useful, be sure to check out our post on WordPress affiliate marketing plugins.