8 Best WordPress Affiliate Marketing Plugins (2023)
If you've been running a blog for some time, you might be considering how to monetise your hard work. And as you may already know, affiliate marketing is a genuine way to achieve this.
But once you embark on introducing affiliate marketing to your blog it can fast become a confusing mess. You have links to keep track of and when affiliate programs change referral URLs, you have a lot of posts to go back through and edit.
On top of this, there's a myriad of banners and images for each program. So you can see how things can get muddled.
Don't let this put you off though. The truth is, affiliate marketing can be organised easily and today I'm going to show you how you can turn the mess into a streamlined process.
The following are the best WordPress affiliate marketing plugins for managing links, presenting your ads and getting the best return on your hard marketing work.
1. ThirstyAffiliates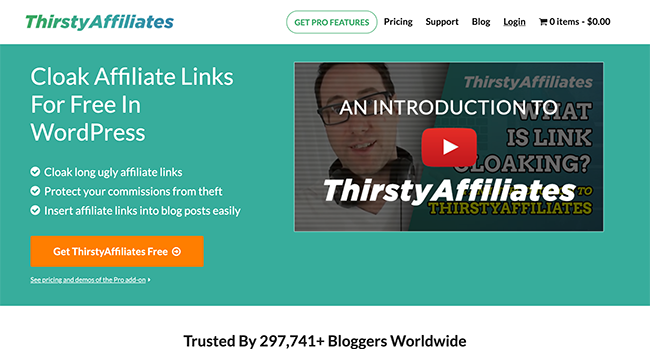 ThirstyAffiliates is a WordPress plugin that makes managing your affiliate links a breeze. You can shorten your affiliate URLs to remove the distracting numbers and symbols that come with a referral link. This plugin enables shortening links to things like:
/recommends
/go
/refer
Furthermore, you can set links to open in new tabs when clicked and insert affiliate links into a post or page using a drop-down menu. Just make sure you've added your referral links to ThirstyAffiliates first.
301 Redirects are used properly with this plugin and you can set options for globally no-following all links.
But the big selling point, in my opinion, is being able to edit your affiliate links, without having to go through each post and edit it manually. All you need to do is change the link in the Thirsty Affiliate settings and you're good to go.
The above features are all available for no cost at all. But to get more out of this plugin, it's worth looking at the Pro AddOn to see what it can do for you.
Free version available on WordPress.org with add-ons starting from $49.
---
2. URL Shortener Pro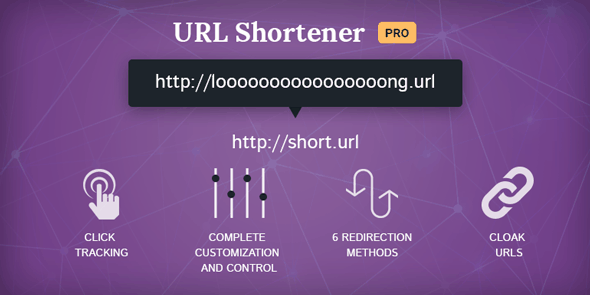 URL Shortener Pro works in a similar way to Thirsty Affiliates, in that it allows easy link shortening for your affiliate links. You can create pretty short links that are easier for site visitors to memorise and they'll fit perfectly into tweets and other social media posts.
Your links can be sorted by category, which means all your affiliate links are organised in one place, making it easy to find the one you need.
URL Shortener Pro includes redirect headers, with an option to open links in a new tab or window. And bulk link replacing is an option editors will enjoy as it saves time having to edit links in posts one at a time.
These features and more are bundled in with the free option of this plugin, which is great if you're on a budget. But more functionality is unlocked with the pro version.
Pricing starts at $29.
---
3. Thrive Leads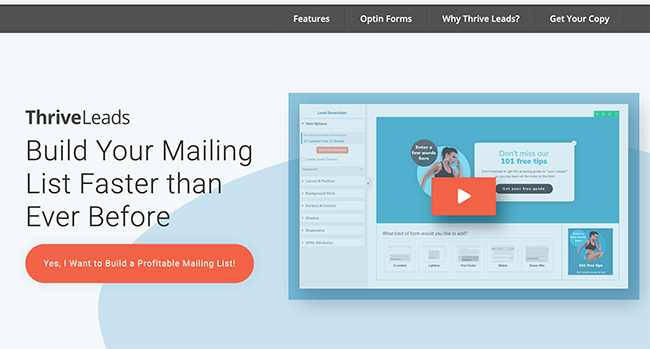 Thrive Leads might not seem like a typical choice when considering how to market your affiliate links, but it's a plugin with a heap of features you would be wise to make use of.
It's all well and good organising and managing your links, but where Thrive Leads can help is by getting your visitors to actually click them on them. By using this plugin to build your email list, you'll have the ideal platform to get your readers clicking, and that's as simple as sending an email.
With Thrive Leads, you can easily build beautiful opt-in forms in a number of formats and set them to trigger based on the settings you choose.
Where it proves its worth for affiliate marketers, is with a feature named Smart Links. This feature tracks if a visitor has subscribed to your list or not. If they haven't, your opt-in is shown. If they have, you get to choose an offer to show them instead.
Showing an offer instead of an opt-in is a great way to direct people already familiar with your site, towards an offer they're very likely to click. That provides an action for the visitor and a potential win for you.
Alternatively, you can use Thrive Leads to add targeted exit intent popovers to your reviews – a great way to get more clicks on your affiliate links.
Thrive Leads is $99/year (renews at $199/year thereafter) for the standalone product. Or you can gain access by purchasing Thrive Suite (includes all Thrive products).
---
4. Thrive Ultimatum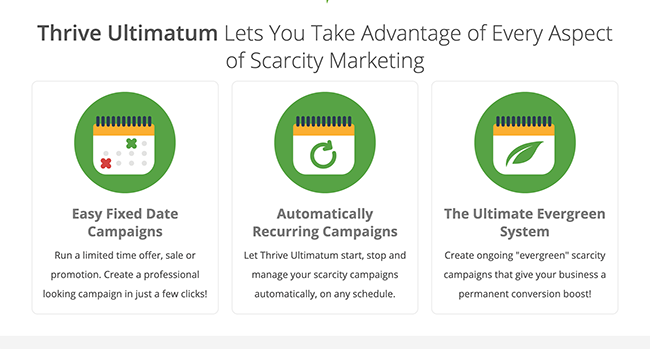 Another fantastic plugin from the Thrive team that's priceless for affiliate marketing is Thrive Ultimatum. This plugin utilises the power of scarcity marketing to encourage visitors to take action.
For affiliate marketers what this means is you could set a 3-day campaign for a particular offering, ending on a certain date. The timer will countdown for 72 hours and will display to all of your site visitors.
If you want to get more intricate and want every visitor to have their own countdown timer, try the Evergreen Campaign. When you use this campaign, there isn't an end date for the timer. This means the timer is unique for each visitor.
So, if Bob visits on one day, he'll get a timer starting at 8 hours. If Bob's friend Dave visits the next day, his timer will also start from 8 hours. If you add the lockdown feature into this mix, Bob and Dave can clear their cookies and switch devices, but their timers will still continue to count down.
Where things get even more interesting is when you start adding countdowns elsewhere on your website. Thrive Ultimatum allows timers to be added in blog posts, sidebars, notification bars and much more.
So if Dave saw your timer on the Landing page, he could continue to browse through your site to a blog post, or info page, and see the timer counting down in the sidebar. This is great for making sure offers are hard to miss.
Thrive Ultimatum is $99/year (renews at $199/year thereafter). You can get it as part of the Thrive Suite.
---
5. WP Notification Bars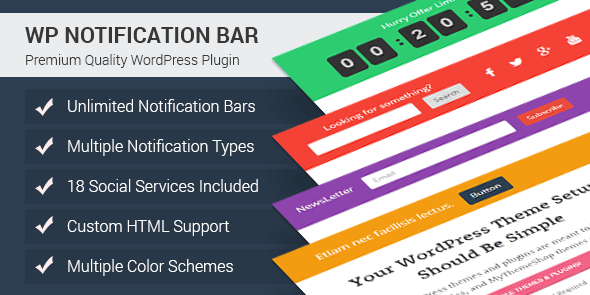 WP Notification Bars offers a discreet way to display a message bar across your website. For affiliate marketers, this can mean displaying a notification to an affiliate offer you're currently promoting.
Alongside this, the plugin can be used to grow your email list by asking visitors to opt-in or for building social proof through social follows.
Customising the plugin is straightforward with the ability to change colours and bar positioning. There's also the choice to show your bar to only Facebook or Google visitors as basic targeting options.
Where things get more interesting is with the premium features included in the pro version of WP Notification Bars.
Pricing starts from $29 but there's a limited free version on WordPress.org.
---
6. WP In Post Ads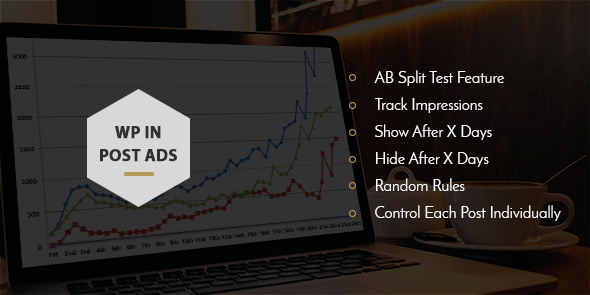 It's great having a way to display ads on your website in the sidebar but when it comes to adding ads inside blog posts, you need something a little different.
WP In Post Ads is a plugin that handles just that, allowing you to display different ads in every blog post you choose. Ads can be inserted via a handy shortcode or into WordPress Hook areas like above or below the content, or after a few paragraphs of content.
Split testing is a really useful feature of this plugin, letting you split test individual ads or randomly rotating ones. What's more, ads can be hidden from users who are logged in and you can show or hide them after a set number of days.
Pricing starts at $29.
---
7. AdRotate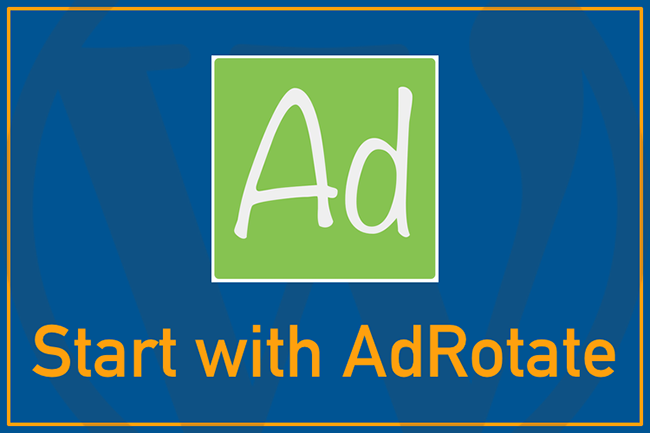 When it comes to displaying your affiliate ads, AdRotate is a good choice. It supports a number of major publishing networks, as well as the option to display your own ads.
The free version is limited in that you can only add your own advertisements and set up a simple schedule. Add this with the option to rotate ads for better conversions, it's a good, compact plugin that does the job well.
The pro version, however, provides more detailed scheduling options, along with geo-tagging features to target certain countries and cities. Further to this, you can accept ads from third-parties.
That said, for most websites, the free version is likely enough for your needs.
Free version offers a lot of features and it's available on WordPress.org. You can upgrade to the pro version for extra features starting at €39.
---
8. Ads Pro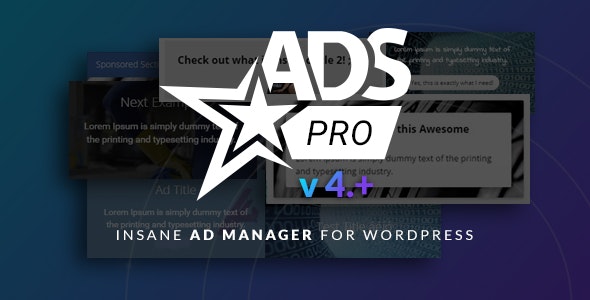 Ads Pro is very similar to AdRotate in that it's a full-service ad manager. What this means is that you can use it to display ads of all kinds from any service, including your own banners for affiliate programs.
An interesting feature, to begin with, is that it bypasses ad blockers, to ensure your affiliate ads actually display, and you can display them in one of 20 ways.
Including as:
Single ads
Random ads
Ads in a grid
Ads slider
Corner peel
Sidebar ads
Link hover ads
Layer ads
Background ads
Exit popup ads
Scroll bar ads
Fine-tuning things is straightforward with geo-targeting, ad capping and various scheduling options. Additionally, ads can be filtered from displaying on tags and categories you define.
A/B testing your affiliate advertisements is also a feature you can play with to ensure you get the best conversions.
The regular license of Ads Pro is $57, with further options extended licensing and extra support.
---
Which WordPress affiliate marketing plugin is right for you?
Many of the plugins covered in this post can be used in conjunction with each other for a monster combination of complementary features.
Features overlap in some areas, but for a powerful affiliate marketing machine, one or two that work well together is a great decision.
But ultimately it's up to you and what you need for your website and budget.
As a starting point, ThirstyAffiliates would be an ideal plugin to tidy up your affiliate links. The pro version is especially useful as it offers detailed reporting and several other useful features.
If you're interested in improving page load times, you will love the feature that allows you to move affiliate redirects to the .htaccess file instead of relying on Javascript. This makes for a faster experience for visitors and reduces load on your server.
Related Reading: 15 Best Affiliate Networks & Platforms To Make Money.