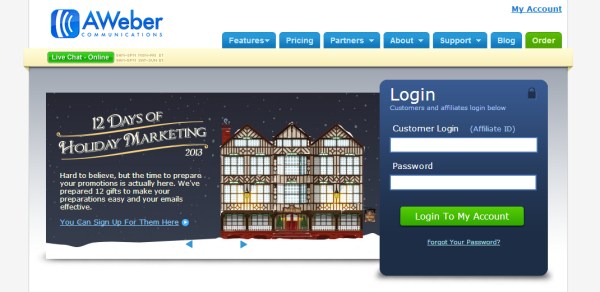 When it comes to making money online, one of the most effective things you can do is build an opt-in email list. Regardless of what industry you work in, email marketing can and should be part of your approach. Since email marketing is such an important part of internet marketing, it's essential that you choose the right company to manage that list.
The most common way to manage an email list is to use a third party service that will handle critical details like sending the emails, adding new opt-ins to the list to receive your emails, removing people who unsubscribe, and allowing you to track details like who is opening your emails and which links within the emails are being clicked.
Third party services help you to stay in compliance with relevant laws regarding email marketing, free up your time by managing the details of your list, provide templates that you can use for your emails, and help you to run more effective campaigns through reports and analytics.
There are a number of different companies that you can choose to manage your email list, but one of my favorites is AWeber. They are not the only good option, but they are one of the most popular, and I have been extremely happy with them for a few years now. For the ProfitBlitz newsletter I use GetResponse (see my GetResponse review here), but I use AWeber with my other websites and have been using them for a few years.
Disclosure: This review is not sponsored or influenced by AWeber. The links included are affiliate links, so if you choose to sign up for their services through one of my links I will make a small commission. The affiliate relationship has not influenced the information or the fact that I recommend AWeber. Almost every email manager offers an affiliate program but I choose to promote AWeber because it is what I use in my own internet marketing.
Why I Love AWeber
AWeber offers tons of features and I won't be able to cover them all in this review. My goal here is to simply point out some of the main reasons that I use and recommend AWeber
Reliable Deliverability
When I first started using AWeber I was moving a list of about 10,000 email addresses from MailChimp to AWeber. Immediately after making the switch to AWeber I saw a significant increase in open rates and more clicks on the links in the emails. I was still using the same template, same types of subject lines, and other details were the same as well. The only difference was that the emails were being sent by AWeber instead of Mailchimp. Open rates went up from percentages in the low 20s to above 30%. From my experience AWeber just does a better job than their competitors at getting emails delivered to the inboxes of your subscribers with fewer emails being caught by spam filters. Small increases in open rates can make a big impact on the overall success of your email marketing efforts, and can result in more money for you.
Excellent Customer Service
It's not very often that I've needed customer service from AWeber, but when I have needed service I've been very happy with the help that I've received. They offer support by email, chat, and even by phone. While their support isn't available 24 hours, they do have evening and weekend hours. There was one time when I had a campaign ready to send and AWeber was reporting it as being likely to be caught by spam filters (each email is given a score so you can know how likely it is to be flagged as spam). I wasn't sure what was causing the problem so I called their support number. They found that the issue was being caused by one of the links in the email, and when I removed that link the issue was resolved and I had no problems with that campaign. Phone support isn't offered by most of AWeber's competitors, but in that case it was really helpful to me as I needed to get a quick answer and get the email out right away. A few other times I've needed assistance with minor issues and I've always been pleased with the service they provide.
Customization Options
AWeber lets you customize all kinds of things, which opens up a lot of possibilities. For example, here at ProfitBlitz I offer a free e-book that people can download by subscribing to my email list. That's really easy to set up with AWeber. All you have to do is set a custom URL for the confirmation page and whenever a subscriber confirms their subscription they are automatically led to this page where they can download the e-book. See this tutorial.
No Complicated Templating
Some email marketing managers use a templating system that makes it hard to work with your own email templates. AWeber offers over 600 pre-designed templates that you can use, or you can easily paste in your own template in HTML. You don't need to convert your existing HTML template to use their proprietary code, just paste in the HTML that you want to use for your email campaign.
Subscriber Segmenting
You can segment your list in ways that allows all kinds of possibilities. For example, you can create a segment for your subscribers that did not open a particular email. You can then re-send the email to these subscribers without re-sending it to people who have already opened it. You can also segment according to what products your subscribers purchased, their location based on IP address, who clicked on certain links, what pages on your website people visited, and more. You can also create your own list segments that subscribers can select when they opt in.
Unlimited Autoresponders
You can easily set up unlimited autoresponders that will be sent to subscribers following their opt-in. You can set the details to determine when the messages will be sent.
Analytics
AWeber provides a lot of useful stats and reports that can help you to get more out of your email marketing. You can see things like who opened your messages, which links were clicked, how much revenue your messages generated, and how many people unsubscribed.
Affordable Pricing
AWeber's prices are very competitive when compared with their competitors. They may not always be the lowest, but they are competitive, especially when you consider the features and reliability of the service. The monthly price depends on the number of subscribers on your list, and they offer the first month for just $1. That allows you to try out the service with very low investment and no commitment.
And More!
There are a lot more features offered by AWeber, but those are the basics that I find to be the most important for many customers, including myself. If you want to see more, please visit AWeber's website.