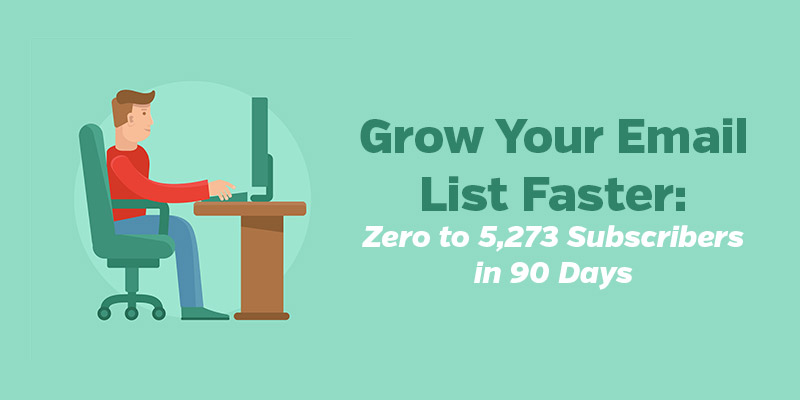 It's no secret that email subscribers are key to growing a successful online business. With that in mind, building a list of subscribers should be a priority regardless of whether you are running a blog, e-commerce site, membership site, or any other type of website. Being able to stay in touch with the people who are most interested in what you have to offer will help you in countless ways.
Late in 2014 I launched a new site as a side project with the goal of selling digital products. In late December I set up a mailing list with GetResponse and took a few steps to attract subscribers to that list. After 90 days that list reached 5,273 subscribers. That's certainly not the fastest growth in the history of email marketing, but it's not bad and does provide a good start that should continue to send traffic and generate sales.
While I have been prioritizing email lists for the past few years I took a different approach with this list, and I wanted to put together this quick case study to show the specific steps that I took. If you are getting started with email marketing hopefully this info can help you to grow your own list a little faster.
Before I go any further I should mention that I won't be revealing the specific site or industry for this case study. My reason for that is because there is already a significant amount of competition in this industry and I have seen countless examples where bloggers have been ripped off or faced negative SEO campaigns after sharing the details of their sites. That being said, the specific details of the site really aren't all that important. The steps that I took could be done in other niches/industries as well.
What I Didn't Do
I mentioned that my approach with this site was a little different than what I typically do to build a list. I think what I didn't do is as important to note as what I did do. Here are some things that I did not do with this site or list:
1. No paid traffic. I didn't use Facebook ads or any other type of paid traffic to build the list.
2. No blog posts. The site does have a handful of blog posts on it, but those were published simply to include in the autoresponder sequence after people subscribe. The posts were published all at once at the beginning of this experiment and are more like regular pages on the site as compared to typical blog posts. The site does not include a typical blog and no posts have been published in the past 90 days while the list has been growing.
3. No social media marketing. I didn't even bother to set up accounts for this site at sites like Twitter and Facebook.
The focus of this site is simply the sale of digital products. I don't really care about traffic numbers just for the sake of traffic. I care about sales and subscribers, so conversion rates are more important than traffic numbers to me.
Want to Sell Your Own Digital Products Easily?
I highly recommend SendOwl as a great platform for selling digital products. I use SendOwl at a few of my own sites and it is the most reliable and easiest platform I've used (and I've tried a lot of them) for selling digital files.
My 4 Step Process
My approach to building this list can be broken down into 4 main parts or steps.
1. Created a Compelling Free Offer
The lead magnet is a proven technique to grow your list faster. It works by offering something for free to anyone who subscribes to your list. The key is to make your offer something that people would be willing to pay for, and then presenting that offer effectively (which I will cover in step #2).
The first thing I did to grow my email list was to put together a great free offer. In this case the free offer is simply a sample of the products that I sell on the site. This works well because it is a compelling offer for visitors because it has value, and if they like the freebie some will wind up purchasing the full products.
As far as the technical details are concerned, I created a thank you page that includes a download link for the freebie, and I set it up so GetResponse will forward to this thank you page when they confirm their subscription (I'm using a double optin process for this list where subscribers must confirm that they want to be added to the list).
2. Created a Landing Page to Display the Free Offer
I used the awesome Thrive Content Builder plugin to easily create a quality landing page that displays the free offer for anyone who subscribes. The landing page "sells" the freebie and allows visitors to enter their email address to subscribe and get the freebie.
3. Created a Popup with OptinMonster
In order to maximize the number of subscribers that I get I am also using a popup on the site (the popup doesn't show up on the landing page since it is the same offer). There are a lot of different plugins that you can use to create popups but I have been using OptinMoster for a few years and I've always been very happy with it, although I am looking forward to trying out the new Bloom plugin from Elegant Themes.
4. Had Guest Posts Published at 4 Other Blogs
Once I had the offer set up, as well as the landing page and popup to promote that offer, the only thing left to do was to get some targeted visitors to see that offer. Since this is a side project that gets very little of my time I wanted to find an approach that would (hopefully) generate traffic on an on-going basis.
I wound up writing guest posts for 4 different blogs with links to my site. I chose the 4 blogs based on their potential to rank well with Google, which I thought was key to getting long-lasting benefits from my efforts with the guest posts.
One of those four guest posts was actually just updating an outdated post for another blogger. I found a post that ranked on the first page of Google for a good search phrase and offered to update the post that was a few years old. I was fortunate enough to get that update published, and the links to my site in that post drive a steady flow of traffic to the site every day.
It's not a crazy amount of traffic, but from my guest posts I do get a few hundred visitors per day, which has been key to growing a site with very little on-going time or effort.
One of the keys here is that I didn't just rely on links in the author bio. I found ways to naturally incorporate links to my site within the body of the guest posts, because from my experience links in the article body are much more likely to get clicks than links in the author bio.
My Plans Going Forward
While having over 5,000 subscribers coming as a result of spending a few hours on guest posts is nice, I still need to find a better way to maximize the impact of the list. I do use the autoresponder to follow up and make some sales, but since I haven't really been spending any time on the site recently I haven't done a good job of maximizing the potential of this email list. Normally I use my email lists to get traffic to blog posts, but since I am not blogging at this site I don't have any content to promote beyond what is already set up in the autoresponder. I still need to come up with a better plan that will help me to regularly stay in touch with subscribers and get more benefit from this list, especially as it continues to grow. For the past two months I have been gaining 70 – 100 subscribers every day, so if that continues the list will grow quickly and I'll need to do a better job of managing the list. To this point the emails that have been sent, aside from the autoresponders, have been things like a limited-time discount or a promotion of an affiliate product.
Since I've had what I would consider to be a great deal of success generating subscibers and sales from a few guest posts I would like to dedicate more time to a larger guest post campaign that would have much more potential. The biggest challenge here is simply finding the time to do it.
The last part of my plans for the future involve creating more products to sell at the site. As the email list grows, running product launches should be more profitable and well worth the time to create the products.
The site doesn't earn enough to consider it a full-time income, but it has been making a few thousand dollars per month with almost no time being invested in the past three months. I did spend a considerable amount of time upfront creating the products, but this approach of selling digital products mostly from a mostly-automated email list and just a few guest posts has been one of my most profitable projects in terms of income per hour of work.
If you're hoping to grow a list quickly I hope this information helps, especially if you are working with a very limited amount of time available.

Marc is the founder of ProfitBlitz. He has been working online for more than a decade and loves to write about topics like internet marketing and SEO. When he's not working he enjoys travel and photography.