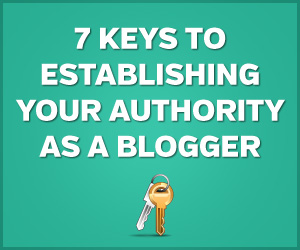 One of the essential elements to blogging success that I'm sure you've heard or read about countless times is the need to establish your reputation in your niche or industry, and to become recognized as an authority.
We all know that a strong reputation and authority can take your blog to another level, but how can you go about gaining authority?
Here are seven keys that you can focus on if you want to build authority within your industry or niche.
1. Quality Content
I know this one is kind of obvious and you probably read about the need for quality blog content every day, but when it comes to establishing your reputation and building authority you can't overlook the importance of quality content. Great content on its own is not enough, there other keys we'll look at are also important, but quality content should build the foundation for your blog.
All of your efforts to market and promote your blog will be infinitely easier if you have quality content. Trying to promote a blog without quality content is difficult, frustrating, and generally unsuccessful. If establishing yourself as a recognized authority in your niche is important to you, make sure you appreciate the need for quality blog content and allow plenty of time and effort to do your best in this area.
Action Tips:
Prioritize quality over quantity. Don't feel like you need to publish a new post every day. Be sure that your posting frequency allows you to dedicate the time that you need to each post.
Write and publish epic posts. Epic posts can help your blog to stand out, to gain subscribers, and to attract links. Epic content takes quality content to another level. (See the Guide to Epic Blog Content.)
Strive for originality. With so many blogs online it's not always easy to stand out, but if you can publish content that is unique and also high quality, you'll be well on your way to success.
2. Personal Connection
When I look back at my early days as a blogger, by far my biggest mistake was to underestimate the personal nature of blogging. I originally viewed blogging more like old school article marketing where the goal was to use content to attract search engine visitors, and developing a strong relationship with readers wasn't considered. I wrote under a pen name and never used a photo of myself on my blogs. In fact, if it wasn't for Google+ and the need to have a headshot for Google Authorship I'm not sure I ever would have added my photo to any of my sites, and that would have been a mistake.
When I think about bloggers that I respect and view as authorities, almost all of them are bloggers who have made a strong effort to connect with their readers.
Want to Sell Your Own Digital Products Easily?
I highly recommend SendOwl as a great platform for selling digital products. I use SendOwl at a few of my own sites and it is the most reliable and easiest platform I've used (and I've tried a lot of them) for selling digital files.
If you're a regular reader (or podcast listener) of Smart Passive Income, you probably feel like you know Pat Flynn personally. Pat's site is certainly not overly personal, but he does use his own photo, as well as some family photos, that allow visitors and readers to feel a more personal connection with him. The photos aren't the only factor here, Pat just has a very sincere approach that has been critical to his success and his loyal following.
Think about the bloggers that you respect and trust. Chances are they have branded themselves effectively and you feel connected to them, even if you've never had any personal contact or interaction with them. If your visitors and regular readers can feel like they have a personal connection to you, you are far more likely to be the first person that comes to mind when they are looking for content or a product in your niche.
Action Tips:
Be human. Using your photo can go a long way towards helping readers to feel a connection to you. Using video content or podcasts can also help.
Be accessible and approachable. Whenever possible, reply to all blog comments and emails that you receive from readers.
Create a strong About page or bio. For many blogs, the About page is one of the most frequently viewed pages on the site, yet its importance is often overlooked. This is one of the best opportunities you will have to connect on a personal level with your readers, and those who take the time to visit your about page are obviously interested in knowing more about you.
Be social. Social media sites like Twitter, Facebook, Google+, and Pinterest provide awesome opportunities to connect with your readers and followers. Have a presence at the sites that are most popular with your audience, and interact with other users.
3. Exposure
You can have the best blog content in your industry or niche, but if no one sees it, it won't really do anything for you. In order to establish yourself as an authority in your industry you will need to gain exposure to your target audience. For new bloggers this often means spending as much, or more, time promoting your content and networking with other bloggers as you would dedicate to writing the content for your blog.
Getting exposure for a new blog isn't easy, which is why you should be focusing on making strong connections with other bloggers in your industry or niche.
From my experience, your network and your content are the two most important elements in the success of your blog.
Successful bloggers are always surrounded by a strong network, so you should make it a priority to establish quality connections with other bloggers.
There are a lot of blog posts and articles online focused around the topic of connecting with influential people, but best step-by-step approach can be found in this post by Brian Dean – Blogger Outreach: How to Get Influencers to Promote Your Content for Free. Brian lays out an exact plan that you can put into practice to identify and connect with influential bloggers in your niche. If you put in the effort and follow through with the steps you'll wind up with a strong network and a lot more exposure for your blog.
For several years guest blogging has been recognized as a great way to build exposure to a blog, but with Google's Matt Cutts declaring the death of guest blogging for SEO many people have cooled on the effectiveness of guest blogging.
In reality, guest blogging can still be just as effective as ever for gaining exposure and reaching a larger audience. The type of guest blogging that is no longer effective (or at least, what Google wants to be no longer effective) is mass guest posting campaigns, usually carried out by SEOs just for the sake of link building.
If you're writing quality articles at quality blogs, guest positing can still be extremely effective. Just like when you are writing for your own blog, prioritize quality over quantity. Having a guest post of 5 high-quality and relevant blogs will get better results than having 500 guest posts on low-quality, spammy websites.
Action Tips:
Identify and connect with influencers. Follow the steps in Brian's post to create a spreadsheet of influential bloggers and start to interact with them through blog comments and social media.
Write guest posts for quality blogs. Having your posts published at influential blogs can expose your blog to massive new audience. Neil Patel has written a very helpful guide, How to Find the Best Places to Guest Post.
Build your social media following. Choose one or two social media sites that are popular with your target audience and set aside time each day to connect with other users and get involved in the community. It won't happen immediately, but over time you'll be able to grow your own following, and when you share links to your own content it will create more exposure for your blog.
Here are some articles and resources that can be helpful:
4. Evangelists
A big part of building your reputation and establishing yourself as an authority has to do with how people perceive you, not just how much knowledge and experience you have or how great your content is.
The smartest, most talented people aren't always the ones who are viewed as experts. Perception is influenced by what others are saying. As a blogger who is looking to build authority, you'll need to have loyal followers that tell others about you. They could be spreading the word by sharing your posts via social media, by linking to you from their own blog posts, by publishing an interview with you, or by old-fashioned word of mouth.
These followers, or evangelists as I've titled them for this point, are critical because they can influence the perception of others in your target audience. You can have all the quality content on your blog that you want, but your target audience is likely to only start viewing you as an authority when they see and hear other people talking about you and sharing your content.
In order to build a loyal following you'll need to emphasize the relationship that you have with your visitors and readers, and work towards building repeat visitors. The more your visitors keep coming back to your site, the more you will be on their mind and the more likely they will be to link to you or share your posts.
Action Tips:
Build an email list. One of the best ways to strengthen the connection with visitors and turn them into loyal followers is to have regular contact with them, and email is the best way to do this. One of the most important goals for your blog should be to convert visitors into subscribers. See the Email Marketing Toolbox for a collection resources and articles that can help.
Share the content of others. If you want other bloggers to share your posts via social media and to link to you from their blogs, one of the best approaches is to do those things for others. Many bloggers will look to reciprocate your efforts, and if you're looking for ways to help other bloggers it will usually come back around to you in one way or another.
Reply to all comments on your posts. The readers who take the time to comment on your posts will be some of the most likely to spread the word about your blog. Show them that you care and that you appreciate their contributions by taking the time to reply to their comments. You can also take a moment and visit their blog, if they left a URL for their site with the comment, and leave a comment on a recent post.
Encourage sharing. Include sharing buttons/widgets for the most important social media sites on your blog posts to make it easy for others to share your posts. You can also thank people who share your links to let them know that you appreciate it. (See the Social Media Marketing Toolbox for some WordPress plugins that will add voting buttons to your blog.)
5. Focus
Another key to building authority is to have a blog that is tightly focused on a specific topic. Resist the urge to mix a wide variety of different topics on your blog.
There are some excellent examples of authority bloggers who keep their content very highly focused, and as a result they are know as leaders on the topic. While there are plenty of blogs that focus on social media marketing (which is a narrow enough topic), Jon Loomer specializes in Facebook Marketing and has built his blog content and branding around this. As a result, if you're looking for an expert on the subject of Facebook marketing Jon is probably one of the first that comes to mind.
Your blog topic doesn't need to be quite as tightly focused as Jon Loomer's, but you do want to have a clear topic and a target audience that can be easily identified and quantified. A few examples:
at Blogging Wizard Adam Connell covers topics relevant to those who want to build a successful blog
at Razor Social Ian Cleary covers topics related to social media
at Niche Hacks Stuart Walker covers topics related to making money with niche websites.
If you publish posts on a wide variety of topics, or mix in a lot of personal posts, it can be harder to build your reputation as an authority on a particular topic.
Action Tips:
Define your target audience. Think about the details of the audience that you want to reach and define them as well as possible. When you know who you are trying to reach it becomes a lot easier to create content that appeals to them, and you'll find it easier to keep your blog content highly focused.
Brainstorm post topics. If you are in the habit of writing posts and immediately publishing them you may find that you are more likely to stray off topic. Take some time and brainstorm post topics that would appeal to the target audience that you have defined and you'll always have a list of possible post topics. (See How to Think Up a Year's Worth of Blog Post Topics in an Hour.)
Brand yourself appropriately. If you want to be seen as an authority on a particular topic, be sure that you are focusing on that topic with your content, and build your brand around it.
6. Consistency
In order for others to view you as an authority and to to be on their minds when they are thinking about experts in your field, you will need to get your content in front of them consistently. By consistently delivering quality content you can help to build your reputation, and each post that you publish will help you to reach new readers.
You don't have to publish new posts constantly, but you do want to post frequently enough that you stay on the minds of your readers. Also, the more content that you publish the more chances you will have to reach new readers and to be found through search engines.
There is no set frequency or posting schedule that you need to follow. The right posting frequency will vary from one blog to the next. For authority blogs, my opinion is that you will generally want to publish somewhere between 1 – 3 posts per week. There are definitely some highly respected bloggers that publish less frequently, but most likely the posted more frequently when they were working to establish their reputation.
Action Tips:
Set an editorial calendar. Decide on how frequently you want to publish and on what days of the week you want to publish new posts. You don't have to always post on the same days each week, but having an editorial calendar can be very helpful for planning in advance. You can take the topics from your brainstorming session and work on them ahead of time to set up your posts in advance so you are not feeling rushed at the last minute. (See How to Get Organized with an Editorial Calendar – it's Easier than you Think!)
Set aside time in your schedule to write your posts. In order to create the best quality content possible you will need to allow plenty of time for writing. Set aside the time and eliminate distractions like email, social media, and phones so you can concentrate and work efficiently.
7. Time
When it comes to establishing your reputation and authority, it takes time. You may have great content on your blog, but you won't be able to become an authority overnight. You'll need to have some patience and keep working towards your goal by writing new posts, networking with other bloggers, and connecting with your readers.
Action Tips:
Set action goals. You can use action goals to help keep yourself accountable and focused on the actions that will help you to build your authority over a period of time.
Celebrate small victories. Part of the reason many bloggers struggle with the patience that is needed to grow a blog is because they are only focused on the end goal, and when they realize that they can't reach that end goal quickly they get frustrated. While you're growing your blog you'll come across a number of small victories and achievements. Don't be afraid to celebrate them. They may seem small, but if you can enjoy and appreciate the small victories it can help you to realize that things are progressing and that you can make it to your end goal with some patience.
Maybe you've reached 100, 500, or 1,000 subscribers. Make sure you appreciate that achievement. You can use things like traffic numbers, your first affiliate sale, revenue goals, number of social media followers, or anything else that shows growth and progress.
What's Your Experience?
Do you have any tips or thoughts that you would like to share on the subject of building authority? If so, please leave a comment.

Marc is the founder of ProfitBlitz. He has been working online for more than a decade and loves to write about topics like internet marketing and SEO. When he's not working he enjoys travel and photography.