How To Do Keyword Research For Free: A Quick Guide To Get You Started Today!
The worst thing you can do in SEO is wait.
Wait till you can afford a backlink checker.
Wait till you can buy hosting.
Wait till you "know enough".
Wait until you can buy a decent keyword tool.
All of those waits are a pure waste of time, and this article here and now will show you how to beat the last one, beat it to oblivion.
Keep reading to learn how to do effective keyword research for free.
Let's go!
Is effective keyword research without tools really possible?
Yes and no. But mainly yes.
Let me explain:
The most effective way to do keyword research is to do it with a proper keyword tool like SEMrush or Mangools.
There's no denying that having access to raw data helps you make the best decisions at all times.
The second most effective way is a combo of using the data free keyword research tools give you + manual Google SERP analysis to come up with the winning topics and keywords.
The least effective, actually zero-effectiveness way is to write willy-nilly and hope for the best.
That way of "keyword research" won't be covered here, for obvious reasons.
Here's how I used to do keyword research when I was just starting out (step-by-step guide)
I use keyword tools nowadays.
I use them religiously because I value the insights they give me that I could never get on my own.
But before I could afford to buy a tool, I used the method described below, and in using it I was able to rank for some pretty lucrative and voluminous key phrases, enough so that I was pretty quickly able to buy a decent keyword tool (Mangools).
Best investment of my early SEO career.
Here are the steps below.
#1 – Install the free Mozbar Chrome extension
Mozbar is a free Chrome extension you can use to quickly gauge your competitors' strength.
You will need it to follow along this tutorial, so go right ahead and install it. I'll wait:)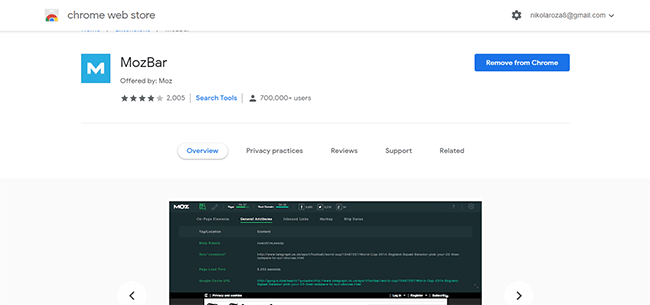 Step #2 – Find a competitor and examine their blog
The easiest way to find competitors is to be engaged within your niche and really know other bloggers and their sites. Facebook groups are a great way to start.
Simply join a popular group in your space and hang around and engage. Watch for other bloggers who engage and see what kind of content they publish.
Quite often, a blogger will have an affiliate win and will want to brag and show off. So they'll go to their Facebook group of choice and will post about it.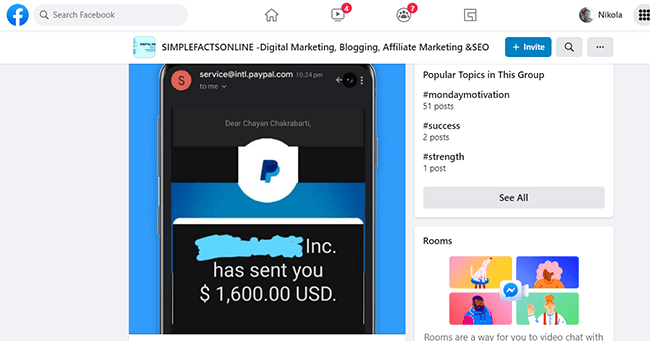 And that's your first clue there's money to be made from a keyword on their blog and for sites of similar strength to yours.
Next, if they're hiding the affiliate source as in the image above (btw, I think that's Namecheap.inc), you need to visit their blog and browse looking for money keywords.
Good targets are posts in their sidebar or footer as it indicates they are important to them (hint: important posts make them money).
For example, I can easily guess this affiliate site makes a good chunk of its revenue from the posts found in the footer.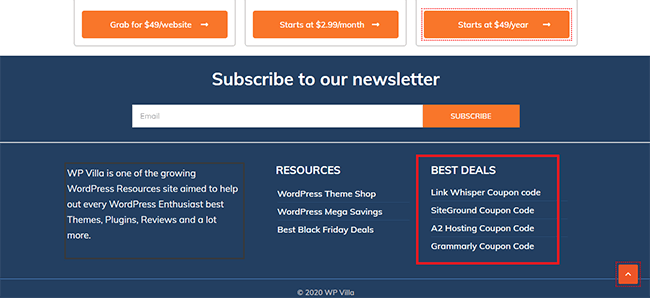 Step #3 – Verify their rankings
So you've found a potential money post, now what?
First, you need to manually verify where they rank.
Go to SerpRobot and input up to 5 money keywords from that blog post (hint: use common sense and Google Suggest to find money keywords).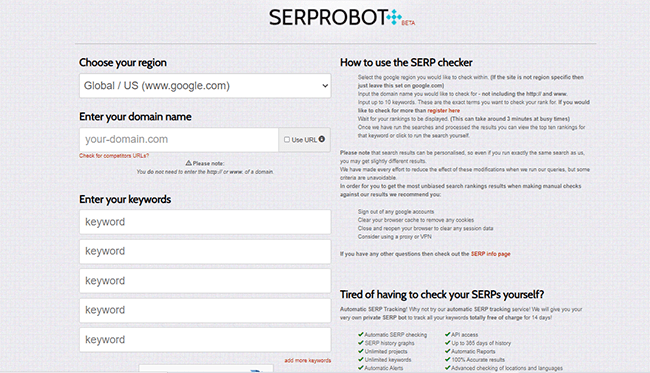 Check their rankings. If they're ranking anywhere on the first 3 pages of Google, there is great potential for you to reach and beat them with better content, better SEO and a few quality links.
Step #4- Keyword research
For this step I'll use this article by my friend Pedro Okoro.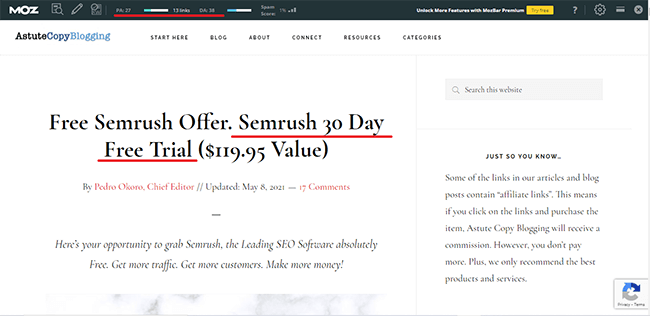 It's because I know "SEMrush free trial" is a lucrative keyword (Pedro told me personally and I could've guessed);
My friend ranks on the top of the second page, and I know it's doable for my blog which is similarly strong when it comes to domain authority.
And finally, I've been considering going after that phrase for a while.
So this is a perfect opportunity for me to reenact how I'd go about it if I still didn't have access to premium keyword tools.
First, I'd want to extract his article's outline. Surfer SEO can do it automatically, but because Surfer is a paid tool, I need to do it manually.
Luckily, Pedro has a content table so all I need to do is copy it and paste it somewhere.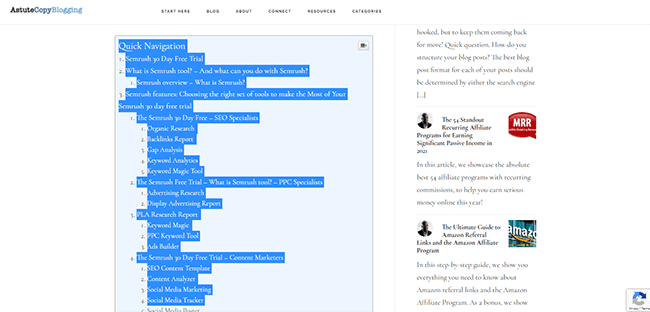 So I have the foundation for my future article.
Now let's do keyword research properly.
#1 – Google Suggest
Go to Google and enter "SEMrush free trial" but don't press enter.
The keywords Google shows are perfect for including in your post as subheadings.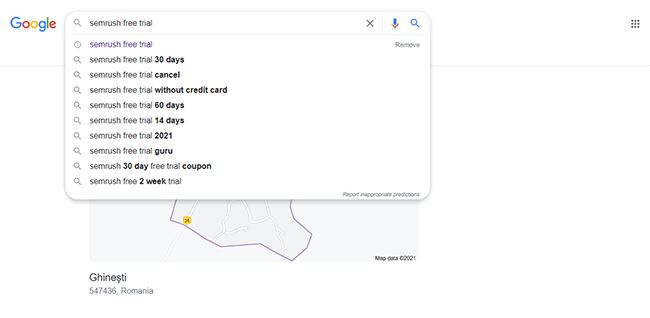 #2 – People Also Ask
PAA boxes are not present with every query you type into Google.
But when they're there, use them to extract the most popular questions people ask about your topic.
In this case PAA's are showing so these would make wonderful material for subheadings and a whole FAQ section.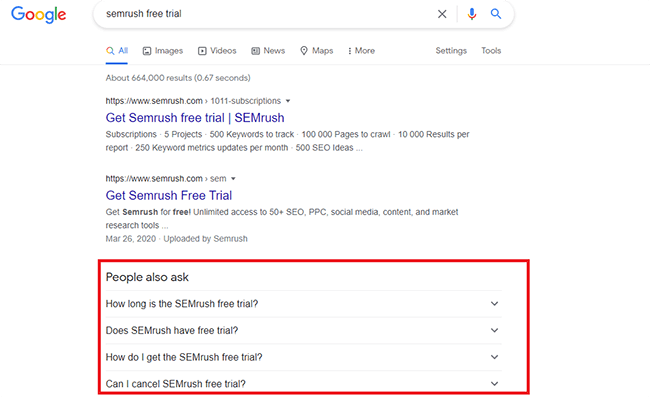 #3 – Related searches
Scroll to the bottom of the SERPs and extract queries that are related to your target query. See what you can use and add it to your outline.
Note: Quite often I find that related searches are repeated from Google Suggest. But occasionally, I see something that Google didn't show me as a suggested search.

#4 – Image search
Go to the Google Images tab of your normal Google query and see the related-searches header bar at the top.
That bar and those suggestions are powered by the knowledge graph and show you what topics are semantically related to the one you're targeting.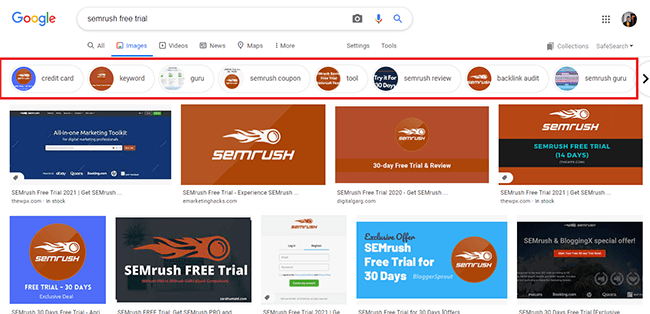 #5 – Answer the Public
Finally, move away from Google and visit Answer the Public, a free keyword research tool that can show you the questions people ask.
I find that if you did the previous steps then ATP will not show you anything new, but it pays to take a look as occasionally you can find a gem of a keyword just begging to be used.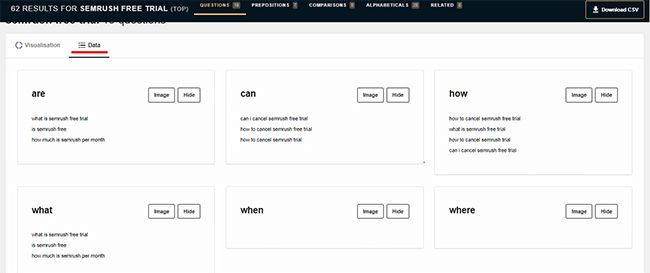 #6 – Write
Now it's time to write and assemble your content based on your ideal outline.
When drafting your content, don't worry about keywords and keyword placement.
Instead, write naturally and then when it's time to edit, you can easily add in your target keyword at strategic places.
How long should your article be?
Here's an easy way to determine the ideal content length for any keyword you wish to target.
First, decide on a topic.
Second, open up Hemingway App.
Third, go to the SERPS and take the first 3 results and put them into Hemingway one by one. Look for their reported word count.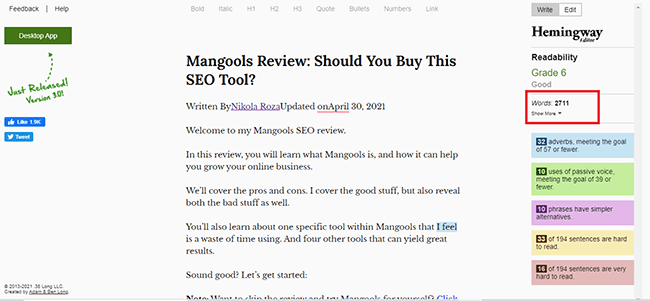 Fourth, jot down their content's word count and then get the average out of 3.
The ideal content length is combined word count of the winning 3 articles divided by 3 + 10% on top of that.
That 10% is usually your unique experience with X, or some story you want to tell which other pieces obviously don't have.
That's my methodology when gauging ideal word count and it's working great for me. I always match what's on the first page, and I never overwrite content just to make the page bulkier.
#7 – (Advanced) keyword research with GSC
What phrases you target and what you think you should rank for is often very different compared to what Google thinks of you.
And what they think is readily available in your Google Search Console report.
So after 3 months have passed, visit your page and see what queries are receiving impressions, but not clicks.
This means they rank towards the top, but are not yet in position to earn clicks.
It's time to update that post and make it better for humans, but also better optimized for machines with specific accent put on phrases Google has shown they think you're relevant for.
BONUS – What about keyword search volume? Doesn't it matter at all?
The method described above can work without knowing the exact number of searches that happen per month.
But knowing the search volume, especially of the main keyword you're targeting is a nifty little bonus.
Especially valuable if you're conflicted about 2 keywords, and both are equally good, but one of them has a higher search volume.
You need to know it so you can go with that one.
The easiest way to find keyword search volume at scale is to use Keywords Everywhere, a Chrome extension that gives accurate keyword data overlaid over the Google SERPs.
However, though super cheap, Keywords Everywhere is a paid Chrome extension, and this is a guide on how to do keyword research for free.
So the next best thing, and free, is Twinword.
Twinword is a paid tool with a freemium tier. And it's perfectly suitable to scope out the exact keyword you want to target.
Let's take it for a spin.
Go to Twinword, input your main keyword, and pick the location of your ideal target audience.
And the tool will show you keyword search volume, in our case "ConvertKit coupon code".
What's interesting is that it also shows keyword variations with their search volume, and in this case it was fruitful as I can see that "ConvertKit discount code" has 4x the search volume of "ConvertKit coupon code".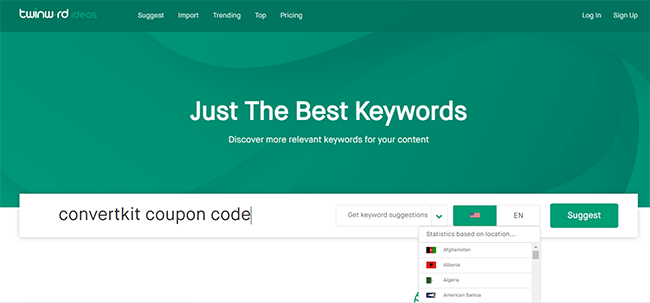 So I'd go with that one and optimize my article around that phrase.
Another tool you can use is the LSI Graph.
This tool purportedly shows you LSI's related to your target keyword.
Don't know it's that's true or not as it's not even clear if LSI keywords exist, but it does show you a bunch of related keywords along with their search volumes.
Nice!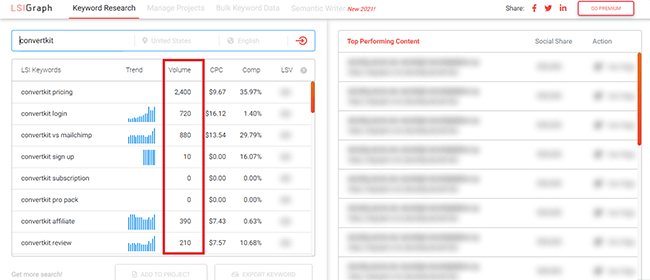 Conclusion
Look:
You've read my guide and now you know that it is possible to do keyword research for free. You also have a step by step blueprint on how to make the most out of your situation.
The key is that you need to stop feeling stuck because you can't afford a keyword tool.
Instead, put your creative hat on, find just a few of those lucrative terms and get cracking.
You, with your creativity and zeal and passion, will beat an unmotivated marketer any day of the week, even if they have an unrestricted access to the best keyword tool in the world.
Finally, after you start ranking and start making money, please make sure you invest in a premium keyword tool
You'll 10x your success at a fraction of the cost.