11 Best Keyword Research Tools For 2023 (Free + Paid)
To compete in today's market, you need to know the right keywords to target.
With them, you can bring your website and business to the top of search engine result pages (SERPs), increase your traffic, and get more leads and conversions.
Whether you're looking for a free tool or a paid option, there are plenty of great choices.
Here's a comparison of the best keyword research tools to consider:
The best keyword research tools compared
Short on time? Here are our top 3 recommendations.
Semrush – Great collection of comprehensive keyword research tools suitable for individuals as well as larger businesses and agencies.
Mangools – Great value for money for businesses on a budget. Mangool's KW Finder tool is packed with useful features.
SE Ranking – Perfect for novices with an easy to understand interface, and a great collection of keyword research tools.
---
#1 – Semrush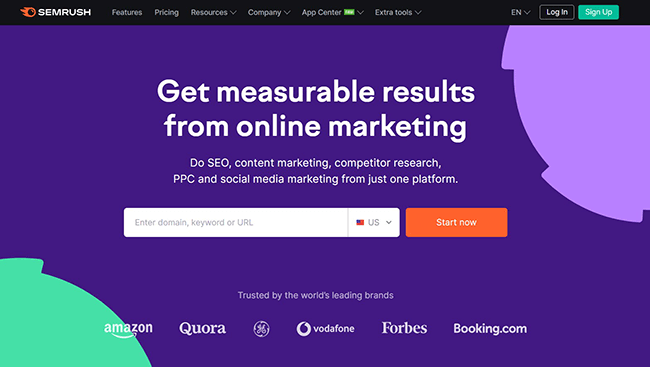 Semrush belongs to the top-rated SEO tools on the market. It's the ideal choice for marketers and businesses of all sizes, from small to large enterprises.
The suite of features provided by Semrush ranges from keyword research and analysis to backlink management and site auditing.
What's impressive about Semrush is that it provides comprehensive keyword research tools for its users. Each is designed to help you bring your website to the top of SERPs and increase high-quality traffic.
Semrush has six keyword research tools: Keyword Magic Tool, Keyword Gap, Organic Research, Keyword Overview, Organic Traffic Insights, and Keyword Manager.
These tools allow you to access a massive keyword database, discover profitable keyword ideas, find term gaps you can fill, organize and monitor them, and more.
For example, by typing a single term or phrase inside the Keyword Magic Tool, you get a thorough list of keyword suggestions with valuable metrics such as search intent, monthly search volume, CPC, and keyword difficulty (KD.)
They are vital in helping you determine if a particular keyword is worth targeting. So you won't waste time on keywords that have no chance of generating traffic and conversions.
Besides the Keyword Magic Tool, I find the Keyword Gap Tool a gem of Semrush. If you're in a competitive niche, it becomes a powerful weapon to get an edge over your rivals.
As the name suggests, this tool lets you discover the keywords your competitors are ranking for that you're not. You can add these keywords to your content marketing strategy and improve your SEO efforts.
Key features
Site audit
On-page SEO
Local SEO
Content marketing analysis
Link-building
Paid marketing/advertising
Social media management
Competitor analysis
Pricing
Plans start from $129.95/month. Annual plans available with further discounts. You can try Semrush with their free trial.
---
#2 – Mangools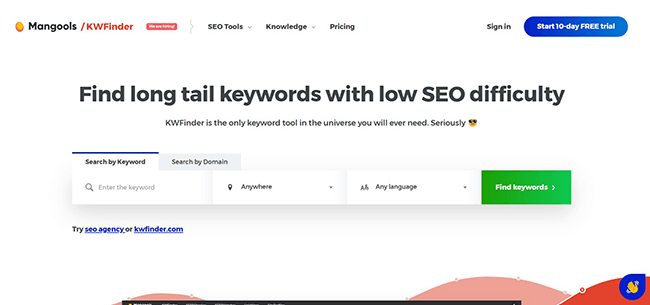 Mangools is a budget-friendly keyword research tool popular among small businesses, marketers, and bloggers.
It also has an extensive SEO tool but let's focus on KWFinder – Mangool's keyword research tool.
I've used KWFinder, and all I can say is that it's very intuitive. It's a great starting point for those new to doing keyword research.
You can use it to find keyword ideas related to your topic alongside their KD, monthly search volume, CPC, and PPC.
So whether you want to use it for content marketing or paid advertising, you'll find the data you need.
Besides the usual keyword research tool, you can check the terms your competitors use by simply typing their domain in the search box. It will give you an overview of their keyword rankings and difficulty, and visits.
For instance, you want to rank in the travel niche. But you don't know which keywords to target. Just type in 'booking.com' and see what comes up.
You'll get a comprehensive list of the terms it has. From there, you can decide which ones you want to use for your website or blog. Pretty neat, huh?
However, the feature that makes Mangools stand out is the keyword difficulty accuracy.
Many keyword research tools tend to underestimate or overestimate this. But with Mangools, you get a more accurate representation of keyword difficulty. Multiple studies could back up this claim.
Key features
Keyword analysis
Competitor analysis
SERP analysis
Rank tracking
Backlink profile checker
SEO analysis
Historical keyword data
Pricing
Free plan available. Paid plans start at €29/month, save 35% with an annual subscription. Mangools offer a 48-hour full refund policy.
---
#3 – SE Ranking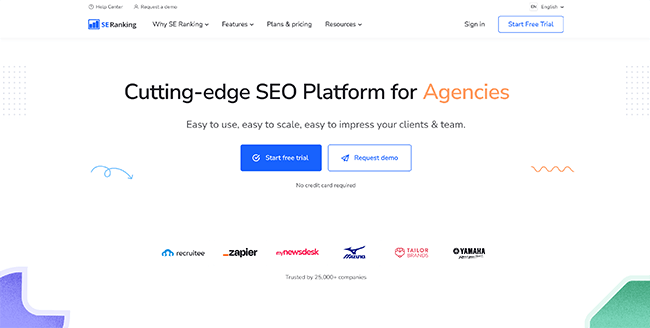 SE Ranking aims to show that successful SEO is achievable by everyone. Its user interface is as simple as it gets.
It won't bombard you with too many tabs on your dashboard. Instead, you'll get asked only about your targeted keywords, website details, and top competitors.
After doing these simple steps, SE Ranking will show you an SEO audit and your ranking keywords.
If your business is in the US or Europe, you get access to a vast keyword database. This allows you to uncover a significant number of opportunities.
Besides that, the competitor analysis tool allows you to peek at the list of competitors you're going up against for a particular keyword. It will then show you their traffic cost, keywords, and number of visits.
This feature is very useful because it allows you to examine your competitors and see the possibility of outranking them. So if your rivals are too big for that specific term, it might be better to target another.
But my favorite feature of SE Ranking is its Keyword Rank Tracker. Besides showing ranking opportunities and algorithm updates, it allows you to avoid cannibalization by showing your web pages targeting the same keyword.
Identifying the issues allows you to make necessary changes to your website before it's too late.
Key features
Website audit
Competitive research
Backlink monitoring
On-page SEO
White label services
Report builder
SERP analysis
Optimization
Social media monitoring and analysis
Pricing
Plans start from $23.52/month with weekly rankings checks and 250 keywords. Prices vary depending on frequency and keywords. You can try SE Ranking with their free trial.
---
#4 – Keyword Surfer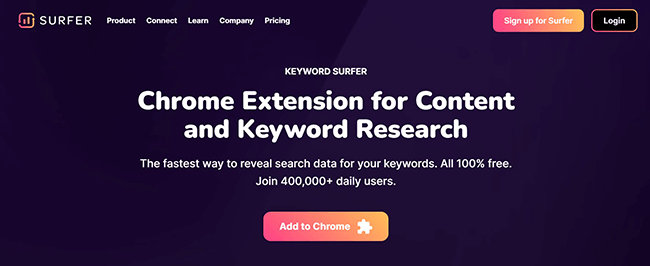 Keyword Surfer is a free research browser extension by SurferSEO. It's an intuitive and responsive tool available on Google Chrome and Microsoft Edge.
All you have to do is add Keyword Surfer, type a phrase or word into your browser, and watch the magic happen.
This tool will show you the search volume data and CPC of that term. You'll also get a comprehensive list of keyword suggestions with overlap score.
The overlap score tells you how relevant the term is from your seed keyword so you can identify if it's worth targeting.
With this extension, analyzing the top-ranking pages is also child's play. Keyword Surfer provides the estimated monthly traffic, the article's word count, and the number of times a specific keyword was used.
These details are helpful in optimizing your content for better ranking. For example, if the top three pages for the "content marketing" keyword have over 3,500 words and use the exact term six times, you can follow that pattern.
Besides those impressive features, Keyword Surfer provides datasets for over 70 countries and a collection tool that allows you to save and download your chosen terms.
This extension is truly a time-saver. No wonder it has such a good rating on the Chrome Web Store.
Key features
Keyword suggestions
Competitor analysis
CSV exporting
Pricing
Plans start at $89/month. Annual discounts available. No free trial or free plan.
---
#5 – BuzzSumo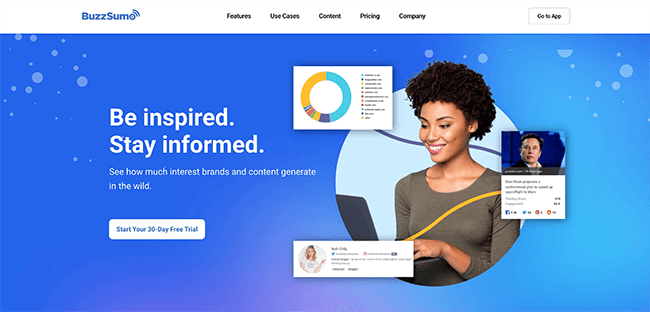 BuzzSumo is known for being a life-changing content marketing tool for marketers and businesses.
Its keyword research tool is just a tiny fraction of the critical components, but it works and compliments the rest of the features very well.
You can use BuzzSumo to research and monitor the most popular content on social media and search engines. That way, you'll be able to see the current trends and what's working for your competitors.
Moreover, BuzzSumo's keyword tool lets you discover related keywords, view standard keyword data, and analyze their history.
But of course, your efforts won't end with keyword research, you also need to strategize how to use them to improve your ranking.
Luckily, BuzzSumo not only provides term ideas and detailed analytics but also gives a list of content and questions related to your seed keyword.
These data help you understand your audience better and give insights on what kind of topics or content you should produce next.
If you have a clear idea of your competitors and want to know their targeted keywords, you can also use "Search by domain" to spy on them. Just enter their website and let the tool do its job.
There are more tools that BuzzSumo offers. It's pretty comprehensive and useful, hence the price tag.
Key features
Topic discovery
Content analysis
Content idea generator
Backlink analysis
Data monitoring
Social media analysis
Influencer search
Projects
Popular question search
Pricing
BuzzSumo have a 30-day free trial on all plans. Paid plans start at $119/month. Yearly discounts are available.
---
#6 – Jaaxy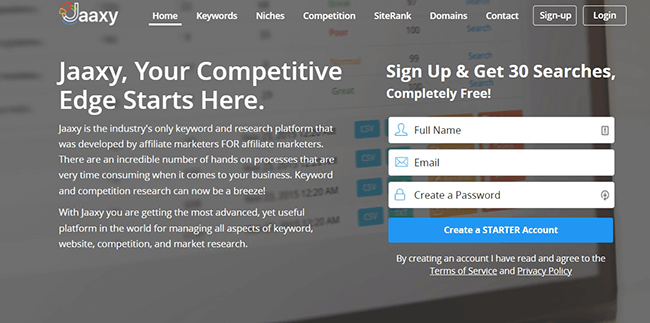 Jaaxy is built for affiliate marketers. But it's also a good choice for businesses and bloggers.
This keyword research tool falls in the same category as SE Ranking and Mangools regarding ease of use. But it provides data not only from Google, but also from Bing and Yahoo.
It offers primary metrics like search traffic and includes new ones such as the QSR, KQI, and SEO Score.
Let me give you a quick rundown of what these metrics mean:
QSR (Quoted Search Results). The number of competing websites targeting the same keyword. The lower the score, the better.
KQI (Keyword Quality Indicator). A colored indicator showing how good or bad a term is for SEO. Green means it's good, orange is average, and red is bad.
SEO Score. A number between 0-100 that rates the overall quality of a keyword. A higher score means it's easier to rank.
Jaaxy also lets you research fast by allowing up to five keyword searches at once. Users who value efficiency will love this function.
What caught my attention, however, is the Alphabet Soup Tool. It's like a level-up version of keyword suggestion.
Basically, Jaaxy gathers a list of high-traffic long-tailed keywords with low competition from Google Autocomplete.
Although it's accessible through Google, the list is often unorganized, and you'll need to do some extra work to find the gems. With Jaaxy, you don't have to go through that hassle.
To top it off, the Keyword Management function allows you to save, store, share, and export your precious keywords in one place.
Key features
Niche research
Keyword suggestions
Competition analysis
SEO ranking analysis
Domain search
Affiliate opportunities
Search history
Pricing
Plans start from $49/month. A free plan is also available.
---
#7 – Question DB

Question DB is a freemium software focused on keyword research. If you only need to do this one task, then it's a cost-effective solution.
The primary function of Question DB is to generate keywords and questions people are asking based on the topic you provide. Unlike the platforms on this list, it doesn't show metrics like search volume, keyword difficulty, etc.
It's only useful for writers and content creators who want to know what their audience is talking about and create articles or videos on that.
On a good note, Question DB allows unlimited searches on their free and paid plans. The only difference is that you get more results if you pay.
Key features
Keyword ideas
Questions finder
Blog topic generator
Unlimited searches
Pricing
Plans start from $15/month. Annual plans available with further discounts. A free plan is also available.
---
#8 – Serpstat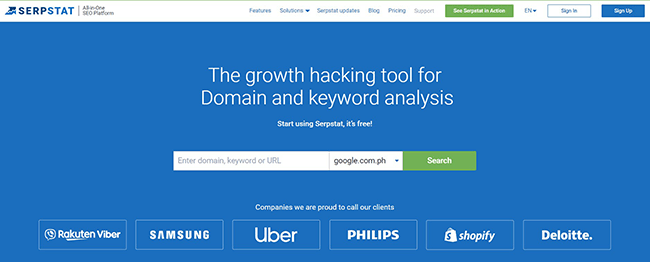 Serpstat is similar to Semrush for its comprehensiveness. It has over 40 tools and keyword research is something it does best. It doesn't have quite as much data but entry level plans are a bit more affordable.
It's a superb tool for searching PPC and organic keywords. Serpstat has a massive database, and you're sure to get accurate and updated results.
With it, you can find high-value keywords for your new ad campaigns or blog content. Plus, retarget more keywords for the existing ones.
Serpstat also offers incredible features like keyword rank tracking, trend analysis, and competitor analysis.
Keyword Tracking lets you monitor mobile and desktop ranking worldwide.
You can quickly identify which keywords are declining or gaining traction in SERPs and make the necessary changes to your SEO strategy. Such as focusing on the keywords that are on the rise.
The Keyword Trend, on the other hand, allows you to see how a keyword is performing over time and in different locations. This tool is very useful for those industries where seasonality plays a significant role.
Key features
Content analysis
Backlink analysis
Keyword grouping
Local SEO
Team collaboration
Rank tracking
Page audit
PPC analysis
Third-party integration
Pricing
Plans start from $69/month. Annual plans available with further discounts. You can try Serpstat for free to get basic access.
---
#9 – Keyword Tool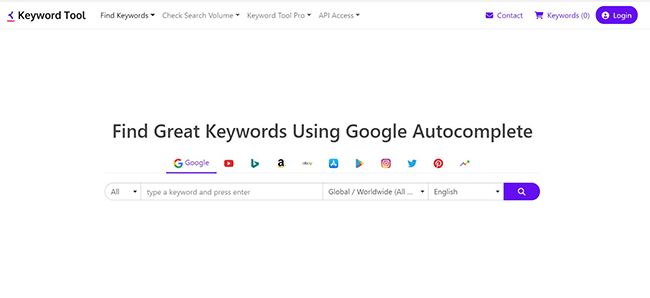 Keyword Tool is freemium software that lets you search keyword opportunities beyond Google search.
You can use it to discover keywords and content ideas on YouTube, Bing, Amazon, eBay, Apple Store, Google Play, Instagram, Pinterest, and even Google Trends.
However, the free version is quite limited and doesn't show a complete list of metrics like search volume, CPC, and competition.
You must subscribe to the Keyword Tool Pro to access those and view more keyword suggestions.
I like this platform because it's not only for bloggers or website owners. It's also for course creators, entrepreneurs, and social media marketers.
For instance, you get video suggestions for your YouTube content. And with the right keywords, you can also increase your chances of appearing on Amazon and eBay's top pages.
It doesn't end there, however. By simply typing your seed keyword, this tool will provide the best hashtags you can use on Instagram and Twitter.
The only thing missing here is the keyword difficulty. But Keyword Tool relies on Google Keyword Planner and Google Autocomplete, so you can still get enough long-tailed keywords to choose from.
Currently, Keyword Tool supports over 192 domains and 83 languages, which is quite decent for a free tool.
Key features
Relevant keyword suggestions
Organic and ad search
Social media hashtag finder
Search volume checker
Keyword management
Pricing
Plans start from $89/month. Annual plans available with further discounts. You can try Keyword Tool with their free plan.
---
#10 – Google Keyword Planner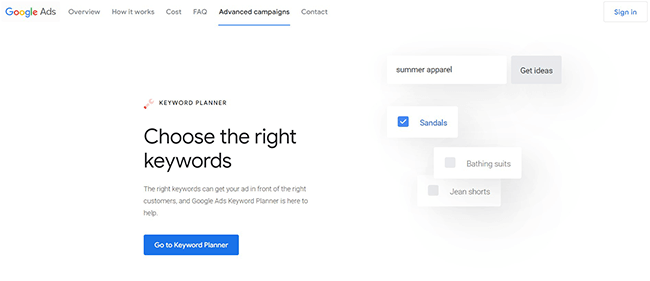 Google Keyword Planner (GKP) has been around since 2013 and is a widely known keyword research tool.
It's not just a planner but an entire suite of other options to help you with your pay-per-click (PPC) campaigns on Google Ads.
Well, initially, that was its purpose. But with time, it became an invaluable asset for SEOs and content marketers.
Meaning to say, you can use it for organic and paid keyword research.
It's a pretty simple tool to use, and you can find keyword ideas by entering a website, page URL, or a seed keyword.
Once you enter your seed keyword, GKP will show you related terms, trends, estimated search, CPC, competition level, and more.
If you want to expand your search, GKP provides clickable suggestions. This way, you can quickly sift through thousands of related keywords and find the best ones for your business.
On the other hand, you can also narrow down your choices by filtering keywords by one or multiple factors.
For example, you can view only those keywords with low competition so you can rank easily.
Besides the keyword suggestion tool, GKP also has a Keyword Forecast, which lets you predict traffic for a particular keyword in the future.
Google Keyword Planner also allows you to group negative keywords to fine-tune your campaigns and ensure you're not bidding on the wrong terms.
Overall, Google Keyword Planner is a good tool for those who want to improve their SEO or run PPC campaigns. The best part is that it's free to use if you have a Google Ads account.
Key features
Keyword forecast
Keyword discovery
Ad-budget planner
Geo-targeting
Time-period comparison
Pricing
Free.
---
#11 – SEO PowerSuite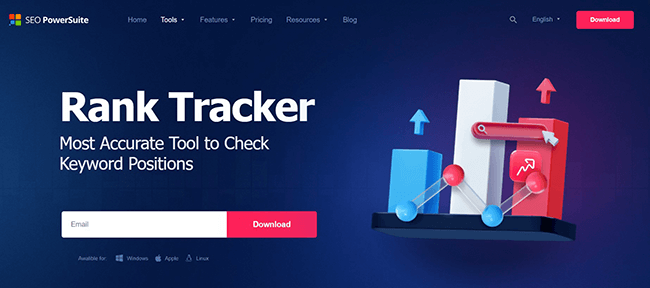 SEO PowerSuite is another one on the list that goes beyond keyword research. It's a freemium program packed with SEO tools.
The keyword research tools of SEO PowerSuite can be found inside the Rank Tracker. With this software, you can enjoy 24 features and multiple search approaches.
For example, the rank-tracking tool lets you see which keywords your competitors are using and the top-performing ones. Both on mobile and desktop.
You can search by typing your competitor's page or domain. You can also add other search engines like Yandex, Naver, and Bing to monitor location-specific results.
SEO PowerSuite also has the Keyword Gap Analysis tool that allows you to compare up to five domains. It makes it easier to see keyword opportunities you can exploit to improve your SEO campaign.
Another thing it offers is the TF-IDF Explorer. It might seem like an ordinary tool, but it allows you to spy on your top ten competitors' high-performing pages and collect all possible keyword opportunities.
If you don't know who your competitors are and want to find them quickly by simple keyword research, this is the best keyword research tool.
Key features
Link-building and management tool
Website audit
Site visualization
SERP checker
Competitor tracking
Domain analysis
White-label SEO reports
Pricing
Plans start from $299/month. You can try SEO PowerSuite with their free download.
---
Conclusion
These are just some of the best keyword research tools for your SEO campaigns. I suggest that you check them out first before looking for others.
If you're having a hard time picking, here are our top three:
Semrush is an all-in-one platform for those who want a comprehensive SEO solution. It's already established, so you can be sure it will deliver what it promises. Also includes rank tracking tool, site audit tools and many more tools.
KWFinder by Mangools is an excellent choice if you're on a budget and need an accurate keyword research tool.
SE Ranking is the most user-friendly platform on the list. It's perfect for those who want a simple keyword research experience.
The great thing about some of these tools is that they can help with more than just keyword research. For example, Semrush and SE Ranking can help with the SEO content writing process.