10 Best Link Building Tools For 2023
Link building is a crucial factor for any successful SEO strategy.
It's essential for increasing visibility, growing followers, and driving organic traffic to your website.
But as link building becomes more competitive, finding the right tools to help you do it efficiently has become more complex.
That's why we've rounded up some of the best link building tools available in the market.
From finding potential link opportunities, managing relationships, and sending outreach emails to tracking existing links, we'll mention a tool you can use for some or all of those tasks.
Are you ready to build a solid backlink profile? Let's get started!
The best link building tools compared
Short on time? Here are our top recommendations:
Snovio – An excellent link building tool with all the essential features such as drip campaign, email verifier and a CRM.
Link Hunter – Ideal for beginners who have just been introduced to link building. The platform is a reliable monitoring tool for your link building strategy.
BuzzStream – A dedicated tool that helps you run effective link building and outreach campaigns. Commonly used by PR and SEO professionals.
---
#1 – Snovio
Snovio is a powerful link building tool with a wide range of email outreach features.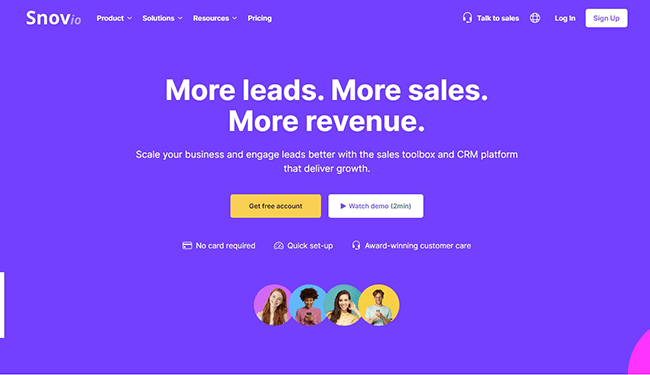 This tool can help users source contact information, verify email addresses, send outreach emails, and manage relationships via a CRM.
With Snovio, you can easily find emails by typing a domain, company, or person's name.
For example, if you know the social profile of one person but not the email address, this platform can provide that to you.
If you want a faster way to find emails, you can do prospect searching and collecting emails in bulk.
Combine this with the filter option of Snovio, and you can quickly narrow down your search results and save lots of time.
Besides collecting emails in a breeze, Snovio also lets you ensure that your message truly reaches your prospect's inbox. This is through the email verifier and email warm-up.
With these tools, you can improve your deliverability rate and increase your messages' chances of being read.
Now, all these features are great. But there's one more thing we love about Snovio – an automated outreach email campaign.
This tool lets you connect and build trust with your link building prospects faster.
Snovio provides built-in templates you can personalize, so your emails won't feel like copy-paste messages.
You can then determine whether your link building efforts are paying off with insights from the platform's analytics.
Key features
Lead and prospect finder
Email verifier
Prospect management
Automated email outreach
Email engagement tracker
Team collaboration
Third-party integrations
Chrome extensions
API functionality
Pricing
Snov.io's cheapest plan costs $39/month, and you can access the platform through a free plan.
---
#2 – Link Hunter
Link Hunter is the perfect tool for people looking to build a manageable link building strategy.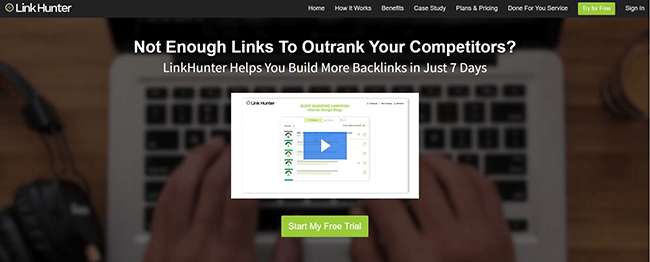 It's beginner-friendly that's purpose-built for running link building campaigns. It does the job and keeps everything simple, so you can save time learning unnecessary features.
Moreover, Link Hunter mostly runs on autopilot. You can enjoy the convenience of automation without sacrificing quality.
All you need to do is select the topics for your campaign. Then Link Hunter will use its built-in search queries to find link opportunities and email addresses to contact.
You can also choose a specific country or keep it to a worldwide search.
For example, you'd want to talk about guest posting, link building, or SEO in your campaign.
Link Hunter will then look for sites that provide you with over 100 relevant websites with their domain authority and SEO value.
Then you can also send outreach emails by simply connecting your email account, customizing the built-in templates, and sending them to your prospects.
I like how straightforward Link Hunter is. You don't have to sweat and learn any crazy stuff for this platform.
You get to see what stage you are at, whether you contacted, followed up, received a reply, or got the link, in just one page. How convenient is that?
While there are other tools with more features, no other platform can make a link building strategy easy and smooth while keeping things white-hat.
Key features
Link import and export
Website and email finder
Email outreach
Built-in email templates
Link prospecting report
Link tracker
Progress tracker
Google Suites and Gmail integration
SEMrush and Moz metrics
Pricing
Link Hunter has a 7-day free trial; its cheapest plan is $49/month.
---
#3 – BuzzStream
BuzzStream is another dedicated tool for running effective link building and outreach campaigns.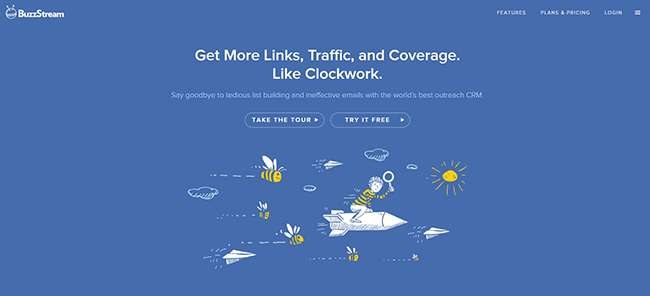 It's a popular choice for SEO and PR agencies alike because of its powerful yet user-friendly features.
It can help you find link prospecting opportunities, send outreach emails, track placed links, and manage relationships.
Finding quality links with BuzzStream is super easy because you can automate it by simply providing keyword/s related to your link building process.
Then the platform will provide you with link building prospects and their contact information.
Another helpful feature is seeing your prospect's website without going out of the platform.
It's a good tool because you don't need to visit each site manually. And you can decide right there and then whether the website is a good fit for your campaign.
BuzzStream also saves you time when it comes to outreach emails.
This tool enables you to segment your list for easier management, create customized templates, and schedule your emails.
You also get access to email analytics that track the number of opened, clicked, and replied to emails.
Additionally, among the platforms on this list, BuzzStream's CRM feature is one of the best we've tested.
It allows you to monitor your relationship with your prospects and team members, which you can export into detailed reports.
Key features
Link prospecting
List segmentation
Personalized outreach emails
Built-in email templates
Email scheduling
Follow up automation
CRM
Team collaboration
Pricing
BuzzStream's Starter plan costs $24/month and offers a 14-day free trial for new users.
---
#4 – BuzzSumo
BuzzSumo is a campaign intelligence tool. It's popular with content marketers and PR professionals.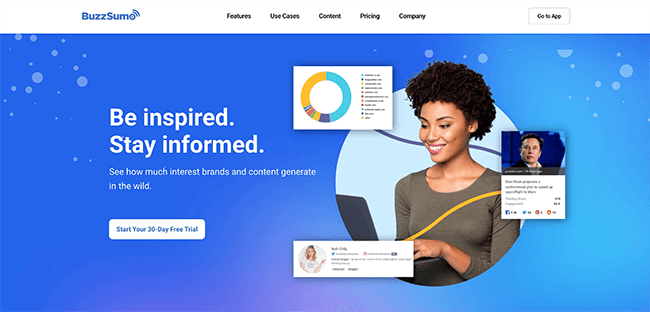 This is because BuzzSumo doesn't only provide you with link building opportunities but also helps you identify influencers, analyze content strategies, discover topic ideas and measure the performance of your link building campaign.
Finding the right people in the industry is one of the most important things to do to build links. And that's where BuzzSumo shines.
BuzzSumo has a great set of tools that can identify the best and leading influencers on the web and social media.
What it does is check the most shared pages in your niche or topic. It will then give you an organized and cut-down list of the top sharers.
Besides them, BuzzSumo can also share a list of highly impactful authors and publications you can connect with to grow and build stronger backlinks.
These people are passionate about the topic you are talking about and thus have a larger chance of being interested in your content.
This platform also has other SEO tools that can help you increase the chances of landing high-quality links.
As you know, writing content that gets attention is key to link building.
BuzzSumo can provide you with content ideas that are proven to have high engagement and a tendency to go viral.
Writing about this will pique the interest of potential linkers, increasing the chances of building strong relationships and getting quality links.
Lastly, you can stay on top of your new links through the backlink tracking tool offered by BuzzSumo.
It allows you to monitor the growth and performance of your link building process.
Key features
Influencer finder
Backlink monitoring
Content ideas generator
Competitive analysis
Topic discovery
Keyword research
Real-time data results
Chrome extension
Reporting tools
Pricing
BuzzSumo have a 30-day free trial on all plans. Paid plans start at $119/month. Yearly discounts are available.
---
#5 – Semrush
Semrush is a complete SEO and content marketing toolkit.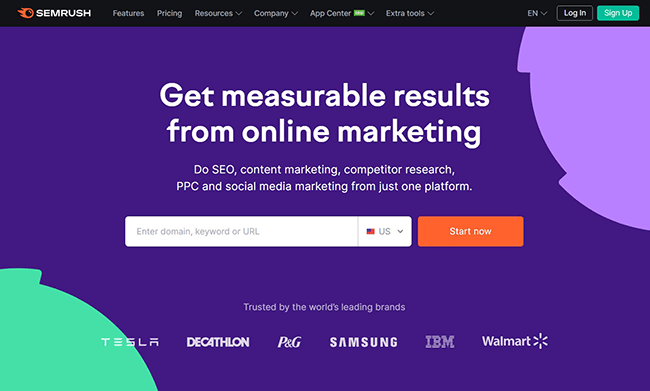 If you're looking for a link building tool that can power the rest of your SEO strategy, Semrush is a perfect choice.
That means it provides built-in blogger outreach, competitor backlink analysis, and automated progress and prospect reports.
But it also has tools for keyword research, social media marketing, content marketing, and so much more.
With Semrush's link building tools, you can find and monitor relevant websites, check what websites are linking to your competitors, and see their contact and social information.
Besides that, you can send, receive, and monitor outreach emails to influencers. All you need is to connect an email account, and you can start the process.
For instance, Semrush allows you to see how many unsent, delivered, received, seen, etc. emails you have in one place.
This is great because you can skip clicking each email and track them manually just to see the results.
All you need to do is add your mailbox to your Semrush account, set your email content, and you can build your workflow from there.
Semrush also has tools that can help you succeed in broken link building. This refers to finding and replacing broken links, a more effortless way to build connections and increase traffic.
Key features
Link building progress tracker
Backlink research
Bulk link analysis
Site audit
Blogger outreach tool
Organic research
Keyword research
Rank tracker
On-page SEO analysis
Content marketing tools
Social media tools
Report management
Google Search Console and Google Analytics integration
Pricing
Semrush's Pro plan costs $119.95/month. You can enjoy a 7-day free trial first, then either opt for the paid plan or stay with its free plan.
---
#6 – SE Ranking
SE Ranking is another solid, all-in-one SEO tool perfect for researching link opportunities.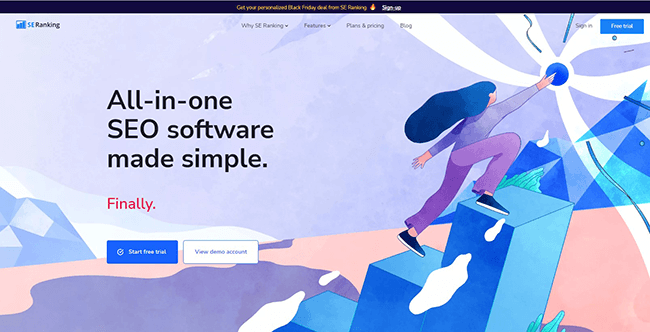 Let's start with its backlink checker. The backlink checker gives you access to trillions of links on the web and is incredibly useful for link building campaigns.
Once you enter a domain, the tool will provide detailed insight into the website's backlink profile.
It analyzes critical factors such as domain and page trust and the number of follow/do follow.
This is a great way to find out whether having a link from that website is worth it and can positively affect your SEO ranking.
And if you click the referring domain tab, it will give you a long list of pages pointing to that website and the link's location.
In link building, you can use these data in two ways.
You can either consider those websites as potential link sources or use them as your competitors and propose a better link than they provide.
Besides being able to check the profile of other websites, you can also monitor your own.
SE Ranking knows how vital each backlink is, so it makes sure to give you a comprehensive report of your links.
Moreover, the tool will alert you when your backlinks disappear or when the page where your link is hosted falls out of the search engine rankings.
This allows you to monitor your link building campaign easily and react promptly.
If you're looking for a reliable yet affordable link building tool that's well-versed in backlink opportunities and monitoring, then SE Ranking is a good choice.
Key features
Competitor backlink analysis tool
Backlink gap analyzer
On-page SEO audit
Site audit
Content optimization tool
Keyword tracker
SEO reporting tools
White label and API
Pricing
SE Ranking's paid plans can go as low as $18.72/month. You can also start using the tool with its 14-day free trial.
---
#7 – Hunter (hunter.io)
Hunter is a reliable link building tool that helps you locate email addresses, verify them, and create an outreach email campaign.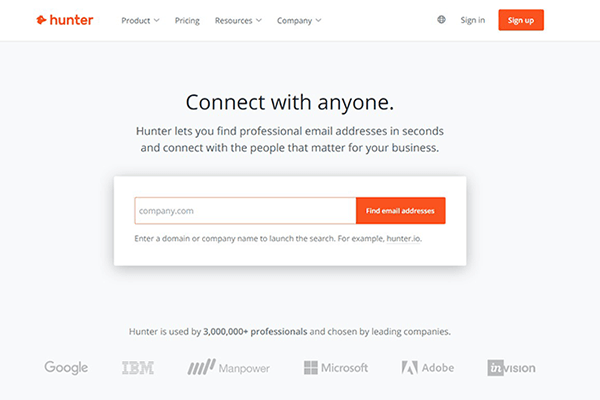 Hunter is very convenient to use. It won't overwhelm you with too many extra features, so you can focus on building links for your website.
For example, this tool allows you to find emails for any domain with just a click.
Besides the email address, you can also see their department, whether the email is verified, and other vital sources of contact.
Basically, the domain search already integrates with the other tools, so all the important details are in one place.
Hunter.io also allows you to upload domains in bulk, so it can easily share multiple contact information. Talk about convenience.
Once you finish finding and sorting out your link building prospects, you can also use Hunter.io to send and schedule cold emails.
Hunter provides highly customizable templates that can help you write cold emails that feel more natural and conversational.
I like this tool's design because it's very straightforward yet powerful.
Sending emails like those can help you increase the chances of landing a link and building a good relationship with your prospects.
And to top it off, this email outreach tool is entirely free. Hunter is one of the few platforms that offer great free link building tools.
All you need to do is sign up and add your own Gmail or Outlook account then, you can start sending 200-400 emails right away.
Key features
Domain search
Contact finder
Contact verifier
Email outreach software
Domain search API
Email finder API
Third-party integrations
Browser extension
Pricing
Hunter's most affordable plan costs $49/month, but they have a free plan that you can use forever.
---
#8 – ZeroBounce
ZeroBounce is a dedicated email verification tool uniquely suited for the job. It takes checking email servers and addresses to the next level.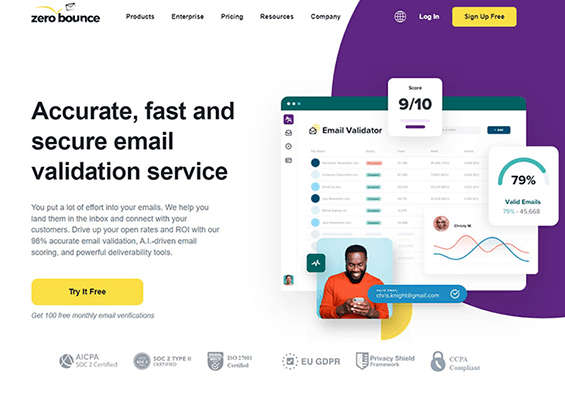 We all know how vital email verification is for ensuring that your outreach emails arrive in your prospect's inbox.
It saves you from high bounce rates, low open rates, and all the other issues related to sending emails to invalid addresses.
That's why it's crucial to have a reliable verification tool like ZeroBounce that you can use for link building.
ZeroBounce is 98% accurate when it comes to checking email addresses. It's also fast, as it can clean a list of 100,000 contacts in just 45 minutes.
Additionally, its database is constantly updated so it can validate new and existing contacts in real-time.
But their feature continues after their thorough email verifier. It has more link building tools that you can take advantage of.
For instance, it can assess your email contact list and show you who is most likely to respond to your email by checking their activity level.
This scoring tool will show you your top subscribers so you can focus on developing relationships with the right people.
It's a great time-saver and can increase your chances of obtaining a backlink.
Lastly, ZeroBounce is dedicated to ensuring that your emails land in the inbox.
That's why it provides an inbox placement test that allows you to see if your emails will arrive, go to the spam folder, or go missing.
With this feature, you can check how your emails will behave with various mailbox providers and adjust accordingly.
This platform has one of the best validation and email server testers. Using it will guarantee that your emails arrive in the right place.
Key features
Email verifier
Email scoring
Inbox placement test
Email server test
Subscriber activity analysis
Blacklist tracking
Pricing
ZeroBounce offers Pay-As-You-Go and Monthly plans. The Pay-As-You-Go plan can go as low as $16, while the monthly plan is at $15/month. But, it offers a free 100 credits.
---
#9 – FollowUpThen
FollowUpThen has a unique way to help you with link building. It's a reminder and follow-up system that will ensure that all your outreach emails get an answer or, in this case, a backlink.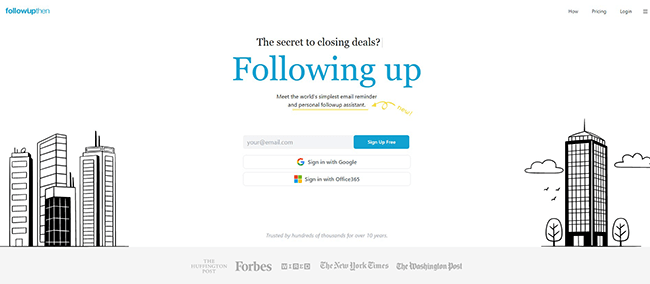 Sending manual outreach still has the best conversion rates. The problem? You often forget when to send follow-ups.
Of course, you can monitor that with Google Sheets, but FollowUpThen can save you from the stress of checking your email outreach campaign every day.
Using this software is also really simple. All you need to do is sign up for an account. Then in the BCC part of your email, just add when you want them to follow up before the @ sign.
For example, including "1week@followupthen.com" will ensure you get a reminder one week from the date you send the initial email.
What makes this tool more amazing is that you don't have to install anything, and it works on all devices. As long as you can open your email, you can use FollowUpThen.
It's like an assistant reminding you to follow up with your prospects without letting any lead slip away. And as it is web-based, you don't have to worry about losing data.
Lastly, you can streamline more workflow of your link building campaigns with add-on skills.
For instance, you can create regular follow-ups, automatically cancel a message, add an SMS notification, and more.
Key features
Email outreach reminder
Add-on skills
Third-party integrations
Pricing
You can start with this platform with a free plan, and the Base plan only costs $4/month.
---
#10 – Mailshake
Mailshake is another fantastic tool for sending cold emails and tracking the status of your leads.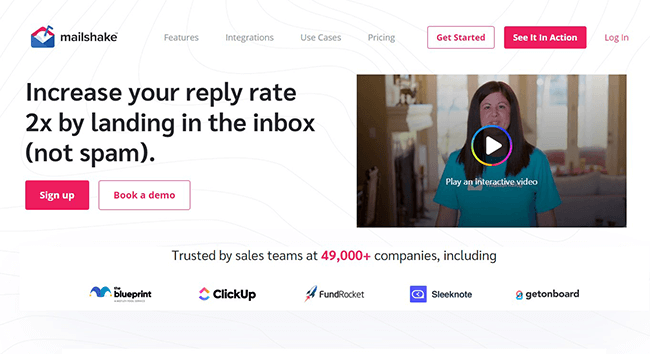 It's ideal for sales teams than SEO agencies as its main focus is getting more leads for revenue. However, it still does the job for link building nonetheless.
I like how Mailshake speeds up sending emails so you can build more links but ensures that you send something of quality.
It allows you to use its built-in templates, personalize them by inserting variables and texts, then automate your outreach email campaign in a few clicks.
The templates are handy as it includes popular ones like guest posts, link building, and blog post promotion.
To make your outreach emails more effective, you can schedule the delivery depending on when your lead is most likely to open them.
For instance, if your target audience is most active during the afternoon, you can set the email follow-ups around that time.
Besides, it offers more advanced features like A/B testing, template management, email sequence pausing, and more.
These tools give you more control over your campaigns and allow you to adjust them as needed.
With Mailshake, you can also easily connect emails via Gmail, Outlook, or SMTP. It means you can send emails from any account you have.
Lastly, Mailshake tracks your link building campaigns and provides you with analytics to measure the success of your efforts.
You can easily view who opened your emails and when and get insights into your outreach's overall performance.
Key features
Email outreach tool
Built-in email templates
Email status tracker
Prospect management
A/B testing
AI email writer
Unlimited VOIP calls
Third-party integrations
Browser extension
API feature
Pricing
Mailshake's plan starts at $58/month. It doesn't have a free plan or trial, but it offers a 30-day money-back guarantee.
---
Conclusion
That ends the list of the top link building tools. These solid platforms won't disappoint and will really help you discover and get high-quality links faster.
However, you should always choose the right link building tools for your current goal and budget. And if you're still unsure, check out some of the free trials offered by the tools mentioned above.
I hope this list has given you a better understanding of what link building tools are available and how they can help you.
Happy link building!