25 Lead Generation Statistics For 2023
There's a reason lead generation is a strong focus for many businesses: it works.
Are you thinking about adding lead generation into your strategy as well?
Before you do, take a look at the latest lead generation statistics so you can build your strategy on a solid foundation. These lead generation statistics will smarten you up on the latest developments in the world of lead generation.
Lead generation usage statistics and facts
Lead generation is still one of the best ways to find potential customers for any business. And while other marketers would rather focus on other strategies, there are still a lot of companies and marketers that spend their time optimizing their lead generation process.
There are even those that would invest a lot of their budget in lead generation.
Here are some interesting usage statistics related to lead generation.
1. Generating leads is the top priority for marketers
According to HubSpot, marketers are prioritizing lead generation above all else. And of the group, 15% said that they measure the success of their content programs by the number of leads they're able to produce.
Source: Hubspot State of Marketing Report 2020
2. Lead generation is an important goal for content marketers
That's right. For 85% of content marketers, lead generation will be their primary goal. This is followed by sales at 84%. This was revealed in a Content Marketing Institute post.
For years, the trend was to use site traffic as the metric for success. But recently, it's been replaced by sales lead quality (87%), sales (84%), and higher conversion rates (82%).
Source: Content Marketing Institute
3. Follow-Ups is the biggest challenge to lead conversion
41% of marketers believe that following up with leads is the biggest challenge to lead conversion. 44% of businesses said that their salespeople are just too busy to follow up.
For those that do follow-up with leads, 37% said that they use email, 12% use social media, and 36% do phone calls.
Source: Verse via KoMarketing
4. Companies with mature lead generation practices have better sales
Do you know which companies get higher revenue growth and better sales productivity? The ones that have mature lead generation practices.
These companies get 133% more revenue growth than companies that don't put as much effort into their lead generation strategies. The difference only gets wider when you compare them to the least mature companies at 174%.
Sales representatives for mature companies spend 73% of their time selling products and services.
That pales in comparison to those that aren't mature who mostly focus on administrative tasks. They only spent 57% of their time selling.
Source: Intellistart
5. Nurtured leads lead to higher order value
Lead nurturing is important for businesses that want to see better returns on their investment.
According to a report, closing deals on nurtured leads means a 47% higher order value than it does on non-nurtured ones. This translates to emails as well — nurture emails are twice as likely to get opened.
There are companies that managed to achieve an improved win rate on nurtured deals by as high as 20%.
Source: Annuitas
6. Only 2% of leads convert on first meeting
The cruel reality of lead generation is that you never convert as many people as you'd like — at least, not on the first try. Robert Clay of Marketing Wizdom says that only 2% of sales occur at a first meeting.
The other 98% will only buy something from you once a certain level of trust is met.
But that shouldn't mean giving up. 44% of salespeople give up after getting rejected once. 22% step back after getting rejected twice. If you manage to hang on, you'll have less competition further down the road. You can modify your pitch to win those leads over without having to worry about other salespeople.
Source: Marketing Donut
7. The cost of leads vary by industry
How much you pay to acquire leads will change depending on what industry you belong to. For example, those in the marketing industry will have to pay $32 on average.
But if you're in the healthcare space, the cost shoots up to $60. The technology industry is on par with the marketing niche with leads costing $31.
So if you find that the cost of your leads is a bit higher than what others end up paying for, just remember that the industry that you're in will be a determining factor.
Source: Marketing Insider Group
8. 53% of marketers spend half their budget on lead generation
There are businesses that remain focused on lead generation. So much so that they're willing to spend halved their marketing budget on it.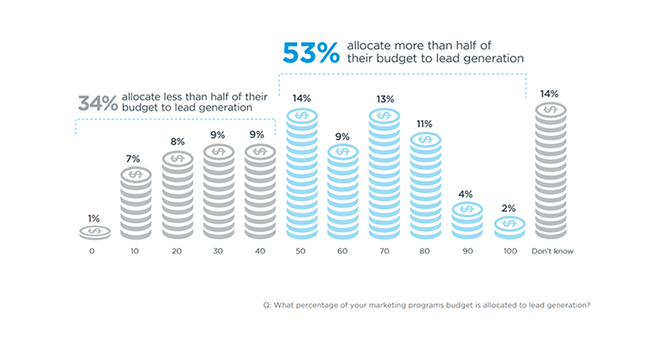 Only 34% said that they spend less than half of their budget on lead generation. What's even more telling is that only 1% don't put any money toward acquiring new leads.
Source: Startup Bonsai
Lead generation and content marketing statistics and facts
Content marketing and lead generation will always work together. The best way to find new leads is by offering content that a potential customer can gravitate toward.
It's the best way to introduce a lead to whatever product or service you're trying to sell.
The following lead generation statistics will show you how content marketing can be great for lead discovery and conversion.
9. Content marketing is still one of the best ways to get leads
For 61% of B2B marketers, generating high-quality leads for their clients or businesses is their main challenge.
Marketo explains that part of the problem stems from people claiming new and better ways of getting leads for businesses. However, not all of them work. So you shouldn't buy into trends without doing proper research.
According to Marketo, one strategy that still works for generating leads is content marketing. That and in-person connections. If you're new to lead generation, you should try either of those tactics first before moving on to something else.
Source: Marketo
10. Buyers viewed 3 to 5 pieces of content before engaging a sales rep
According to a Demand Gen Report, 47% of buyers would look at three to five pieces of content before talking to a sales representative. This only shows that people like to do their homework before committing to a purchase.
73% of respondents would even go as far as viewing a case study as part of their research. 96% of buyers went on to express that they want content that highlights inputs from industry thought leaders.
51% of B2B buyers rely on content to research their buying decisions.
Source: Demand Gen Report
11. B2B companies use dedicated landing pages to attract leads
B2B companies don't use their homepage to attract customers. 68% of them have strategic landing pages designed to capture new sales leads.
This is a great way for companies to introduce specific features about their products or services that might benefit a specific set of leads.
If you're thinking of building your own landing pages for lead generation, you can explore using several types. There are definition pages that are there to help explain concepts or products to potential buyers. You can also try posting shareable content like infographics and videos.
There are also those that post gated content that holds valuable information but will require people to enter details like email addresses to gain access.
Source: Marketo
Lead generation strategy statistics and facts
Lead generation strategies have changed over the years. And the more you understand how it's evolved, the better you'll become at formulating and refining your own tactics.
These are lead generation facts and statistics that could affect marketing strategies in the future.
12. Lead generation ads for financial services might get reviewed soon
The Advertising Standards Authority (ASA) said it's considering reviewing lead generation ads for industries under financial services. This includes insurance companies.
This comes as the ASA found a number of problematic ads for lead generators. The pandemic has left consumers in a vulnerable state and it seems that some services are taking advantage.
The move hopes to put an end to misleading and harmful ads in the financial services space.
Source: FT Adviser
13. 40% of marketers think their lead generation tactics are outdated
Over 40% of marketers believe that their current sales and marketing efforts are outdated. This is because 59% of them still rely on spreadsheets to track their leads and 33% still rely on cold calls to sell to them.
These marketers believe that relying on these traditional strategies is what's preventing them from winning over new customers.
Source: Forbes
14. 75% of customers don't want to meet face-to-face with salespeople
Forbes Council Member Don Markland predicts that by 2025, sales teams and marketers will expand strategies for communicating with leads. He cites multiple reasons and studies including how 75% of customers don't want to spend time meeting face-to-face with salespeople.
He goes on to add that by 2025, businesses will produce a more dynamic, multichannel approach to lead generation.
Effective lead generation channels will give people more options to communicate with brands and salespeople without having to be there in person.
Source: Forbes
15. Connecting with buyers is a challenge
According to a Gartner report, it takes at least 18 tries to connect with a buyer. It further adds that only 23.9% of sales emails are actually opened. That's the reason why businesses need to invest in technologies that will increase their chances of connecting with buyers.
Companies with high-growth sales development will have five apps in their arsenal on average. This is bound to increase to 72.4% as companies make plans to purchase sales development technology purchases.
Source: Gartner
16. 85% of leads expect a personalized experience
Everage states in a report that 85% of leads expect to receive a personalized experience. Marketers believe that too. In fact, 98% said that personalization is the key to advancing customer relationships.
That's why 74% believe that personalization should be the bigger priority in business.
Other reasons for being more personal when it comes to lead generation are delivering better customer experiences (88%), increasing loyalty (59%), and generating measurable ROI (50%).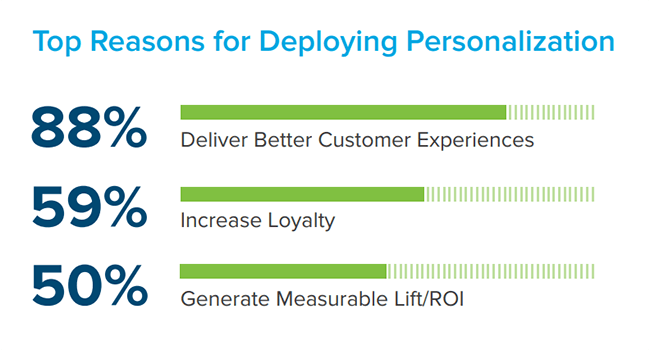 97% of companies expressed their desire to maintain or increase their personalization budget.
If you'd like to learn more, check out our post on personalization statistics.
Source: Evergage
17. Launching events is the most effective lead generation strategy
Events are a good way of generating leads for a business. Some lead generation companies will even launch events for this very purpose. In a survey, 68% of B2B marketers agreed that launching events is the most effective lead generation tactic.

This is followed by webinars (61%), campaigns (50%), white pages (50%), case studies (50%), and videos (37%).
Source: Finances Online
18. Leads will likely convert if a business follows-up within 5 minutes
Leads are 9 times more likely to convert if a business follows up within 5 minutes after initial contact. This only stresses the importance of quick follow-ups.
This is where automation tools might help if you don't have the manpower to manage all incoming inquiries about your business. Even chatbots might help you convert more leads into customers.
Source: Startup Bonsai
Lead generation for social media
Social media is a great place to get marketing leads. And the good news is that you don't even have to spend a lot of time on different social media marketing channels to reap the benefits.
Below are some statistics on social media and its impact on lead generation.
19. TikTok now has lead generation tools for businesses
TikTok recently launched a lead generation tool that lets businesses make seamless interactions that allow companies to reach prospects in hopes of converting them into customers.
The feature will make it easier for businesses to create forms that their leads could fill out. Users can enter information like their name, email, and phone number if they're interested in a product or service.
This will also allow businesses to make customizable messages that are relevant to specific customer segments. These can then be downloaded manually or integrated into a CRM solution if a business is using one.
Source: TikTok for Business
20. Facebook is still advancing its lead generation tool
Facebook Lead Generation Forms is still getting updated with features that'll help businesses get leads through this social media platform.
For instance, there's the new Conversion Leads option which aims to improve the quality of the leads you get. Unlike the older Leads option, Conversion Leads uses signals from your backend data to serve ads to people who are more likely to convert.
Source: Search Engine Journal
21. 66% of marketers get leads from social media
That's right. More than half—66% to be more precise—of marketers will generate leads from social media. And that's only after spending 6 hours per week on social marketing.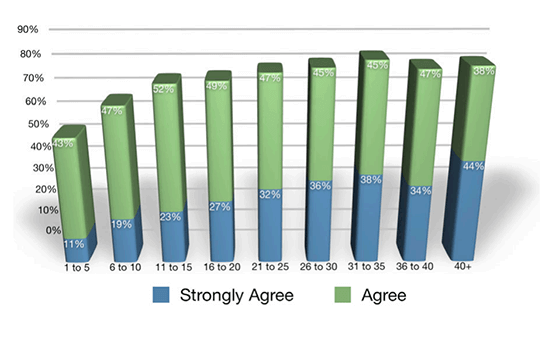 You should, at the very least, spend at least six hours per week to get new leads on social media. It's a good alternative or addition to email marketing campaigns where you send cold emails.
The best social media platform to use will depend on the needs of your business. Facebook and Instagram are good starting points.
Source: Startup Bonsai
Lead generation automation and AI statistics and facts
Automation and AI technology are starting to play a huge role in generating leads for businesses. Not only do they minimize costs, but they also help marketers focus on other tasks that they need to do.
Here are some lead generation statistics relating to automation and artificial intelligence.
22. AI and automation are is the future of lead generation
With AI and automation powering different marketing efforts, they're becoming less of a trend and more of a necessity for businesses. It's something they have to live with now.
AI chatbots are a good example. These provide a better way to filter first-time interactions from regular customers. Automated email campaigns also give businesses a better chance to connect with new leads.
Source: Information Age
23. Users believe that marketing automation is fairly priced
Most marketers believe that marketing automation tools are fairly priced.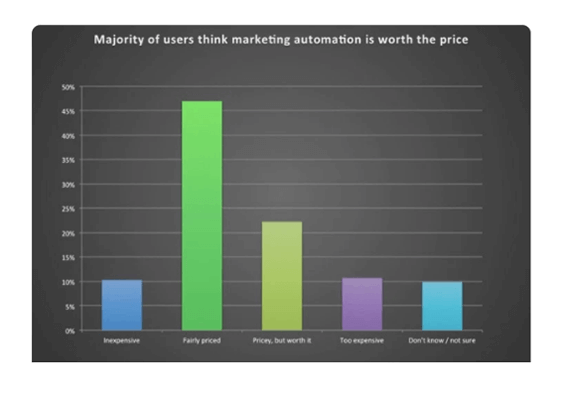 Some think that the tools and services needed to automate their marketing are pricey but are worth it. Only a small segment thinks that they are too expensive.
Source: Blogging Wizard
24. Artificial intelligence increases leads by 50%
The Harvard Business Review reveals that companies that used AI experienced a 50% increase in appointments and leads. They were also able to reduce costs by 40% to 60% as well as call times by 60% to 70%.
The same source further added that according to data from McKinsey Global Institute, 40% of time spent on sales work activities can be automated by adapting to current technologies.
25. 53% of B2B organizations use marketing automation
It shouldn't come as a shock that B2B marketing professionals are starting to shift to marketing automation. In fact, 53% of them said that they already have an infrastructure in place with 37% of them following suit.
Lead generation is one of the primary reasons why one should automate their process since it will cut down the amount of time and money needed to capture leads for a business.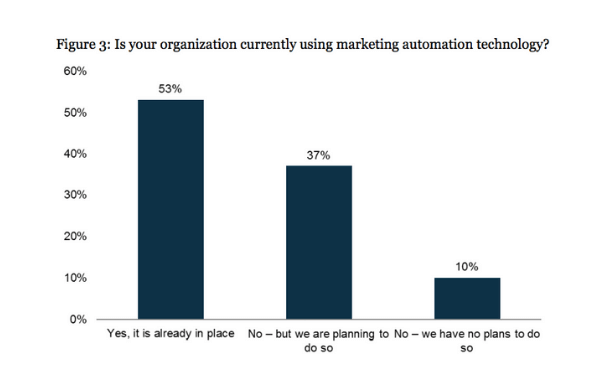 Only 10% of the respondents said that they have plans of automating their marketing anytime soon.
Source: Blogging Wizard
Conclusion
Lead generation is here to stay. And the more you understand how it can impact your business, the better it will be for your sales.
If you're interested in lead generation and would like to learn more about it, we recommend that you check out StartupBonsai's roundup of the best lead generation software tools. These tools will help in generating traffic and leads for your business.
Sources