You've Published Your First Blog Post, Now What?
Publishing the first post on your blog is a milestone for sure.
Congratulations!
You're officially a blogger and an online publisher.
But now what?
Milestone as it is, it's also just a starting point for building your online business.
In order to really build it, it's not enough to just hit "publish".
"Build it and they will come" is a lie that has wrecked many a blogger's dreams and hopes.
No, if you wish to be successful in this day and age, you need to learn to promote your blog posts effectively, and that's what this guide is all about.
Let's go!
Promoting a blog post… what does it really entail?
I like to divide my blog post promotion in 3 distinct segments:
On-site and search engine-centric promotion
Social promotion
Link building
Each segment can be further broken down into baby steps, and that's what's covered below.
On-site and search engine promotion checklist
Note: I assume you've already set up Google Search Console and Bing Webmaster tools.
You'll need these 2 services in order to follow along this checklist.
If you haven't, then go do it here and here.
#1 – Submitting to Google
As soon as you hit that blue publish button, the first thing you need to do is to manually submit your article for crawling and indexation.
Because if you wait and choose not to notify Google, it'll take them several days to find it on their own.
To submit an article for fast indexation, go to Google Search Console and in the top bar input your URL.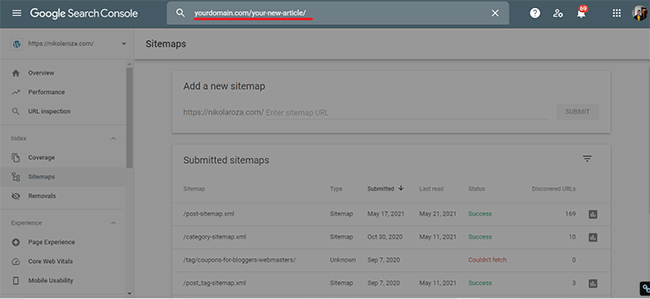 And that's it.
As for Bing, go to your dashboard, and then go to "Sitemaps" and submit the URL. With Bing you can submit up to 10,000 URLs per day.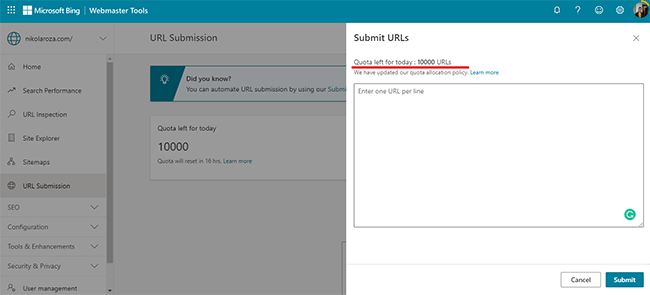 Pro tip: If you use RankMath WordPress SEO plugin you can hook it up to Google and Bing's indexing APIs.
This means that as soon as you publish, your post will automatically be submitted for indexation with those search engines.
The process is somewhat technical, and there isn't no room to explain it here. Instead, click here and here for detailed instructions.
#2 – Submitting an XML Sitemap
Next you need to submit your XML sitemap to both Google and Bing.
XML sitemaps are created by your SEO plugin (Yoast, RankMatch, SEOPress…) and they automatically update whenever you publish or update new content.
But you still need to deliver them to Google and Bing.
For Google, go to the GSC dashboard, find "Sitemaps" in the left sidebar, click and submit.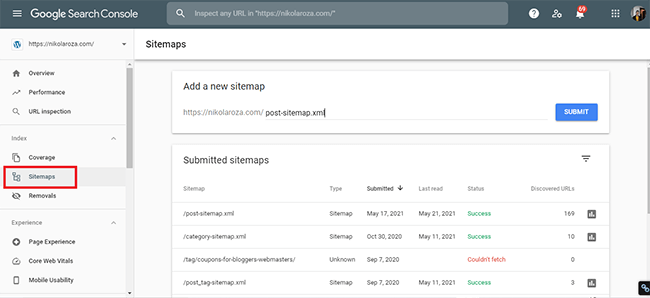 For Bing, go to your dashboard and once again, locate the "Sitemap" tab in the left sidebar, and submit your sitemap there.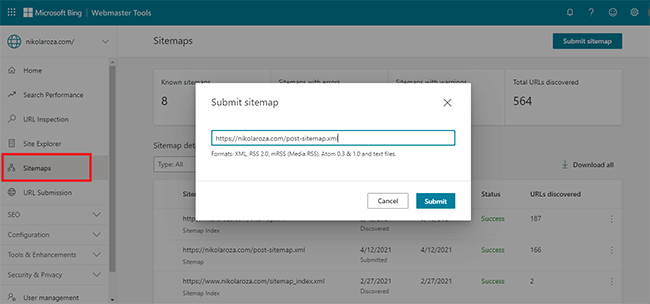 #3 – Internal link building
Now you're getting into the real SEO.
Building internal links to a freshly published page is by far the fastest way to give it an immediate boost in the SERPS.
And we're not talking about negligible results here. You can often "adjust" your rankings by 30+ positions if you add enough internal links with just the right anchor text.
How to add internal links?
Though there are plugins that can automate it, they're far from perfect and I strongly suggest you add internal links manually for tight control and granular anchor text modeling.
However, if you have a gazillion pages, then go either with Link Whisper or Internal Link Juicer.
Both plugins will serve you well, and both have free versions you can download here and here.
Here's how to manually interlink your pages.
Let's pretend StartupBonsai.com is your site. And you've just published this Mangools review. You've also submitted it to Google and Bing along with the freshly baked XML sitemap.
Now it's time to send some link love that page's way.
To do it, first go to Google and do a site search like this site:profitblitz.com keyword research.
So, because Mangools tool-set contains a keyword tool (KWFinder), we're looking for pages where keyword research is covered or even mentioned.
And Google shows them to us.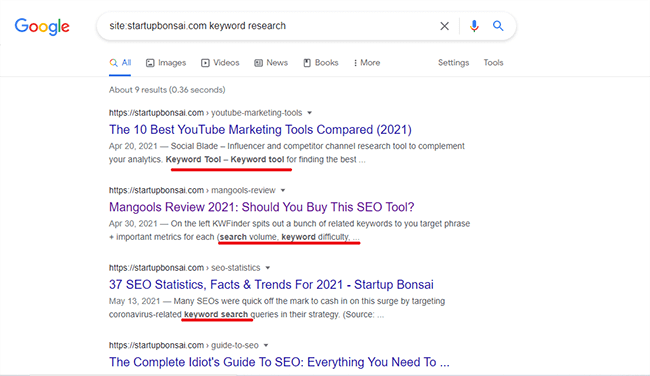 All of these results are relevant and excellent for placing smart internal links.
Pro tip: Don't be afraid to use keyword-rich anchor text when adding internal links.
Internal anchor text over optimization penalty doesn't exist, and by using keywords you can feed Google relevance signals and help your pages rank much faster than normal.
Here's how to interlink for maximum SEO benefit.
First, record the target keyword for a blog post you want to build internal links to.
Second, send internal links with long and descriptive anchors.
Why long?
It's obvious, you want to fit in your entire target keyword, + some filler words to not make it exact match all the time.
How about an example?
My friend Mudassir Ahmed recently approached me for advice on how to rank this page for a query "how to start a blog in India," search volume 1.8K and competition super weak.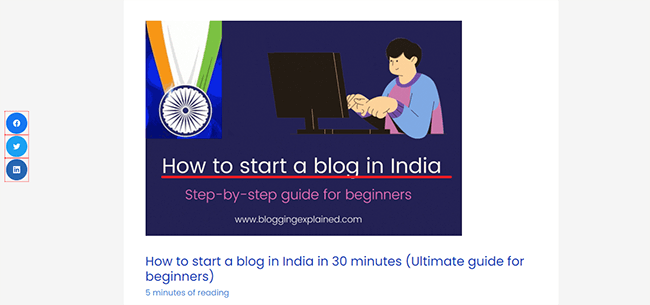 I told him:
First you need to create content that beats the current winning page.
Then you need to on-page the heck out of it. Tick every box you can.
And then you need to contextually internally link to that post and each link should be a little bit different than the previous one, and each should contain the words "starting a blog" or "start a blog" and "India".
Finally, he'll probably need to build a few links to that page as well, but only after the first three steps have been taken care of, and Google has had the time to process and index the changes.
Pro tip: Common SEO advice says you need to go to Ahrefs or Moz, input your site and go "Top Pages" then internally link from those.
This is excellent advice; however, you only ever have a few top pages on your site, and there's also relevancy as a limiting factor.
You don't want to link irrelevantly just for the sake of passing link juice.
That can lead to rank stagnation or even degradation.
The key instead is to initially internally link relevantly, while knowing that you'll also build links to those pages so that in the future they'll be able to pass authority through their internal links.
Social promotion checklist
Social promotion when done right can give you an initial and crucial burst of visitors that can show Google your new page is awesome.
This often leads to higher rankings right out of the gate.
#1 – Promote socially
As soon as you publish and submit to Google it's time to start promoting it on social media.
And the first step is to share your blog post using social media buttons from your social plugin of choice.
These can be found either at the top or bottom of the post + left or right sidebars.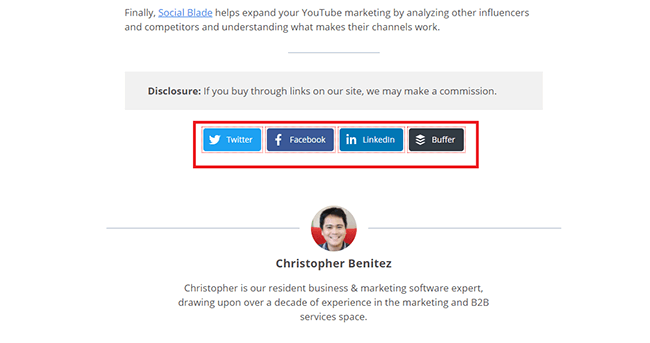 Pro tip: Social sharing plugins are notorious for slowing down your site to a crawl. The fastest one, according to Tom Dupuis, is Grow by Mediavine.

And it's free!
#2 – Schedule posts
I use Buffer for this, but you can use any other social scheduling tool.
But the key here is that you put a dozen social posts that will be dripped out over time keeping your post fresh in your followers' minds.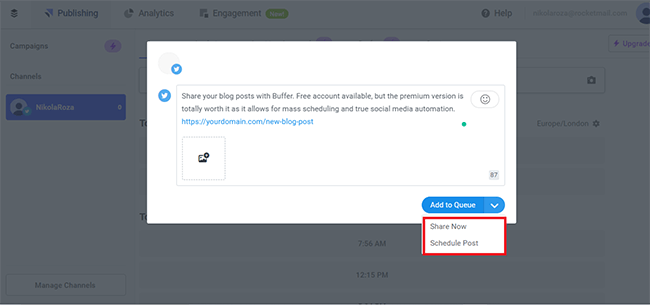 #3 – Use Missinglettr
Missinglettr is a different kind of beast. This is an AI social scheduler tool that can scan your content and create automatic content campaigns for you.
The tool does the heavy lifting of actually creating campaigns and coming up with quotes, and you just need to approve them.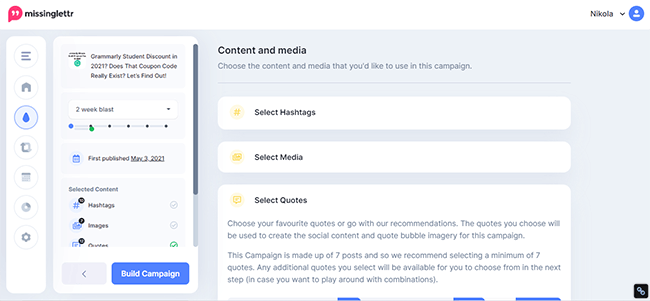 And it works.
Here are my monthly stats for April this year. It's not groundbreaking at all, but these are the visitors I wouldn't have gotten had I not used Missinglettr.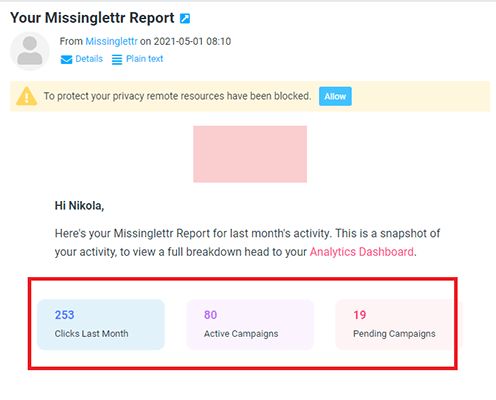 Pro tip: Consider using Missinglettr Curate. It's a new service that lets you submit your content to be curated/shared by other users on the platform.
#4 – Use Viral Content Bee
Viral Content Bee is a freemium platform where you can earn credits so that others share your posts as well.
You can use it to get a steady stream of social shares hitting your pages to show Google your site gets organic social love.
Here's how:
First, you need to share other people's content, and for every share you get assigned credits you can then use towards sharing your own content down the line.
After you've accumulated 10 credits (it's a 5m job as you're not limited in how much you can promote other people's content) you can input one of your URL's which will get it live on the platform and shared until your credits run out.
Note: You can also buy credits for a more streamlined experience (200 credits=$20).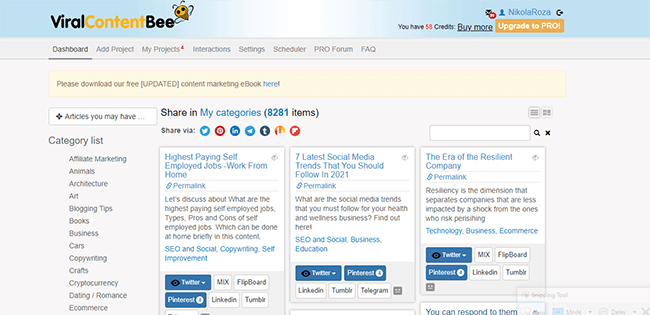 #5 – Submit to GrowthHackers.com
This only applies if you're in the marketing niche. If you're not, disregard this advice and don't go and spam Growthhackers.com.
However, bloggers in the marketing space can take advantage of GH to get some decent exposure + dofollow links to their domain and target pages.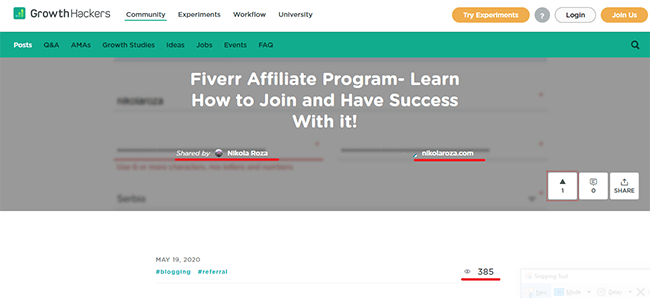 #6 – Get early comments
This is just a tiny bit greyhat.
It's possible that comments are a ranking factor and factor in your Google rankings.
It's worth getting them if you can. And that's the thing, you can and it's easy to do.
Go to this Facebook group and drop a link to your newest post in the newest thread for that day.
When you do, other participants will drop comments on your blog post, and you do the same for them. Or have your VA do it as dropping comments on random blog posts gets tedious really fast.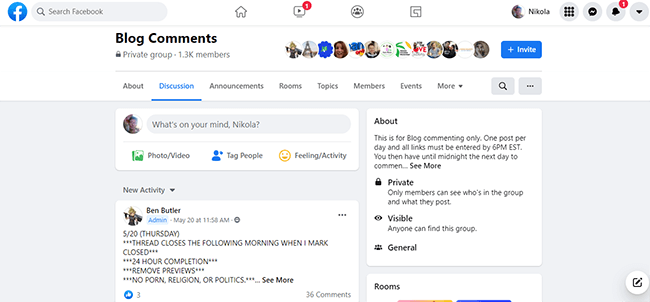 Note: The comments you get will be of extremely low quality.
Think:
Hey, good post!
Thanks for sharing this valuable information!
I'm amazed at your hard work!
Etc.
But the value here is that you'll get comments from real people and from unique IP addresses.
So, they'll look real and genuine to Google.
Before you post them feel free to rewrite them to include a target keyword and to ask you questions.
That way you set up nicely your answer which will also contain your target keyword.
Hey, comments get indexed as well! 🙂
Pro tip: No matter how many comments you get using this group, don't make the mistake of dropping them all at once.
That looks super unnatural and Google might devalue any SEO benefits you could've gotten from them.
Instead, when updating the comment to make it sensical, make sure you update the date to that day you're posting it on.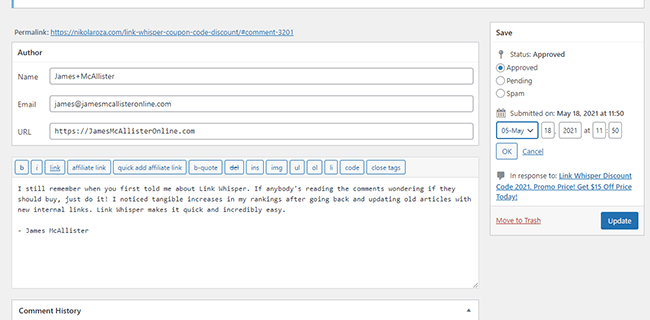 Link building checklist
Link building nowadays is as important as ever.
In fact, I'd say it's even more important as when robots start writing content, the web will be absolutely flooded with and then the links you build will make a true difference between your content that ranks, and content that doesn't.
I recommend 3 link building strategies you can use in conjunction to get awesome results.
They are:
Guest posting
Niche edits
Interviews
Here's the process in a nutshell.
#1 – Guest posting and link exchanges
These two go hand in hand. Here's how to execute.
First, you need to start guest posting exclusively on DR70+ sites.
Why DR70+?
Because those powerful links are worth a ton of SEO value for your site, and because you can use them to get additional and equally powerful links to your domain via link trading.
So, you guest post on a strong website and from your article you link out to 3-7 influencers you want to connect with.
Your post goes live, links are kept dofollow and you let your (future) link partners know how you linked to them.
Second, repeat this process two more times.
You need to send at least three free links so they have time to remember you and before you can ask for anything.
Third, after the third link is live and you've told them all about it, prepare your fourth guest post and this time send them an email asking if they'd like a link, but on a condition they link to you too.
The chances are extremely high they'll say yes, partly because they already feel super indebted to you, and partly because you're offering them a new link and they can sense further opportunities after that.
For example, that is exactly what happened to me and Doug Cunnington, the owner of Niche Site Project.
I'm a fan of his podcast and wanted to connect with him, so I made sure to send him a couple of high powered links from my guest posts. At first he was pretty cool and distant, but after my seventh or eighth link he mellowed out and asked me out of the blue:
"What can I do for you?"
My hard work on getting him free links, plus the law of reciprocity working hard in my favor helped me get a very powerful niche edit on this page.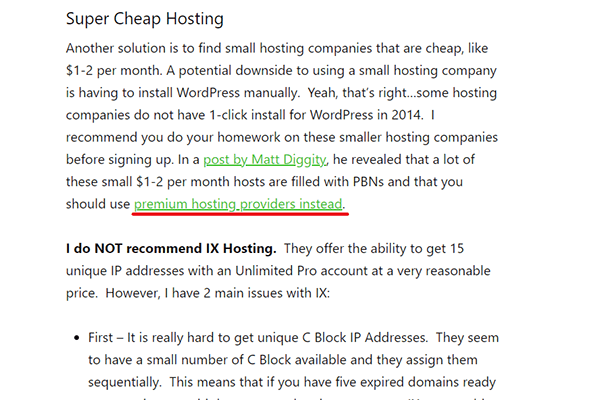 Speaking of niche edits…
#2 – Niche edits, AKA link insertions
Niche edits are by far the strongest links you can get.
Why?
Because they can be made into a perfect link, if you know what you're doing.
Here are the elements that make a niche edit super strong.
The link must live on a relevant page; bonus points if the page's title and headline contain the target keyword you're trying to rank for.
The link must be on the strongest page possible in regards to link equity, while respecting the relevance criteria.
The link must be towards the top of the page as upper parts of any post hold the most PageRank.
The link should be keyword rich (you can use exact match anchor here but avoid it if your page already has such anchor text from some other linking page. Exact match anchors are highly improbable to naturally happen too often on the web).
The linking page should not have a gazillion links on it as it dilutes the PageRank flown through each link.
How about an example?
Here's how to pick a perfect page on your target site to host your link.
First, it depends on your post's topic.
Let's say for you published a social media guide and you've been wanting a link from SocialMediaExaminer.com (DR87) for quite some time.
I know I'm guilty of that:)
You first need to open a dialogue with them and get the relationship to a point where you can ask them for a link.
Maybe you write content for them, help out their editor with something. Include some of their content in some of your content promotion efforts or drop them a link in a guest post on another site.
Wonderful!
Now, let's assume that they agree to link to your social media guide. The more link-worthy the better. Original research and content that adds real value will work well.
Note: Adam Connell's article on linkable assets explains this in more depth. Read it here.
Now, the question is: how do you pick a really strong page to get a link from?
Go to SEMrush and input neilpatel.com: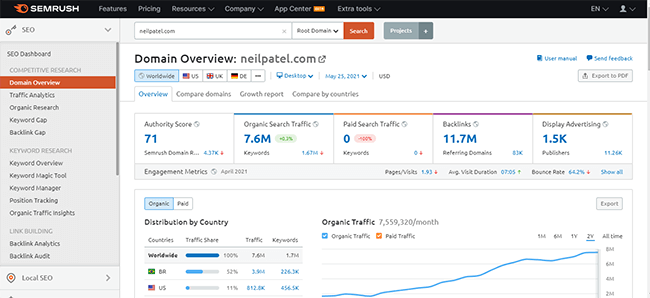 Next, go to Backlink Analytics, scroll down the page and click on "top pages".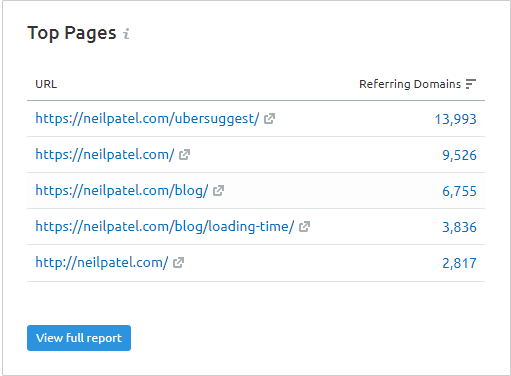 Now find something related to Instagram marketing. As a matter of fact I already know they have a super authoritative guide on using Instagram for business. A link from that page would be incredible. It has over 200+ referring domains.
You choose that page and now finally it's time to suggest your anchor.
When picking anchor text you want it to be keyword optimized and if possible towards the top of the page.
Suggest to the editor and hope your link goes live.
Because you have provided so much value in advance, and because they know they could collaborate with you in the future, the chances of landing that link are really high.
I know this seems like an involved process, but once you get a hang of it, it goes very smoothly.
And once you've gotten that initial taste of success the process will become very fluid, and it'll all be the matter of just doing the work.
And you'll be buoyed by more and more success, and because these links are super powerful your rankings will grow quickly.
Because, as mentioned earlier, niche edits are the strongest link type you can get and drawing from our example, one powerful link from an authoritative site is better than five hundred links from weaker blogs.
#3 – Interview link building
Interview links are some of the easiest types of links you'll ever get. It's because the interview about you has to be linking to your site and your content, and because there's' usually so much to say, you'll have many links per interview published.
For example, this interview of mine was published only recently. And it has 10 links pointing to my domain, with 8 of them going to specific money pages I want to rank.
I'm sure you realize the value in that.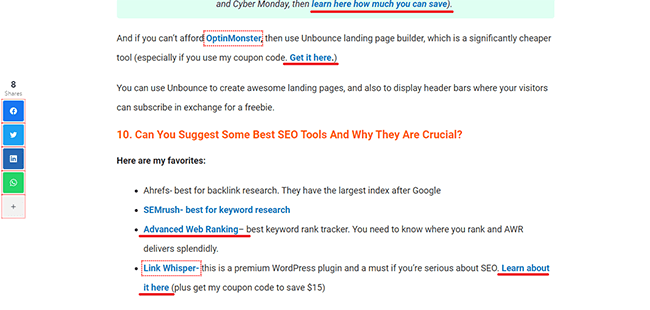 How do you get invited for interviews?
I have 2 tactics to share.
First, be very active in your niche and be as helpful as you can be. Don't come barging in and demanding stuff. Instead, engage to serve and help others.
It might sound corny, but helping others actually helps you.
For example, that interview I landed a week ago. It came about after a month of me posting every day in the webmaster's personal Facebook group.
The second way is to host interviews on your site, and then exchange them with other bloggers in your niche.
I haven't tried it but I imagine it'd work just fine as you'll be promising them links, and in return giving them links from your site.
Conclusion
Look:
Publishing your first blog post is a milestone for sure.
But it's also a starting point for an exciting blogging adventure.
I strongly encourage you not to just publish and pray. Instead, take a proactive approach to content marketing and reap the rewards that other lazy bloggers miss.
Your niche is going to be your oyster as long as you:
Let me know how much you loved this article by sharing it like your life depends on it. 🙂