13 Best SEO Competitor Research Tools For 2023
Do you want to improve your SEO strategy? Analyzing your organic competitors can help you do just that.
In this article, we'll look at the best SEO competitor research tools available.
These tools will help you get a detailed overview of your rivals' online presence, learn their strategies, and track their progress.
The best SEO competitor analysis tools compared
In a rush? check out our top recommendations:
Semrush – Our top pick due to its arson of features and tools at a reasonable price. Ideal for individuals as well as businesses.
SE Ranking – The best tool for beginners due to its ease of use at an affordable price. It's a great alternative to Semrush, and doesn't lack any key features.
SurferSEO – An SEO tool focused on content optimization and auditing. It provides insights into your competitors' content and performance.
---
#1 – Semrush
Semrush is the best overall when it comes to SEO competitor research.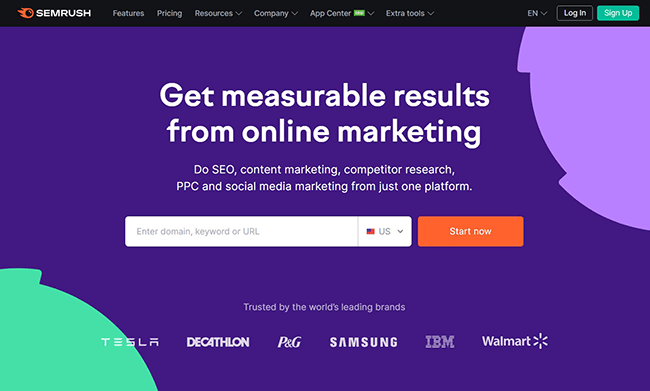 It's a complete SEO and content marketing toolkit, and remains unbeatable because of its reliable tools and enormous databases of organic keywords, paid keywords, and backlinks.
Semrush lets you see all the essential data of websites and brands aiming for the exact keywords as you.
The results can include those that aren't necessarily direct competitors in the industry but are still targeting similar SEO keywords. The data you get from this can help you identify new opportunities and understand your rivals better.
Additionally, there's an optional add-on called Semrush Trends. This includes Traffic Analytics and Market Explorer. It's Semrush's answer to SimilarWeb and these tools are extremely impressive.
They allow you to go beyond just estimating your competitor's organic search and paid traffic – you get a full picture of their overall traffic and the marketing strategies they're using.
There's a lot more to Semrush than what we can cover in this post, so I highly recommend using the button below and signing up for a free trial.
Key features
Competitive analysis
Competitor monitoring
Traffic analytics
Website SEO analysis
Organic search
Market research
Backlink analysis
Social media monitoring
Keyword and rank tracking
Content optimization
Content auditing
Site auditing
Blogger outreach
CRM
Reports
Pricing
Plans start from $129.95/month, but Semrush offers a 7-day free trial and a free plan. Paid add-ons available for Semrush Trends, Agency Growth Kit, and ImpactHero.
---
#2 – SE Ranking
SE Ranking is an all-in-one SEO tool that includes extensive databases of keywords, backlinks, and more. It has the features to power your entire SEO strategy and it's surprisingly affordable.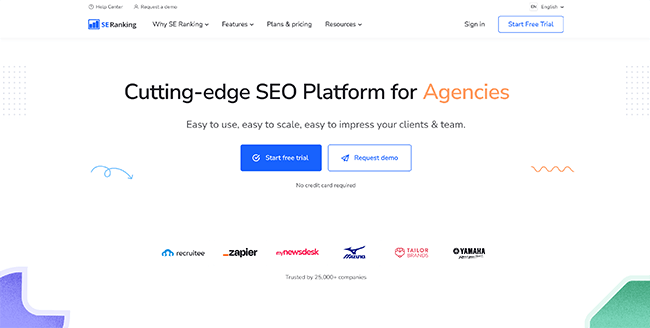 The SEO competitor analysis tools of SE Ranking help you analyze your rival websites and gain insights on organic search and PPC data.
You'll get a detailed view of your competitors' strategies and information by simply entering your domain or any URL you want to study. You can see all crucial factors, like their traffic, keywords, backlinks, competitors, historical data, and more.
Besides giving you an overview, SE Ranking provides more tools to help you get deeper into your competitor's SEO & PPC campaigns.
For example, it allows you to compare your keywords to your new and old competitors. You can then analyze these terms and see if they're worth targeting. This method will enable you to focus only on words with a higher chance of ranking.
Additionally, this platform lets you assess your competitor's backlink profile and see their quality so that you can target similar sites for link building.
Beyond competitor research, you'll also find other useful SEO tools – rank tracking, site auditing, on-page SEO optimization, and content optimization.
Key features
Competitor's domain overview
Organic competitor analysis
Paid keywords search
Backlink gap analysis
Traffic audit
Rank tracking
Site audit and monitoring
Historical data
Content marketing tool
Content optimization tool
On-page SEO checker
White label
API
Pricing
Prices start at only $23.40/month. SE Ranking also offers a 14-day free trial.
---
#3 – SurferSEO
SurferSEO is another powerful content optimization and auditing tool that has a strong focus on benchmarking against competitors.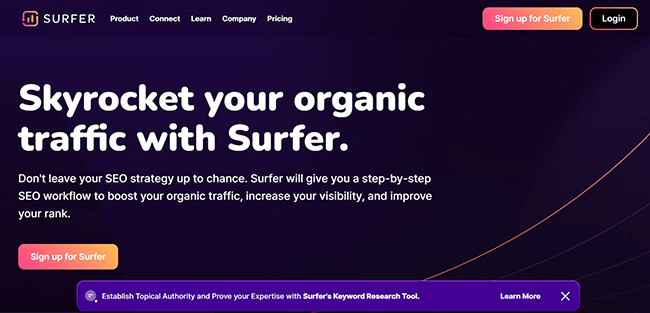 This platform provides more insights into your competitor's SEO and content performance through the audit tool.
If you have existing content that needs to rank better, you can use this tool to figure out what you're missing compared to competitors..
The tool will give you a comprehensive analysis of why your content isn't ranking. You will see what terms, links, and keywords are missing in your content compared to your competitors.
It will also list problems with other features, such as title tags, page structure, and meta description.
Another great tool that you can use is the free keyword research extension. Once you activate this and search the browser for pages related to your topic, SurferSEO will provide you with keyword ideas and metrics like search volume, cost per click, and more.
It also shows you the word count of the pages ranking on Google and how many times they used the specific term in their content.
SurferSEO is best known for its content optimization tool – use it to generate 'Content Editors' that your writers can use to write content. The tool provides suggestions on phrases and terms to include in the article. It's a little bit like creating a new document with Google Docs – you can easily share them via a share link.
And should you want to optimize content within other platforms, Surfer has a Chrome Extension that allows you to integrate their content editor directly into WordPress and Google Docs.
One of the more recent additions to the tool is GrowFlow. Just add your site and the tool will start generating actionable recommendations to help you improve your site's rankings.
Overall, SurferSEO is the perfect tool for digital marketers looking to gain an edge over their competitors and improve their on-page SEO efforts.
Key features
Content audit
SERP analysis
Keyword research
Content editor
AI-writing assistant
Website management
Pricing
Plans start at $89/month. Annual discounts available. No free trial or free plan.
---
#4 – Frase
Frase is the perfect tool if you're looking for content optimization and improving content strategy.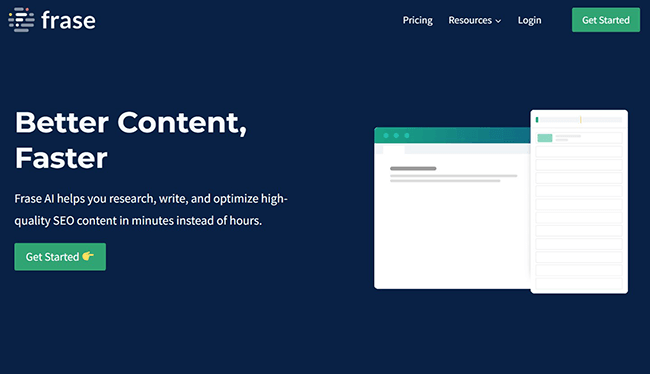 It provides several tools to help you create solid content briefs in a breeze, write quality content, optimize for search engines, and discover new content ideas.
Unlike the other tools above, it doesn't provide detailed competitor analysis tools like backlink profile analysis and keyword tracking.
Instead, it will help you produce better content by analyzing your SEO competitors ranking on the first page of Google.
The SEO-optimized content editor will give you real-time recommendations on terms and phrases related to your topic. So you can produce a great article that the search engine algorithm approves.
What we like about Frase is that it provides actionable insights based on the analysis. You'll also be able to see headlines, content structure, and word counts from your competitors.
It also offers a content score which lets you compare your content with other top-ranking articles. This way, you can improve your content and outrank your competitors.
Key features
SERP analysis
Keyword suggestions
Content analysis
Outline builder
Content editor
AI writing assistant
Pricing
Plans start at $14.99/month. There's no free trial or plan, but you can get a 5-day trial for only $1.
---
#5 – Morningscore
Morningscore is an excellent all-in-one SEO tool that provides actionable insights and recommendations to improve your SEO strategy.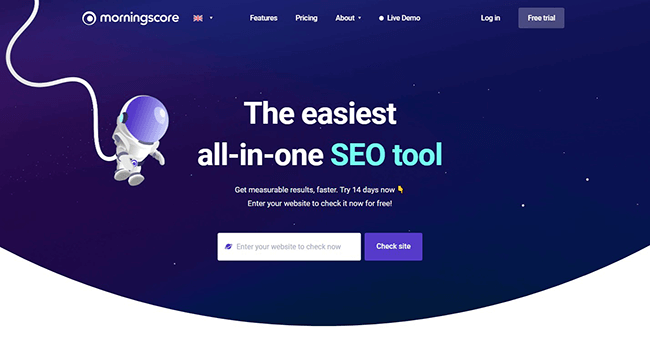 Its unique gamification approach makes SEO fun and enjoyable for users, especially for those who are not experts in the field.
It helps you focus on what matters and what will give you the best results.
When it comes to competitive analysis tools, Morningscore offers a website scanner that uncovers the keywords and links that your competitors use to rank.
With this information, you can create your own content and backlink strategy to better compete with your rivals.
Morningscore also provides actionable recommendations and insights, making it easier for you to optimize your content and reach the top of the search engines.
If you want to build more solid links faster, Morningscore allows you to track and monitor your competitors' backlinks.
You don't have to manually analyze your competitors' backlinks, as Morningscore will do it for you.
All you need to do is check the backlink profiles from time and time, and you'll get the most up-to-date information.
Finally, the SEO potential metric shows how much search traffic a competing website receives and its costs.
This gives you an idea of your website's worth if you rank higher. It also helps you better understand the potential of your own website.
Key features
Website audit
Competitor backlink analysis
Link scoring
SEO site checker
Link analysis
Keyword rank tracking
Keyword management
Whitelabel reports
Pricing
Morningscore offers its most affordable plan at $65/month. It also provides a 14-day free trial.
---
#6 – Serpstat
Serpstat is another fantastic comprehensive SEO tool. Like the two above, it has a vast keyword database and offers PPC data. So you can use it for paid or organic search.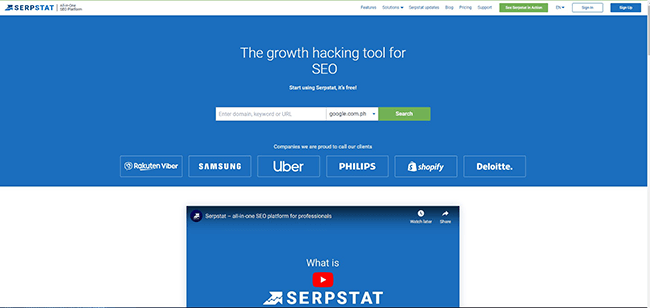 With Serpstat, you can view your direct competitors and check all their ranking keywords in the search engine.
This platform provides a list of your rivals' high-ranking pages so you can target the same topics and increase your traffic.
You can cut down time in doing research. At the same time, it gives you the advantage of writing better content for the topic.
Let's say you're looking for ways to build stronger backlink profiles. In that case, the Link Intersect of Serpstat allows you to analyze your rival's backlinks and collect authoritative sites for your link building campaigns.
Besides backlink analysis, Serpstat lets you do domain analysis for any website. This tool will give you an idea of your competitors' actions in different aspects.
You'll be able to peek at their SEO keywords, traffic, visibility, site authority, and internal links. These added data will help you develop better strategies for your website campaign.
Other than the SEO competitive analysis tools, you can also use Serpstat to monitor your optimization projects and sites.
Key features
Competitor analysis tool
Backlink analysis
Batch domain analysis
Site audit
SERP checker
Local SEO research
PPC research
Rank tracking
Keyword search
Content analysis
White label
Team collaboration
API
Third-party integration
Pricing
Serpstat's cheapest plan costs $69/month. You can get a 7-day free trial as a new user.
---
#7 – MarketMuse
MarketMuse is another tool that simplifies and assists you with SEO content strategy.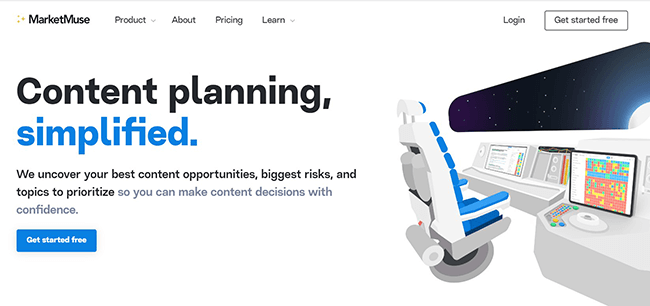 It includes several different tools you can use for competitor research.
First, the Research tool provides insights to help you optimize your content based on what's working for competitors.
But unlike the other software that focuses on the top results on Google SERP, MarketMuse goes beyond that and analyzes thousands of web pages to give you better and more detailed data.
Besides that, MarketMuse's Compete tool comprehensively assesses the competitive landscape for any keyword or topic.
All you need to do is enter a term, and MarketMuse will provide you with the content score of your top competitors, their ranking, relevant keywords, and how many times they're mentioned.
Another great tool of MarketMuse is Optimize. It's a text editor that you can use to produce high-quality and SEO-friendly content.
It gives you real-time recommendations as you write, including the quantitative measure of the keywords on your article compared to other top-ranking pages.
Besides Optimize, the Questions tool helps you find which questions people are asking about the topic.
You can add an answer to these queries in your content to improve your chances of securing featured snippets. It's also helpful in targeting long-tailed keywords.
There's also Connect, which provides internal and external linking suggestions. It's the perfect way to boost the page authority of your content, helping it rank higher on Google.
Overall, it's a nice option because of their free plan but their paid plans do seem overpriced compared to other tools.
Key features
Competitive analysis
Topic/Keyword research
SERP analysis
Link suggestions
Content optimization
Content management
Traffic analysis
Site audit
Workflow automation
Pricing
MarketMuse's Standard plan costs $7,200/year. It has a free plan and a 7-day free trial.
---
#8 – SerpWorx
SerpWorx is a powerful browser extension for Chrome that allows you to view many of your competitor's SEO metrics as you search on Google.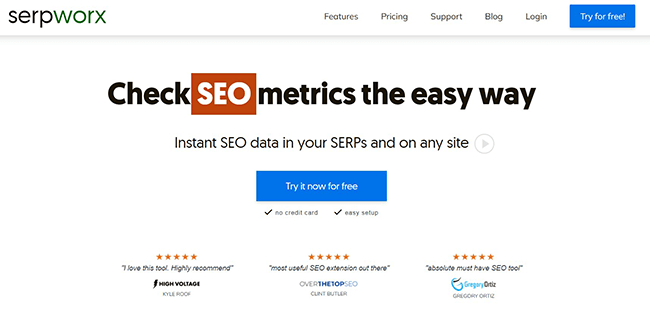 You can activate it inside the search engine or even use it on specific pages.
It's highly customizable and allows you to hide unnecessary metrics so you can focus on the data that you need.
SerpWorx gets its data from Majestic SEO, Moz, Ahrefs, and Semrush. These are the top four tools in the industry in terms of their proprietary metrics.
The great thing is that you don't need separate accounts for Majestic, Moz, or Semrush. SerpWorx includes data from those tools by default. However, with Ahrefs' API being far more expensive, you'll need to connect your Ahrefs account to access its metrics.
The platform collects real-time data from these sources to ensure the accuracy and reliability of the results.
What we love about SerpWorx is its convenience. You don't need to open tabs or use different tools to get the metrics you need. All you have to do is take one simple click. Then you'll access all metrics on four platforms.
If you want a detailed view, you can click one of the data, and Serpworx will open a floating window containing more information.
For instance, if you click the trust flow under the Majestic's data section, it will show you that website's number of backlinks, referring domains, etc. Cool, right?
Some other metrics you'll see inside Serpworx include domain rating and authority, ranking keywords, monthly traffic, spam score, traffic cost, and much more.
You can use this data to analyze and get to know your competitors on the SERP and beyond it.
Overall, SerpWorx is an easy-to-use tool that provides a comprehensive view of your competitors' SEO metrics in just one search. It's reliable, intuitive, and well worth the investment.
Key features
Backlink analysis
Keyword analysis
Site audit
Traffic analysis
On-page SEO checker
Pricing
The cheapest plan for single-account users is $29.95/month. SerpWorx offers a 3-day free trial, with no credit card required.
---
#9 – Mangools 
Mangools is another gem for SEO enthusiasts and it's ideal for beginners.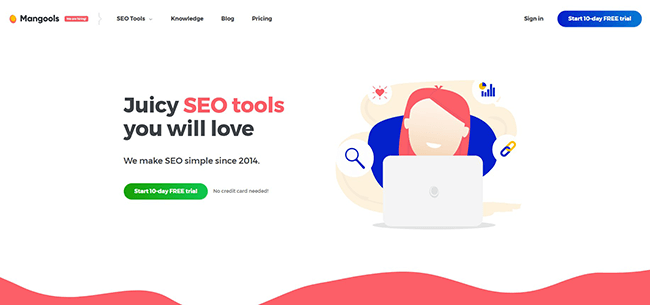 It offers several different tools you can use – KWFinder, SERPWatcher, LinkProfiler, SERPChecker, and SiteProfiler.
All of these tools can be quite useful for SEO competitor research but we particularly like SERPChecker.
This tool allows you to enter keywords and see exactly which pages/sites are ranking. You'll also get a bunch of important SEO metrics. That includes backlinks, referring domains, and page authority.
What's great about the data you'll get is that it doesn't only come from Mangools. You can also get information from Majestic and Moz – their proprietary metrics are excellent. You can also choose which metrics are displayed.
Since the comparison happens side-by-side, it's pretty difficult to compare your website to other brands if it isn't ranking on the SERPs.
But Mangools created a handy feature to help solve this problem – just type in your URL at the bottom of the screen and it will add it to the comparison.
With this feature, you can compare your website against any URL found in the table by simply dragging and dropping a box. No need to go hopping around different data rows!
In terms of the other tools Mangools has on offer:
You can use KWFinder to gather all top-performing keywords from your paid and organic competitors. You can search using keywords or domains.
Moreover, to get a comprehensive view of your SEO competitors' sites, you can use the SiteProfiler. You'll be able to check its website score, backlinks, top pages, referring domains, and other valuable data.
If you want a more complete view of backlinks & referring domains, that's where LinkMiner comes in.
Key features
Competitor keyword analysis
SERP analysis
Backlink analysis
Site audit
Keyword research
Rank tracker
Browser extension
Pricing
Free plan available. Paid plans start at €29/month, save 35% with an annual subscription. Mangools offer a 48-hour full refund policy.
---
#10 – Ahrefs
Ahrefs is another popular SEO tool with a strong focus on competitor research.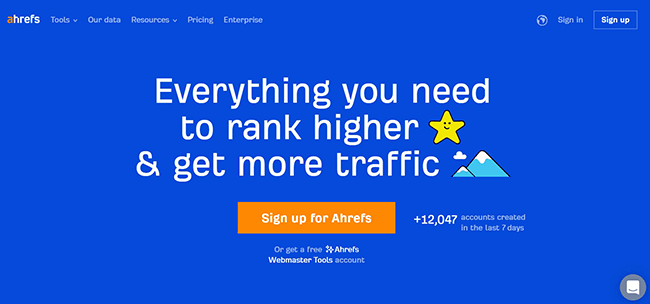 Ahrefs competitive analysis tools allow you to view other brands' content, keywords, backlinks, and more.
With the data you get, you'll be able to create campaigns for your SEO, content marketing, and PPC.
Let's start with Ahref's Site Explorer. This tool shows your rival's organic search traffic and backlinks.
The Site Explorer also provides a tool to check any content gaps. This data will help you create and write fresh content ideas that your audience will appreciate.
For instance, if you're in the digital marketing industry, you can check your competitor's blogs and see which topics are relevant but haven't been covered.
Since Ahrefs provides thousands of keywords, it might be challenging to see which ones are the best for your website. In that case, you can use the filters.
For example, you can filter the keywords based on how many of your competitors are ranking for it. In that way, you can ensure that these keywords are worth targeting.
The tool itself is great but there's no free trial, usage limits are very low compared to the likes of Semrush, and they'll charge you more money if you go over your usage allowance. No warning. We've also experienced many technical issues, however they do seem to be improving.
Key features
Competitor site analysis
Backlink checker
Organic traffic research
Site audit
SEO and PPC Keyword explorer
Rank tracker
Content discovery
Project dashboard
Email notifications
Pricing
Ahref's cheapest plan costs $99/month. It doesn't have a free trial, but there's a free plan for website owners, however you can't view data from other sites. And it's unclear as to whether they may use your data if you verify your sites using Google Search Console.
If you go over your account limits, you will be charged overages automatically.
---
#11 – Rankwatch
Rankwatch presents its SEO data in the most simplified way possible. It utilizes graphs, charts, and other visuals to help you quickly understand insights.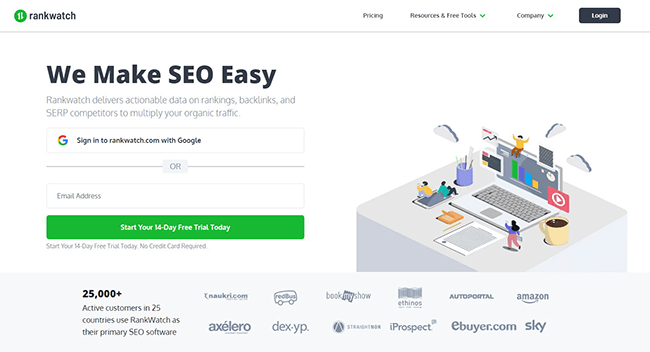 Rankwatch Competitor Analysis tool provides detailed information about your competitor websites' initiatives, including the types of keywords they are using and how well those keywords are performing.
It also provides more data about their active ads and other relevant metrics, such as organic traffic and average ranking.
If you need to know who your organic competitors are, finding them is also easy with Rankwatch.
All you have to do is type in your keywords, and the platform will search the web and provide you with a list of your top competitors.
You can then compare your website with your rivals in different aspects, including the location, SERP featured snippets, and search volume. This will give you a good perspective of your competitors' strategies.
Another tool you can use is Rankwatch's backlink profile checker. It provides you with TrustScore, which is very useful when evaluating link building prospects.
Key features
Competitor research
Backlink analysis
Site audit
Rank tracking
Keyword suggestions
White label reports
Mobile-friendly checker
Pricing
You can get the most affordable plan at $29/month and enjoy a 14-day free trial.
---
#12 – Moz Pro
Moz Pro is one of the longest standing SEO tools on the market. Its API powers a lot of other SEO tools so it's a solid option for developers.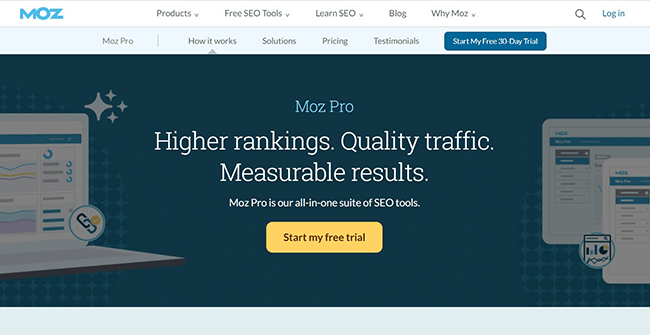 When it comes to competitive research, it doesn't disappoint. It provides a free SEO competitive analysis tool open to everyone.
However, you'll get more data on the paid version and also more valuable features.
One of those is the True Competitor tool. This tool helps you pick only the top competitors in your niche. So you won't be overwhelmed with too much information.
Once you enter your domain, Moz Pro will let you choose two of your best rivals. You'll then have access to keyword gaps and other data that can help you improve your website.
Our favorite metrics inside the paid plan are Overlap and Rivalry. While most data are available from other platforms, these two are unique.
The Overlap allows you to see the number of keywords you and your competitors are ranking for in the top 10 results. This is presented in a Venn diagram.
It lets you see how many keywords overlap and check the gaps.
You can use the Rivalry factor if there are very few overlapping keywords.
This helps you determine your competitors by looking at the CTR and volume of overlapping keywords, the target site's ranking, and the proximity of DA scores.
With all this data Moz Pro provides, it'll be easier to identify which competitors are the closest and the most relevant.
Key features
Site audit
Site explorer
Link building tools
Rank tracking
Keyword discovery
On-page optimization
Custom reports
Pricing
Moz Pro starts at $99/month. But you can use the tool for free for 30 days. There's also a free SEO competitor research tool that provides some limited, but useful data.
---
#13 – SpyFu
SpyFu is the last on this list, but it's far from being the least. Like the other comprehensive SEO tools above, SpyFu also has the features that can help you reach your goals.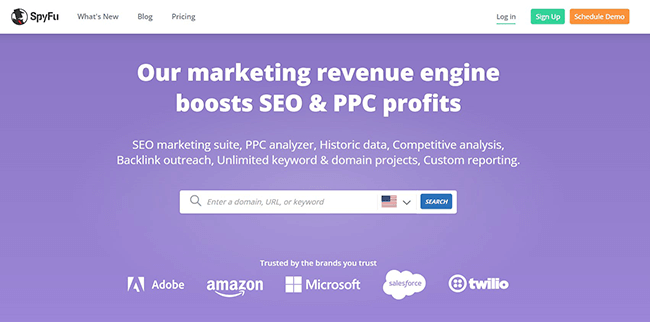 Here's what you can do with SpyFu's SEO competitive analysis tools:
First, you can find your competitors and look at their keyword and backlink profiles that make them rank. You can also check how many clicks their keywords are getting.
If you want to get more detailed information and keep an eye on all of your niche rivals, you can do so with this tool. This allows you to stay updated with the changes in rankings, keyword strategies, and content changes.
Second, SpyFu's backlink checker lets you view your competitor's status for a specific keyword.
You'll see which sites are linking to them and the exact link, giving you an excellent opportunity to target the same domains, replicate their efforts or use it as an inspiration for your own campaigns.
Key features
Competitor analysis
Backlinks builder
Keyword research
Rank tracking
Pricing
Basic plan starts at $39/month and includes 100 domain overviews, 6 months historical data and 250 sales leads. Professional and team plans offer unlimited and additional features.
Annual discounts available. Free trial for 7 days.
---
Conclusion
By knowing who your competitors are and their tactics, you can identify where improvements need to be made and get ahead in the search engine rankings.
We hope this article helped you decide and find the best SEO competitive tools to use for your business.
Still not sure? Most tools either offer free trials, free accounts, or money-back guarantees. Click on the links above to get started.