11 Best SEO Content Writing Tools For 2023
What if you could dramatically improve your SEO content writing process?
Believe it or not, there are several online tools that can help you write better and produce more compelling content.
Today, we'll look at the best content writing tools for SEO.
Whether you're just starting or looking to enhance your current workflow, they will help you get the job done faster!
The top content writing tools for SEO compared
TL;DR:
Short on time? Here are our top recommendations:
Surfer – Perfect tool for on-page content optimization to help you write better articles SEO ready for search engines.
SE Ranking – A beginner friendly SEO tool which includes features for content marketing such as on-page optimizer and topic research.
Semrush – An all-in-one SEO toolkit. Can be used for all your content writing needs.
---
#1 – Surfer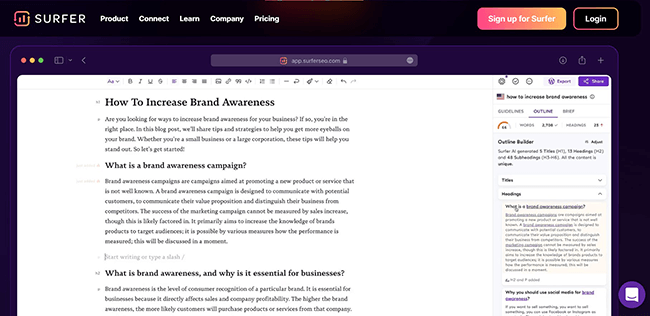 Surfer, also known as Surfer SEO, is an on-page optimization tool that helps you write articles that are more likely to rank & attract traffic from search engines.
What I like most about this tool is the content editor feature. It provides detailed and real-time insights on how to rank higher in search engine results pages (SERPs) using data from content that already ranks.
It also shows an interactive content score, related keywords, keyword density, and targeted number of words, headings, paragraphs, and images.
Surfer analyzes the search engines and identifies what your competitors are doing. Then it'll provide suggestions based on that.
What's more is that the content editor seamlessly integrates with Google Docs and WordPress thanks to a handy browser extension.
Besides the content editor tool, Surfer has a content planner that provides topic groups based on your target keyword.
It also has a keyword planning tool inspired by the old Google Keyword Planner. It's beneficial for content writing because you'll always have ideas to write. At the same time, you'll know which topics are most relevant to your audience's needs.
Content optimization with Surfer SEO is a breeze, and it's helped me write more valuable articles in less time. I couldn't emphasize enough how handy this tool is in the SEO content writing process – I use this tool for every article I write.
Key features
Content optimization
Keyword research
Site audit
AI-powered outline generator
Competitor analysis
NLP-ready
Topic research
Google Docs integration
Pricing
Plans start at $89/month. Annual discounts available. No free trial or free plan. 
---
#2 – Frase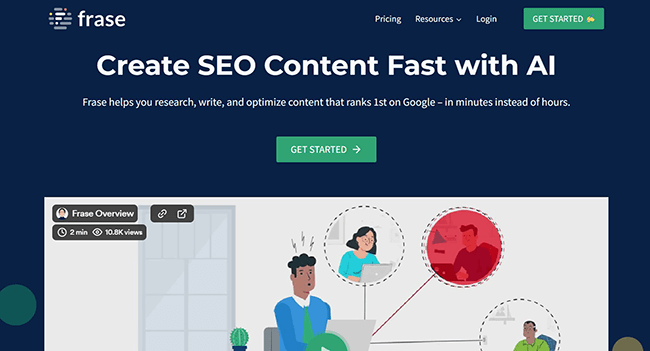 Frase is an AI-powered SEO writing assistant that helps you build content from scratch, optimize it for SEO, and track your performance over time.
Like Surfer, Frase also provides data-driven recommendations, perfect for content optimization. But it offers more automation for your content creation process.
For example, you can get a comprehensive brief by typing your target keyword or a search query. You can modify the brief's content and choose what to include and what not to. Frase allows you to add guidelines, questions, headers, statistics, and more.
What's great about this is that you can create a solid outline without additional research. It allows you to focus on writing without worrying about the structure of your article.
However, the real highlight of Frase is its AI writing assistant. If you usually struggle with writing or tend to get writer's block often, this feature is a lifesaver!
With just a click of a button, you can get AI-generated text. You can use it to expand on your ideas, generate a paragraph relevant to the topic, or rewrite your competitor's content.
If you want a tool that can help you speed up the entire content writing process while ensuring that you're producing SEO-friendly content, Frase is the way to go.
Key features
Topic research
Content editor
Content brief generator
On-page optimization
Customizable document
AI-based chatbot
AI templates
Google Search Console integration
Pricing
Frase's Solo plan starts at $14.99/mo. It offers a 5-day trial for only $1.
---
#3 – SE Ranking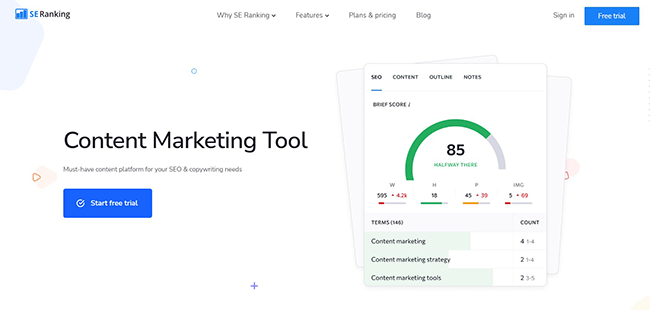 SE Ranking offers an on-page checker, topic research, and content writing tools for SEO. The latter is part of their new feature, Content Marketing Tool.
SE Ranking's content optimizer is that it has its own algorithm that analyzes high-performing content and competitors, plus some other ranking factors.
With this information at your fingertips, you can quickly build outlines, write optimized texts, and improve your overall SEO content score.
You'll find it closely similar to Surfer's Content Editor. Except when choosing related keywords to include, SE Ranking shows each keyword's search volume and difficulty.
SE Ranking also provides an AI rewrite feature. Although it's not comprehensive, it can still help you paraphrase sentences with just one click.
But that's not all. SE Ranking also has a Content Idea Finder feature, which can help you produce great article ideas by checking popular terms and topics related to your target keyword.
In addition, you'll find a site auditor, on-page SEO optimizer, rank tracking, backlink analysis, and more.
So if you want comprehensive SEO tools with additional B2B features, SE Ranking should be at the top of your list.
Key features
Competitor-based content optimization
On-page optimization
Keyword rank tracker
Website audit
Lead generator
API
Backlink monitoring
Competitor analysis
Pricing
SE Ranking's plans start at $39/month, and you can get a 14-day free trial.
---
#4 – Scalenut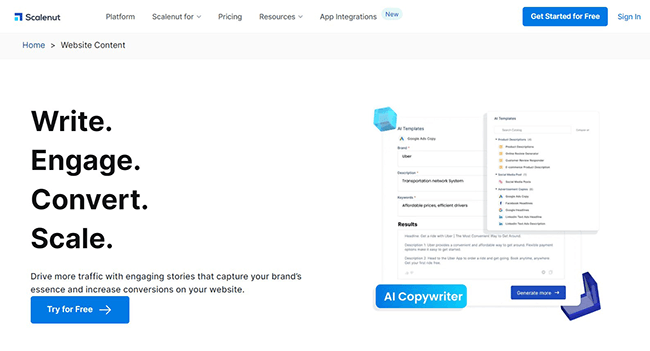 Scalenut is an AI writing platform that offers some unique features and can help you write content faster.
With Scalenut, you can get an AI writing assistant that helps you with the entire SEO content writing process. To top it off, the platform structured everything so well that even beginners can easily use it.
This feature is called Cruise Mode and can produce more than 1500-word articles in a matter of minutes. Just provide what Scalenut asks of you in the 5-step process, and you're good to go.
The AI-writing assistant inside the document editor makes this tool more powerful. You can ask the AI to continue writing content or instruct it on what to add.
Scalenut also provides short-form templates for product descriptions and social media copy. This tool will help you produce human-like and engaging content without compromising quality.
Whether you need to write content for articles, social media, e-newsletters, whitepapers, and ebooks, Scalenut can help you get the job done 3x faster.
Personally, I wouldn't recommend using the AI to write entire posts. AI works best as a tool to overcome writer's block and speed up the process. Great content will always require the human touch.
Key features
Royalty-free images
Content planning
Competitor analysis
AI templates
Integrations
Chrome extension
SERP analysis
NLP key terms
Pricing
Scalenut offers a 7-day free trial, and its Individual plan costs $29/month.
---
#5 – BuzzSumo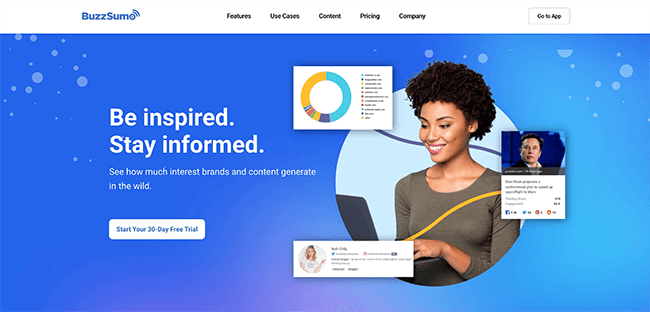 BuzzSumo is a content research and analysis tool that allows you to see the most famous content across all social media platforms.
This way, you can produce content that your audience is interested in or has the chance to go viral.
What makes BuzzSumo unique is that it has one of the largest databases of articles. It can explore over 5 billion pieces of content, so you're sure to find undiscovered opportunities.
Another thing that makes this tool powerful is its ability to filter content based on specific criteria. For example, you can search for content with a date range, language, word count, dominant reaction, type, and more.
You can also set up alerts to be notified whenever someone in your industry publishes new content.
This way, you can check whether it gets the right amount of engagement and adjust your content strategy accordingly.
Since BuzzSumo is a research tool, it doesn't offer content writing assistance. However, it provides data-based outputs that can help you understand your audience more and produce better content.
Key features
Content monitoring
Topic discovery
Keyword research
Influencer analysis
Backlink insights
Competitor analysis
Chrome extension
Account API
Pricing
BuzzSumo have a 30-day free trial on all plans. Paid plans start at $119/month. Yearly discounts are available.
---
#6 – Semrush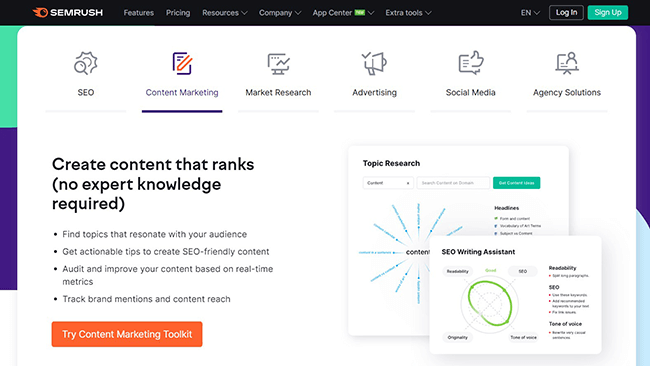 Semrush is one of the most powerful, popular, and comprehensive SEO tools. It has everything you need to rank on search engine results pages (SERPs) and write better content.
You can use Semrush for topic research, competitor analysis, content audits, SEO writing, and more. But for this, let's focus on the content writing tools.
The SEO content template allows you to audit an existing article. I like this tool because it's simple yet solid.
For instance, it lets you add up to 30 keywords and provide you with personalized SEO suggestions that are both advanced and basic.
They are easy to follow, and you won't be bombarded with technical terms that will give you a headache.
Lastly, Semrush also offers an SEO writing assistant tool. This feature can help you publish optimized and engaging articles.
The writing assistant tool will assess your content and provide a score based on four categories: SEO, readability, tone of voice, and originality.
I love this kind of scoring because it doesn't only focus on search engine optimization. It also looks at whether your content is understandable and if your tone is consistent all throughout.
Overall, Semrush is one of the best SEO content writing tools, packed with other features and third-party integrations with tools such as Google Search Console and Google Analytics.
Key features
Keyword overview
On-page SEO checker
Organic traffic analysis
Backlink analytics
Domain overview
Site audit
Rank tracking
Listing management
PPC keyword tool
Social media analytics
CRM
Lead generation
Pricing
Semrush also provides a free account, but the paid plan, Pro, costs $129.95/month. A free trial is available.
---
#7 – Jasper.ai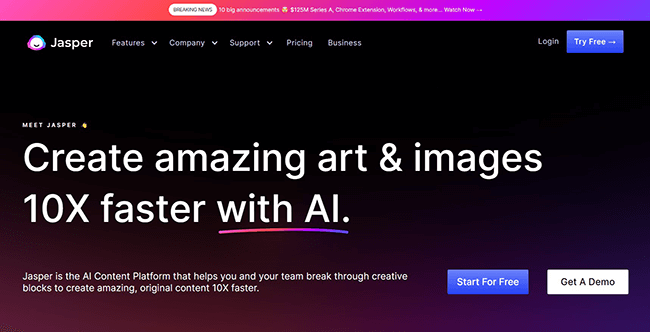 Jasper.ai is a cutting-edge content writing tool that uses artificial intelligence to help writers overcome writer's block, lack of ideas, and distractions.
It's one of the best AI-writing assistant tools I have tried so far.
You can generate content with Jasper.ai by using the platform's workflows, templates, and recipes. From creating blog posts, ebooks, and sales scripts to writing social media captions and testimonials, Jasper.ai has many content templates you can choose from.
Besides that, you can also open a blank document and let Jasper.ai finish your sentences.
Let's say you're writing about digital marketing. Suddenly, you hit the wall and don't know what to say next. You can simply press CTRL+J, and the AI will take over.
I'm impressed with Jasper.ai's sentence completion feature. The suggestions it provides are usually on point and related to my topic.
Additionally, you can write a command that Jasper.ai will follow. For instance, you want to name some benefits of using an SEO content writing tool. You can simply type ">write three benefits of using content writing tools for SEO," and Jasper will give it to you.
With this tool, you can free up some time you spend on drafting and just focus on editing and polishing your article.
Key features
AI content writer (short-form + long-form)
Chrome extension
Royalty-free AI-produced images
Over 50 templates
Tone detector
AI commands
Content workflows
Project management
Plagiarism checker
Content recipes
Grammarly and Surfer integration
Pricing
The Starter plan of Jasper starts at $40/month, but it provides a 5-day free trial.
---
#8 – MarketMuse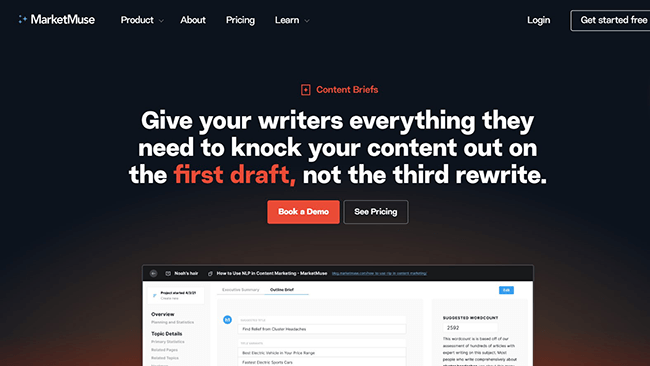 MarketMuse helps business owners and writers simplify their content marketing process.
From site auditing to researching, writing, and monitoring, MarketMuse provides valuable features that will streamline and reduce the time you spend on your screen.
You can get more personalized data to help you improve your existing content and publish more premium ones.
Additionally, what makes MarketMuse stand out is the data they use and how they present it to you.
To give you an idea, let's talk about the content briefs. Like other content writing tools for SEO, it also helps you produce top-notch and detailed briefs.
However, the insights you get come from something other than the top-ranking pages on search engines.
MarketMuse examines up to 1000s of pages and provides you with hidden topics and subheadings you can discuss to establish yourself as an expert. This approach allows you to produce original content and not just a copy of what's already out there.
I also like how the content optimization tool works. It's quite effective and very easy to use.
All you need to do is to add your seed keyword and the URL of your existing content, if there's one.
Once you click the "Run/Fetch," MarketMuse will quickly run through thousands of pages online and give you the top most related keywords to add to your article.
MarketMuse only provides what's necessary for you to rank in the first or second position on the search engines.
Key features
Website and pages audit
SEO metrics
Team collaboration
Content brief generator
Internal and external linking
Content optimization
Pricing
MarketMuse provides a free plan, but the best tools are available on paid plans starting at $7,200/yr.
---
#9 – PageOptimizer Pro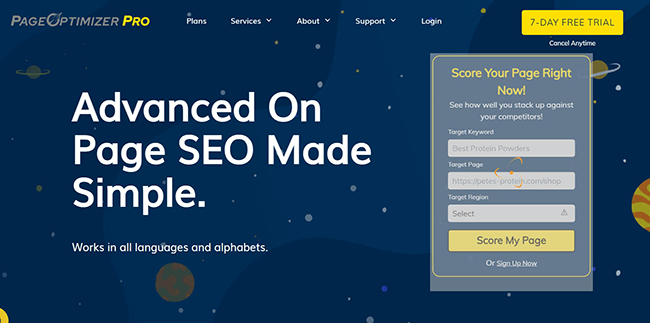 PageOptimizer Pro, or POP for short, is an on-page SEO optimization tool designed to help online marketers optimize their pages for Google.
As the name implies, Page Optimizer Pro is an excellent tool if you want to focus on improving your existing pages rather than creating new content.
The content brief divides your content into three sections: page title, subheadings, and main content. It will then provide practical recommendations you can apply directly on your web page.
You can opt for the content editor if you want a real-time optimization score while writing.
It will grade your content as you type and ensure you use the proper keyword density. This way, you can write an SEO-friendly article before you even hit publish.
The only thing I noticed about the content editor is that it doesn't provide long-tailed target keywords. You might need to conduct keyword research separately.
Simply put, PageOptimizer Pro is an excellent tool for those who already have some articles or pages published.
Key features
Real-time content analysis
On-page SEO audit
LSI term suggestions
Unlimited reports
Schema optimization
Chrome extension
61 languages available
Competitor monitoring
Pricing
PageOptimizer Pro's cheapest plan under the single-user plan costs $27/month, while for Agencies, the most affordable Team Plan is $120/month. A free trial is also available.
---
#10 – Grammarly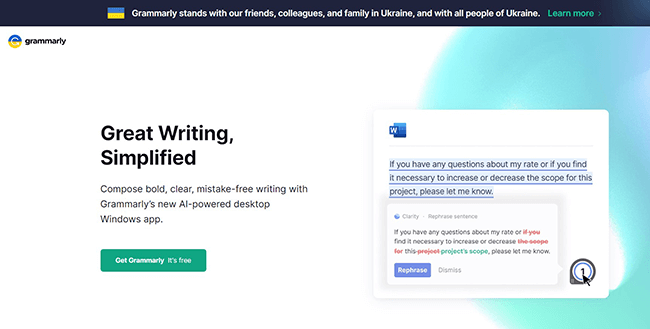 Grammarly is another AI-powered writing assistant that helps you write better and more accurately.
It checks your grammar, spelling, and punctuation for errors and provides suggestions on how to fix them.
Although it's not specifically for SEO, Grammarly can help you publish search-engine-friendly content.
Using suitable words can lower the bounce rate and keep your readers engaged.
For instance, it gives suggestions based on the content type, user intent, and audience knowledge. So if you're writing a technical topic for a general audience, it will give you suggestions to keep your content simple and jargon-free.
Grammarly's premium version offers a plagiarism checker, which can help you publish original articles and avoid duplicate content.
Lastly, Grammarly is accessible. You can use it on all devices and browsers. And by all, that means it's available as a browser extension, desktop app, and mobile app.
For example, you can use it in Google docs or Facebook.
With Grammarly, you can be more confident with your writing no matter where you are or what device you use.
Key features
Content editing
Proofreading
Word and sentence suggestions
Powerful extension
Writing analysis
Pricing
Grammarly has a free version, but its Premium plan costs $12.00/month.
---
#11 – Hemingway App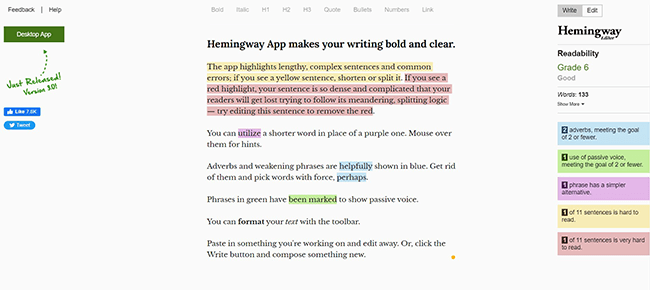 Hemingway App is one of the best free SEO writing tools.
Although it has no special features like keyword research or optimization, Hemingway makes sure that you appeal to what matters the most – your readers.
This app makes your writing concise and clear by highlighting lengthy, complex sentences, passive verbs, and adverbs.
Hemingway also rates the readability of your text and offers suggestions on how to improve it.
What I like about this tool is it's pretty straightforward. When you go to the platform, you can either paste your text in the box or write directly on the site.
Hemingway also lets you switch from Write or Edit mode. The Write mode is for those who want to focus on writing content, while the Edit mode allows you to see all the errors in your text.
If you want a tool to help you improve your content's readability, then Hemingway is the way to go.
Key features
Intuitive UI
Color-coded suggestions
Text editor
Basic document tools
Readability assessment
Desktop version
Pricing
Hemingway App only has a free version. It doesn't have a paid plan.
---
Conclusion
Investing in content writing tools for SEO can help you speed up the whole content creation process.
At the same time, it ensures that your content's quality is always top-notch and engaging for your readers.
So what content writing tools will you use? If you can't decide, check out our favorites:
Surfer SEO is intuitive and offers a variety of features that can help you with your SEO content writing. It makes it easy to optimize, audit, and research your content. It also offers a useful keyword research tool that groups keywords into content clusters.
SE Ranking, on the other hand, provides an all-in-one platform for SEO and content. Additional features include SEO audits, rank tracking, and more.
Semrush is one of my top picks because it leads the way in terms of overall features. It covers all the essential SEO functionality and its writing assistant also provides some unique insights that benefit writers.
Remember to bookmark this page to stay updated with the latest content writing tools for SEO.