The Best Social Media Strategies To Use In Your Business
No matter how big the brand is, if they don't have an effective social media engagement strategy in place, they will fail.
And it'll look even more embarrassing because they're such a big brand.
Surely, they can hire someone to crack the code of social media success, right?
Right, most big brands have stellar social presence buoyed by an effective strategy.
But the guide you'll find below, though effective for everyone, is primarily aimed at solopreneurs and bloggers strapped for time.
I'm going to show you how to make the most out of being digitally social.
Learn below how you can turn social media into a growth lever for your online business, starting today.
What is social media engagement? And why focus on it?
Social media engagement is the engagement you get on your social activity.
There are more than 19 metrics you can track, but the crucial ones are:
Comments
Shares or retweets
Likes
Click-throughs
Followers and audience growth
Mentions (both tagged and untagged)
Usage of branded hashtags
Here are 3 reasons why higher engagement helps your online business grow.
#1- Higher reach
Facebook, Twitter, Instagram, TikTok…
Names change but one thing stays the same.
These platforms all reward engagement and they all algorithmically promote the posts that get high engagement initially and over time.
So training your audience to tick off a few of the metrics listed above will only help.
#2- Build trust and loyalty
Have you heard of the ancient Chinese saying:
"Social engagement is akin to sowing seeds in the fertile ground. Though you won't see immediate returns, the future fruit of profit will come about from the sweat, toil and effort you put in today"?
No?
Well, no wonder. I just made it up on the spot:)
But it's true nonetheless.
When big brands (think Coca Cola, Nike or McDonalds) engage with their followers it shows they respect them and what they have to say.
This is especially true when big brands resolve customer issues via social media.
Most people turn to social media for quick help and they certainly don't enjoy being ignored.
Bottom line: People will like and trust a brand more if they see they're not just a faceless corporation, but that compassionate people run and operate that ship.
#3- Higher profitability
This is a logical continuation of point #2.
Being more trusted and having loyal fans inevitably leads to them buying more of your stuff, but also becoming your brand's evangelist and promoting you for free.
This further increases your reach, and for free.
7 steps to a sizzling hot social media engagement strategy
We'll start with the basic stuff first. So basic that I probably don't need to tell you about it.
But I still will as I want to start from the ground up.
Then we'll move onto the more advanced stuff that you can still easily do and that'll move the social needle much faster.
#1 – Install a social sharing plugin
It's becoming a trend lately that sites don't have social sharing plugins.
Here's an example:
I don't understand it. How am I going to share it?
Am I supposed to bother to create a tweet, tag them, and add hashtags?
I'll do it for a friend, but not for a total stranger. Instead I'll move on to some other blog.
Most visitors you'll ever get to your blog will be total strangers, so you need to make it as easy as possible for them to share your content.
Installing a good social sharing plugin is key here.
#2 – Analyze your current engagement level
You can't improve what you don't measure.
Agree?
In order to grow you first need to know exactly where you're at.
All popular social platforms offer robust analytics where you can glean valuable data.
For example, to check Twitter Analytics, load up your profile and go More > Analytics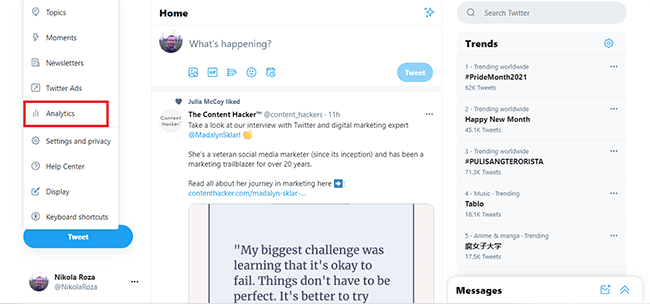 Here you'll see :
Engagement rate: Impressions and engagement a tweet gets.
Link clicks: How many people clicked your link?
Reach percentage: How many of your followers saw your tweet?
Optimal posting time: When's the bulk of your audience active on Twitter?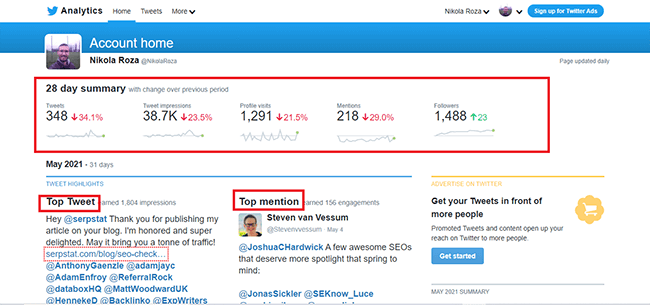 That's a plethora of useful data you can use to inform your strategy going forward.
#3 – Be first (engage)
If you want more engagement from others, first you need to give it freely.
Start sharing other blogger's content, leave comments on their posts, chime into existing conversations, participate in Twitter chats…
Show you're a blogger/brand who's deeply entrenched in the niche and loving it.
Bottom line: Give value before you ask for anything, before you start receiving.
Pro tip: Be very deliberate with your time spent on social media. It's incredibly easy to turn social media from a boon to your site into a colossal waste of time.
Use a social scheduling tool (I use Buffer) to schedule and share content for at least a whole month in advance.
When you schedule tweets make sure you include a couple of hashtags # (this shows you care) and make sure you tag them so your work gets recognized.
Here's how I'd share this post on ways to do keyword research for free using Buffer.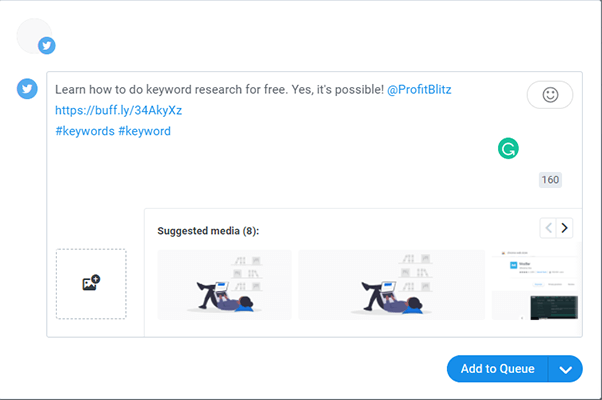 #4 – Engage right back at them
Now that you've taken the first step, it's only a matter of time before you get trickles of engagement, first on your promotion of others, and then on the stuff from your blog.
It's inevitable that it'll happen and when it does make sure you're prompt and respond back. Thank them for sharing, ask them questions and do anything you can to keep the conversation going for as long as possible.
This will accomplish 2 things:
First, you show you care about the person as you're willing to spend time talking directly to them. Secondly, you'll no longer be broadcasting your marketing messages; instead you'll be holding a conversation which everyone else is privy to.
And that's the key.
When you engage with one person there are at least a 100 other pairs of eyes looking to see how you behave and what they can expect if they engage with you in the future.
Think of the potential to make a positive impression.
#5 – Private conversations (make someone feel special)
Sometimes it's worth it to engage your followers privately via private messaging (for example Twitter DM).
This is not scalable but it's super effective at garnering trust and sparking genuine brand loyalty.
Might be worth your time if the follower is also an influencer and someone you want to work with in the future.
#6 – Find a winning tweet, model the others on it
Oftentimes, engagement is totally out of your control. You can craft a "winning" tweet, only for it to fall flat and to never do anything.
And then some other time, you can whip up something in a flash in a bid to keep your feed active, and then BOOM, more engagement than you've ever had.
What happened?
Haven't a clue.
But I know what can help.
Examining analytics and trying to figure out what was the trigger.
Was it something provocative you said? Was it something surprising? Exhilarating? Clever (like my pseudo-ancient-Chinese quote from the beginning of the article)?
You need to investigate, learn and replicate.
#7 – Measure your results again
After 3 months have passed, come back and see the new face of your analytics.
Especially pay attention to engagement metrics you care about the most and again, look to find what worked and what didn't.
Focus on the latter while jettisoning the former.
You could take this a step further by using a dedicated social media analytics tool like Iconosquare.
Bonus: 3 simple ways to spark genuine engagement
Here are 3 proven methods for sparking genuine engagement for your social postings.
#1 – Ask more questions
Humans are social animals and also like to express their thoughts. They also like when the other person pays attention to what they have to say.
Getting more engagement out of your posts is often as simple as phrasing them as questions.
When you do that you can bet some of your followers will chime in with their answers.
Note: The interesting thing here is that when you talk to someone in real life, asking more questions makes you more likeable.
Well guess what? That translates online as well!
So ask away!
#2 – Use video more often
Video is super engaging. People love it and eat it up.
In fact, posts with video embeds generate 400% more engagement than posts with plain text or even images.
There's something about video that makes people stop in their feed and pay attention.
You don't need to know what exactly that is. But you do need to use it to your advantage.
And there are a ton of free video editors out there (good examples are Clipchamp and Instasize).
If you want to go really hardcore you can hire a company like Breadnbeyond to make videos for you.
However, considering the fickleness of social media, this should only be done on special occasions.
You don't want to be wasting money either.
#3 – Use gifs and emojis liberally
Gifs and emojis have become the staple of social media.
Some marketers think they're cringeworthy, but others just love them.
Why?
Because they work at sparking engagement,
But also because they're often pretty funny and making people laugh is often the trigger for them telling you how you made them laugh, and then the engagement dance begins.
A good example is Lord of the SERPs Twitter profile which is hilarious to say the least: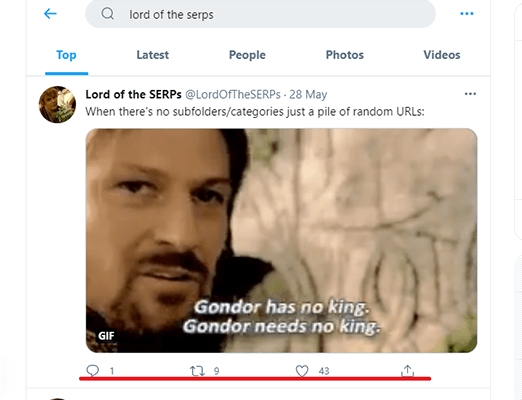 Conclusion
Look:
Social media engagement strategies are not reserved for big brands only.
You as a lone-wolf blogger and solopreneur need to extract as much value from social media as you can.
And now that you've read my post, you know exactly how.
Related Reading: 25 Successful Social Media Marketing Examples To Learn From