Selling your own digital products is one of the best ways to monetize a website or blog. I've been selling digital products for about 4 years now, and I highly recommend it to other bloggers who want to take their income to the next level.
The thought of creating and selling digital products can be pretty intimidating if you have never done it before, but the technical details can actually be quite simple. There are a number of e-commerce options for those who simply want to sell a few digital products, and choosing the right platform is an important decision.
In this article I want to highlight several options that can help you to sell your own digital products without requiring much time or effort on your part to handle to details of e-commerce and product delivery. And since the checkout pages aren't hosted on your site you won't need to worry about security and protecting customer data, like credit card numbers – the provider will take care of that for you.
The options featured in this article are perfect for bloggers and owners of small websites who just want a no-hassle way to sell an e-book or any other type of downloadable product. These platforms are great for their simplicity. They are not necessarily appropriate for larger shops that want to sell hundreds or thousands of different products, but if you're looking for a simple way to sell one product or a few different products, this is probably the route you will want to go.
I have personally used the first four options listed here (Easy Digital Downloads, SendOwl, DPD, and E-Junkie) and can recommend them from my own experience. I have not personally used the other 4 options listed (Gumroad, Selz, Sellfy, and Chec).
RELATED READING: 10 Valuable Lessons I've Learned from Selling Digital Products
Easy Digital Downloads (WordPress Plugin)
Easy Digital Downloads is a free WordPress plugin that makes it easy for you to start selling a digital product from your website or blog. If your site runs on WordPress and you just want a simple way to collect payments via PayPal and deliver digital products automatically to buyers, Easy Digital Downloads is an excellent choice. While the core plugin is free, there are a bunch of add-on plugins that you can purchase for additional functionality. For example, you can purchase add-ons to use other payment gateways aside from PayPal.
The fact that it is free makes it a good starting point for many bloggers, but if you wind up purchasing a number of different add-ons to get other functionality the price can add up. In that case you may be better off going with one of the other options in this post that will give you the functionality that you are looking for.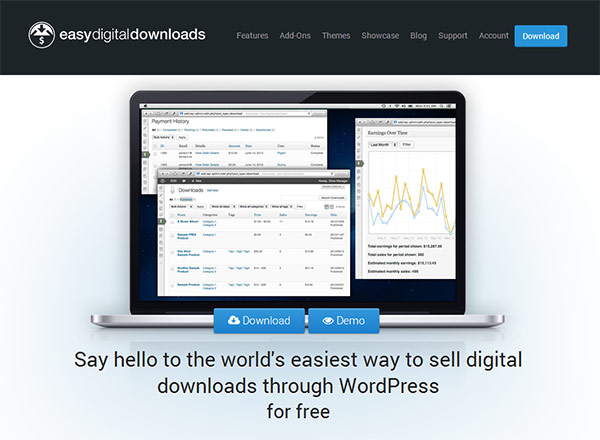 SendOwl
SendOwl is a simple, yet feature rich, hosted shopping cart. SendOwl is primarily intended for selling digital products, but you can also sell tangible products, software licenses, subscriptions (recurring payments), and other types of products. It integrates with PayPal, Stripe, Authorize.net, BitPay, SagePay, and PayMill to accept payments from customers. SendOwl will handle the delivery of your digital products with secure download links. They also host your digital product on their servers for added reliability, and to save you some bandwidth costs.
Want to Sell Your Own Digital Products Easily?
I highly recommend SendOwl as a great platform for selling digital products. I use SendOwl at a few of my own sites and it is the most reliable and easiest platform I've used (and I've tried a lot of them) for selling digital files.
SendOwl also includes features like a built-in affiliate program, integration with your mailing list (AWeber, GetResponse, MailChimp, Campaign Monitor, Infusionsoft, Constant Contact, and Sendy), coupon codes, reporting, and more. Pricing varies depending on how many different products you want to offer and the disk space needed to store your products. Pricing starts at $15 per month for a plan to allows you to offer 30 products and provides you with 3GB of storage. There is also a limited plan for $9 per month that allows you to sell 10 products with 1 GB of storage space, but it does not include all features. You can try SendOwl free for 30 days to see if it is a good fit for you.
In addition to the features, one of the things I love about SendOwl is that the user interface is very well-designed and easy to use.
If you are interested in SendOwl, see my article Get Started with SendOwl for E-Commerce.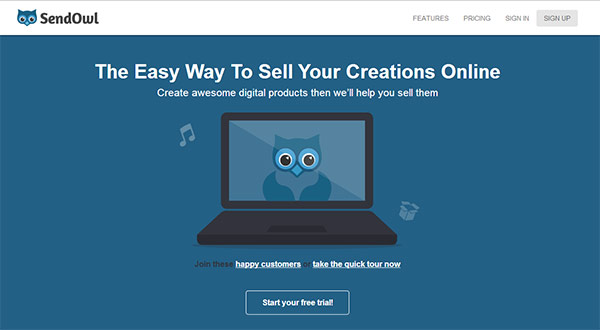 DPD
DPD (short for Digital Product Delivery) is very similar to SendOwl in terms of how it works, as well as having many of the same features. With DPD you can sell any type of digital product, tangible product, software activation keys, and services. If you're selling a digital product DPD will host your products and automatically deliver them securely to buyers.
Also like SendOwl, DPD includes a built-in affiliate program and will integrate to add customers to your mailing list (AWeber, GetResponse, MailChimp, Campaign Monitor, Constant Contact, Sendy, iContact, and Imnica Mail). DPD also features a nice user interface and is rather easy to set up and use.
Pricing for DPD starts at $10 per month for a plan that allows you to offer 20 different products and provides you with 1GB of storage space for your products. They also offer a 30-day free trial.
If you are interested in DPD, see my article Get Started with DPD for E-Commerce.
E-Junkie
E-Junkie has been a popular choice for selling digital products for several years now. I personally used E-Junkie for about 3 years on one of my old websites that I no longer own, and I found it to be very reliable. While E-Junkie is a great option, I personally prefer SendOwl and DPD because they offer almost all of the same features and functionality, their user interfaces are much better and easier to use. The user interface is my one gripe with E-Junkie.
Like SendOwl and DPD, E-Junkie will host your digital products and deliver secure downloads automatically to your customers. E-Junkie also includes a built-in affiliate program, coupon codes, and it integrates with multiple payment gateways (PayPal, TrialPay, 2Checkout, and Authorize.net).
Pricing starts at $5 per month for a plan that allows you to offer 10 products and 50 MB of storage. A one-week free trial is available.
If you are interested in E-Junkie, see my article Get Started with E-Junkie for E-Commerce.
Gumroad
Gumroad is a popular option for easily selling your digital products. It's emphasis is on simplicity, so it is easy to get started but doesn't include all of the features that you might get with some of the other options.
Unlike the other options we've looked at so far in this article, with Gumroad you won't integrate with PayPal or your own payment gateway. Instead, you'll be paid by Gumroad every other Friday for your sales.
There are no monthly fees, but Gumroad charges 5% plus $0.25 per transaction. Depending on the price of your products and the amount of sales that you make, this could wind up being more or less than you would pay with a monthly fee to SendOwl, DPD, or E-Junkie. Gumroad also allows you to sell subscriptions and license keys in addition to standard digital products.
Selz
Selz is another option that I have been seeing more of recently, and it has some features that make it different than any of the other options listed here. For starters, you don't need your own website to use Selz. You can get your own web store from Selz, sell on Facebook, and it also includes a WordPress plugin that makes it easy to use Selz on your WordPress-powered website.
You can export your customer emails in a .csv file, or integrate with AWeber, MailChimp, and Campaign Monitor. You can also include upsell options and coupon codes on receipts to increase sales. Disqus comments can also be enabled to collect customer reviews and comments.
The pricing for Selz is the same as Gumroad. There is no monthly fee. They keep 5% plus $0.25 per transaction.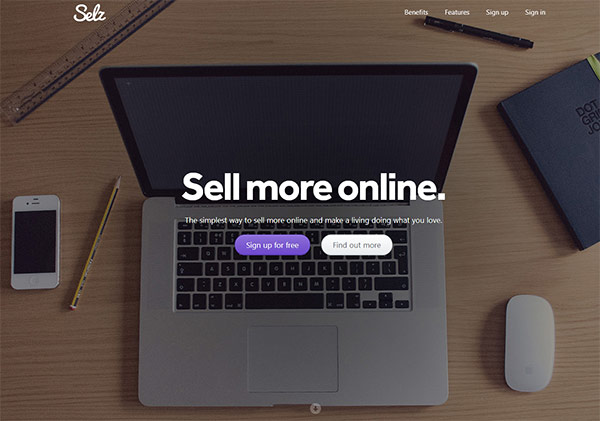 Sellfy
Sellfy aims to be the simplest way to sell digital products. You upload your product and Sellfy will give you a product link that you can use to sell it anywhere (your site, social networks, etc.).When you sell a product you'll get paid instantly through the gateway of your choice (PayPal, Stripe, or PayMill). Sellfy will then deliver your product to buyers.
Pricing with Sellfy is simple. They keep 5% of each transaction. There are no monthly fees.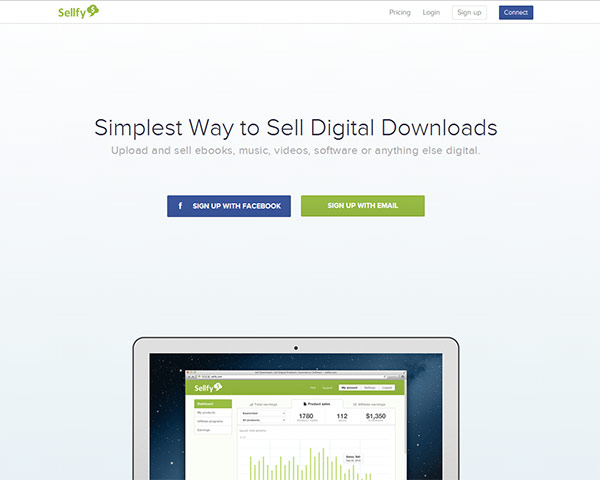 Chec
With Chec you can sell digital products as well as tangible products. You'll create your product and Chec will provide you with a product link that you can use to sell your product anywhere. Chec, of course, handles the delivery of your digital products to buyers. It also includes some unique features, like a discount to influential buyers if they tweet or share your product link.
Chec charges no monthly fee. They keep 3.5% of each transaction, and 2% if the customer uses PayPal (2% on top of the fees that PayPal will charge).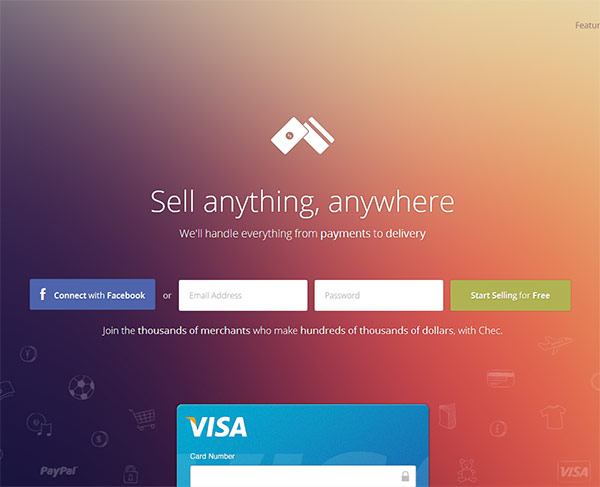 RELATED READING:
Marc is the founder of ProfitBlitz. He has been working online for more than a decade and loves to write about topics like internet marketing and SEO. When he's not working he enjoys travel and photography.