eClincher Review 2023 – The Pros And Cons You Need To Know
Looking for a social media marketing management tool for your business?
eClincher was designed to make your social media marketing activities more manageable. You'll get a complete, easy-to-use platform to engage, track, and grow your audience on multiple social media networks.
In this review, we'll talk about everything eClincher has to offer. We'll also explain the different pricing plans of this software. Last, you'll learn what we think are the biggest pros and cons of the platform.
By the end of this post, you should have all the information you need to determine whether or not it is the right tool for you.
Ready?
Let's get started with our eClincher Review.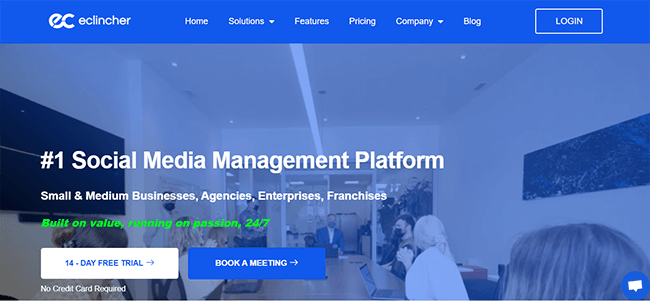 eClincher is one of the best social media management tools when handling multiple accounts and brands. It is not only great for scheduling posts but also for tracking the performance of your social profiles.
It supports different social media platforms such as Facebook, Instagram, Twitter, LinkedIn, Pinterest, Google My Business, YouTube, TikTok, WordPress, Yelp, and many more.
eClincher also caters to different types of businesses:
Small business: Manage all your social media profiles, schedule posts, and automate tasks.
Medium business: Stay on top of your social media channels with a full set of tools to plan, interact, and analyze.
Agency: Use individual dashboards, collaboration, and custom reporting features to keep track of your clients.
Enterprise: Streamline workflows, work together, interact with audiences, keep an eye on things, and make reports.
Meanwhile, two of its unique features are reputation management and brand tracking. Another feature to dig into is their team collaboration. These features can be helpful for your overall social media strategy.
So in this article, we'll review eClincher and uncover why brands trust it in managing their social media accounts. We will tackle the mentioned and other features later on.
What features does eClincher offer?
eClincher may not be one of the most popular social media management tools in the market. But it still has the edge over the others when we talk about its features.
Here are some of eClincher's features that you may want to take advantage of:
Reputation Management and Brand Monitoring
Publisher and Visual Calendar
All-in-One Smart Inbox
Auto-Post Smart Queues
Automated Posting with RSS Feeds
One-of-a-Kind Analytics Dashboard
Team and Client Collaboration
Let's find out how you could use each of these.
Reputation management and brand monitoring
Most potential customers search the web when looking for new brands to purchase with. However, if your brand has a bad reputation online, it affects your future sales. Thus, it's best to be alert of your social media presence and how people perceive your business online.
Using eClincher allows you to:
Get instant access to brand mentions in social media, news, blogs, forums, reviews, and other places.
Learn how people feel about your brand (positive, negative, and neutral).
Discover trends and conversations about keywords, hashtags, or phrases on the internet.
Recognize how your brand is perceived online.
Prepare for any crisis and respond before it's too late.
eClincher believes that social media managers should respond to brand mentions, whether good or bad. First, it reinforces the excellent relationship you have with your existing customers. Similarly, it shows your willingness to work out the complaints and negative comments.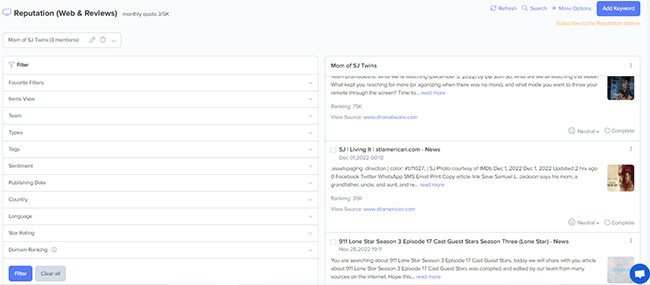 Because of that, eClincher tracks mentions of your brand throughout the whole web. With its sentiment analysis, you'll learn how people react to your brand. Likewise, you could immediately respond to both positive and negative feedback.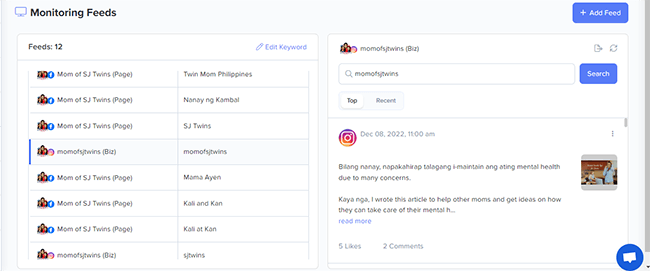 By adding keywords, feeds, or hashtags, you are always in the know for possible mentions over the web. It could be from social media, news, blogs, forums, reviews, etc.
Note: You could also add keywords and hashtags used by your competitors to monitor their reputation.
Publisher and visual calendar
If you're looking for a social media calendar tool, eClincher's Publisher tool allows you to share posts across multiple platforms simultaneously. It also allows you to:
Publish, edit, and filter social media posts across networks
Customize a post per channel while writing a new post
Plan your posts visually with Drag-and-drop posts.
Edit, color-code, reuse and delete content.
Remember, though, that social accounts may require specific media sizes and character limits. Thus, you may need to compose separate posts for some sites.
On the main dashboard, the compose section is on the left side. But clicking the Publishing and Scheduling section leads you to an instruction for posting. You'll see it above the page.
To create a post, choose the social accounts where you will publish it. Then, choose from the icons that will help you with your post creation. Apps like Canva, Wave video, Unsplash, and Sniply are connected to aid your content creation.
If you decide on bulk scheduling, click the Upload Posts tab. Then, upload a CSV or an Excel file with URLs of photos and videos.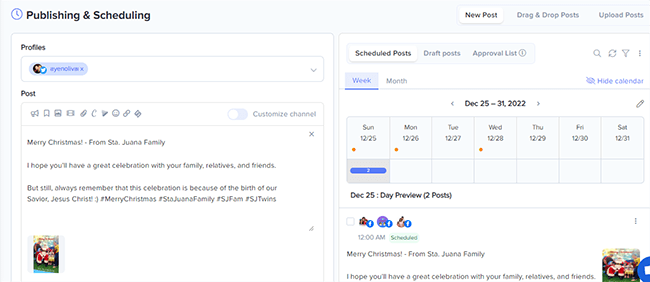 Meanwhile, the calendar helps you to visualize your posts in a month or week. In addition, it has a drag-and-drop function that aids you with the rescheduling of relevant content.
You can check the scheduled or draft posts or the approval list. You could also filter it to see posts per social account.
All-in-one smart inbox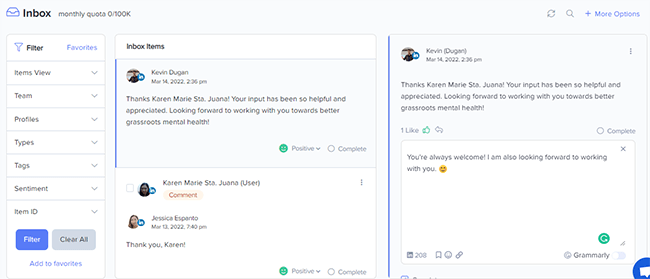 With eClincher's smart inbox, messages and comments on your profiles are in one place. You'll receive them in real time, and you can also respond to them via eClincher's inbox. This feature allows you to:
Combine your live social channels into a single feed.
Support various social media channels and message types with efficient workflows.
Track social communication, prioritize conversations, and work together with your team.
One unique characteristic of this inbox is its sentiment analysis. It predicts how people feel about your published content. The reports may not be accurate, but you can still edit it.
You can mark them as complete if you are done responding to or reading messages. You could also sort them by type, social profile, team member, etc., for easy viewing.
Note: You could assign team members to respond to messages and comments, especially for large accounts.
Auto-post smart queues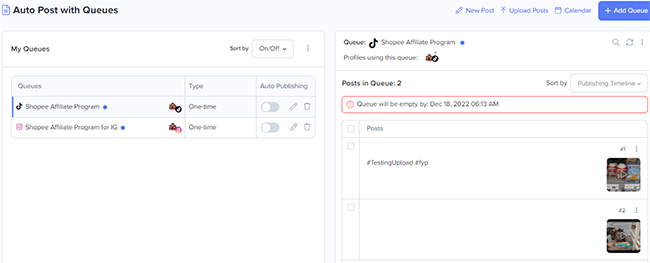 eClincher makes your scheduling post more spontaneous through Auto Posts. This feature allows you to:
Increase your social traffic and customer engagement.
Recycle your most effective evergreen content.
Set and forget your content.
Using the Queues, you could group your posts per type of content and social account. A set of queues is like a folder of related posts per social media profile.
You can set your queues to one of the following:
Recycle queue – Set this if you want the posts to be used again and again. The content would keep repeating on a cycle even if you posted it before.
One-time queue – Set this if you don't intend to repeat the content inside the queue folder. Once the queue is empty, it will stop posting.
End-date queue – This is similar to recycle queue, however, the reusing of posts ends at a specific date.
Once you have set a queue, schedule content by clicking it. Then, start writing and attaching the media similar to what you do at the Publisher.
When you're done, click Edit Profile Schedule. Then, click Add Profile Schedule to set a recurring schedule.
For more detailed steps, read this guide by eClincher.
Note: Bulk uploading is also allowed here. (Please refer to the Publisher feature above.)
Automated posting with RSS feeds
Always have content ideas with RSS feeds automation. This eClincher feature allows you to:
Curate suggested content
Access free media libraries (video, images, gifs, emoji)
Use advanced editing tools (Image editor, Canva, Wave Video)
Adding RSS feeds allows you to check notifications and updates from different blog sites. This will help you get ideas for content curation for your brand.

Here's how to add an RSS feed:
Click the Publishing button on the left side of the same dashboard > Click Auto Post with RSS > Click Add RSS feed.
Enter the URL feed of the website > Click the Search button. It will show the latest update of the blog site.
Choose the profile where you're going to publish the blog content automatically. Set it to how frequently eClincher should check for a new update.
Set also how many blog updates you should share on your post. You could indicate the beginning and ending captions, but it is optional.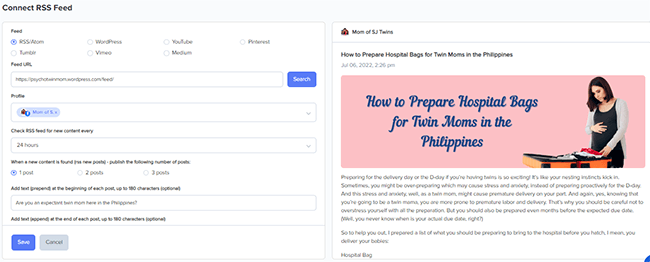 Saving the RSS feed will not automatically share new blog posts from the site. You still need to turn ON the Auto Posting with RSS feed. Then, it will publish the latest blog post for about 1-2 minutes.
But to only see the updates from a site, don't turn on the Auto Posting.
One-of-a-kind analytics dashboard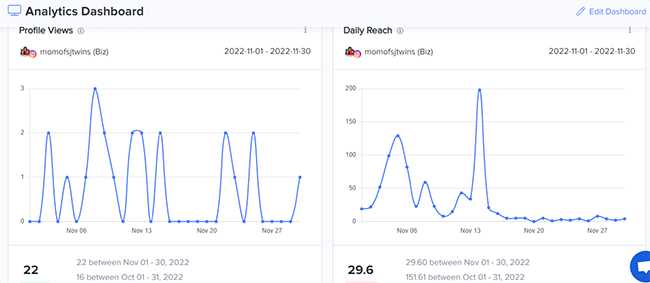 eClincher can also be an option if you need a social analytics tool. This feature allows you to:
Drive strategic decisions with rich and responsive social data.
Gain access to competitor reports, cross-channel analysis, and Google Analytics.
Evaluate campaign and hashtag performance, clicks, reach, impressions, the best time to post, traffic, conversions, and more.
eClincher has a versatile analytics dashboard to generate valuable and detailed data reports. Monitor your progress easily with its multifaceted insight report of all your accounts. Keeping track of your competitors is possible as well with its AI-assisted reports.
The reports that it generates are adjustable according to your requirements and preferences. For example, it can analyze different accounts separately, but you can also choose cross-channel data as needed.
You can also opt to receive reports in your inbox by scheduling them. Likewise, it is a great tool for social media strategy. With its performance reports, you'll know how to plan and suggest content for your future posts.
Team and client collaboration
eClincher has team and client collaboration features that help your team work efficiently. This feature will help you:
Share calendars and workflows for teams and agencies.
Tag and assign as tasks—notes can be added, and log history can be viewed.
Handle content management and collaboration through Drafts, Comments, and Notifications
As a social media manager with members, you can assign them roles in a single dashboard. The role assignments will allow them to gain access only to their brands. There's also the option to tag your members, add notes, and view their task history.
eClincher also benefits agencies with clients who prefer to track their social media accounts closely. You can use the eClincher's approval workflow to allow internal and external client collaboration. Add them as an Approver, and they can see the tasks as viewers or commenters.
eClincher review: how much does it cost?
eClincher pricing has three subscription options in monthly or annual plans: Basic, Premier, and Agency.
The rate of the Basic plan is $65/month or $702 if paid annually. You can add up to 10 profiles for one user. Almost all features are included with some limitations, however.
You can only add up to three RSS feeds for auto-posting or content suggestions. While you can only add up to 10 feeds for listening and monitoring features. Sentiment analysis is not included in the package.
Meanwhile, the Premier subscription costs $175/month or $1,890/year. This time, you can add up to 20 profiles for up to three users. You can also add up to 10 RSS feeds and 50 feeds for listening/monitoring.
Lastly, the Agency plans' rate is $425/month or $4,590/annum. This is good for up to 40 profiles and six users. All features in the Premier are included here, with additional team productivity reports.
There are additional fees if you want Reputation Management and Local SEO Search. This applies to any of the three plans.
There is no available free account, but you could try their 14-day free trial first. You don't need to use a credit card to avail yourself of the free trial. The free trial will help you decide if their plans suit your business needs.
eClincher review: pros and cons
While eClincher has many advanced features, it could be better. Find out the possible gains in using this and what eClincher should improve.
eClincher pros
Tracking – eClincher does more than the tracking of social profile metrics. It also monitors brand mentions through keywords and hashtags.
Content curation – Connected apps such as Canva and Wave video help you to draft a post. Meanwhile, sites like Pixabay make it easy for you to search for high-quality photos. By adding RSS feeds, you could get ideas for your content.
Organized – You could filter your Publisher and Inbox by post type and social media account for easy viewing. You could also classify your queues according to social media profiles and type of content.
Sentiment analysis – With the use of keywords, eClincher detects the emotions of the commenters.
Customization – You can tailor-fit your analytics dashboard to check the insights that matter to you.
eClincher cons
Prediction – Sentiment prediction is not always accurate. It mainly bases its analysis on emotional keywords.
Add-on services – Reputation management and local SEO search are not included in any plans. You have to pay on top of your subscription to get access to these features.
Not as easy to use as other tools – I wouldn't say eClincher is difficult to use, but it's definitely not one of the easiest compared to others we've tested.
Help documentation needs updating – Some of eClincher's blog posts & help documents about their features need updated screenshots.
Approval of Comments – There is nothing to alert you if approvers or contributors comment on posts, and they are not easily visible. You must visit each post and look for comments.
High entry-level price point – eClincher may not be suitable for solopreneurs or those on a budget due to its entry-price point.
eClincher alternatives
What if eClincher doesn't offer the features you'd expect from a social media management tool? Check out these eClincher Alternatives:
Agorapulse – Bloggers and content creators can use this social media management tool to promote their work and increase their visibility with a few clicks. Agorapulse's collaboration tools will appeal to social media managers interacting with various team members to manage client work. The social inbox and publishing functionality on offer are some of the best we've tested.
Pallyy – Pallyy is a game-changer for people who run social media campaigns and want to organize and simplify them without breaking the bank. It presents itself as a tool for agencies to manage social media but it's also great for solopreneurs thanks to its low entry-level price point. You can handle your clients' social media posts, conversations, and analytics all in one platform.
SocialBee – SocialBee helps you manage your social media platforms by allowing you to create, schedule, publish, and analyze posts. With a low-cost social media management tool like SocialBee, you can save time and expand your social media presence.
Final thoughts on eClincher
That concludes our full eClincher review!
Social media statistics show marketers' most significant challenge is finding and reaching their target audience. With a social media management tool like eClincher, you can make this difficult task more manageable.
Overall, the eClincher platform can be a solid option for your social media management needs.
In 2012, eClincher started working on a solution for solopreneurs and small businesses to manage and track their social media accounts with actionable analytics. Since then, their customer base and platform have grown and changed.
Some social media management tools need a feature for reputation management and brand monitoring. eClincher customer reviews say this is what makes the tool stand out.
All that said, the interface doesn't look as modern or have as simple a layout and it takes a little time to learn how to use it well.
What's great is that you can contact eClincher for an online discovery meeting if you'd like to request a demo. Moreover, If you're going to dive right into it, eClincher has a free trial version—no credit card required!
If eClincher doesn't fit your needs, be sure to check out one of the alternatives mentioned above.
We hope this review was helpful. Good luck!