Beyond A Name: 6 Email Personalization Tips For Sticky Emails That Convert
Today's customers are finicky.
They insist on a personalized experience whenever they interact with a brand, regardless of the channel. Personalization expectations are sky-high on the most profitable channel of all—email.
Competition to stand out in the inbox and get one's emails read and clicked is intense. With 126 emails flooding the average person's inbox every day, only brands that go the extra mile win. Often, that extra effort that wins over your audience's hearts and keeps them engaged is email personalization.
In this article. I'll explore 6 email personalization tips to help your brand get through to your audience and get clicks and sales.
#1. Segment users for relevant emails
Segmentation is grouping your subscribers and customers according to their:
This increases the relevancy of your emails. A HubSpot study revealed marketers who used segmented campaigns get as much as a staggering 760% increase in revenue.
There are several ways to go about it:
On sign up, ask potential subscribers the information they want to receive. From the get-go, you'll be sure you are sending messages that'll meet their needs.
Put them into different buckets based on the different lead magnets they signed up through.
Do a survey and find out the content they prefer.
You can also segment your list according to engagement levels. Put highly engaged repeat buyers on their own and the not-so-engaged on their own. Then you will send each group relevant offers they'll love.
Here's an excellent product anniversary email from JetBlue.
It's a warm and fun message that endears the brand to the customer.
Segmentation helps you send emails to people about subjects they care about. Because they have raised their hands to receive particular messages, the odds of them engaging with your emails are high.
#2. Send emails at the most appropriate time
When you send your emails determines whether your campaign flies or flops.
Send emails at the most convenient time for your audience. Their preferred time when they are most likely to engage with your email.
With AI-driven Send Time Optimization (STO) you can now hyper-target your audience and individualize their emails by:
Time zone – These days every brand is a local-global brand with customers all over the world. Through time zone optimization you can send them emails to your customers at the exact time they prefer to receive them, no matter where they are in the world.
Time – You can even drill down the exact time in the day a subscriber is likely to open emails and click on links. This way you exponentially increase the chances of getting your emails opened.
Days – You can also send emails on days when your subscribers are likely to open them. Most studies show Tuesday is the undisputed winner, with Wednesday and Thursday coming second. Don't follow these studies blindly. Use them as a starting point. Dig into your marketing analytics to see what works for your audience.
Special days – You can also set up an automated email to send cheerful birthday messages to your customers to show them how much you care. You can also send product anniversary emails to find out how your customers are enjoying your product/service or if they have any problems they need help with.
Something along these lines: It's been [x days/months] since you bought [product name]. How has it been? Let us know if you need help.
Gaming platform G2A improved open rates from 9.05% to 30.42% by delivering emails according to customer preferences.

Maximize email opens through intelligent send time optimization that individualizes your email campaigns.
#3. Send emails as a person not a company
You know what, people connect better with people, not faceless corporations.
Unless you are Coca Cola.😃
Yet business owners ignore the sender's name in email optimization.
Most people decide whether or not to open an email based on two critical elements:
Who it's from
What it's about
It matters who your message is from. Research shows up to 69% of subscribers say they are likely to read an email because of who it's from.
Sender names are crucial on smartphones.
Why?
Because on smartphones the sender's name is bigger and bolder than the subject line.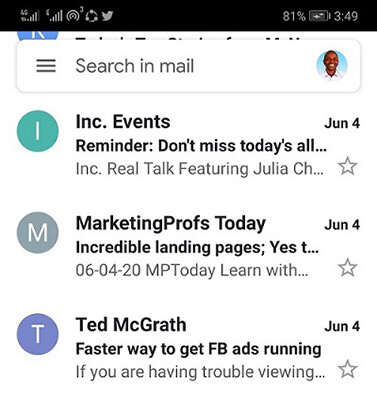 One glance and the decision to open or delete your email is made. So make it count. The more recognizable the sender's name, the higher the chances of getting your email opened. Add a personal touch to your sender name by leading with the name of your company's contact and then the name of your company.
Mindberry saw a massive 57% boost in open rates when they used a personal sender name rather than just the name of the company in a client's email newsletter.

Experiment with different scenarios:
Company name only vs company contact's name
Company representative name only
Company representative + company name
Message type + brand name
Full names vs the first name only
#4. Use recipient's name in subject line or greeting
Yes, that's old news but it's still important.
Research by the Stanford Graduate School Of Business shows that simply addressing someone by name to the email subject line:
Increases potential opens by 20%
Increases leads by 31%
Reduces unsubscribe rates by 17%
Another study revealed personalized subject lines generate 50% higher open rates.
Clearly, people adore their names.
Here's a personalized email from my inbox.

Business leader and top executive coach, Jay Abraham talks to me by name. On seeing my name on the screen, I warm up to him. I look forward to hearing what he has to say.
But the thing is, the strategy has been done to death. It's slowly losing its impact. But you can still see great results from it if you use it smartly.
Use it sparingly. Reserve it for high-value campaigns and special occasions like birthdays. The day you do it, your audience's souls will light up because of its rarity.
Personalizing the subject line is a start, but it's not everything.
For maximum gains, the personalization thread must tie everything together for the salutation to the sign-off.
#5. Speak to users in their language
No, I don't mean English, German, or Russian.
I'm talking about the language they use when talking about topics related to your products.
Why is this important?
Your messages will resonate. When your messages echo, engagement soars. And, when engagement skyrockets, sales pick up.
Here are 5 tactics you can use to nail your customers' language:
Social media espionage – Follow your customers to their favorite social media channels. Listen to how they express their frustrations, struggles, and dreams.
Survey your email list – A timely survey can also help you dig up your customers' language. Open-ended questions are best as they allow people to express themselves more freely than closed questions.
Consult your sales team – Your sales team is always in direct contact with customers. Interview them to fish for terms customers use when talking about their pain-points.
Customer support tickets – Another goldmine for customer language is your support desk. Mine your support tickets for common loaded expressions most customers use.
Mine your reviews – Sift through your reviews for valuable tidbits of customers' terms and expressions.
Once you know your customers' language massage it into:
Subject lines
Pre-headers
Body copy
Call to actions
Also, use the knowledge to craft high-engaging content as part of your content strategy.
You'll see an uptick in your opens, engagement levels, and click-throughs.
WebMD knows how to speak their audience's language.
Notice the simple conversational expressions:
'What's living in your mattress?'
'Yuck- all this stuff…'
'Health problems'
They angled the email's language towards everyday folks, not medical professionals.
#6. Optimize for your audience's favorite device
It's no secret that we live in a mobile-first world.
Depending on who you ask and your industry up to 81% of users check emails on their smartphones. While they may not fully engage with the email, the trend is to first open emails on-the-go and reserve more serious reading for later on the desktop.
To make sure people have a pleasant mobile experience:
Use a mobile-responsive email design.
Write short subject lines, 30 characters (6 words), or fewer.
Include captivating pre-header text to draw the click.
Be concise—text-heavy messages don't do well on mobile.
Use button CTAs and put them above the fold.
Go light on images, optimize and compress the few you use.
Here's an excellent mobile-optimized email from Chubbies.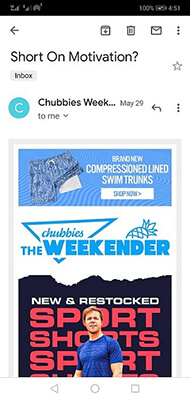 What makes this email special is that their subject line is only 3 words long and fully viewable on the screen even before recipients open the email. Also, they lead with the CTA on top. Plus, the hero image shows a man using the product.
That said, find out what works for your audience and industry. Which devices do they prefer? Dig deep into your analytics for answers and adjust accordingly.
Hyper-targeted email personalization: The new normal in email marketing
Laser-targeted email personalization is the new normal.
Customers expect it and the standards keep rising.
The good news is there are plenty of agile automation software out there to help you target prospects and customers with precision.