27 Top Facebook Statistics For 2023: Usage, Demographics, Trends
Facebook is the grandfather of social media. It's a titan of the social space that has been with us from the very beginning – but what does the future look like for the world's most popular social platform?
We're going to find out today as we take a deep dive into the most enlightening facebook statistics.
We'll be revealing the most important Facebook usage statistics, trends, and benchmarks that marketers need to be aware of this year.
Ready? Let's get started.
Facebook usage statistics
Let's start by looking at some general Facebook usage statistics. Here's how your audiences are using Facebook.
1. Facebook has over 2.7 billion monthly active users
At the time of writing, the number of monthly active Facebook users is estimated to be over 2.7 billion, making it the largest social network in the world by a large margin. This flies in the face of the commonly-touted opinion that Facebook is a dead platform. On the contrary, it's still very much alive and as relevant as ever.
Facebook has continuously grown year on year since it launched, and while it may true that Facebook's popularity might be beginning to wane – particularly amongst younger demographics – as this statistic clearly demonstrates, user numbers are still sky-high. (Source: Statista)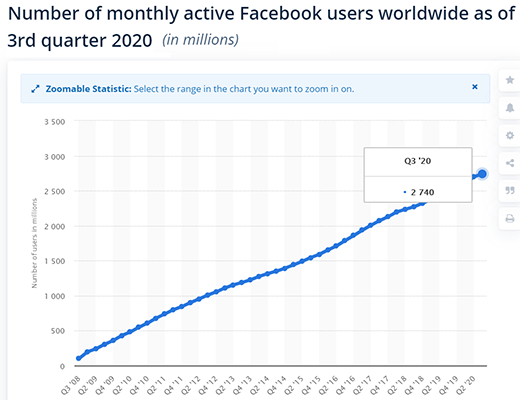 2. 23% of the world adult population use Facebook messenger
That's 1.3 billion people if you're counting. And they're not just using messenger to communicate with their friends and families, they're communicating with brands too. In fact, over 20 billion messages are sent between businesses and customers per month. (Source: Hootsuite).
3. Facebook was the most downloaded app of the decade
And guess what the runner-up was? Facebook Messenger. This just goes to show how Facebook has dominated the mobile space for such a long time.
However, note that last year, it was TikTok that took the top spot, perhaps marking a shift away from Facebook towards smaller, new-generation social platforms. (Source: App Annie)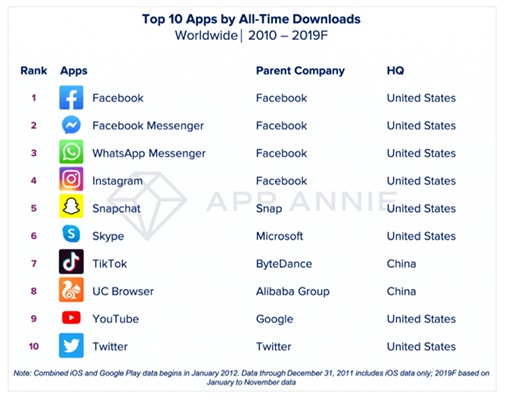 4. Around 80% of users only access Facebook on their mobile
Facebook is primarily a mobile platform, with a user base that shows a clear preference for opening the app on smaller screens. Desktop usage lags far behind, with only 1.7% of users only ever accessing Facebook on their laptops/desktops. (Source: Statista)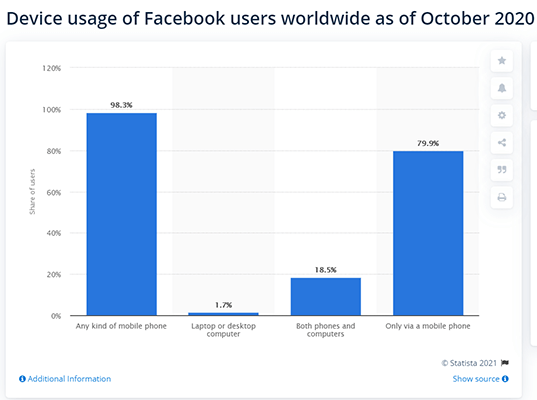 5. Over 96% of Facebook users also use other social platforms
Cross-platform usage is something we're seeing a lot of. Most users have a presence across various social sites. For example, over 73% of Facebook users also use Instagram, and 90% use YouTube. (Source: Hootsuite).
6. On average, Facebook users spend 34 minutes on the app daily
Interestingly, this was much higher than previously estimated. The reason for the surge in estimated time spent on the app was likely a result of recent world events. As people were forced to spend more time indoors during the pandemic, they passed the time browsing social media instead of going out.
As a result, eMarketer predicts a rebound effect as lockdown restrictions begin to lift. Watch this space. (Source: eMarketer)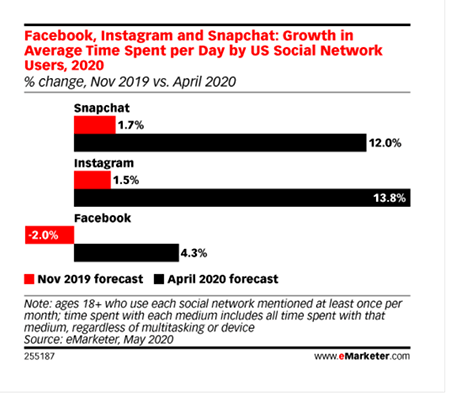 7. 52% of adults in the US get their news from Facebook
This illustrates a clear difference in the way consumers use Facebook compared to other platforms. Whereas platforms like TikTok provide entertainment, Facebook offers a way for users to keep up-to-date with recent events. 52% of users use Facebook as a news source compared to just 1% on TikTok.
8. Over 1.8 billion Facebook users use Groups each month
Another clear Facebook usage trend is the tendency for users to join Facebook Groups. There are millions of active Facebook groups where people come together to share their thoughts, interests, and questions with like-minded communities.
These groups are an excellent place for brands to connect with potential customers, gather insights, and promote their products/services. (Source: Facebook)
Facebook marketing statistics
Let's move on and take a look at some Facebook marketing statistics to inform your SMM strategy this year.
9. Facebook reaches an advertising audience of over 2.14 billion
That means Facebook ads can reach over a quarter of the people on earth.
Of course, you're almost certainly only going to want to reach a tiny fraction of that audience in your ad campaigns. You can get really specific with Facebook campaigns and tailor your ad reach to only the portion of your audience that you most want to see them.
Just remember that there are more ways to reach Facebook's audience than running native ads on its platform. Influencer marketing is another option.
(Source: Hootsuite)
10. There are over 90 million SMB pages on Facebook
As you can see, competition for your audience's attention on Facebook is fierce. At this point, the vast majority of small businesses already have a social presence, so it's getting tougher to cut through the noise. (Source: Facebook)
That being said, most of these SMBs struggle to engage their audiences, so if you put in the effort, you can still succeed.
11. 78% of consumers in the US have discovered products on Facebook
I think this stat speaks for itself. That's a pretty impressive percentage, don't you think? (Source)
12. 18.3% of adults in the US made a purchase on Facebook Shops in 2020
While Facebook marketing is often focused on raising brand awareness, it doesn't have to be limited to that. You can drive sales with Facebook too by setting up an online storefront on the newly-launched Facebook Shops. As this statistic shows, audiences on Facebook are more than open to purchasing products through Facebook Shops. (Source: eMarketer)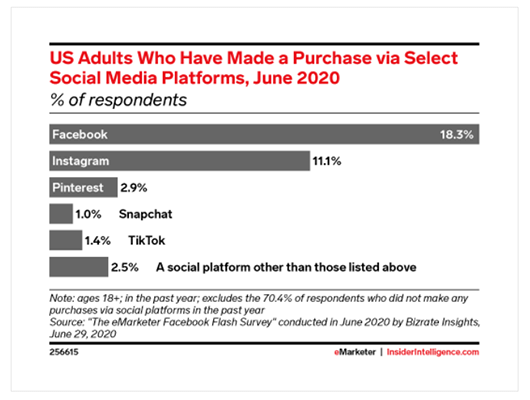 13. The average Facebook user clicks 12 ads per month
That might not seem like a lot, but considering there are billions of users across Facebook, there's a lot of potential there. Plus, for every user that clicks an ad, you can bet there's a bunch more that see it and engage with it even if they're not clicking. Remember: ads don't necessarily have to be clicked to get your message out there. (Source: Hootsuite)
14. Almost half of Facebook's total ad revenue comes from the US and Canada
Despite the fact that only a small fraction of their total user base is from this geographical region. What does this mean for advertisers? Well, it suggests that international advertising competition is a lot lower outside of the US & Canada – good news if you sell internationally. (Source: Sprout Social)
15. The average organic Facebook Page post reach is around 5.2%
This is a good benchmark to measure your performance up against. Just remember that this is just an average – reach varies dramatically depending on the content and business. (Source: Hootsuite)
Facebook demographic statistics
Now let's take a look at some Facebook demographic statistics that shed more light on who's using Facebook.
16. 57% of Facebook users are male
Unlike sites like Pinterest, which are overwhelmingly female, Facebook seems to lean more towards male users. (Source: Statista)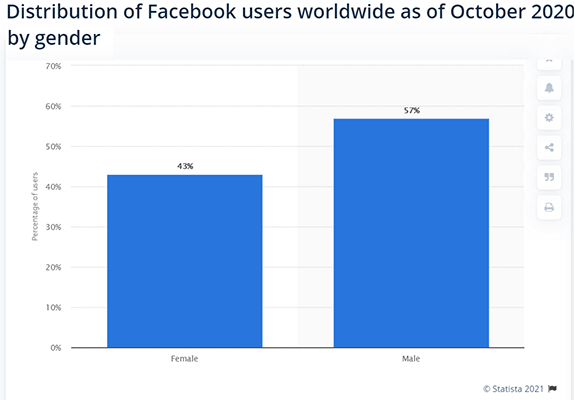 17. Around a third of Facebook users are aged 25-34
That makes this age range the largest audience segment by age. Facebook is much less popular amongst both older and younger users. Just 4.7% of Facebook's user base is over 65, and only 5.8% is under 17 years old. (Source: Hootsuite)
18. Facebook's largest user base is in India
There are over 310 million Facebook users in India. The US comes in second, with 190 million users (around 9% of Facebook's total audience). (Source: Statista)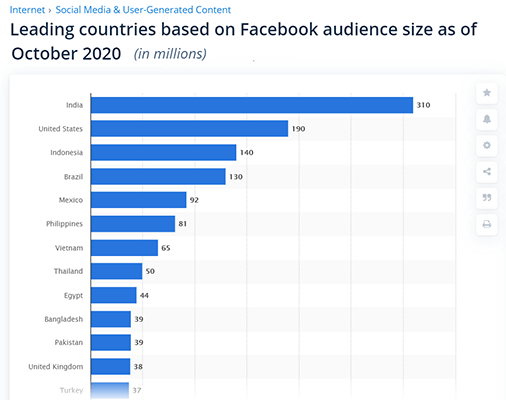 19. Facebook is more popular amongst college-educated users…
75% of those with at least some college education use Facebook, compared to 61% of those with a high school education or less. (Source: Statista)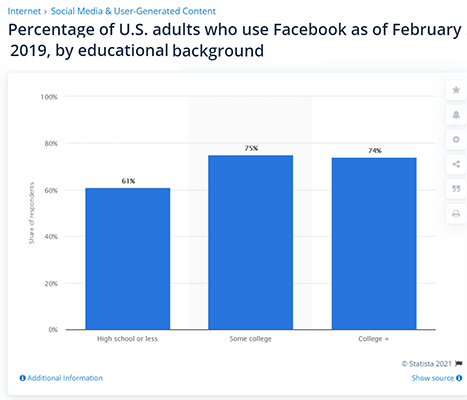 20. …and amongst high-income earners
74% of people with incomes of over $75k per year use Facebook, compared to just 69% of those with incomes of $30k or less. (Source: Sprout Social)
Facebook engagement statistics

Below are a handful of Facebook engagement statistics that you can use to evaluate the performance of your posts.
21. The average Facebook user likes 12 posts each month
They also comment on five posts, on average, and share one post. (Source: Hootsuite)
22. The average post engagement rate on Facebook is 0.18%
How do your engagement rates measure up against this benchmark? (Source: Hootsuite)
23. Pages with fewer than 10,000 fans generate much higher engagement
Engagement rates amongst these smaller Pages sit at around 0.52%, compared to 0.10% on Pages with over 100,000 fans. The more fans you have, the lower the average engagement rate you should expect to see. (Source: Hootsuite)
24. Videos that are 2-5 minutes long generate the most engagement
This is the length you should be aiming for if you want to see more shares, likes, and comments. (Source: SocialPilot)
Facebook trends
Before we wrap up, here are 3 emerging Facebook trends to watch out for.
25. AR is a new content trend on Facebook
Facebook's AR studio has been used to publish over 1.2 million AR effects to date, and this looks set to get even more popular over the coming years. According to eMarketer, AR interactions on social media is expected to grow by 7.2% this year. Are you ready to make the most of this new content trend?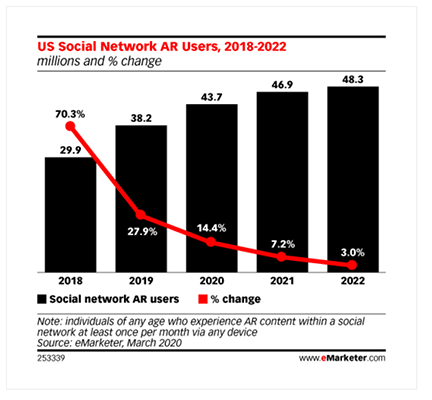 26. More and more brands are using Messenger to communicate with their customers
There were 40 million businesses using Facebook Messenger as of 2020, and that figure is rising every day. It looks like Facebook's efforts to cultivate messenger as a business communication platform are finally paying off.
And it's also worth noting that Messenger can also be a great tool for lead generation.
27. User-generated content is on the rise
In just 7 months from January to August 2020, the amount of UGC on Facebook doubled from 224 billion to a whopping 495 billion. This is good news for marketers as user-generated content can be a valuable resource and form of social proof. (Source: Social Media Today)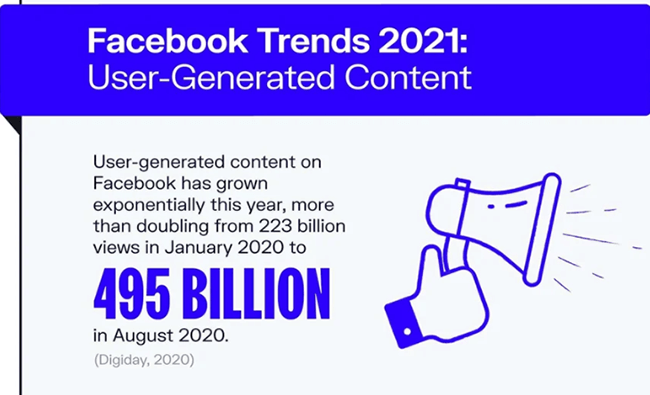 Wrapping it up
And that's it! The most important Facebook statistics, faces, and trends to pay attention to.
Use these statistics to develop your social media strategy further. There are plenty of insights to be found in this data.
Related Reading: 25 Instagram Statistics & Trends That Marketers Need To Know.