As the fastest growing social network on the internet, Instagram is a marketing platform that brands can't afford to ignore. The question is: How do you begin to put together an effective Instagram marketing strategy?
Well, it all starts with data. Data is the backbone of all successful marketing campaigns. That's why we've gathered 25 of the most important Instagram statistics and compiled them in one place. You can use the statistics below to inform your Instagram marketing strategy.
For your convenience, we've also separated them up into different categories. Now without further ado, let's jump into them!
Instagram usage statistics
Let's start by looking at some general Instagram usage statistics. These statistics show you the state of Instagram in 2019 and beyond, and how your customers are using this social platform.
1. Instagram is the sixth most popular social network
With 1 billion monthly users, Instagram ranks as the sixth most popular social network (or fifth, depending on whether or not you consider YouTube to be a social platform.) It's trailing closely behind WeChat, WhatsApp, and Facebook Messenger, but Facebook is still the runaway lead with almost 2.5 billion users.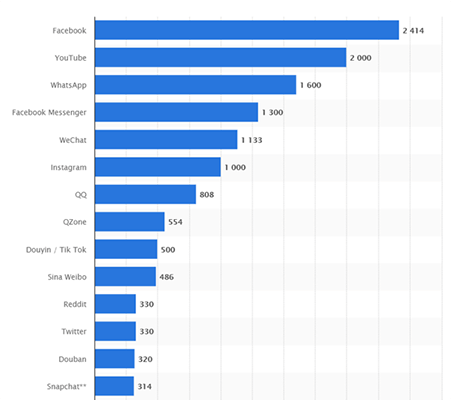 2. 63% of Instagram users log in daily
Of those 1 billion users, 63% log in at least once every day, according to Pew Research Center. This makes it the second most 'active' social platform after Facebook. Not only that, but 42% of Instagrammers check the app multiple times per day, and just 16% of users log in less than once each week.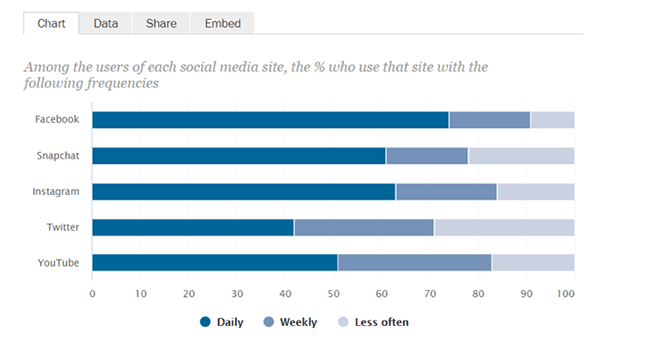 3. 81% of people use Instagram for product research
As you might have expected, the number one reason Instagrammers use the platform is to view photos and videos. However, what's arguably more interesting is that a whopping 81% of people use the platform to research products and services.
That's good news for marketers and suggests the platform could be a great channel to connect with your customers early in the buying cycle.
In other news—pun intended—14% of Instagram users use the Instagram platform as a news source. This is significantly less than on Facebook, where 52% of users use it to find out the latest news, but it's still worth noting. Brands should probably stick to using Facebook as the place to share brand updates and press releases.
4. 11% of users in the U.S. shop on Instagram
Instagrammers don't just use the platform for information, they use it to make purchases too. 11% of US users have shopped for products on Instagram, according to eMarketer. Brands can leverage this high purchase intent and turn Instagram into a sales channel through shoppable feeds.
5. Around 75% of US businesses will use Instagram this year
Unsurprisingly, tons of businesses in the US are already marketing their products and services on Instagram, and the number is rising all the time. eMarketer predicts that more than three-quarters (75.3%) of businesses will use Instagram in 2020.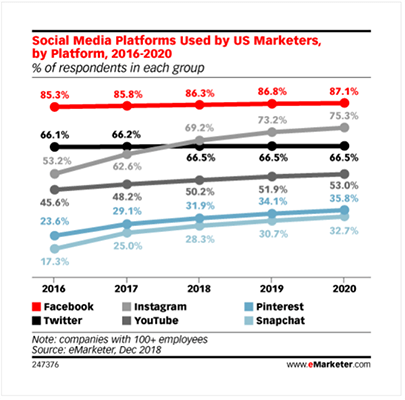 This is only slightly less than Facebook, which around 87% of US businesses are predicted to use. If you're part of the minority of brands that aren't yet on Instagram, you could be missing out.
Instagram demographic statistics
We can break down those usage statistics a little further by looking at the key user demographics on Instagram. It's important to know who your target customers and how they interact with different social platforms. These statistics about different Instagram demographics can help to give you a better idea.
6. There are 116 million Instagram users in the US (11%)
While there are 1 billion users on Instagram across the world, 89% of them are from outside the United States. Just 116 million users are located within the US, around a third of the country's population.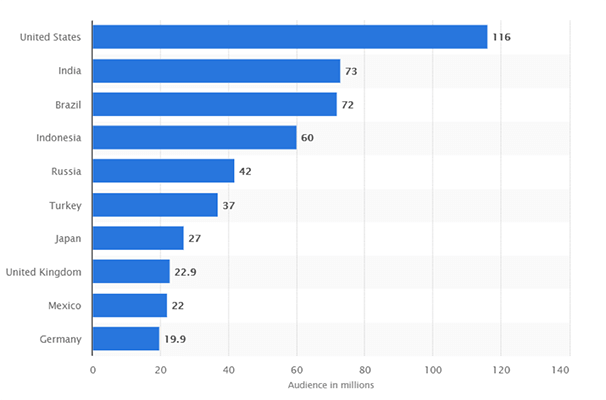 While it might not seem like much, it still makes Americans the largest Instagram audience. The US has the largest total number of Instagram users of any country, followed by India, Brazil, Indonesia, and Russia. This is according to data published on Statista.
7. Brunei has the highest percentage of Instagram users
However, while the countries we talked about above have the highest total number of Instagram users, when we factor in the population numbers, it's a different story.
Perhaps surprisingly, the Southeast Asian country of Brunei has the most Instagram users as a percentage of the population. 63% of Bruneians use Instagram, compared to just 37% of people in the US.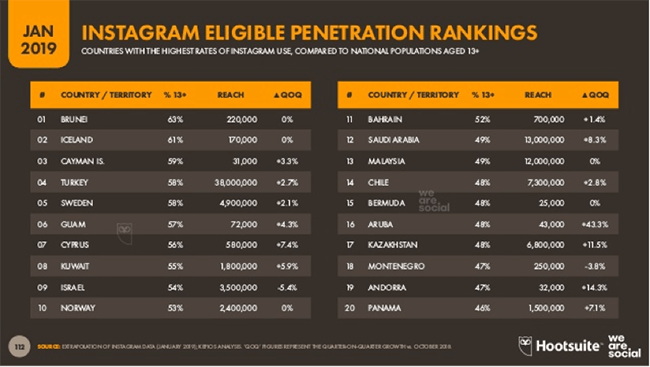 Brunei is followed by:
Iceland – 61%
Cayman Islands – 59%
Turkey – 58%
Sweden – 58%
Guam – 57%
If your business is focusing on the market in any of these countries, Instagram is likely going to play a crucial part in your social marketing efforts.
8. Instagram is most popular with younger audiences
Under 29s are by far the most likely users of Instagram. 64% of 18 to 29-year olds and 72% of 13 to 17-year olds use Instagram – more than two-thirds of people in this age range.
This percentage decreases gradually as we go into the higher age brackets. Amongst those over 65, only 10% use Instagram. The difference between older and younger audiences is staggering.
This is very important for businesses to take note of. If you're targeting the younger generation of consumers, like Millennials or Generation Z, Instagram is probably the most important social platform to look at.
9. More women use Instagram than men in the US
Across all users, Instagram has a pretty even gender split, with 48% male users and 52% female users. However, this is skewed substantially in the US in favour of women. 43% of American women use Instagram, compared to just 31% of American men.
The reason for this gender divide is anyone's guess, but it perhaps shows that Instagram is a more suitable marketing platform for female-focused brands.
10. More teens use Instagram than any other social network
We've already seen how Instagram is especially popular amongst younger audiences. To further drive this point home, studies also show that Instagram is the most popular social network amongst teens in the US.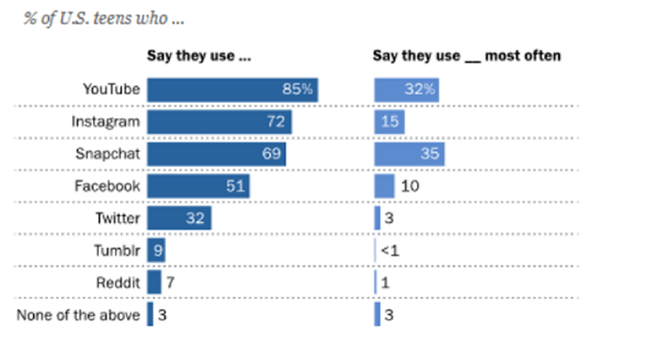 72% of teens in the US use Instagram, whereas only 51% use Facebook, and 69% use Snapchat. Only YouTube has more teen users than Instagram, but many would consider YouTube more of a search engine and video-sharing website than a social network.
Bear in mind that while more teens have Instagram accounts than any other social platform, they don't necessarily use it as much. In fact, it seems that teens use Snapchat much more than Instagram.
Instagram marketing & advertising statistics
Now that we've looked at how consumers use and interact with Instagram, let's delve into some important marketing and advertising statistics.
11. 90% of all Instagram users follow brands
The vast majority (90%) of Instagram users follow at least one brand account. This makes Instagrammers the most likely social network users to follow businesses and highlights just how great this platform can be for marketers.
Instagram might not have the same kind of ROI as other channels, like email marketing, but there's no better place to connect with your customers.
12. Instagram advertisements can reach around 850 million users
According to Hootsuite, the potential advertising reach of Instagram is 849.3 million. There are several different types of ads you can run as part of your Instagram campaign, and the average CPC hovers around $0.70-$0.80.
ROIs vary dramatically from campaign to campaign, so it's impossible to guess at an average ROI. It all comes down to how well your ad converts.
13. There are 2 million monthly advertisers on Instagram
Plenty of brands are already seeing success from their Instagram ad campaigns, which is why two million advertisers continue to run paid ads on the platform each month. Paid advertisements appear on your Instagram feed as 'Sponsored' and it's common for one pop up every few photos.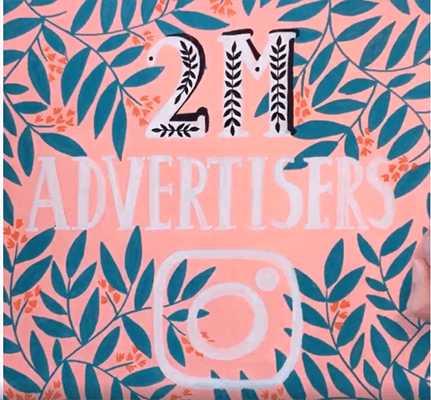 Of course, paid ads are just one of the ways brands can market their products and services on Instagram. You can also reach customers through organic posts and influencer marketing. And speaking of Instagram marketing…
14. Influencer marketing costs between $100-$2085 per post
Influencer marketing involves partnering up with Instagrammers with large, engaged audiences to promote your products and services. The costs of influencer marketing depend on the kind of influencer you work with and can be anywhere from $100 to $2085 per sponsored post.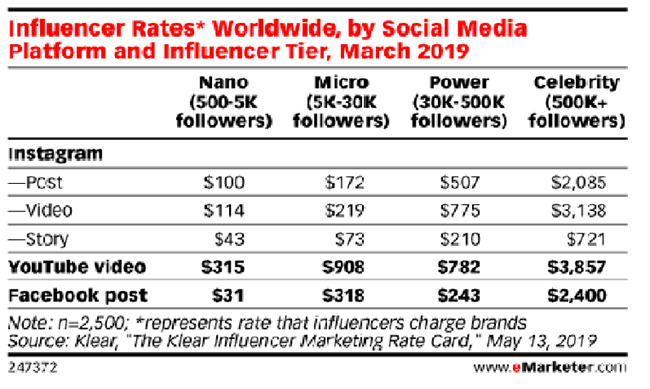 Nano influencers (those with less than 5k followers) tend to cost the least, while big celebrities (those with 500,000+ followers) will cost the most. A single post from a celebrity can set you back thousands of dollars.
If you're considering influencer marketing for your campaign, consider your budget and what kind of influencer you want to work with. You may also be able to set up alternative payment structures. For example, you might set up an affiliate link and pay a commission per conversion, rather than a flat rate.
Instagram engagement statistics
One of the most important measures of the success of an Instagram marketing campaign is engagement. Engagement figures, like the number of likes, clicks, comments, and followers, are crucial KPI metrics to track. Here are some Instagram statistics that can help you to learn more about engagement.
15. Engagement with brands on Instagram is 10x greater than Facebook
According to the latest data we have from a 2015 study by Forrester, brand engagement on Instagram is 10 times greater than on Facebook, and 84 times greater than on Twitter. This is cause to be optimistic; expect more likes, more comments, and more clicks on your Instagram posts than you're used to on Facebook.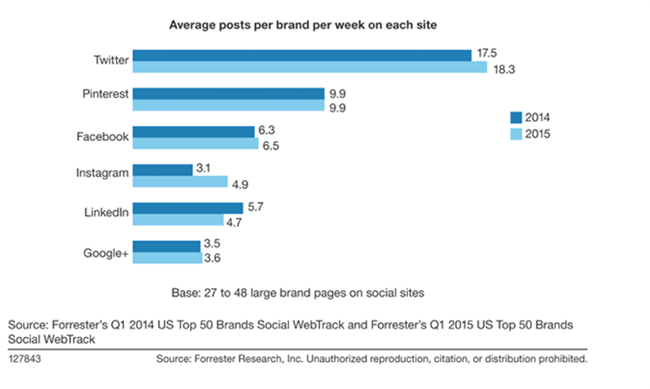 16. Hashtags generate 12.6% more engagement
If you're not using hashtags in your Instagram posts, you should be. Hashtags help you to reach more users and generate 12.6% more engagement than those without them. #Love is the most popular hashtag on Instagram.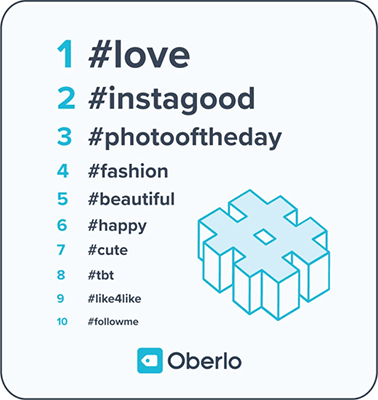 17. Videos generate 38% more engagement than images
According to Mention, videos generate 38% more engagement than image posts and more than double the number of comments. If you're aiming for engagement, try posting videos more often.
18. 10 am to 3 pm on weekdays is the 'golden time' for engagement
Timing matters. Sprout Social did a study of the best times to post on Instagram and found that engagement is highest between 10 am and 3 pm on weekdays. Try posting at these times to get the most likes, comments, and clicks.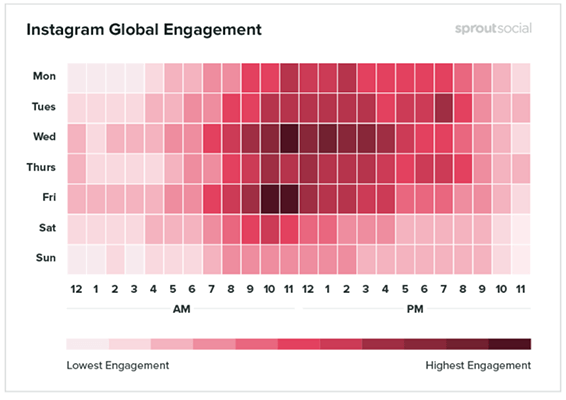 19. Engagement for brand posts averages 4% of total followers
Brands get around 4% user engagement as a percentage of their total followers. This might seem like a low amount, but it's actually pretty great. To put it into perspective, brands on Facebook get just 0.1%.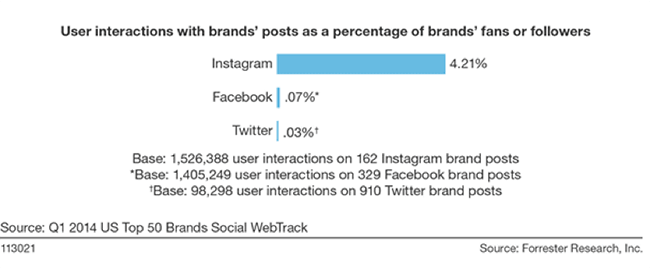 20. Instagram now hides 'like' counts and views in 7 countries
While you'll always be able to see your engagement statistics, your customers might not. Earlier this year, Instagram began hiding like counts in 7 countries, including Canada, Ireland, Japan, Australia, and Brazil. Since the change, 41% of Canadian Instagrammers reported drops in their engagement.
Instagram Stories statistics
Instagram Stories launched in 2016 and has since become an important part of the Instagram platform. Here are some statistics that tell you more about the importance of Instagram Stories in 2019 and beyond.
21. 500 million people use Instagram Stories daily
500 million people now use Instagram Stories each day. That's roughly half of the total number of Instagram users and highlights just how important Stories are for brands.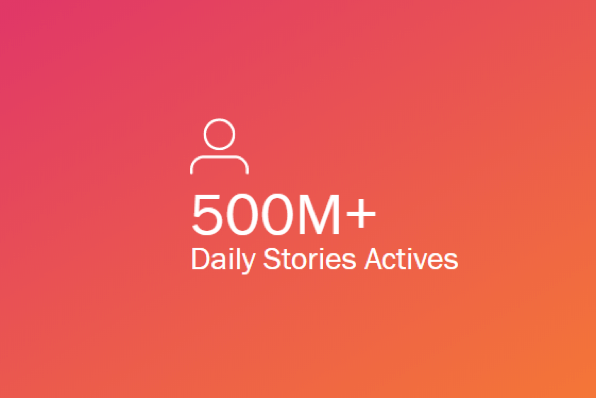 22. 62% of surveyed Instagram users said Stories increase interest in brands
Facebook Inc. carried out a survey and found that 62% of Instagram users become more interested in brands after seeing a product show up in their Stories. If you're not publishing Stories regularly, you should be.
23. Marketers in the US spend roughly a third of their Instagram budget on stories
According to eMarketer, US marketers allocate 31% of their total Instagram budget on Stories, and the rest on their newsfeed. This makes sense, considering that on average, 37% of a brand's Instagram impressions come from their Stories. It might be a useful guideline to apply to your own campaign budget.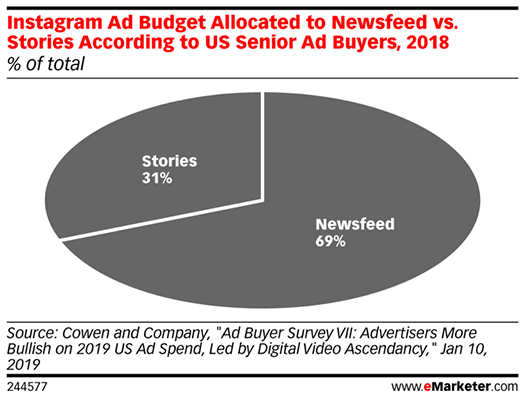 24. The average completion rate for brand Stories is 85%
This is up from 69% in 2018. Part of the reason for the improved completion rate might be down to the fact that brands are publishing shorter Stories this year. The average number of frames per story is down from 6.9 in 2018 to 5.2.
25. Brands post 2.5 Stories each week on average
Interestingly, brands aren't posting Stories every day. On average, they post just 2.5 Stories per week. This frequency might be a good target to aim for when you launch your own Instagram account.
Final thoughts
There you have it—25 Instagram statistics to inform your next social media marketing campaign.
As you can see, Instagram is more popular now than ever, but it's also more competitive. Brands and marketers need to work harder than ever to stand out on Instagram and other social networks to generate engagement.
Hopefully, these statistics have given you some valuable insight that will help you to do that. But don't forget to look at statistics for other social networks as well – there are plenty of insights you can glean from all the data we've got available to us.
Matt is a professional writer specializing in the digital marketing, tech, and finance space. When he's not busy writing, he's usually traveling around the world or spending too much money on coffee.