How To Use Instagram Hashtags To Grow Your Brand
Instagram hashtags. Your best friends? Or worst enemies?
It depends.
Use them right and see your account explode with more engagement and new followers.
Use them wrong and find your account suppressed by the ever watching, secretive Instagram algorithm.
Which one is it going to be?
If you want the former and dread the latter, keep reading as my guide spills the beans on how to use Instagram hashtags to your full advantage.
Let's go!
What are Instagram hashtags?
Hashtags are a combination of numbers, emojis and letters preceded by the hashtag (#) symbol.
They're used to categorize content on Instagram and make it more discoverable for the users.
According to Instagram, there are 9 distinct types of hashtags.
They are:
Service or product hashtags: These are the basic keyphrases used to describe your service or product. Examples are #golfclub and #dumbbell.
Niche hashtags: These are more specific hashtags that show where your brand fits within your industry. Examples are, #travelblogger and #foodieblogger
Industry Instagram community hashtags: These hashtags help you find and join diverse communities on Instagram. They're distinguishable for having the word "Instagram" within their hashtags. Good examples are: #gardenersofinstagram and #crafbeerinstagram.
Seasonal or special events hashtags: These hashtags refer to real seasons or holidays. For example, #summerdays. But they can also be used for numerous invented holidays like #nationalicecreamday or #nationalburger day.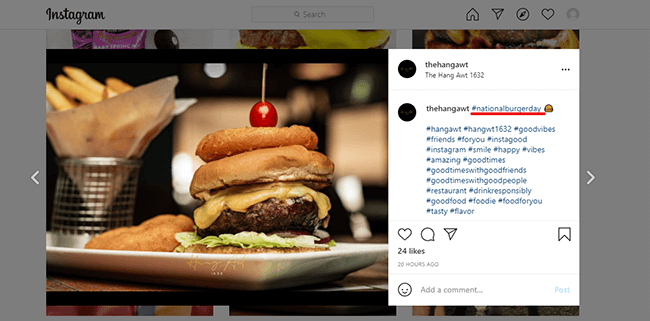 Location hashtags: Even though you can geo-tag your Instagram posts, it further helps with discoverability to add a hashtag that refers to your location. Good examples are #tokyocameraclub or #losangelesfood.
Daily hashtags: Every day boasts plenty of its own hashtags, from #Mondaymotivation to #Sundayvibes. Here's a master list of daily hashtags to use to spruce up any post published on any day of the week. This is a natural and effective way to broaden your reach for free.
Relevant phrase hashtags: These hashtags combine elements of niche hashtags, product hashtags and community hashtags. They're phrases savvy Instagram users use to find and join existing Instagram communities that otherwise would be very hard to find. Examples are #shewhowanders and #amwriting.
Acronym hashtags: You probably know this one. Do you know what #TBT stands for? It's Throwback Thursday. What about #OOTD? It's outfit of the day. What about #FBF? It's flashback Friday. Told you, you knew these.
Emoji hashtags: These hashtags can include just the emojis, for example this one #????, or emoji +another word, like #sunglasses?
Branded hashtags: Finally, big brands have their own hashtags. This is something to use if you're a big brand and haven't pushed a unique hashtag on your audience. If you're a new brand with a brand new Instagram page, this doesn't apply to you.
5 questions about Instagram hashtags – answered!
These are the questions people have about Instagram hashtags and their proper usage.
I'm guessing you have them too?
Lucky you for this guide has the answers you seek.
#1 – Why use Instagram hashtags? What's the benefit?
Use them because you want to grow your Instagram account following, reach and engagement.
The benefits are twofold.
First, amplified reach and higher discoverability.
Remember, Instagram hashtags are used to group posts from all accounts under one umbrella.
This means that when you tag a post with a hashtag, it is going to show up on that hashtag's page, and people who've never heard of you are going to be exposed to it.
And if your post is good and eye catching, higher engagement will naturally follow.
Second, you can build a loyal audience with strategic use of hashtags.
For example, when we all got struck with COVID and were forced to remain inside our houses, anxious and fearing for our lives, Nike Los Angeles responded with a creative campaign telling people to stay safe and at home, AND showed them how to divert themselves by doing x, y, z household activities (showed in the video).
They proved themselves as the brand who cares about the wellbeing of their customers and followers, and I'm willing to bet that increasing customer loyalty didn't hurt their bottom line in the slightest.
#2 – How many hashtags should I use per post?
You can use up to 30 hashtags per post and up to 10 hashtags per story.
If those numbers seem a bit big to you, it's because they are.
You definitely should not be using 30 hashtags per every post.
It'll just make you look desperate and like a spammer.
Common numbers to start with are just 2-3 relevant hashtags that have a strong niche community behind them.
This will give you decent exposure and prevent your posts from becoming egregious examples of spam.
What happens if I add more hashtags than allowed?
You won't be able to post it.
#3 – How to hide Instagram hashtags?
Hashtags, especially when you have quite a few of them, make your post look unattractive and a total click repellent.
You'll want to avoid it by hiding your hashtags.
Fortunately It's easy to do and is not against Instagram TOS.
Here's exactly how.
How to hide Instagram Hashtags in the comment section?
Write your caption for the post as normal, but don't include hashtags.
Post it.
Leave the first comment and fill it with relevant hashtags.
That's it.
This will visually split your post from the comment section and it'll work even better on mobile because the hashtag won't be seen unless someone taps the "read comments" button.
That's great news because Instagram is primarily a mobile app and most users nowadays use their phones to catch up on their Instagram feeds.
For example, see how Volkswagen does it promoting one of their cars as a perfect vehicle for a vacation. On the desktop you can clearly see those hashtags in the comment section, but if you were browsing using your phone, these hashtags would be hidden from view.
How to hide Instagram hashtags in a caption?
Tap Enter or Return at the bottom of your caption.
Enter a punctuation mark (it can be dash, bullet point or a period), then press Enter Again.
Repeat this step 3 more times.
On the fourth take Instagram will hide the caption with hashtags and the only way for your followers to see them would be to tap "more".
But most of them won't bother and your hashtag cluster will remain effectively hidden.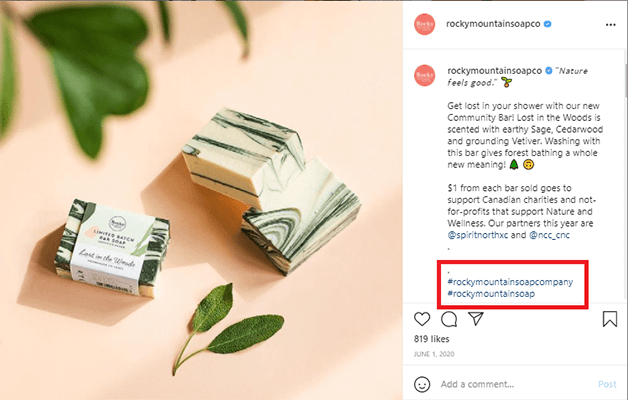 How to hide captions on Instagram Stories?
You can also hide hashtags on Instagram Stories.
The easiest way is to simply minimize them by shrinking until they can't be made out anymore.
The second way to hide them is to use a gif or emoji to cover them up completely.
Finally, you can also make your hashtag transparent (by taping the hashtag sticker) so they blend in more easily.
#4 – How to find trending hashtags on Instagram?
Twitter shows you the best and most popular hashtags to use.
Instagram doesn't.
How to get around this problem?
Simple.
Search for a particular hashtag in the Instagram search bar.
When you do, Instagram will show you how many posts it has. What's more, you'll see similar hashtags with their posts counts.
Jot down everything that makes sense for your brand and the type of posts you'll post.
For example:
When I type #gym I see it has over 211 million posts.
But I also see other popular hashtags I could use were I in the weightlifting space.
#gymmotivation – over 32 million
#gymrat – over 11 million
#gymgirl – over 6 million
#gymtime – over 18 million
#gymlife – over 64 million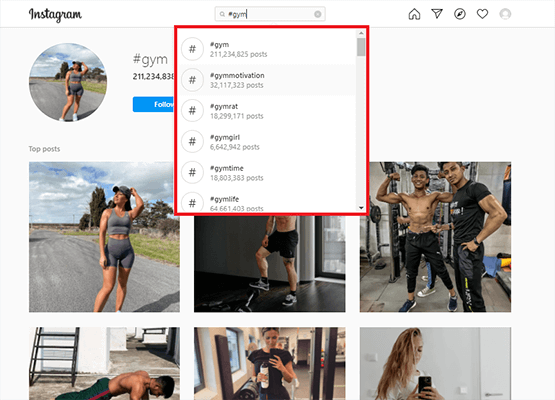 Pro tip: When researching hashtags on desktop, all you need to do is enter the hashtag together with # symbol into the search box. And Instagram will show you suggestions.
On mobile, you need to enter your search term in the search box, and then tap "Tags"
Pro tip #2: Go to this page to see the top hashtags on Instagram, sorted by popularity in the descending order.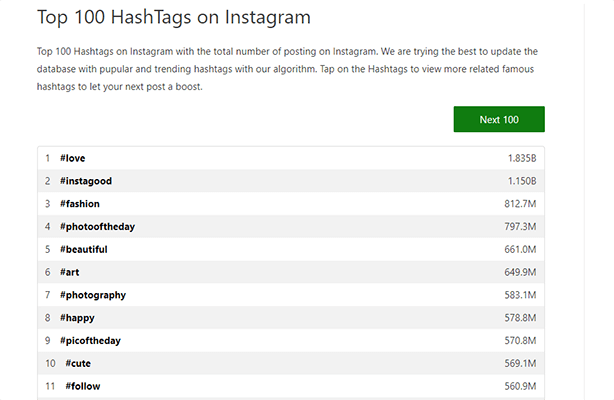 Being top means they get an obscene amount of traffic.
However, being top also means they have an obscene amount of competition.
Your content needs to be stellar in order to even have a chance of not being drowned in the noise.
#5 – How to select the best hashtags to use for your brand?
There are several ways to find the most effective hashtags for your business.
First, check out what your competition is doing. Nothing wrong with stealing ideas online and no need to reinvent the wheel.
So, find a few of your closest competitors and accounts you want to emulate in success and then snoop around to see what hashtags they use.
For example, if I was in the social media space, I'd definitely pay attention to what a mega influencer like Neal Schaffer is doing on Instagram.
Second way is to research the hashtags your audience already uses.
For example, do you have some followers already? Check to see which hashtags they're using and see if they're applicable to your brand.
They probably will be.
Or again, research your competitor's followers and see what hashtags they're using.
Just because they follow your competitors doesn't mean they can't follow you too.
5 tips for the most effective hashtag use on Instagram
These 5 tips together with the 5 questions answered above will turn you into an Instagram ninja.
Mark my word for it.
#1- Understand how hashtag pages work
Hashtag pages are a prime opportunity for you to get more exposure for your content, if you know how to take advantage of them, of course.
Perhaps you think that by using the most popular hashtags is going to give you a tonne of exposure?
True, in theory, but in practice popular hashtags among users are also popular among competing brands.
You'd get eaten alive in such competitive landscapes and even the best of your posts probably won't amount to anything.
Instead, it's much better to target less popular hashtag pages that still boast a devoted and loyal audience.
There your content will stay at the top of the feed much longer, in prime position to garner you some attention you want and need.
#2 – Don't use irrelevant or repetitive hashtags
I think you already know why you should not use irrelevant hashtags with your content.
Yes, it's because those will bring you meaningless traffic that won't convert.
Also, irrelevant hashtags will alienate and repel the genuine followers you have.
Furthermore, Instagram's algorithm might catch on what you're doing and demote your account, or worse, shadowban it.
Also, mix up your hashtags a bit. Don't have the same hashtags again and again, in the same order on every post.
That too is inviting trouble as you'll be acting like a common spammer.
#3 – Save hashtags for future use
As you gain more experience you will notice that some hashtags just work for you for whatever reason; while others you thought would explode, flop, again with no discernible reason.
Don't feel bad, instead jot down what works and double down on it.
#4 – Be wary of banned hashtags
When a hashtag gets overrun with spam, bot traffic and inappropriate content, it gets banned by the algorithm.
This means the posts tagged with those hashtags will be hidden from the mainstream Instagram feed and thus effectively invisible.
I trust you know why that's horrendous for your reach?
The solution is to never use banned hashtags, but how to find them easily?
Unfortunately, there's no official list of banned hashtags, and you have to manually check before you decide on a hashtag.
If a hashtag is banned, you will see a message like this:
"Recent posts from #bannedhashtag are currently hidden because the community has reported some content that may not meet Instagram's community guidelines"
#5 – Include hashtags on Instagram Stories
I know I mentioned it above, but it bears repeating, using a hashtag on stories can 100X your reach in a heartbeat.
Think about it, Instagram users know, understand, use, and actively search for hashtags on Instagram.
If you use hashtags on your stories (up to 10 available spots) your content will get found more.
It's a guarantee.
How to use Instagram hashtags FAQ – your further questions answered!
You just can't seem to stop posing excellent questions. 🙂
Well, I'm a sucker for posting excellent answers!
#1 – What is the best Instagram Hashtag Generator?
I recommend researching hashtags manually. It's the best way to find effective hashtags for your brand while avoiding the pitfall that is banned hashtags.
However, automation allows for scale and if you want to automate, check out this list of best hashtag generator tools by Shane Barker.
#2 – What were the best Instagram hashtags in 2021?
Here's a list of hashtags that were popular in 2021.
Some are perennial favorites, like #love, while others are newly risen.
If you're going to target these hashtags be prepared for some competition as they're popular for a reason.
#3 – How many hashtags to use on Instagram?
Although you can include up to 30 hashtags per post, you definitely shouldn't be doing it. 30 hashtags per post on every post looks like spam.
And also, it's hard to use 30 of them and not get into repeating hashtags across posts.
Instagram algorithm fights against hashtag abuse and repeating hashtags is a major offence.
It's much better to use 3-5 relevant hashtags per post.
Don't forget to hide them as you learned above.
#4 – What are the best Instagram hashtag to get a lot of likes?
Here's a list to check out.
Keep in mind that some of these are built for getting likes, or trading likes, and can come across as overly aggressive (for example this one #like4like).
Overuse of these might lead to credibility issues with some of your existing followers.
#5 – How do I know if a hashtag is working?
Instagram app gives you a decent analytics section of your business profile where you can see the engagement you get across hashtags.
It's a good way to start, but the pro way to do it is to invest in a tool that can clearly track how your account is growing and give you valuable insights.
Here's a list of best social media management tools for this year and beyond. One of these will help you get the data you need.
#6 – What hashtags will get me followers?
The hashtags most likely to get you followers are niche hashtags. Consistently inundate those niche hashtag pages with quality content and over time your followers count will grow.
The one thing you don't want to do is target the most popular hashtags on Instagram.
Those are a boon only to the biggest of brands who have the budget to target them seriously, and also to hobby Instagrammers who don't want to monetize or grow their following but are on Instagram simply because they enjoy being there.
They don't care about the results they're getting and I'm guessing you're the opposite?
#7 – What are the best Instagram hashtags?
There are no universally best Instagram hashtags.
Instead, there are best hashtags for your account, and those are niche hashtags, where behind every hashtag there's a loyal and passionate audience hungry for new content from new accounts they haven't discovered before.
#8 – What is the best way to make a hashtag on Instagram?
First, you will have to be a big brand in order to do it successfully.
Alternatively, you need to already have a passionate and devoted following.
Then invent a hashtag and tie it to some special event, for example a contest of sorts.
Get people engaged and excited to use your hashtag and you're on your way to creating a new and popular hashtag.
Concluding my Instagram hashtag guide…
You've read my post, so now you know how to use Instagram hashtags to your full advantage.
But don't forget the importance of data. It's not enough to just throw in hashtags at random – you need to figure out what's working so you can do more of it.
For that, you need data. Check out our roundup of the best Instagram analytics apps and tools to get started.