14 Best Instagram Analytics Apps & Tools (2023 Comparison)
Are you looking for the best Instagram analytics tools? We've got you covered.
In this post, we're comparing the top analytics apps on the market that make it easy to create reports for your Instagram marketing efforts.
Some tools can even power your entire social media strategy.
Ready? Let's get started.
---
#1 – Iconosquare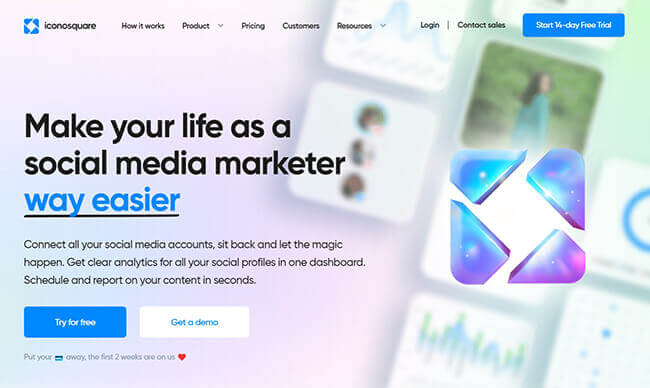 Iconosquare is a powerful Instagram analytics tool and gets our top pick! It promises efficiency for social media marketers through their unique features.
Iconosquare has a comprehensive analytics and report builder. Data from this app can help understand your marketing performance and improve your Instagram strategy.
Its content planner is user-friendly and optimized for visual material.
It's also a great Instagram scheduling tool with hashtag options and caption lists for novices and seasoned marketers.
Pros and cons
Pros:
Custom Dashboard Builder – Create a panel centered on the KPIs. From here, you can connect all your social media profiles and monitor them.
Optimal times to post — Discover the best times to post so you don't have to rely on irrelevant social media statistics.
Mobile app – App is accessible from your phone.
Cons:
Social inbox limits — For the time being, the social inbox function only supports Instagram accounts. Facebook accounts are supported for comments only.
Reporting functionality – There is no PDF reporting in the Pro plan, only XLS reports. Higher plans do support PDF reporting for profiles & dashboard reports.
Pricing
Iconosquare offers a three-tiered pricing starting at 49 Euros monthly billed annually for its Pro Plan.
---
#2 – Agorapulse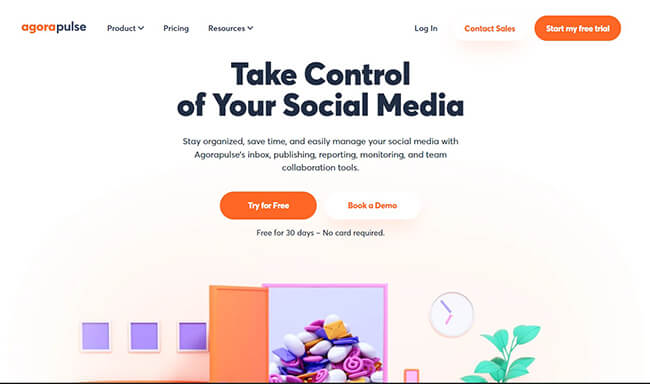 Agorapulse helps you stay organized, save time, and manage your social media. Users prefer this tool because of its excellent interface, social inbox, publisher, etc.
It's a true 'all-in-one' social media tool with a strong feature set for Instagram specifically. That includes excellent Instagram analytics functionality.
Marketers keen on reports and analytics maximize their Google Analytics integration for social media ROI reporting.
Agorapulse also satisfies its customers with a 30-minute response time. They have scored 93% for customer support outranking Sprout Social.
Pros and cons
Pros:
Team delegation – Add members from your marketing team and assign tasks.
Real-time insights – Get alerts on your chosen keywords and instantly optimize your ad campaigns.
Automatic sending of reports – You can customize the schedule of receiving analytics reports.
Cons:
Main dashboard – Unlike Iconosquare, there is no custom dashboard builder.
Communication tool – Agorapulse won't let you communicate with team members on the platform. It also lacks a feature to comment on the calendar for possible revisions.
Pricing
Paid plans start at €59/month/user. Yearly discounts available.
---
#3 – Pallyy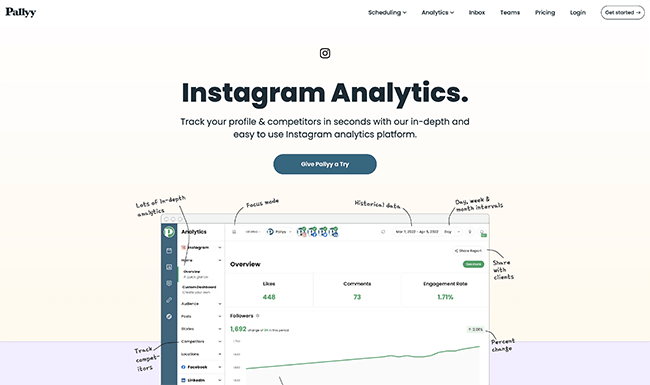 Pallyy is a great publishing and analytics tool suitable for your Instagram profile. It allows you to gain Instagram insights to create content that your audience will love. You can then schedule that content at a time that suits you, reply to comments, view analytics, and create reports.
Pallyy's configurable one-page centralized dashboard is one of its notable features. You can customize branding colors of your reports and share these directly to your clients.
When it comes to content publishing, Pallyy is also an excellent app for viewing Instagram grids and scheduling additional Instagram content types such as carousels.
Pros and cons
Pros:
Insight reports – You can still generate insight reports using the free account.
Bio link on Instagram – Create a Smily.Bio page via Pallyy that works like a portfolio linking to other sites.
Competitors tracking – Connect up to ten competitors and gain insights.
Cons:
Free account limitations – Allows only one set of profiles (except for LinkedIn) and 15 posts monthly for the free account.
Reels – You can't publish reels with the free account.
Pricing
Pallyy has one paid subscription that starts at $18/month for one set of profiles and one user. Annual discounts available.
---
#4 – Metricool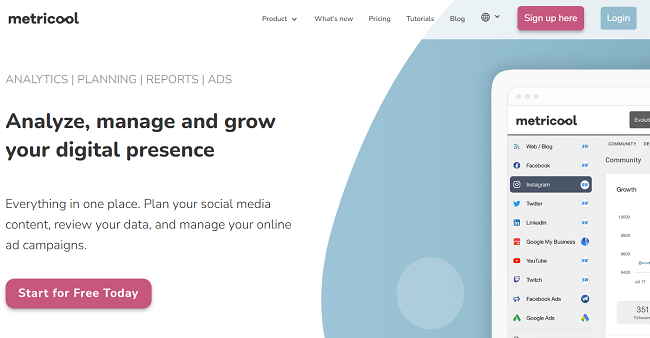 Metricool is a tool to check insights for social media, websites, and ad accounts in one place.
Aside from helping with your Instagram analytics, Meticool can be useful for other tasks like content planning, scheduling, managing ad campaigns, and reporting.
You can create reports for each of your accounts and tailor them to suit your team's or client's needs. You can automate sending these via email.
You can also access the best time to publish Instagram posts like other tools above. The main difference here is that these times are overlaid directly onto the social media calendar.
Pros and cons
Pros:
Insight reports – Shows analytics of your linked accounts in visual graphs and charts.
Real-time data – Generates real-time reports including the ability to track messages, replies, comments, and reactions.
Ad account integration – Allows you to connect your ad accounts for ad publishing and tracking.
Cons:
No Reels scheduling – Metricool doesn't allow you to pre-schedule Reels.
Extraction of previous data – Extraction of past data is limited to two months only.
Add-ons payment – Pay extra or choose higher plans to avail hashtag tracking and reporting templates.
Pricing
Metricool's subscription starts at $22/month (annual discounts available), with five brands, reports in PDF and PowerPoint, and Smartlinks.
---
#5 – Social Status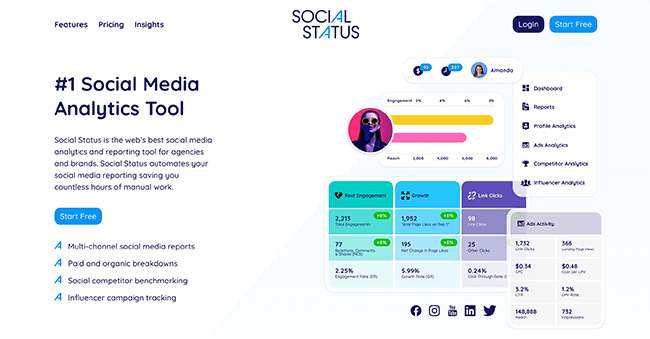 Social Status is a dedicated social analytics tool that goes beyond profile analytics. It's capable of tracking competitors, influencers, and more.
The app also allows you to track the demographics of your fans, including their gender, age, city, and country.
Aside from Instagram, the app supports almost all social media platforms, including Facebook, Tiktok, LinkedIn, YouTube, and Twitter.
Pros and cons
Pros:
Track community growth – View net gain or loss of your Instagram followers.
Presentation-ready reports – Social Status enables you to export reports in PowerPoint or Google Slides.
Sentiment responses monitoring – Social Status can monitor forward and backward taps in Instagram Stories.
Dedicated social analytics tool – The feature set is completely focused on analytics.
Cons:
No publishing functionality – Social Status mainly generates reports and does not publish posts.
Expensive plans for white-label reports – While-label reporting is only available on higher tier plans.
Pricing
Social Status has a free plan for up to three accounts, and the paid plans start at $29/month.
---
#6 – Sendible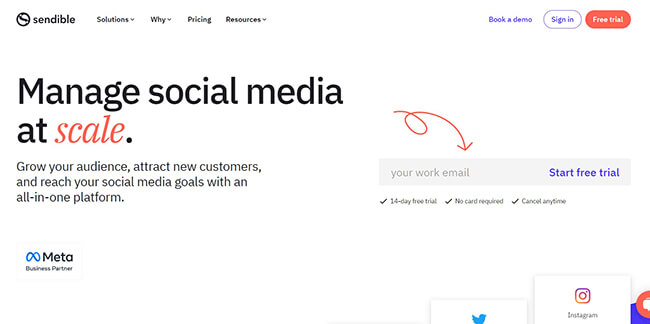 Sendible is another powerful all-in-one social media analytics tool. Aside from analytics, It's helpful for content planning, creation, collaboration, and scheduling.
Aside from its great set of pre-made reports and a report builder, Sendible lets you search for specific topics to curate for your social media profiles.
Like Sprout Social and Brand24, it allows you to set specific keywords for social listening. You can also gain Instagram insights on the best times to post.
Pros and cons
Pros:
Automated reports – Automatically send reports to key stakeholders, team members, and clients on a daily, weekly, or monthly
Profile activities – Quickly check received messages, reactions, or comments in your social media profiles in the Activity tab.
Google Analytics integration – Sendible allows you to connect your Google Analytics account for a more in-depth insight report.
Cons:
No TikTok integration – Sendible does not have the option to add Tiktok accounts to the platform.
Paid report generation – If you need Instagram insights reports, you have to pay extra for Sendible to generate these for you.
Pricing
Sendible's Creator subscription costs $29/month. Quick reports are available on this plan but you'll need the $199/month plan to create custom reports and have the ability to export reports.
---
#7 – Brand24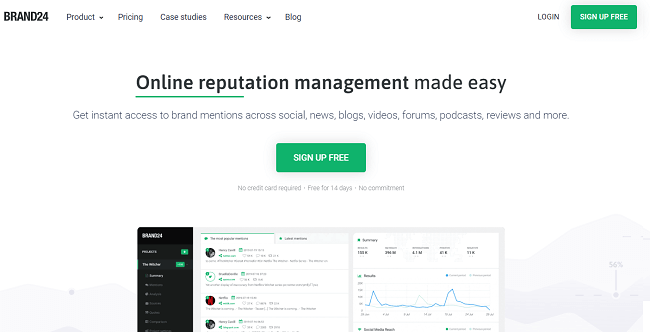 Brand24 is a powerful social listening tool that's ideal for agencies and in-house teams. You'll get alerts from brand mentions so you can respond to a dissatisfied customer and protect your online reputation. Or turn your happy customers into brand evangelists.
Just input the brand name or keyword you want to track, and Brand24 will start pulling in mentions.
Use their automated sentiment analysis to uncover Instagram marketing statistics based on your audience demographics.
Brand24 offers a media monitoring masterclass as a supplementary guide for users. They also post regular articles on their blog about brand management.
Pros and cons
Pros:
Mention tracking – Monitor brands, hashtag performance, and competitor mentions.
Sentiment chart – Averages positive and negative opinions that the content received based on pre-set keywords.
Online presence tracking – Instantly check how people react or feel about your brand.
Cons:
Publishing feature – Brand24 is not a publishing app.
More expensive than some tools – May not be suitable for content creators or some small businesses due to its price point.
Pricing
The Individual and Team plans are ideal for small enterprises at $49/month. For larger companies, invest in higher plans such as the Pro and Enterprise, starting at $149/month.
---
#8 – Instagram Insights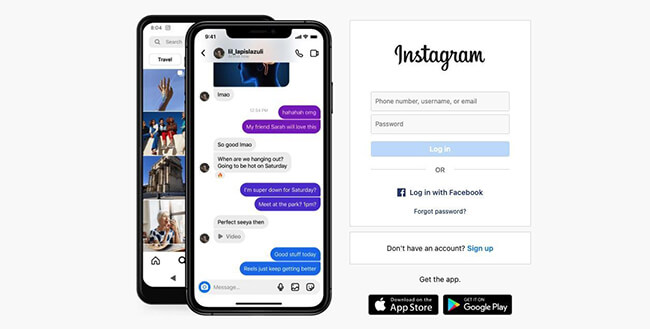 If you're new to using social media analytics tools, you can start with Instagram Insights before exploring paid apps. It's simple but free and available inside your Instagram account.
Easily access your analytics if you have an Instagram business profile or creator profile. Tap on the menu button in the top right of your Instagram account profile, then select the Insights tab .
Instagram Insights allows you to monitor posts, stories, videos, reels, and live videos. You can also track how your content performs according to your audience demographics.
The basic data from Instagram Insights can be sufficient in improving your social media strategy.
Pros and cons
Pros:
Audience reach – Monitor the basic demographics of audience reached
Content performance – Gain insights on top-performing posts, impressions, and interactions
Simple interface – User-friendly and free instagram analytics tool for novices.
Cons:
Mobile-app based – To view it on your desktop, you need to access it from your Meta Business Suite account.
Restrictions – Some ad campaign metrics delivered to and from Europe and Japan are unavailable.
Dashboard – No centralized dashboard: different types of content has separate views for performance tracking
Limited time frame for insights – Content insights provided are usually within a 90-day period only.
Pricing
Instagram Insights is free and built-in inside the app.
---
#9 – SocialBee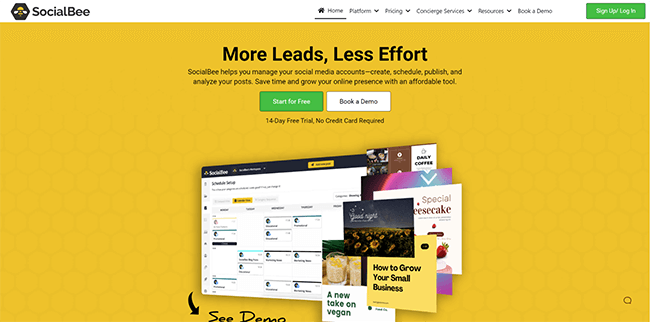 SocialBee is so far the best social media scheduling tool we've tested. It covers a great set of features for Instagram publishing and comes complete with Instagram profile analytics.
SocialBee is also a great Instagram scheduling tool with unlimited content queuing. You can post and monitor across social profiles from one dashboard.
Aside from the analytics feature, their collaboration tools include a social media approval workflow. This way, team members can comment on your Instagram posts before they go live.
Pros and cons
Pros:
Daily engagement map – Visually track your Instagram content's likes, comments, and shares throughout the day.
Unlimited queues – There is no limit to queuing posts and creating content categories.
Linking of personal profiles – Unlike the other analytics and publishing tools, SocialBee allows you to link even your personal profile.
Concierge services – Specialists are assigned to respond to inquiries of higher plan users.
Repurposing: Save your brand hashtags for future use.
Cons:
No monitoring feature – It does not track the progress or engagement rate of your Instagram content.
No inbox management – If your profiles receive direct or personal messages, you can't reply via SocialBee. You have to go to the Instagram app.
Pricing
SocialBee's plans start at $29/month, however, you can save 16% by subscribing to annual billing. Get started with a 14-day free trial.
---
#10 – Publer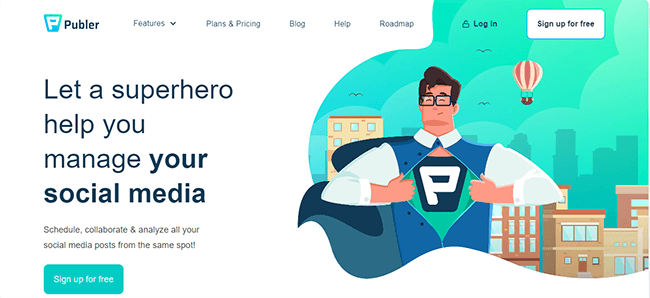 Publer is primarily a social media publishing tool. However, it includes a great set of analytics functionality and an IG bio link tool.
You can use Publer to track organic and sponsored postings on several platforms including Instagram. Access insights such as reach, engagement, video views, and "Link in Bio" clicks.
Like other tools in this list, Publer also shares the best times to share new content for each social platform.
Pros and cons
Pros:
Automation – Users can set the posts to 'Auto Schedule' to skip manual scheduling. Publer also auto-deletes posts that expire for a certain time.
Additional posting feature – Publer allows users to reuse old posts regularly.
Bulk uploading – Upload all your images and videos in one session. Then, assign each post under the preferred social media account and its schedule.
Watermark and Signature – Even for the free account, you can add your watermark and signature to be automatically added to your content. Your signature could also be your brand hashtags.
Cons:
Basic insight reports – Since Publer focuses more on its publishing services, it still needs improvement in generating more detailed insight reports.
Reconnection issue – Some users complain about the need to reconnect their social media accounts to Publer every so often.
Pricing
Publer provides a customisable plan that starts at $15 per month based on the number of accounts and users.
---
#11 – Crowdfire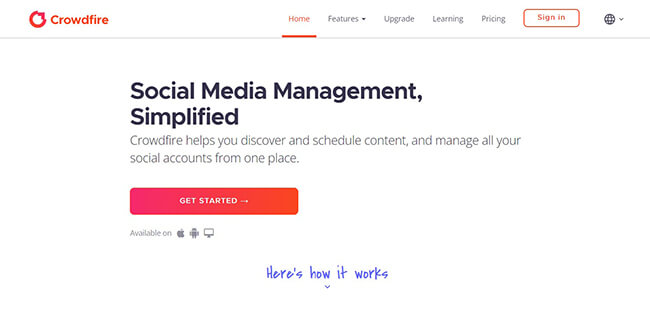 Crowdfire is an all-in-one social media app that's very affordable compared with other apps in the list. This tool can help you discover your top posts and compare it with your competitors'.
You can also pick and choose from KPIs and schedule weekly or monthly reports directly to your inbox. Downloads are in presentation-ready formats in PowerPoint or PDF.
Crowdfire is also an effective tool for content curation. It offers unlimited article and image curation for Instagram for all plans.
Pros and cons
Pros:
Customization – You can select and customize the insights you need to check before generating the reports.
Publishing automation – You can also customize a regular schedule of posts similar to Publer.
Cons:
Free plan limitations – Crowdfire's free plan limits posting to up to 10 only per month. It does not allow video posting too.
Lower plan limitations – You can only view the social media calendar tools and schedule posts in bulk once you avail of the two higher plans.
Limited article suggestions – Most article suggestions are from websites of Crowdfire users.
Pricing
Plus Plan is offered at $7.48/month for up to 100 posts for 5 accounts. There is an option to pay for every additional user, profile, and account.
---
#12 – Later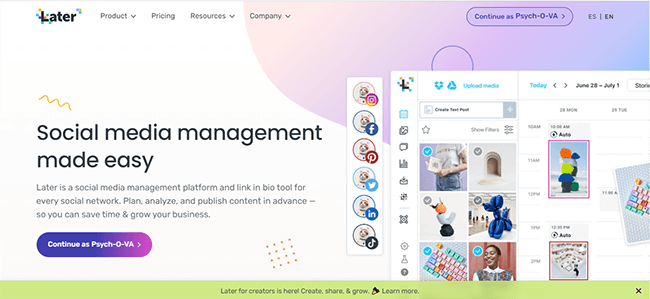 Later is a social media management platform and link in bio tool with a strong focus on visual social networks such as Instagram.
Later allows you to automatically rank your posts according to engagement rate. This way, you can see your best-performing posts at a glance.
Aside from its analytics feature, it allows you to plan and publish content in advance. It also helps you discover and share genuine user-generated content through mentions and tags.
Pros and cons
Pros:
Shopify Integration – Later can tell you which posts resulted in sales, so you can see how Instagram is benefiting your bottom line.
Link in Bio tool – You can already create a link in Bio to be added to your Instagram bio profile to link to other websites.
Posting Time Insights – Later's "Best Time to Post" functionality calculates seven of your best posting timeframes based on engagement.
Cons:
Accessibility – Later Analytics is not available on the Later Mobile App and is only viewable on desktop.
No Instagram Stories and Tiktok video scheduling – Later doesn't support posting for Instagram stories and Tiktok accounts. You'll get reminders of when to post instead.
Reconnection issues – Users must reconnect their social media accounts to the platform when they re-log in.
Pricing
Later's paid plan starts at $18/month.
---
#13 – Social Blade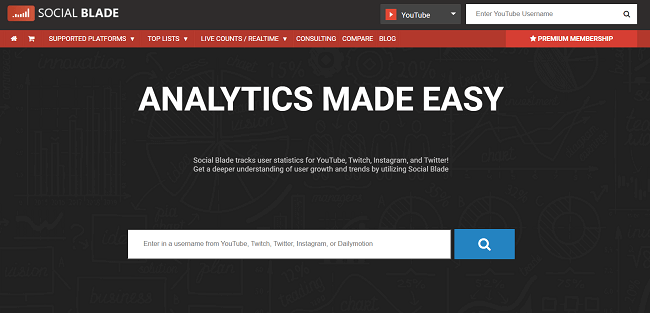 Social Blade is a user-growth monitoring tool for video streaming platforms and other social networks. It helps you check the credibility of influencers and provides free Instagram insights analytics.
This app is best for tracking the growth of social media influencers, which makes it unique from other instagram analytics apps.
If you're looking at exploring influencer marketing, Social Blade provides users access to their public database with analytics for content creators, live streamers, or brands.
Pros and cons
Pros:
Free – Users don't need to avail of paid plans to get the analytics insights of their profiles and competitors. They don't need to create an account to see their pages' analytics.
Influencer search – You can use it to find social media influencers to represent your brand.
Expert consultation – SocialBlade has a paid YouTube and Instagram consultation to help you grow your accounts.
Cons:
Limited insights report – Since free, it only generates essential analytics insights.
Favors YouTube accounts – Social Blade is initially designed for YouTube channels. That's why searching for reports from other platforms is sometimes tricky.
Additional payment – If you need help with your YT channel growth, you have to pay for channel management and consultation services even if you subscribed with SocialBlade.
Pricing
To maximize Social Blade's influencer marketing features, avail of their paid subscription starting at $3.99/month. Pay separately for the channel management and consultation services.
---
#14 – Sprout Social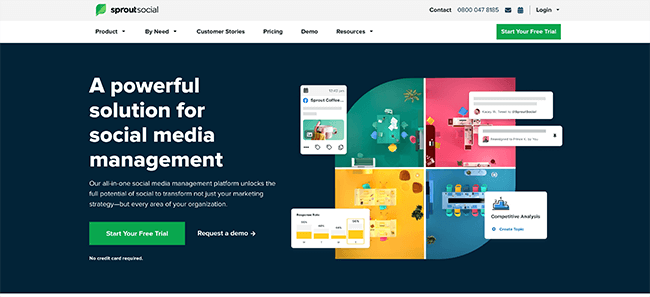 Sprout Social is an all-in-one social media tool with a powerful suite of analytics. Its features and pricing leans more towards large businesses.
Sprout Social manages and analyzes your earned and owned data in one place. This is a feature similar to Agorapulse and Social Bee.
Through its Insight Solution feature, you may merge your earned social listening data into your analytics reports. This helps you gain a holistic overview of your social performance and brand health.
Pros and cons
Pros:
Detailed reports – Generate detailed reports showing how your profiles perform including best time to post.
Auto-scheduling – You can auto-schedule your posts based on pre-selected regular schedules.
Social messaging – Check in just one page all the messages your profiles receive, or you could sort them according to profiles. You can also set up a chatbot through the platform.
Team collaboration – You could assign tasks to team members via Sprout Social.
Cons:
Expensive plans – This is not an ideal platform for small businesses as this costs more compared to the other platforms. In fact, it's one of the most expensive social media tools we've tested.
Learning curve – Sprout Social is not beginner-friendly, and learning it in just one sitting could be challenging.
Pricing
Sprout Social's Standard subscription costs $237/month that connects up to five social profiles for one user. If you want to connect more profiles, you have to avail the higher plans that start at $379/month. Additional users are $199/month.
---
Choosing the best Instagram analytics apps for your business
There are plenty of Instagram Marketing tools to choose from for your social media analytics. We hope you were able to discover one or more you'd like to check out from this list.
If you're still struggling to choose from the options, here's what we recommend:
Use Iconosquare if you're a social media marketer or Instagram content creator looking for both publishing and analytics features. While it's priced higher than some other tools, its custom dashboard builder is a unique feature that some users will find extremely useful. This allows you to display the KPIs and metrics that matter most to your campaigns.
Agorapulse is the best option for those that need a complete and robust all-in-one social media tool. It's ideal for social media managers, agencies, and teams. It includes publishing, inbox, analytics, and reporting. Its Instagram analytics reports are excellent. It's the same tool we use here at ProfitBlitz.
Try Pallyy if you're an individual, blogger, or small business owner. It's affordable and has a user-friendly interface for newbies in analytics.
Consider your Instagram marketing strategy, the app features you need to support your goals, and your budget. And the other social networks your business is active on.
What's great is that most apps offer a free trial version. Sign up for a free plan to assess features before deciding which is suitable for your business.