One of the most popular ways to make money with a website or blog is to sell advertising space. Most commonly this is for banner ads, but it could also be text links, video ads, or some other form of ad. Personally, I have more experience with ad sales than with any other blog monetization method. It has worked out well for me over the years, but it is not a good fit for everyone.
There are a few prerequisites to making money by selling ads on a blog:
Significant traffic – First, selling ads requires that your blog has some existing traffic. If you're just starting a new blog you won't be able to convince advertisers to pay for banners on your site without established traffic (one exception would be if you already have a successful blog and you are launching this new blog to piggyback off the first blog). The amount of traffic that you need will vary depending on the niche, but in a more competitive niche you may need 100,000 page views per month or more in order to be able to get interest from advertisers. In less crowded niches you can sell ads with lower traffic numbers.
A targeted audience – In order for advertisers to be interested enough to pay for an ad on your blog they will have to feel that your blog targets the same audience as their product or service. Obviously, no company wants to pay for an ad to reach an audience that wouldn't be interested in buying their product. Most blogs do have a fairly well-defined audience, but if your blog leans towards more personal posts, it can hurt your chances of showing advertisers that your audience is a good fit for them.
Companies that have products and services to sell to your audience – You may have a blog that gets a decent amount of traffic and you may have a highly targeted audience, but if there are no companies who are looking to reach this audience to advertise their product or service, you won't be able to sell any ads. This is one aspect where it really helps to be in a popular niche. If there is a large audience in a particular niche there will also be companies and individuals looking to sell products or services. The more products and services that are being sold in the niche the better it will be for you as a publisher. More companies looking to sell products means more competition for the ad space that you have available, and possibly higher prices for those ads.
A responsive audience – You may be able to sell some ads on your blog based on traffic numbers alone, but if your audience doesn't convert into sales for the advertiser they will ultimately cancel the ad. Ad turnover is inevitable and not every advertiser will have great results on your blog, but in order to have long-term success with selling ads it is critical that those ads lead to some sales.
There are a few things that you can do to help advertisers make sales through ads at your site. First, focus on building search engine traffic to your blog. Of course, this is not something you can do overnight, but if selling ads is a part of your long-term strategy, search engine traffic should be a priority. Search engine traffic converts to ad clicks at a much higher rate than most other types of traffic, because search visitors are looking for something. If they see an ad that might be what they are looking for, they are likely to click.
Another thing you can do to gain the trust of your readers is to only promote quality products and services. Even though banner ads are not technically endorsements for the product, readers will sometimes subconsciously or consciously view them as such. If you gain your readers' trust by demonstrating that you're always looking out for their best interest, they'll generally be more responsive to your endorsements and to ads on your blog.
The last thing I'll mention here is that you can also use ad placement to influence responsiveness. Ads placed in prime locations tend to generate more clicks, which will lead to more sales for your advertisers. As a result, you can also justify charging more money for ads in the best locations. The downside is that each visitor that clicks on an ad will be leaving your blog. You can combat this by setting ads to open in a new window or tab when clicked, which will leave your blog open as well.
In general, the best spot for banner ads on blogs is right below the post title, usually aligned to the left or right with text wrapping around it. Ads placed lower within the post content can also be highly effective. The bottom of posts, between the end of the post content and the start of the comments is another good location. Readers who have taken the time to read or scan the full post will see these ads as soon as they are done reading the post.
Want to Sell Your Own Digital Products Easily?
I highly recommend SendOwl as a great platform for selling digital products. I use SendOwl at a few of my own sites and it is the most reliable and easiest platform I've used (and I've tried a lot of them) for selling digital files.
Header ads also provide good visibility. The sidebar is the most common location for banner ads on blogs, but it generally produces fewer clicks than the other locations already mentioned. The good thing for you, the blogger, is that sidebar ads are less of a disruption to readers. When it comes to sidebar ads, higher placements will generally outperform lower placements, and also will bring higher rates.
Pros and Cons of Selling Ads on Your Blog:
Every monetization method will have its own pros and cons. You should take this into serious consideration and use this to help you determine what monetization methods are the best fit for your situation.
Pros of Ad Sales:
Possibility to Cash in on Traffic with Little Effort
If you have a significant amount of traffic coming to your blog and an audience that advertisers want to reach, making money through ad sales may not require much time. If you're selling the ads yourself (as opposed to using a network) you'll have to communicate with advertisers, put their ads on your site, collect payments, and remove ads as they are canceled. Although this does involve some work, it requires much less time than many of the other monetization methods, for example, creating your own products to sell.
By selling ads you are cashing in on the work that you have done in the past to get your traffic to the level where advertisers want to buy an ad on your blog. For most of my blogging life I have made a few thousand dollars per month from ad sales by spending no more than an hour per month selling and managing those ads. The real work that is involved is to keep producing quality content that will keep the traffic coming in the future. If the traffic were to drop, the ad revenue would start falling as well just a few months behind the traffic drop. But regardless of what monetization method you choose you will need to keep traffic coming, so really it is no different with ad sales.
High Income Potential if You Have Lots of Traffic
In order to make any decent money with ad sales you will need to have some significant traffic, but for websites that really explode with traffic, ad sales can be extremely profitable. This sounds great, and it does offer plenty of potential, but the truth is that very few blogs will ever make it to the stage where they can make huge amounts from ad sales. Still, if your goal is to build a blog with massive amounts of traffic, selling ads is probably going to be a part of your monetization strategy because of this high potential.
Can Provide Some Passive Income Once Traffic is Established
Blogging definitely is not a form of passive income, in my opinion. Running a blog requires on-going effort, which is the opposite of passive. However, there are some blog monetization strategies that have some passive aspects, and selling ads is one of them.
As an example, on one of my old blogs I could make money from ad sales based on a high number of visitors each month and a targeted audience that a lot of advertisers want to reach. While I did work each week on creating new content for the blog, after several years of consistent posting I built up a significant amount of traffic to older posts in the blog archives. These visitors came mostly from search engines and it continued to come with a minimal amount of work on my part. This traffic is really what allowed me to make good money from ad sales, and I didn't have to put in any extra work each month to make that money. Most of that work was done in the past, creating those posts that continued attracting the traffic each month.
While it can be difficult to get started with ad sales, once you've been blogging for a while you can take advantage of this passive traffic that is coming to your blog each month, and you can cash in on it by selling ads.
Can Be Changed and Adapted
One of the reasons I like ad sales is that there is nothing permanent about it. The majority of ads on my blog were renewed one month at a time, so at any point I could decide I wanted to remove an ad zone or remove ads altogether, and they could be down within a month.
You can add new zones, remove zones, change the sizes of banners, change the locations of banners, increase prices, reduce prices, or change your approach in other ways.
If you start selling ads on your blog and a year later you decide you want to remove the ads and focus on promoting your own products, it's possible.
Cons of Ad Sales:
Sends Visitors Away from Your Blog
I mentioned this earlier, but it's worth pointing out again. Each time a visitor clicks on an ad, he or she will be leaving your site. Even if the ad opens in a new window and your blog remains open, there is no guarantee that the visitors will actually come back to it when they are done visiting the advertiser. They may just close the window or tab that is showing your blog.
If you're selling products or services from your blog this can be particularly disruptive. Those visitors may be more valuable to you if you can keep them on your blog and try to convert them to become your own customers.
If your primary objective or monetization strategy is ad sales, losing some visitors is not a big deal. But with any other approach you may want to consider how many visitors you will be losing to advertisers.
Can Disrupt the User Experience
Let's face it, visitors don't like ads. Too many ads or ads in the wrong places may ruin the visitor's experience on your blog. Unfortunately, many of these "wrong places" are also some of the best places to sell ads. With every ad zone that you set up you'll have to consider how it will impact your visitors, and you'll have to determine if that is worth the money that will be coming in from the ads.
In addition to sometimes being in locations that annoy visitors, poorly designed banners can make your blog look less attractive, and too many ads can make it look cluttered. This often leads the visitor to feel that making money is more important to you than giving the visitors a positive experience on your blog.
Requires a Lot of Traffic
Selling ads isn't a good fit for blogs with low levels of traffic. Most new blogs won't have enough traffic to be able to sell ads, and even many blogs that have been around for a while will still struggle to attract enough visitors to satisfy advertisers.
You might think that you can just sell ads for low prices if you have lower traffic levels, but most advertisers prefer not to be bothered with these types of ads. If they buy a lot of low-priced ads on blogs with low traffic it will create tons of extra work for them to manage the ad by monitoring clicks and sales, providing updated banner graphics, handling payments, and record keeping. For these reasons it's really difficult to sell ads at any price without much traffic.
Sometimes Difficult to Grow Exponentially
More traffic to your blog will lead to more exposure for advertisers. In general, you'll be able to demand higher prices as your blog's traffic grows, but it doesn't always grow proportionately. For example, your traffic may double, but you may only be able to increase your ad prices by 25% without losing advertisers. The specifics will vary from one blog to the next, and from one advertiser to the next, but advertising revenue won't always increase incrementally along with traffic numbers. In some cases you may max out what a particular advertiser is willing or able to pay for an ad on your blog, and increasing traffic levels further will do little to increase what the advertiser is willing to pay.
Ways to Sell Ads
Now that we've looked at pros and cons of ad sales you may be wondering how you can go about selling ads on your blog. There are different approaches, but most will fall into one of these three categories.
On Your Own
You can sell ads directly to the advertisers without involving any intermediary or third party. In this case you would either approach the advertiser, or the advertiser would approach you. Either way, the advertiser would probably want to see some numbers like how many impressions their ad would get, what sources send the most traffic to your blog, ad sizes and locations that are available, your prices, and your policies for things like collecting payment and handling renewals and cancellations. You'll also have to answer any questions that they have, collect the payment and banner graphic, add the banner to your site, and keep track of when the ad needs to be renewed or removed.
Managing ads on your own can be a lot of work if you are dealing with new advertisers each month, or it can be pretty simple if you set up long-term agreements or if you have advertisers that renew each month. The benefit of selling ads directly is that you get to keep 100% of the revenue from ad sales (minus any PayPal fees or merchant account fees).
Use a Network
Many bloggers choose to use a network to sell their ads instead of managing everything on their own. One of the leading blog advertising networks is BuySellAds. With BuySellAds you will create an account for free, set up ad zones, ad sizes, and prices. You'll then add the code provided by BSA to the location where you want the ads to display. BSA will create a marketplace listing on their site where advertisers can see details about how many estimated impressions they will get with a one-month ad placement on your blog. If they want to buy the ad they can purchase it from BSA and upload their banner graphic. Once the ad is approved (you can set it to require your approval) it will show up on your blog and the money will be in your account, which you can withdraw at any time after it goes through a pending period of a few days. BSA handles recurring payments, and if the advertiser cancels the ad will be automatically removed from your site when it expires.
The end result is a hands-free process for you. Once you get the ad zone code on your site there is really nothing else you need to do. Since BSA has such a large audience it makes it easier for advertisers to find you, and many advertisers prefer to buy through BSA because it's also easier for them than dealing with lots of different blog owners directly. The biggest down side to selling ads through a network is that they will take a percentage of your ad revenue as commission. BuySellAds, for example, currently keeps 25% of all ad revenue. Depending on your situation it may be worth that 25% to free up your own time, or you may prefer to manage everything yourself and not share the money with a network. Ideally, whatever network you use will also help you to be able to sell your ads for a higher amount, which will help to offset the commission that they take out of the ad revenue.
Another potential down side is that just because you sign up with an ad network doesn't mean that you will sell ads. The network may be able to help sell your ads, but depending on your blog's traffic and the prices that you have set, the ad zones could still sit unsold.
WordPress Plugins
If you want the best of selling ads directly (keeping all of the ad revenue to yourself) and the best of using a network (ease of use for you and for advertisers), you may want to consider using a WordPress plugin to manage ads on your blog. There are a number of free plugins that offer features like banner rotation, but if you want the best plugins with the most features you will have to buy a premium plugin.
A few of the leading options are OIO Publisher (currently selling for $47) and WPAdCenter (currently selling for $49). These plugins offer functionality that will handle a lot of the details of selling ads, such as processing payments, managing banner graphics, managing different ad zones and sizes, and providing statistics.
These premium plugins will cost you a little bit of money, but you won't have to share revenue with a network each month. However, you won't get any help selling the ads like you might get from a network. If you want to sell ads on your own instead of going with a network I would highly recommend using a plugin to help with automating many of the tasks involved. If you sell even just a few ads it will be well worth the cost.
Tips for Selling Ads
If you've decided that ad sales is a monetization method that you want to pursue, here are some tips from my own experience.
Post Frequently
The more content you have on your blog the more opportunities you will get to attract visitors. Blogs that publish posts frequently will typically attract more visitors and page views than blogs that publish less frequently. With ad sales, having more visitors and page views is extremely important. If you're only planning to publish one post per week, ad sales is probably not a great monetization method for you. Aim to publish 5 posts per week, or even more if possible. You can always adjust your publishing frequency later, and if you're able to build up a lot of search engine traffic you may be able to reduce your posting frequency and still be able to make money from ad sales.
Focus on Search Engine Traffic
Search engine traffic is probably the most valuable type of traffic you can get for selling ads on your blog. As I mentioned earlier, visitors from search engines tend to click on ads more frequently, which leads to higher ad prices and higher ad renewal rates.
If you're planning to make ad sales a permanent part of your monetization strategy you should do things today that can lead to more search engine traffic in the future. Take a little bit of extra time to search for keywords to target with your blog posts. Also, focus on getting links to your posts, which will help to improve search rankings.
Don't Try to Sell Ads Right Away
There are two different opinions when it comes to selling ads on new blogs. Some people say it is best to launch a new blog with no ads and wait until the traffic has grown to a significant level before selling ads. Others say that it's better to place ads on the new blog right away, even if they go unsold. The logic behind this approach is that your visitors will get used to the ads if they are a part of the blog from the start, whereas if you launch the blog with no ads your readers may be put off when the ads start appearing.
I've tried both approaches with new blogs over the past few years, and my recommendation is to launch a new blog without the ads and wait for the traffic to grow. There are two main reasons why I recommend this approach: 1) It's difficult to sell ads on new blogs and you likely won't make anything significant for a while even if you are actively reaching out to potential advertisers; and 2) Without the ads on your blog you can use that prime space for things like promoting your email newsletter or other things that can help you to grow your audience.
From my experience, the argument of not wanting to turn off readers by including ads later doesn't really hold up. When you start showing ads you may get a comment or an email here and there from a reader complaining about the ad, but generally it won't impact your results. I experimented a lot over the years with new ads, changing locations, and even testing out some ads that I originally thought were somewhat intrusive. Even with all of these changes I never saw a noticeable drop in repeat visitors or average number of page views per visit. If those things aren't negatively impacted, the down side to new ads is really not significant.
Selling ads is far easier when you have a significant amount of traffic coming to your blog each month. I'd recommend that you wait at least a few months after launching your blog before showing any ads rather than wasting time in the first few months trying to chase down advertisers.
Find the Right Price
Determining the right price for ads on your blog can be a challenge. There are so many different factors like the size of the ad, the location, the amount of traffic that you get, the industry you are in, how many other ads are shown on your blog, etc. Advertisers may make a buying decision based on some of these factors, but in the end it will be the results of the ad that will determine whether they renew or cancel the ad.
Of course, a banner in the same location on your blog may produce better results for one advertiser than another, so some turnover is inevitable. What you need to do is test things out to find the right price. If it's extremely difficult for you to sell ads and everyone that buys an ad cancels after the first month, your prices are probably too high. If selling ads is really easy and all of your advertisers wind up renewing for several months, your prices are probably too low. Ideally you'll want to be somewhere in the middle in order to get the best price and still have a decent renewal rate. Most advertisers will want to move around and try different blogs, so don't expect to keep your advertisers forever. I would aim for getting at least three months out of each advertiser on average, and use that as a gauge to see if your prices are too high or too low.
If you're selling ads directly rather than through a network you may have some flexibility. For example, if you lose advertisers after increasing prices and you can't find new advertisers at the higher rates, you could always contact the old advertiser and see if they would want to continue at the old rate. This may happen sometimes when you are experimenting to find the right price.
If you have no idea what to charge for an ad on your site there are a few things that you can try. First, look at other blogs in your niche that are selling ads and see if they list their prices anywhere. Most will have either a page on their blog with traffic details and prices or they will link to a page at an ad network with the same information. You can compare your traffic numbers to theirs and adjust the price accordingly.
A second option, install AdSense on your blog for a week or a month to see how much you can earn. You'll want to keep things as similar as possible, so use the same ad size and location as where you are planning to place the banners ads that you want to sell. See how much you can earn with AdSense and don't place your banner ad prices any lower. For example, if you earn $10 in one week with AdSense you'll probably want to price your banner ad at no less than $40 per month. If you price it at only $20 per month you could make more money with AdSense, so why even sell the banner ad?
A third option, you could do the same thing with an affiliate ad. Find an affiliate program that seems to be a good fit for your blog's audience, sign up for the program and place their ad at the location where you want to sell banners. If you make $100 in one month with the affiliate banner you'll want to price your banner at least at $100 per month. If no advertisers are willing to pay that price, just stick with the affiliate ad.
With the first option you are pricing your ad according to other blogs and sites in your niche. With the second and third option you're pricing your ads according to what you could earn with other methods.
Maximize Page Views Per Visitor
The more page views you can get per month the higher amounts you will (likely) be able to get for ads on your blog. Most blog ads are sold at a flat rate of a certain dollar amount per month, but other ads are sold based on the number of impressions. Either way, more traffic and more page views should lead to more ad revenue.
If you can increase the number of page views that you get per visitors it can make a big difference. For example, if your blog is currently attracting 100,000 visitors per month and an average of 1.5 page views per visitors, that would equal 150,000 page views per month. If you are able to increase the average page views to 2.0 and you attract only the same number of visitors, it will result in a total of 200,000 page views per month. When it comes to selling ads, that difference could make you some extra money each month.
In order to maximize page views per visitors you can evaluate the navigation on your blog and make sure that people are able to find what they want. Otherwise, you're losing visitors after just one page view. You can also include more internal links within the content of your posts and/or add links to related posts at the end of each post. Having good hosting that will help your blog to load quickly can also help to keep visitors on your site and encourage them to visit multiple pages before leaving.
Set Up an Advertising Page
If you are selling ads directly rather than using a network it is almost essential that you set up a page to provide some basic information to potential advertisers. You should include information such as the number of unique visitors and page views per month, leading sources of traffic, description of your audience, ad sizes and locations, price (or have them contact you for pricing), and any policies regarding renewals and cancellations (for example, some bloggers require a certain amount of notice before canceling). Of course, you'll also want to make it easy for potential advertisers to contact you, so include your email address or a contact form (or a link to your contact form) on this page. You'll also want to make sure that the page is easy to find. You can include a link to it in your primary navigation, in your footer navigation, in the location where the ads will be displayed, or some combination.
Even if you are using a network to sell advertising on your site you may still want to set up a page like this on your blog. You could provide a lot of the same information, but you would link to the network's page where the advertiser can buy the ad.
Think Outside of the Box
When it comes to selling ads some creativity can go along way. Most bloggers that want to sell ads will set up ad zones in their sidebar and maybe in their header, and that is about it. Think about some different ideas that may be good for you, the advertiser, and the visitors.
Every now and then you'll see a new type of ad or a new location that blogs haven't typically been using. For example, some blogs, but not many, sell ads that are short and stretch all the way across the bottom of the browser. These ads are usually "sticky", meaning that when the visitors scrolls up or down the page the banner will remain fixed at the same spot on the bottom of the browser (see the image below from SmashingHub.com and notice the red arrow pointing to the ad at the bottom of the browser).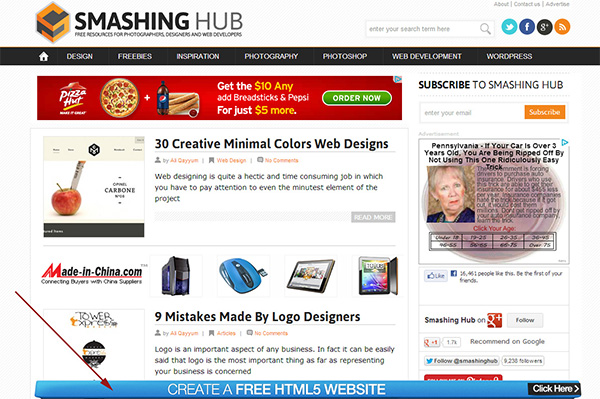 Another example of thinking outside the box could be related to selling ads on specific posts or specific categories of posts. The majority of blog ads are shown on every page throughout the blog, such as sidebar banners that are shown throughout the site. This works for some advertisers, but there are times where some added targeting may be great for the advertiser and for you.
For example, imagine that you run a travel blog and you have several different categories of posts. One category may be adventure and it could cover posts on topics like safaris, backpacking, hiking, and other types of activities that appeal to a certain type of traveler. Another category could be cruises and you could publish any type of post that is related to the cruise industry. To offer targeted advertising you could offer a great ad location, such as a banner right below the post title. You could contact a travel agency that specializes in active or adventurous vacations and offer them the ad only on posts in your adventure category. The ad would be highly relevant, which should help them to get more for their money. Since the ad is highly targeted you could charge a higher rate than you would charge for a sitewide ad (based on a comparable number of impressions). The ad would also be more relevant to your readers, so it wouldn't be as intrusive. You could then do the same thing by approaching a travel agency that focuses on cruises to sell the ad on posts in your cruises category.
An alternative to selling ads for specific categories would be to get sponsors for a series of posts. Taking another example from the travel industry, you could plan a series of 10 posts that will cover different destinations in Mexico (or any other country). You could then approach a website or company that sells vacations to Mexico and make them an offer to sponsor your series of posts. Each post could include a banner for their company or a brief mention that the post is sponsored by the company.
The possibilities really are endless if you use some creativity and think outside of the box. There is nothing wrong with the standard sitewide ad placements, but if you're looking to maximize ad revenue you can find creative opportunities like this.
Be Proactive When Needed
The monetization method of advertising sales is at its best when advertisers are coming to you and when it takes only a small amount of your own time (or no time at all) to fill the ad spots. Unfortunately, this often isn't the case for most bloggers. In order to make money from ad sales you may have to proactively contact companies at times. I did this when I first started selling ads and I had decent results. The keys are to contact the right companies, have your traffic data and info ready, and to have the ads priced right. If you are proactively approaching advertisers you may want to price your ads a little bit lower than you would otherwise. This can help to make it easier to land a sale, and it can help to avoid spending time and getting no sales.
There are a few ways to find the right companies to contact. First, visit other blogs in your niche and see who is advertising on those blogs. Find a contact form on their site and send a simple email saying that you run a blog with an audience that is a good fit with their product and that you'd like to get in touch with the person that handles their advertising. The smaller the company the better chance you have to actually get a response, in general.
Another method is to look at AdSense zones on other blogs in your niche (or on your own blog if your run AdSense), or to check the AdWords zones that are displayed on searches that are sending traffic to your blog. These companies are spending money to get their ads on sites like yours, so you can do the same thing to contact them. If they are using AdWords they are paying Google and the blog owner, so if you can cut out the middle man (Google), they may be able to pay less and you may be able to get more.
Whenever you are proactively contacting potential advertisers be sure that you are well prepared by having your stats and data ready. Also, have policies set regarding payments, renewals, and cancellations. If you have that data ready ahead of time it will be an easier process for both parties and you'll be more likely to make the sale.
Keep a List of Contacts
Whenever you contact a potential advertisers receive an email from a potential advertiser, or sell an ad spot, I would recommend that you enter their information into a spreadsheet. Set up columns for the company name, URL, type of product or service that they sell, name of the contact person, email of the contact person, and a column for any comments (such as, they aren't interested now but they have a new product launching in January and they may want to advertise then).
Over a period of time you can build up a pretty good list of contacts. Now if you have open ad zones that you need to fill or if you are starting a new ad zone, you can reach out to people on your list and get the sale faster.
Building on the point above about thinking outside of the box, if you have a spreadsheet with a number of contacts you could look over it to find opportunities. From the example of running a blog in the travel industry, say that you look at your contact list and you see that you have been in touch with 3 different companies that sell some sort of travel app. You could brainstorm a possible post series that would be relevant to their travel apps and approach them to see if they would be interested in sponsoring this series. Maybe you had talked to them earlier about a sidebar banner and they decided not to buy the ad. This new opportunity could be more enticing to them because it would be better exposure and because it would be better targeted. If you have a list of warm contacts it can be easier to fill ad spots and to brainstorm ideas for coming up with ads that would be effective for them.
Conclusion on Ad Sales:
Advertising sales is definitely one of the first monetization methods that comes to mind for most new bloggers. It does provide plenty of opportunities, but it isn't the right fit for every blog. If you do sell ads on your blog I highly recommend that you diversify by also pursuing some other monetization methods. If you're making good money from ad sales and Google suddenly decides to penalize your blog for some reason, or if a search algorithm change negatively affects your site, your ad revenue could come crashing down.

Marc is the founder of ProfitBlitz. He has been working online for more than a decade and loves to write about topics like internet marketing and SEO. When he's not working he enjoys travel and photography.