One of the best ways to make money online is to sell digital products from your own website or blog. Other monetization methods like affiliate marketing present great opportunities as well, but selling your own products has several advantages like giving you full control, helping to establish your reputation and authority, and allowing you to build an email list of buyers who may keep buying from you in the future.
There are a lot of potential challenges that can arise when you want to sell your own products, and the e-commerce setup winds up overwhelming many bloggers and website owners. About 4 or 5 years ago I was looking for the best way to start selling my own products and I wound up going through several different options because everything was just too complicated. Eventually I tried E-Junkie and I was thrilled that I could get a digital product up and for sale in just a matter of minutes.
I used E-Junkie for a few years and overall I had a good experience (I still use E-Junkie on one of my sites) but there were several things that I didn't like. Most significantly, the user interface is very outdated, not user-friendly, and hasn't been re-designed in years.
These days my favorite option for easily selling digital products is SendOwl. There are a lot of reasons to love SendOwl, and I'll get into those in a moment. I know many bloggers and website owners are in need of an easy way to sell their own products, so I wanted to share my experience with SendOwl because I know it can help a lot of you that are reading. I also wanted to mention a few things about SendOwl that I think could be improved.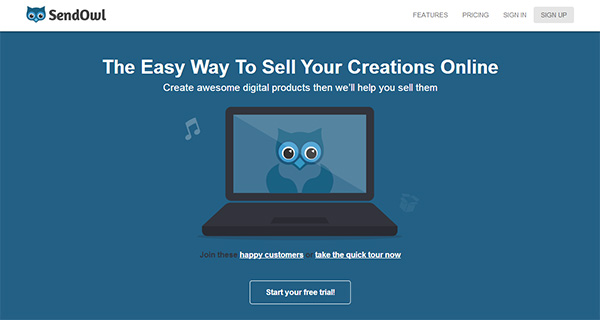 The Background of My Experience with SendOwl
I have been using SendOwl for a few months on one of my sites, and I actually used the service for about 6 months in 2012-2013 before I decided to try the Cart66 WordPress plugin. After using Cart66 for more than a year I made the switch back to SendOwl and the only regret I have is that I ever left SendOwl in the first place.
When I moved away from SendOwl in favor of Cart66 it wasn't because I was unhappy with SendOwl. In fact, I loved SendOwl (actually it was called Digital Delivery App at that time), I just decided to move because Cart66 had some membership features that I thought justified the move. But after I had some performance and reliability issues and spotty technical support from Cart66 I knew I needed to move back to SendOwl.
What Does SendOwl Do?
SendOwl makes it easy to sell your own products by providing you with a hosted shopping cart, and by automatically handling the protection and delivery of your products to customers. You can also sell physical products with SendOwl, but there are more features for digital products.
Because the shopping cart and checkout are hosted on SendOwl's website you don't have to worry about protecting your customers' sensitive information, like credit card numbers. All you need to do is create your product in the SendOwl dashboard, give it a price, and upload the file. SendOwl will then give you the code for a buy now button and an add-to-cart button and you simply copy that code and paste it into your site. Visitors then click on the buy button and are led through the checkout process on SendOwl's secure server. Customers are then led to a page where they can download the product they purchased, and they are also emailed a receipt with a link to the download page.
That's the short version of what SendOwl does, but I'll cover more of the features in this review. You can also see my tutorial about how to get started with SendOwl for step-by-step instructions to setup your account and your first product.
Want to Sell Your Own Digital Products Easily?
I highly recommend SendOwl as a great platform for selling digital products. I use SendOwl at a few of my own sites and it is the most reliable and easiest platform I've used (and I've tried a lot of them) for selling digital files.
Who is SendOwl For?
SendOwl is a great option, but no e-commerce solution is right for every situation. SendOwl is best suited for bloggers and website owners who want to be able to sell their products quickly and easily. It is best for smaller shops (smaller in terms of number of products). SendOwl is probably not an ideal option if you have an e-commerce store with thousands of products. That doesn't mean that it can only be used for sites that sell just a few products because personally I have more than 300 products on my site and I have no problems managing a shop of that size with SendOwl.
You can use SendOwl with WordPress or any other content management system, you just need to be able to paste the code for your buttons. Unlike some other e-commerce platforms like Shopify and Bigcommerce, SendOwl does not include a content management system and it does not power your entire site. The simplicity is great if you have an existing WordPress site and you don't want to abandon your existing site just to start selling some products.
Pricing
Like other hosted platforms, SendOwl charges a monthly fee. Pricing starts at $9 per month, which allows you to sell 10 products with 1 GB of storage space for your digital products. There is no limit on the bandwidth needed for customers to download your products. I'm currently paying $49 per month for 500 products and 20 GB of storage (which is a custom plan that is not listed on their pricing page). For some comparison, with E-Junkie I would need to pay $60 per month for a plan that allowed for 500 products, and that plan would only offer 700 MB of storage space. So for less money with SendOwl I can get more than 20 times the storage space for my products. In my opinion, SendOwl's prices are quite reasonable. Also keep in mind that the price includes bandwidth for downloads, so you are not paying Amazon S3 fees or putting added strain on your own server by hosting your own download files.
SendOwl does not charge any fees per product or per sale. The monthly fees are the only fees you will pay to SendOwl. Of course, you will still have per transaction fees from PayPal or whatever payment gateway you use.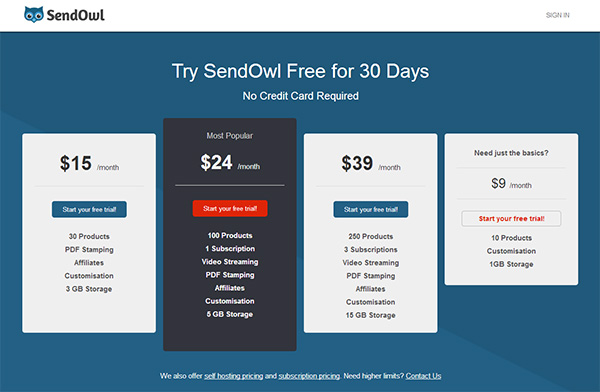 Things to Love About SendOwl
Now, let's take a look at some of the specific features and benefits of using SendOwl. Here are the things I love.
Simplicity
The #1 reason I use and love SendOwl is its simplicity. Everything from creating an account to creating your first product to setting up a payment gateway to adding a button to your site is easy. E-commerce can become quite complicated with some platforms, especially when it comes to things like setting up a payment gateway and managing automated delivery of digital files. As a one-person operation or a small business you probably don't have the luxury of dedicating a lot of time, effort, and money to setting up your online shop. With SendOwl you won't have to.
Reliability
I've never had any issues with SendOwl or the shopping cart not working properly. The SendOwl dashboard always loads quickly, and the shopping cart and checkout functionality has always proven to be highly reliable (at least, based on my experience). One of the main factors that drove me to move back to SendOwl was reliability issues with my previous shopping cart, so I love knowing that I now have a reliable solution that I don't have to worry about. Your e-commerce site can only make you money when it is working.
Products, Services, Bundles, and Subscriptions
There are several different selling options. You can sell products (digital or physical), services, product bundles, and subscriptions. Personally, I sell digital products and product bundles. The bundle functionality is really slick and allows to you choose exactly what products you want to include in a bundle. If you customize the download page (more on that later) it really gives you a lot of possibilities. The subscription option supports recurring billing and will give you control over what your members/customers can download. You can set up subscriptions that allow customers to download all of your digital products, subsets of your products, or products created after the first payment. You can also use subscriptions to handle recurring billing for services.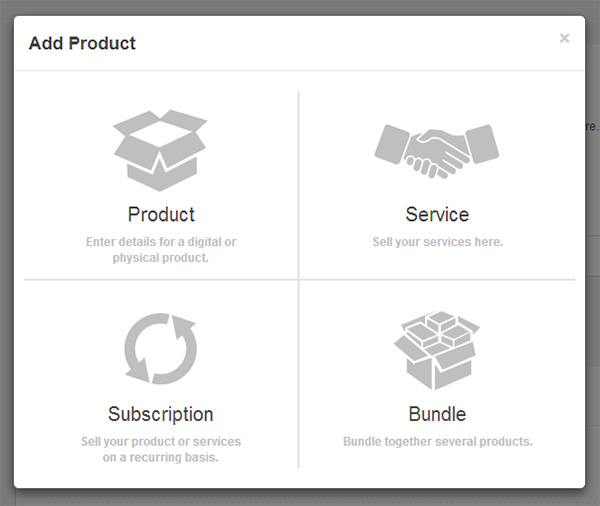 Constant Development
SendOwl is already a really solid system, but it is being improved and tweaked all the time. Just since I have been using it the past few months they have made significant upgrades and additions like added support for video streaming (selling videos without forcing customers to download the video file), improved the shopping cart, and drastically improved the customization options of the download page customers will see after a purchase.
From the emails I've had with SendOwl's founder George Palmer I know that they are very serious about continuing to improve the platform, which makes me confident that I won't have to move to some other platform at some point in the future.
Amazing Support
Having a great platform is important, but so is customer support and service. SendOwl has a useful knowledge base available that makes it easy to find answers to many questions, but in some cases you'll still probably need personalized support. Their support is available by email, and the quality of the support is outstanding.
In my situation I was moving an existing site that included both membership and e-commerce (with over 250 products) to their system and I wanted to make sure that the move would be as smooth as possible for my customers and members. I wound up using SendOwl's bundle functionality to replace the membership option that I had offered with Cart66, and I was able to do it without any negative impact on existing members/customers. In fact, many of them emailed me after the move to say that they really like the changes and that downloading products with SendOwl's system saves time for them.
Since I was trying to deal with mimicking my existing setup and dealing with things like importing existing customers I had A LOT of questions. I don't even want to know how many emails I sent to SendOwl support, and many of them were sent before I was even a paying customer, just trying to make sure that the system would allow me to do what I needed. The support I've received from SendOwl has been awesome. I get helpful, timely responses every time. They were very patient with me trying to get everything set up just the way I needed it. Honestly, I couldn't ask for better support from them.
One thing to be aware of is that they are UK-based, so if you are like me and you're located in the US your business hours will not perfectly match up to theirs. I try to email them during UK business hours, but in a few situations I got responses to emails in the evening and over the weekend and I know they monitor the system all the time.
Security
One of the main reasons I use a hosted shopping cart is because I don't want to have to worry about security. It seems like just about every week you see something in the news about an online security breach that exposes customer data to hackers. I don't have the time to focus on security, and I don't want to put my customer's credit card info in harms way. With SendOwl I can accept credit card payments without processing those payments on my own server, so the customer's credit card numbers are never in my possession. SendOwl is much better at managing online security than I will ever be, so I'd rather let them deal with it.
Multiple Payment Gateways
With SendOwl you can accept payments by PayPal, Stripe, BitPay, and Authorize.net. Personally, I accept payments from both PayPal and Stripe. So if a customer doesn't want to use PayPal or if PayPal is not available in the country where they live, they can pay by credit card and it will be processed by Stripe. Setting up a payment gateway is very easy. All you have to do is paste one or two items like an API key from your payment gateway. Setting up both PayPal and Stripe took less than 5 minutes.
Customization
SendOwl does offer some customization options. You can customize the colors of your checkout and download pages, add your logo, and customize the emails that customers receive. All of these changes are pretty quick and easy.
The most significant customization options for me involve the download page. As I mentioned earlier, I replaced membership functionality by using the product bundle option in SendOwl. My customers are able to download about 300 different products from one page. What makes this do-able is that SendOwl allows you to place those download links in different folders to keep the download page organized. So with the old membership setup customers would sign up and pay for a membership, then they would have to browse to 250 – 300 different pages on the site if they wanted to download each product. With SendOwl they make a purchase and they are led to a page where they can download all 250 – 300 products from the same page, and those products are categorized in about 10 different folders so they can easily find what they want.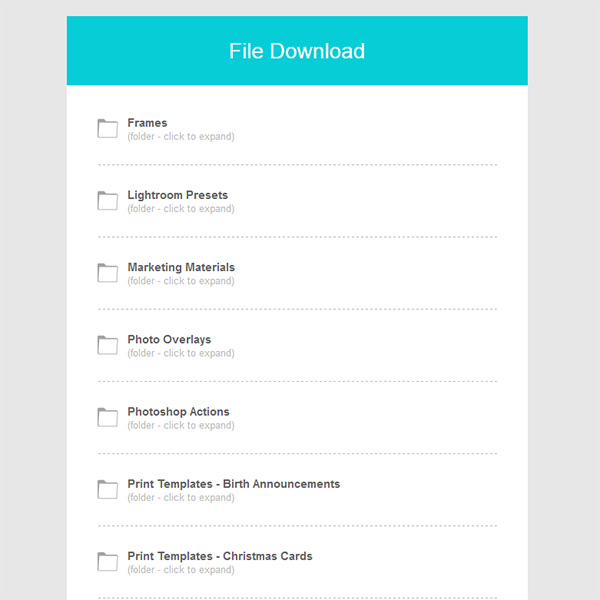 I can also control how long the download links will be valid, and I can set a limit on how many times the customer can download each product (I can reset this limit on a customer-by-customer basis if needed). From the SendOwl dashboard I can also see how many times a customer has downloaded each product (including the date and time of each download), and I can also see the IP address used for each download. This can be very helpful if you want to verify that your customers are not sharing their download page with others.
Affiliate Program
If you want to expand your reach and allow others to promote your products for you, SendOwl includes a built-in affiliate program. Affiliates can sign up for your program, get their affiliate links, and add them to their site. SendOwl will then do all of the tracking and provide reports for you so you can pay your affiliates. You have full control over the details like the commission that you want to offer, the cookie lifetime, the pay delay (when you will pay affiliates for their referrals), and the terms and conditions of your program. You can also allow your affiliates to use buy now buttons directly on their site if you'd like.
I can't say too much about the affiliate program because I am currently not using it. I had an existing affiliate program on my site using iDevAffiliate before I moved to SendOwl, so I chose to continue using iDevAffiliate so it would have no impact on my affiliates. SendOwl support also took care of the iDevAffiliate integration for me.
No Load on Your Server
Another thing I love about SendOwl (and this would also apply to other hosted shopping carts like E-Junkie and DPD) is that there is no strain on my server. Shopping carts can often become resource hogs and slow down your page load time, which obviously has a negative impact on the user experience. Since SendOwl hosts the shopping cart and all I am doing is including a link with the add-to-cart button, there is no strain on my server.
There are a lot of good WordPress plugins for e-commerce and for selling digital products. Many times these plugins wind up slowing down your site. When I moved from the Cart66 plugin to SendOwl I saw a huge improvement in page load speeds, especially in the WordPress dashboard (which doesn't impact visitors, but does make it faster and easier to manage the site). Overall, my site and server have performed much better with all other factors being equal.
Lots More
Aside from the things I've already covered, there are several other things to love about SendOwl. You can set up coupon codes for all of your products or for specific products, you can integrate with a mailing list so customers are automatically added to your list, you can view reports, and more.
Things That I Would Like to See Improved
As I'm sure you have gathered, I really like SendOwl. However, it's not perfect and I also would like to mention a few things that I would like to see changed/improved.
Security Icons for the Checkout
When a customer adds a product to their shopping cart a window will appear right on top of your site. The customer is not led to a page at SendOwl.com, which helps to give a more seamless user experience on your site.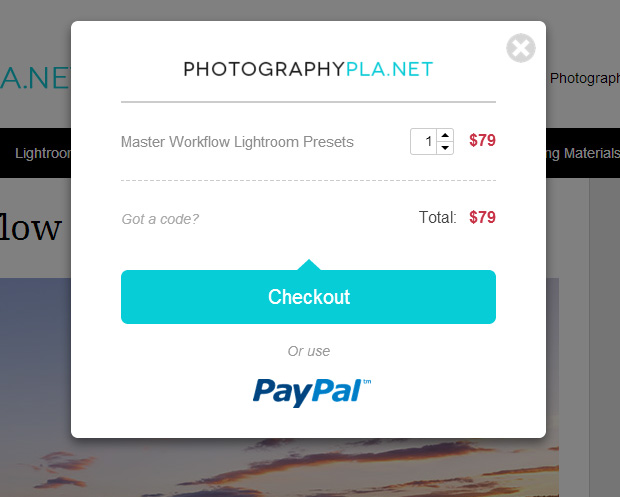 What happens from that shopping cart depends partly on what payment gateways you are using. For PayPal the customer will click on the button to pay with PayPal and they will be re-directed to PayPal where they can complete the purchase. Once that purchase is complete they will be led to the download page, if you are selling a digital product.
If you are using another payment gateway for processing credit card payments (for example, I use Stripe), the customer will also have the option from the shopping cart to continue with the credit card payment. If you do that, they will see a similar screen that sits on top of your site where they can enter their credit card details.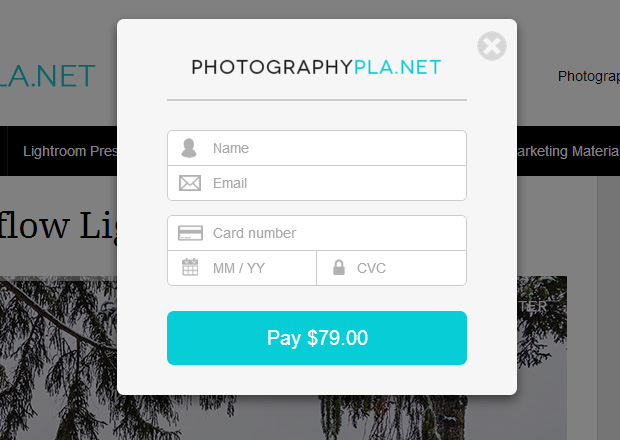 Since the cart and checkout use a modal window the user does not actually see that their credit card payment is being processed on SendOwl.com. So if you do not have an SSL certificate on your own site the customer may think they are submitting payment info on a site that is not secured. In reality that is not the case, but there is really no way for the average visitor to know that.
What I would like to see is the option to have some sort of security verification icons show up in the shopping cart. Some e-commerce sites show things like VeriSign icons to ensure customers that the checkout process is secure. Another possibility would be to have an option to have credit card payments processed on a page on SendOwl.com rather than in the modal window. That way the customer would be led to a page where they could see that SSL security is in place. When I used Cart66, which was also a hosted shopping cart, buyers entered their credit card payments to a page on Cart66.com, so customers could see that the page was secure. I know the modal window looks nice and makes it a clean process, but if customers are unsure if they are using a secure checkout that is not a good trade off, in my opinion.
More Options for the Download Page Customization
I love having the ability to assign products to a specific folder so that the download page of a large bundle is nice and organized, but I would still like to see even more options. I would love to be able to add a thumbnail image for each product to show up with the download link. For a bundle with a high number of products having a visual would help customers to know what they are downloading, and possibly to avoid downloading items that they don't want.
When you assign products to a folder on the download page they will be displayed within that folder in alphabetical order. I would love to be able to have some control over the order of items. Perhaps that could be listed in order with the newest products listed first, or you could set a particular product to always appear at the top. Currently, I manipulate this by adding characters to the front of the title of a product if I want it to show up first in the folder.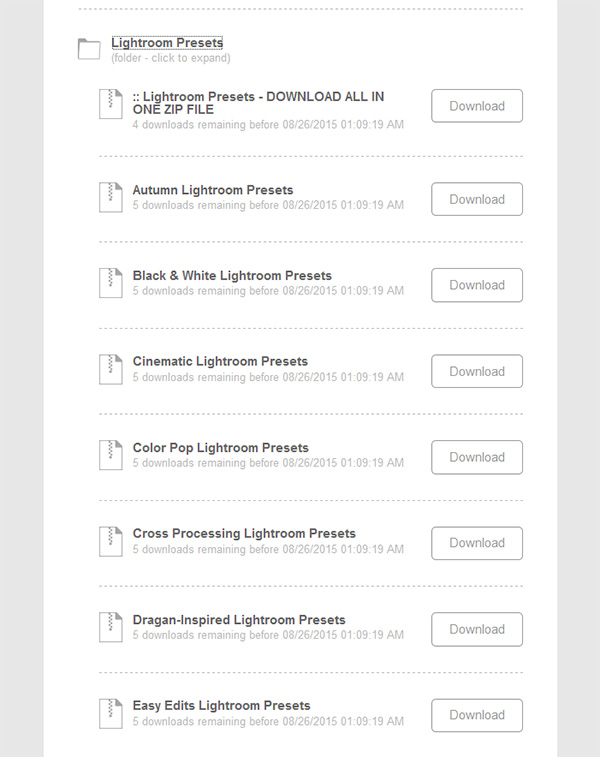 More Advanced Affiliate Program
As I mentioned earlier, I do not use SendOwl's built-in affiliate program. The main reason for this is that I already had an existing affiliate program set up with iDevAffiliate, and if I switched to using SendOwl's affiliate program my affiliates would have needed to change their links. I'd rather not inconvenience affiliates if I don't have to, so I chose to continue to use iDevAffiliate.
The other reason I chose not to use SendOwl's affiliate program is because it lacks one important feature, in my opinion. Affiliates can create links to your homepage or to specific product pages that you set up, but they cannot create a custom affiliate link to any page on your site. With iDevAffiliate my affiliates can create a custom affiliate link to any page, which opens up some nice opportunities. For example, they can share one of my blog posts through social media and use an affiliate link to do it. So if someone clicks through that link and winds up buying something that affiliate will get credit for the referral. Currently this is not possible with SendOwl.
Conclusion and Ratings
Even with the improvements that I would like to see, SendOwl is an awesome service as is. I am extremely happy with what I can do on SendOwl, the ease of use (for both me and customers), and the high quality of customer service. Based on my experience I definitely recommend SendOwl to others who are looking for an easy way to sell digital products. They offer a 30-day free trial so you can try it for yourself and see if it meets your needs.
This page includes affiliate links. If you make a purchase through one of my affiliate links I will earn a small commission at no extra cost to you. The affiliate relationship has not impacted the content or opinions presented here.

E-Commerce from SendOwl
Ease of Use

Reliability

Pricing

Customization Options

Customer Service
Summary
SendOwl makes it easy to securely sell your own digital products.
Marc is the founder of ProfitBlitz. He has been working online for more than a decade and loves to write about topics like internet marketing and SEO. When he's not working he enjoys travel and photography.