Publer Review 2023 – Pros And Cons You Need To Know
Looking for a social media tool but not sure which to choose?
Publer is a tool that's been gaining a lot of interest lately.
A lot of comparisons have been drawn between Publer and freemium social media apps like Hootsuite and Buffer.
So, in this review, we'll break down everything Publer offers, its pros and cons, and how much it costs.
By the end of this article, you'll have all the details you need to decide if the platform is right for you.
Ready? Let's get started with our Publer review.
What is Publer?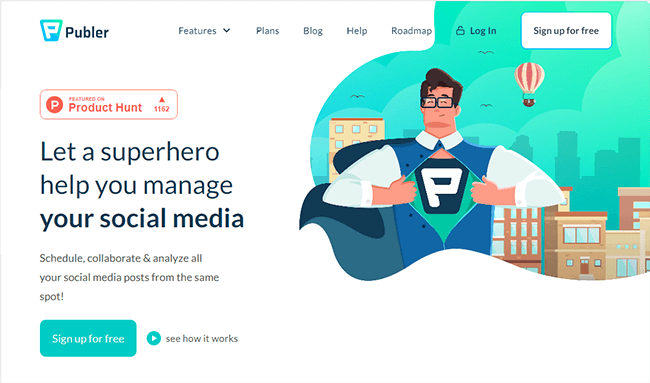 Publer, short for "publisher," began in 2012 as a side project to help a small travel agency in Albania, build a Facebook presence. Years later, they are now one of the biggest agencies offering a tool for collaboration, scheduling, and analyzing social media posts.
Publer is a social media management tool built to help enterprises manage content on various platforms:
Facebook
Instagram
Google My Business
LinkedIn
Pinterest
Telegram
Twitter
WordPress
YouTube
Aside from the listed multiple platforms, you can also manage and schedule posts on Tiktok—the fastest-growing social media network according to social media statistics.
Publer makes it easy to keep track of all your social media accounts because they are all in one place. You can also manage your posting schedule per platform and automate them.
It has a lot of other functionalities. We'll talk about the details in a bit.
What features does Publer offer?
Publer's main feature, called "auto-scheduling," lets marketers post schedules automatically to multiple networks at pre-set times. You can also set rules for your social media posts.
For example, you can set Publer to include two photos per post on Facebook, short texts on your Twitter accounts, and no emojis or GIFs on your LinkedIn pages. It also allows adding tags to organize the content.
Once you set your rules, Publer does the rest. Schedule your posts, and you can be sure that all the standards you set will be followed.
Aside from this function, you may want to try using Publer because of advanced features:
Link In Bio
Bulk Scheduling
Signatures and Watermarks
Recurring Posts
Calendar View
Media Integrations
Analytics
Recycling
Twitter Threads
Curate Posts
Workspaces
RSS Feeds
Among these, Publer is the first to offer the following advanced features in the market: bulk scheduling, recycling, post curation, shortcodes, watermarking, signatures, and follow-up comments.
What a game changer, right? You can access all this functionality in one software!
Below, I'll discuss further how these features can help you implement your social media strategy.
We'll learn how Publer is more efficient than other publishing tools.
Later, I'll also recommend alternatives you can try out.
Link in bio
Link In Bio is an excellent tool for cross-promotion. It is like a mini-website that is popular for Instagram business profiles. You can add up to 15 links to promote your products, all your social accounts, or articles.
Use this feature to direct your followers to your website or a blog post. When scheduling your Instagram posts, you could also include a link.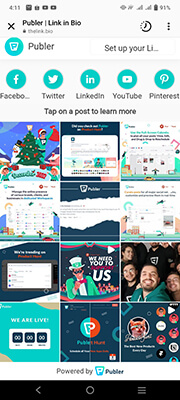 How to create a Link in Bio on Publer:
Go to Social Accounts > Click your IG Account > Click the Link in Bio tab.
Fill out the information for the following: Username, Website, Button, Tap on post tooltip, and Links.
Bulk scheduling
Tired of setting up each post one at a time? Why not schedule them all at once?
Publer allows you to upload up to 500 media in one uploading session using a CSV file. The worksheet needs to have six columns with the following:
publishing date message or text of the post
link for an external URL
media URL
title field of a Facebook album or video
and labels.
Along with the Auto Schedule feature,it will significantly save time in scheduling your content.
Note: With the Auto Schedule, you need to set your desired default schedule of posts.
Signatures and watermarks
You can add a watermark on every piece of content you post or schedule through Publer (except posts on Twitter). Doing so will help increase brand awareness while protecting the copyright of your content.
If you want to use these features, go to the "Accounts" tab and click on the account where you want to add a signature or watermark.
To add a watermark, go to your profile settings and click on "Watermarks." Then, you can upload your logo. Up to 10 watermarks can be added.
Recurring posts
Have you ever wondered what to do when you want to share the same post but need more time to do it manually?
Just make a recurring post! Then, schedule when and how often it should appear on your chosen social media platform.
Here are steps to create recurring social posts:
Navigate to the Create tab.
Choose the social accounts and customize the post.
After clicking the dropdown arrow, select the Recurring mode.
Specify the post's recurring frequency every X days, weeks, months, or years.
If you choose to repeat the post weekly, you can specify which day you want it to recur.
Choose a start and an end date for the post to recur.
Choose when you want the post to appear again.
Finally, press the Schedule button.
Calendar view
Publer has a user-friendly calendar dashboard view that's neat and organized.
When you click the Calendar tab, it is in the monthly view by default. However, the views are also customizable. You can set it to view on a daily, weekly, or monthly view.
For the monthly view, you could quickly check the frequency of scheduled and published posts.
With the daily view, you can spot the time you intend to post the content.
Meanwhile, the weekly option is just a shortened version of the monthly view.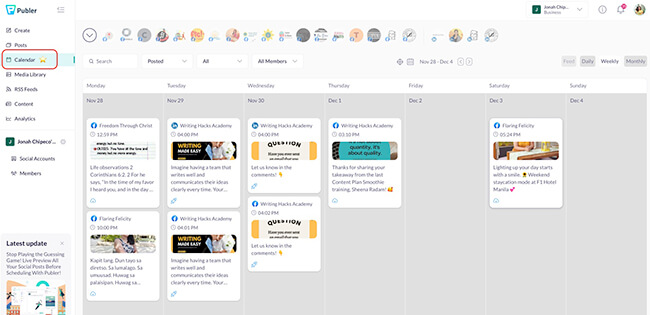 The great thing about this feature is you can drag content to other dates. This makes it easier to reschedule a post.
In addition, each content has an icon that tells if the post is drafted, scheduled, or posted.
Publer also has a way to filter posts by team members and social accounts. In addition, it helps for searching when your social media calendar tool is full of scheduled and published posts.
Media integrations
Publer has a media library to store all your videos, photos, and GIFs in one place. This feature makes it easier to access media files you frequently use.
Its media library is organized, and you can view this with ease. It has two viewing options, namely, the Grid and the List view.
The Grid view is for skimming, while the List view is for a detailed look.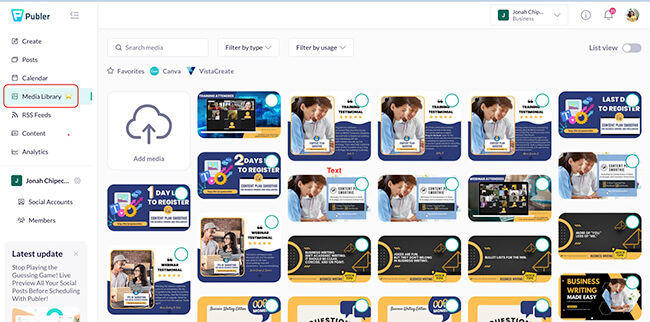 You can add labels to each visual for categorization purposes. This will help team members effortlessly find the media they are looking for. It also lets you filter your media by usage, type, etc.
Publer also lets you access your media library on your VistaCreate or Canva account. It will efficiently help in the creation of new visual content or editing the existing ones. But if you want to edit existing photos, you could use their built-in photo editor.
Analytics
Though Publer is more of a publishing tool, it still generates reports and post insights like other social media analytics tools. It also allows you to tailor-fit the kind of reports that you want to receive. Likewise, you could customize what your team will receive.
Reports default to seven days and real-time after 24 hours. You can view analytics for a specific period by selecting a start and end date. Thus, you may compare post performance to a year ago.
But Publer does not only generate analytic reports. For example, it also suggests the best time for scheduling posts with the aid of AI. And it shows the recommendation for each social media account.
Analytics are only available on the business plan. Unfortunately, this feature is not accessible in the free plan.
Here are information you can find in Publer's insight reports:
Statistics of each member's posts – content that performs best, still needs improvement, and who posted them
Email notification of the top three posts for a day/week – this applies for social media channels added to Publer
Analysis of paid and organic social media content – number of link clicks, video views, post reach, and engagement
Insight reports – followers, engagement, and post reach
Recycling
Are you searching for ways to have consistent posts that rank? Well, Publer suggests you recycle your evergreen content.
Publer believes that your high-ranking posts could be evergreen content. It is timeless, and your audience can relate to them each time you post them.
And through automation, Publer will share the same content over and over again.
Post recycling is also beneficial if your audiences have different time zones. It will help you rank on the search engines. Spintax generator will help you re-word your previous content to avoid affecting its SEO ranking.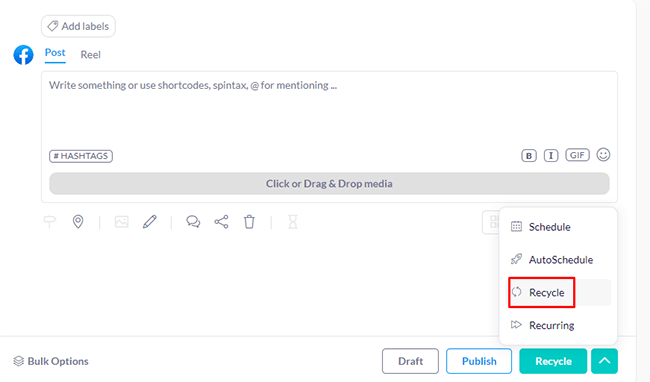 How do you recycle posts in Publer?
First, you must check on the analytics dashboard which posts rank on your social accounts.
Then, make recycling posts by setting how often they should schedule them.
And lastly, manage the predicted future posts in the calendar tab.
Twitter threads
Twitter limits its users to only 280 characters per tweet. So sharing a story, a blog, or tips is impossible for a tweet. The solution is through the creation of a Twitter thread.
Publer permits Twitter thread scheduling with up to a 15-long thread. A Twitter thread is a tweet with follow-up comments. Marketers use this to grab the attention of their followers and make a trending topic.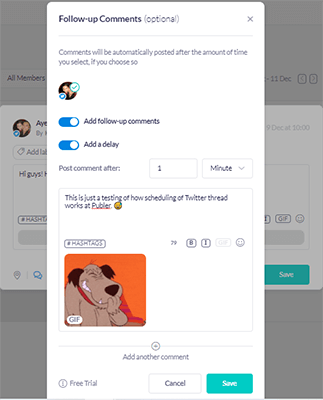 Here's how you could create and schedule a Twitter thread via Publer:
Click Create tab > Click your Twitter account.
Start typing in the Compose section. The text turns red if you exceed Twitter's character limit. Twitter only allows you to add up to 4 photos or GIFs, or a video.
Click the Add follow-up comments button to add your scheduled comments. Enable the delay between comments if you want intervals between them. Repeat the process for the follow-up comments to add up to 15 threads.
Once done, click Save and proceed with post scheduling.
Hashtag suggestions
Publer has a feature that lets you access hashtag suggestions. You can generate this in five ways: text caption, single or multi photos, GIFs, videos, and links.
Publer's AI will scan the photo or thumbnails for images and videos to provide hashtag options. It also allows you to look at how many tweets per hour your chosen hashtag is being mentioned.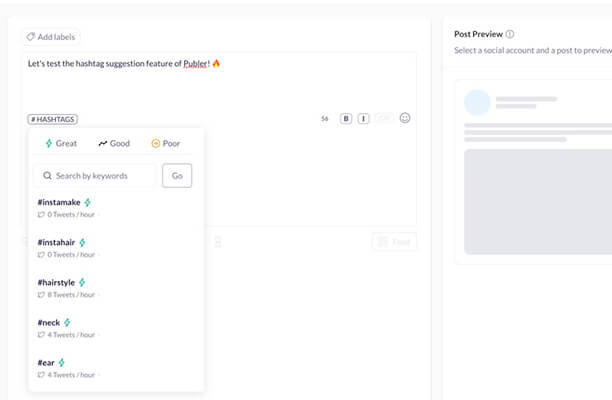 Curate posts
Content curation is made easy with Publer. You can either curate text or visuals then customize the post for each social network.
Publer has built-in formatting tools to help you convert text into bold or italics. With many icons or the "emoji picker" to aid you, you're sure to capture your audience's attention.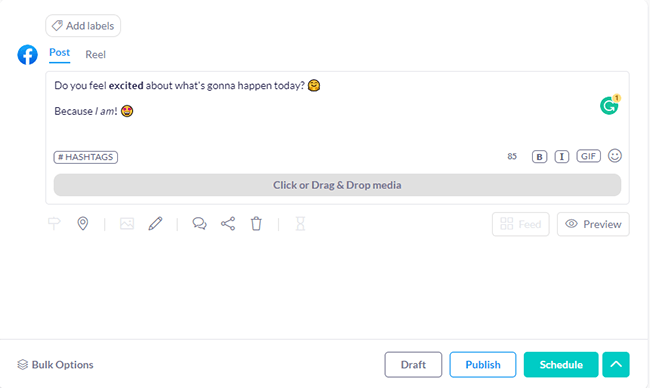 Hashtag and Spintax generators could help as well. While the Location, Signatures, Follow-up Comments, Auto Share, and Delete icons may boost post engagements.
As mentioned earlier, you could easily import media from the media library, drives, Unsplash, etc. Publer also lets you connect your Canva or VistaCreate account to design your visuals. It also has a built-in photo editor to edit your existing photos.
How can you curate visual content on Publer?
You can upload media from your computer, an external URL, or a cloud. The great thing about Publer is it knows the kind of media you're uploading.
Once uploaded, you could customize your media by adding captions or changing the order.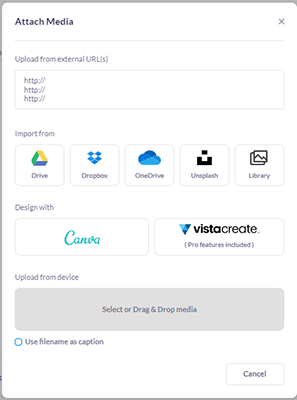 Workspaces
Publer makes it easy for a social media manager to connect multiple pages for brand accounts with their Workspace feature. You can create a Workspace for each brand to keep things organized. And you can do this while collaborating with other users and clients.
On your first use of Publer, you will need to create your first Workspace. Then you can add all the social media channels you handle for one brand. You can also add team members and clients you work with for those specific accounts.
Your invited team member can take the role of an admin or editor, depending on what you assign to them.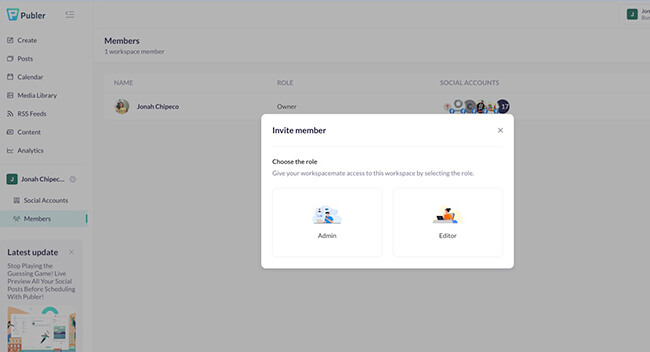 If you are taking over multiple brands, you can create another Workspace for each one.
Workspaces allow your members to monitor their accounts without accessing the other profiles. You can shift from one Workspace to another while using only one account.
RSS feeds
An RSS feed shows a description of the website or a blog post. You can see this mostly when shared on social media platforms like Facebook and Twitter.
When an RSS feed is shared, it increases the trustworthiness of a social profile. It also boosts link clicks. So share your website link with an RSS feed, and have more website visitors too.
Unfortunately, other scheduling tools don't add the RSS feed to the website link you share. But with Publer, you could include an RSS feed when sharing a URL.
How to set RSS feed on Publer:
Search for the RSS feed of the website that you'll share. Here's a link that shows how to find the RSS from WordPress, GoDaddy, and Medium.
Click RSS Feeds on the left tab > Click Add RSS Feed
Add the name of the Feed and the RSS Feed of the website. You can include or remove keywords, so no unnecessary details are on it.
Choose either No Action, Auto Post, or Auto Schedule.

No Action – to store the feed for future use.
Auto Post – to publish it immediately.
Auto Schedule – to schedule at a later time and/or date.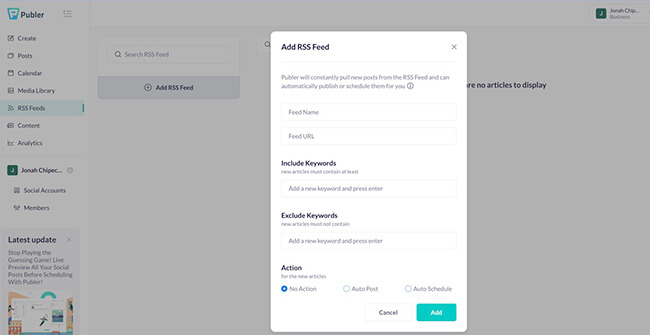 How much does Publer cost?
Publer has three subscriptions: Free, Professional, and Business plans.
The Free plan won't cost you anything. However, you can only connect up to three social media profiles for one user. At the same time, you can only publish content for up to 10 per social account.
For a Professional subscription, the rate starts at $12/month for three social media profiles. An additional $4/social media and $2/user if you want additional team members. This time though, scheduling posts and publishing are unlimited.
Meanwhile, the Business plan is the most expensive yet best subscription that Publer can offer. It costs at least $23/month with the same inclusion as the Professional subscription. The advantage of availing this plan is that Publer now generates insight reports.
Similar to the Professional plan, there are additional rates once you add accounts and members. $6/month and $3/month are charged for every new profile and user, respectively.
Publer pros and cons
While Publer is advanced compared to others in the market, it still has some limitations.
Let's dig deeper into the advantages and disadvantages of using this tool.
Publer pros
Saves time – With Publer's Auto Scheduling tool, you don't need to schedule each post one by one. Along with Bulk Uploading and Media Library, it preserves a tremendous amount of time.
Brand building – What could be a better brand building than always seeing your trademark? Using logos as watermarks and hashtags as your signatures will boost your branding.
Content creation tools – Designing tools such as Canva and VistaCreate improve your visuals to attract your audience. Getting photos from Unsplash and editing them using their built-in editor also helps. Meanwhile, the Spintax and hashtag generators aid the writing of captions.
Scheduling of Twitter threads – Not all publishing apps allow you to schedule follow-up comments for a tweet.
Accessible via Mobile – If you prefer using mobile apps to monitor your social media efforts, the Publer app is downloadable for your iOS or Android smartphone.
Publer cons
Lower account limitations – For both Free and Professional plans, you won't receive in depth analytics reports and add RSS feeds. While for the Free account alone, you can't add users and social profiles. It also allows for up to 10 scheduled posts per social account only.
Insight reports limitations – You can only check the analytics of the content posted via Publer.
No social inbox – At the time of writing, there's no social inbox for replying to mentions & comments. It's been requested by users so it may be something they'll add in the future. However, this may not be an issue for everyone.
Publer alternatives
Looking for other options?
Check out these Publer alternatives:
SocialBee – SocialBee helps you manage your social media accounts by allowing you to create, schedule, publish, and analyze posts. One of their new features is the ability to add alt-text to your images directly from the software to your LinkedIn, Facebook, Twitter, and Pinterest profiles. It's great for evergreen content sharing & has a seriously powerful publishing workflow.
Pallyy – Pallyy is a social media analytics and scheduling tool. It is more focused and designed for Instagram posts. However, it also works with other platforms like Facebook, Twitter, LinkedIn, and Google My Business. They now have a social inbox with a slick UI and the workflow for sharing visual content is excellent.
Pallyy has a free plan like Publer. However, all of them offer free trials.
Final thoughts on Publer
So, that's the end of our Publer review!
Overall, Publer is without a doubt one of the best social media management tools that can handle just about anything. This software is helpful for content creators or small business owners who want to avoid so much stress in basic manual scheduling of posts.
You can now manage multiple accounts on social media in one platform.
Publer's advanced features like recycling and content curation are one-of-a-kind, too. Furthermore, I appreciate its bulk scheduling tool and media library. Finally, the integrations with graphics editors are a plus!
In addition to the features, it is also user friendly for a newbie social media manager. When I signed up, it didn't take me long to learn how to use the software.
Also, I like Publer better than Hootsuite and Buffer because it is cheaper and offers great value for money. If you are just starting out with social media marketing, the free plan is also a good choice with an easy user interface.
When it comes to customer service, you can get help from the Publer team through chat, email, Facebook Messenger, and Twitter. Users can also use their help documentation and "knowledge hub" to resolve issues.
If you're a fan of joining Facebook groups, Publer has a community of users whom you can connect with as well.
After reading this Publer review, I'd recommend signing up for the free version. Then you can play with some of its features to see how they work for your business accounts.
Give it a couple of weeks and see if the pros and cons suit your needs.
Alternatively, go for a free trial of their paid offering and you'll see the full power of the platform.