One of the most effective and most popular ways to make money online is affiliate marketing. As an affiliate marketer you will probably be managing several different websites and promoting multiple affiliate products, which can become quite cumbersome to manage. Fortunately, there are a number of excellent WordPress plugins that affiliate marketers can use to accomplish different things that will help to save time and make more money.
In this post I'll feature 25 different affiliate marketing plugins for WordPress users. These plugins cover a wide variety of functionality, so please browse through the collection and I think you'll find at least a few that can help you in one way or another. Some of them are free and others must be purchased. Basic pricing information is included in all of the descriptions below, but please click through to the site of the seller for more details.
Premium Plugins for Affiliate Marketers:
If you are an Amazon affiliate EasyAzon can help you to save time and make more money. With this plugin you can easily create any type of Amazon affiliate link (text, image, info block, call to action, and search results) right from the WordPress dashboard. This feature alone can save you a lot of time bouncing back and forth between WordPress and Amazon. You can set default controls to do things like open your links in a new window, use nofollow tags, and more.
EasyAzon has an automatic link localizer that displays the appropriate affiliate link based on the location of your visitor, which can mean a lot of extra commissions for you. You can also create product popups that will help to get more attention from visitors. The plugin will also allow you to set links to automatically add the product to the visitor's cart, which will give you an extra 89 days to get a commission if the visitor buys that product.
Pricing starts at $47, which allows you to use the plugin on an unlimited number of websites that you own. If you want to use it for client websites, or for sites that you want to flip, the Developer's license is $67.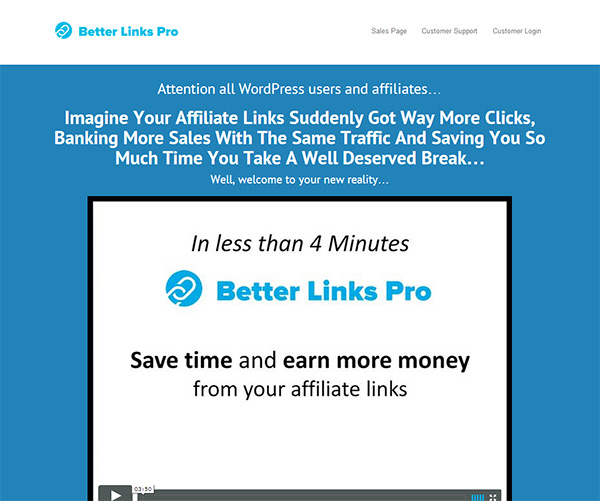 Better Links Pro is a new plugin from Chris Guthrie, also the creator of EazyAzon. This plugin can do a number of things for you, including shortening your affiliate links. You can easily create short links directly from the post editor, or from the link creation screen. You can also replace any keyword on your site with an affiliate link automatically. You'll be able to choose from multiple re-direction types, and set options like opening links in a new window and adding nofollow tags.
With Better Links Pro you can also do split testing between different links to see what converts the best, helping you to make more money. And if an affiliate program requires visitors to be sent to a country-specific page, Better Links Pro will automatically send the visitor to a URL based on their location.
Pricing starts at $27, which allows you to use the plugin on all of your own websites. The developer's license costs $37 and allows use on client sites and sites that you flip.
Want to Sell Your Own Digital Products Easily?
I highly recommend SendOwl as a great platform for selling digital products. I use SendOwl at a few of my own sites and it is the most reliable and easiest platform I've used (and I've tried a lot of them) for selling digital files.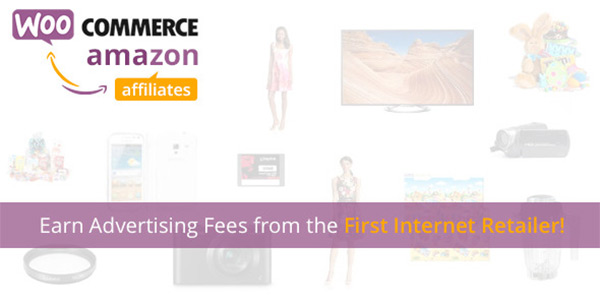 With the WooCommerce Amazon Affiliates plugin you can set up an affiliate site and import products from Amazon. You'll have a site that functions very much like it's own e-commerce website, but at checkout customers will be led to Amazon. It includes an automatic spinner that will help you to avoid duplicate content issues. When products are no longer available on Amazon it will automatically remove them from your site. The cost of this plugin is $33 for a single-site license.
If you use banner ads at your website or blog to promote affiliate products, OIO Publisher can be a very useful plugin. This plugin also includes all the functionality you need to sell ads to paying advertisers, but affiliate marketers can use it to manage and rotate their own affiliate banners. The price of the plugin is $47, which allows you to use it on an unlimited number of your own websites.
WP AdCenter is a robust plugin for managing banner ads on your site. It can be used for managing your affiliate banners or for selling ad spots. You have full control over the ad zones that you set up, and it provides all the statistics you need for tracking. WP AdCenter is included in membership to WPEka, which costs $27 per month, $47 per quarter, or $97 per year. The club currently offers a total of 21 WordPress themes and 15 plugins.
If you are looking for plugins that will allow you to manage your own affiliate program, please see The Best WordPress Plugins for Affiliate Management.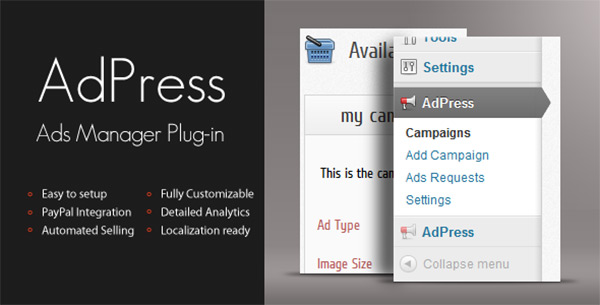 AdPress is another plugin for ad management that can be used to sell ad space or to manage your affiliate banners. It includes all the functionality like rotation, stats, and multiple ad types. A single site license costs $35.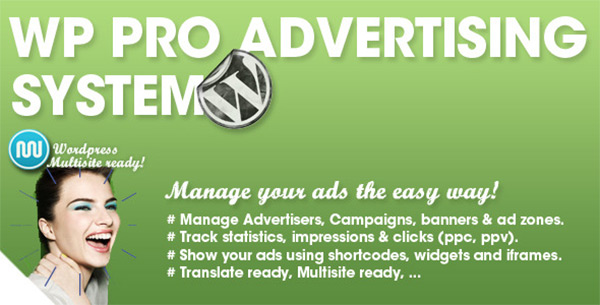 WP PRO Advertising is yet another option for managing ads, and like the others it can be used for your affiliate banners or to sell ads. You can easily create and manage ad zones, track clicks, and manage banners. A single-site license costs $25.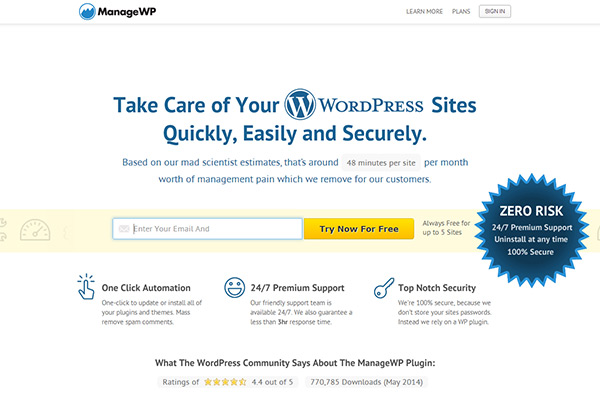 If you're like most affiliate marketers and you have several different websites, ManageWP can save you a lot of valuable time. With this plugin you can manage all of your WordPress-based sites from one location, saving you from the need to flip back and forth between the WordPress dashboard of several different sites. It includes features like scheduled backups, client reports, a clone wizard, SEO analysis and much more. If you manage several different WordPress-based websites ManageWP can become a very valuable tool for you.
Pricing depends on the number of sites that you will be managing and the features that you need. A free version is available for those who need to manage fewer than 5 sites. Paid plans start at $2.40 per website per month.
Author hReview is a comprehensive plugin for managing reviews. Publishing product reviews is an excellent way to earn money as an affiliate, and this plugin makes it easy to promote products through reviews on your blog. You can write your review and give the product a rating. The plugin includes a widget to display the highest-rated products in your sidebar, or wherever the widgetized area of your theme is located.
Membership to Author hReview includes the plugin for editorial reviews, and it also includes two other plugins. WP Rich Snippets makes it possible for your rating info to be seen in Google searches thanks to rich snippet integration. WP Reviews allows you to build a user review website where others can post their own reviews and ratings, which can also be a great way to promote affiliate products. Membership pricing starts at $69 for a single website license.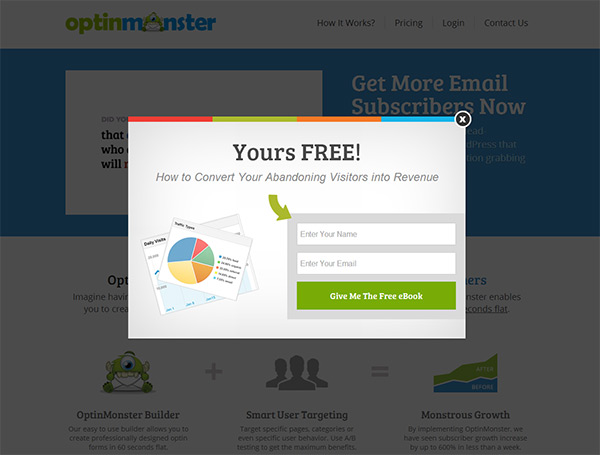 OptinMonster is one of the best resources to help you build your email list, which can be used to promote your affiliate products. You can create beautiful popups that will get the attention of visitors and grow your list fast. The popups can be displayed immediately when a visitor arrives, after a set amount of time, or right before the visitor exits (through the use of their exit intent technology). In addition to popups, you can create slide in forms, footer forms, sidebar forms, and after post forms. All of the forms can be easily integrated with GetResponse, AWeber, and other email list managers. Pricing starts at $49 for a single-site license.
Popup Domination is another extremely useful plugin for growing your email list through popups. With this plugin you can quickly create your own popups, integrate them with your email list manager, and configure when and where your popup should be displayed to visitors. It has plenty of features like A/B testing, analytics, and lots of customization options. Pricing starts at $47 for a single site license.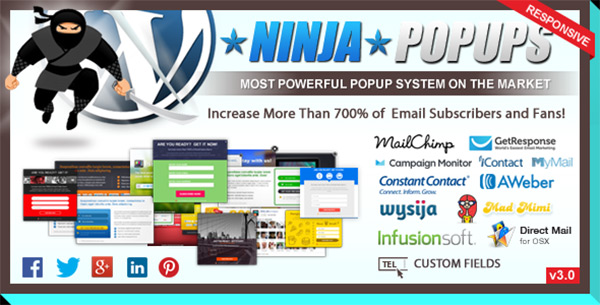 Another option for growing your email list is Ninja Popups. It includes all of the necessary functionality of a popup plugin, like customization, display settings, and integration with leading mailing list managers. You can also use the popup to lock content so visitors will not be able to see it until they subscribe to your list. A single-site license costs $22.
Pippity is the last of the popup plugins that will be mentioned here. Each popup plugin has a different style for the look of their popups, and one may be a better fit for your site than others. Pippity includes A/B testing, plenty of templates to choose from, customization options, and of course integration with popular mailing list managers.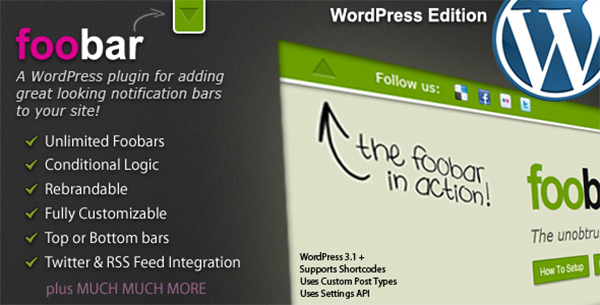 Foobar is a plugin that will allow you to add a notification bar to the top of your site or the bottom of the browser. Affiliate marketers can use it to get more exposure for an affiliate link, to lead visitors to a specific page that includes an affiliate link, or to grow an email list. You'll have full control over the look of the notification bar and can customize the text and contents of the bar as well. The cost is $14 for a single-site license.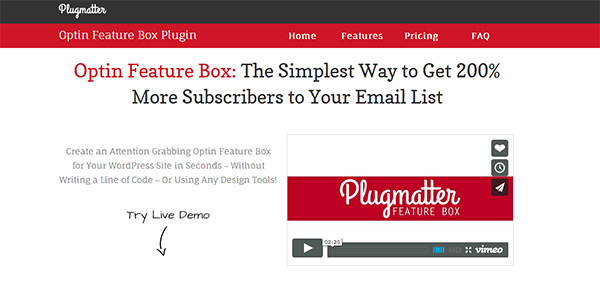 Plugmatter's Optin Feature Box is a great resource for growing your email list without using a popup. Popups can be extremely effective, but they do annoy some visitors. The Optin Feature Box is much less intrusive than a popup, but it will still get the attention of your visitors. It creates an optin box above your page or post content so it cannot be missed. You can easily customize their templates to get the look that you want, and you can even create different optin boxes for specific pages or posts to get the best response. The plugin integrates with services like GetResponse, AWeber, and many others. Pricing starts at $37 for a single-site license.
Pretty Link Pro is a feature-rich plugin for creating and managing shortened links for your affiliate links. A free version of the plugin is also available, and that version will be covered later in this post. The Pro version includes a lot of features like cloaking re-direction, conversion reports, delayed re-direction, double re-direction, automated keyword replacement, split testing, and Twitter integration. Pricing starts at $37 for a single-site license.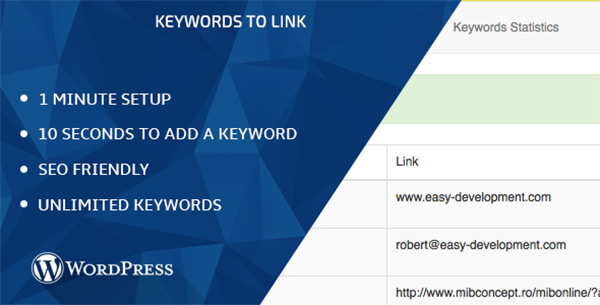 WP – Keywords to Link will allow you to easily add affiliate links to specific words or phrases wherever they are used on your site. You can also track clicks on your links. The price of this plugin is $15 for a single-site license.
Free WordPress Plugins for Affiliate Marketers:

If you use product reviews at your site, like many affiliates do, you can use this free plugin to help display your ratings. You can use stars, percentage, or points ratings and the plugin supports Google's rich snippets to show those ratings in the search results. It includes a tabbed widget that will show your most recent reviews and popular reviews.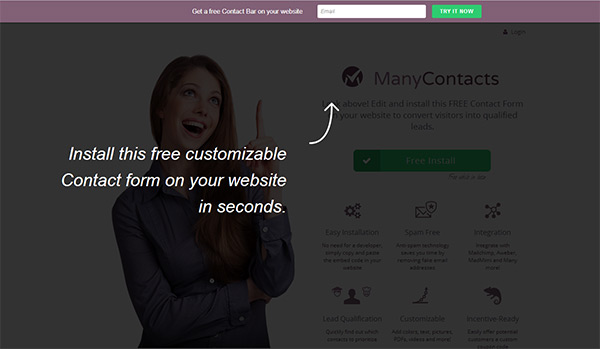 If you are building an email list to market your affiliate products ManyContacts is a great option to help you build your list quickly. It adds a notification bar at the top of your pages where visitors can enter their email address. ManyContacts. It is customizable, helps your optin form to get plenty of attention, and it's free!

With AmazonSimpleAdmin plugin you can easily add affiliate links to Amazon products within your post and page content. You can design your own product templates and define and manage collections of products.
Pretty Link Lite is the free version of the Pretty Link Pro plugin that was mentioned earlier. The Lite version will meet the needs of many bloggers and marketers. With this free plugin you can easily shorten links using your own domain name and re-direct them to long and ugly affiliate links. The free version will even track the number of clicks and unique clicks of each shortened link, giving you some valuable information about how many people are clicking through on your affiliate links. You can create 307 (temporary) or 301 (permanent) re-directs, and you also have control over whether or not the links should use nofollow tags.

Many affiliate marketers have a large number of different sites to promote their various affiliate products. If this is the case for you, the free Duplicator plugin may be able to save you a great deal of time. Most likely the majority of your sites have a similar foundation or structure. With Duplicator you can easily Duplicate any site and move it to another location. So if you create a lot of WordPress-based sites you can create a foundation site that includes all of your typical settings and content, back it up, and then clone it at another URL where you want to start a new site. This can save you time by not needing to go through all of the same monotonous steps with each website.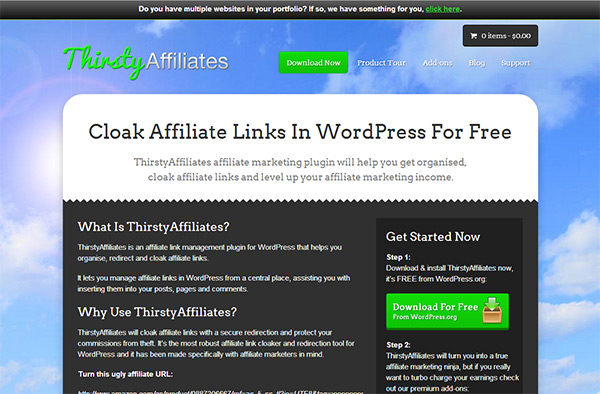 Thirsty Affiliates is another plugin for creating and managing affiliate links. You can organize, re-direct, and cloak affiliate links as needed. The ThirstyAffiliates plugin is free, and then they also offer several add-on plugins that can be purchased for extra functionality.

Amazon Auto Links is a free plugin that will automatically create Amazon affiliate links for you. You select the categories and it will automatically display relevant products that are up-to-date and include your affiliate link. It can be used in posts/pages and there is also a widget that is great for sidebars.

PG Simple Affiliate Shop will create a website to promote your affiliate products, as well as customized reviews. You have control to drag-and-drop products to change the order in which they are displayed. You can also categorize products and display them on different pages.
If you are looking for plugins that will allow you to manage your own affiliate program, please see The Best WordPress Plugins for Affiliate Management.

Marc is the founder of ProfitBlitz. He has been working online for more than a decade and loves to write about topics like internet marketing and SEO. When he's not working he enjoys travel and photography.